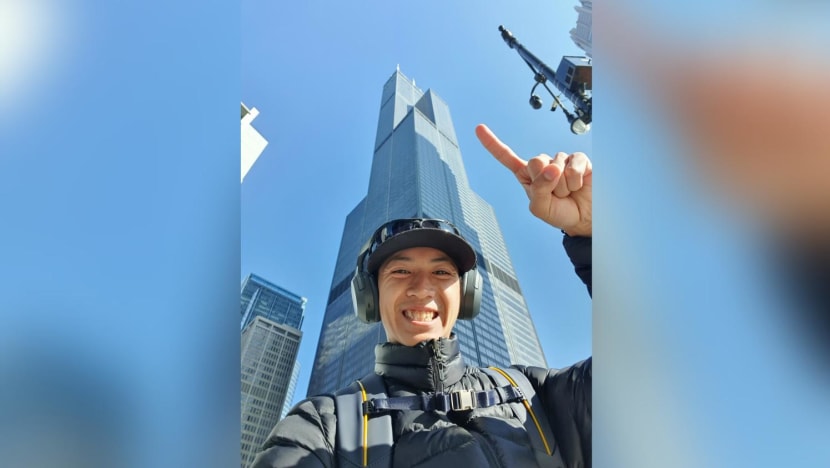 KUALA LUMPUR: While most people groan at the mere thought of climbing several flights of stairs, Malaysian tower runner Soh Wai Ching flushes with enthusiasm every time he talks about racing up the steps of skyscrapers around the world. 
Speaking to CNA, he rattled off the technical aspects of the rather unconventional competitive sport, eager to convert others to stair racing.
"There's no such thing as the same staircase," he said. "There will be differences in step height, step depth and step width, and whether the handrail is located on the left or right. Some staircases have it on both sides."
"Some have more steps per flight. Some buildings have two flights for each floor but sometimes you have to run up four flights to reach the next floor, which can be mentally challenging," he explained. 
The 27-year-old from Selayang, Selangor, even remembered the specific details by heart. Most runners usually take two steps per stride, but doing so is difficult at Taipei 101 because each step is 22cm high, he said. 
"If you go two steps at once, it's 44cm, it's very tough for all of us. We have to be able to open up a higher angle when we land on steps. That will burn a lot of energy," he said in a Zoom interview from Dubai, where he is based for the foreseeable future.
Wai Ching, currently world number two, made headlines in October as the first Asian to win the Empire State Building Run-Up. He covered 86 flights or 1,576 steps in 10 minutes and 46 seconds - 28 seconds faster than when he took part in the same race in 2019 and won the second spot. 
It only took Wai Ching four years to get to where he is today. Since emerging as the fastest Malaysian participant and the runner-up overall at the KL Tower International Towerthon Challenge 2017, he has completed 61 races at 44 buildings and towers in 18 countries.
The Empire State Building victory is his most unforgettable race to date, even though the event does not offer cash prizes. 
The iconic status of the building and its many appearances in the dramas and films he grew up watching - including King Kong thumping its chest and swatting attacking planes from the top of the structure - were part of the reasons why this race was meaningful for him. 
"I like to do this race because it is one of the longest-running (stair climb) events. They started to have the race in 1978, but it was cancelled in 2020 because of the pandemic. 
"It is one of the origins of tower running ... That's why we have to do it, it's very iconic," Wai Ching said.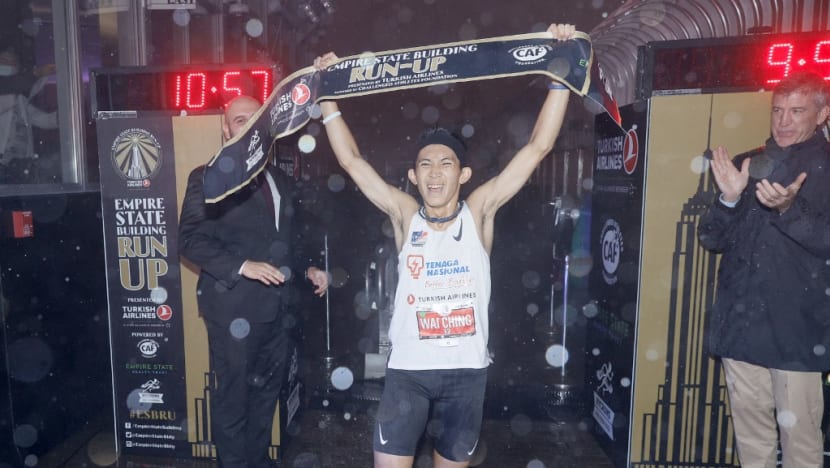 To outsiders, tower running may appear mundane and even gruelling as participants have to overcome gravity and scale endless flights of stairs in the plain stairwell, but Wai Ching found his life purpose in the sport. 
Applying knowledge he learned from his degree in sports science at Universiti Malaya, he draws up his own training regimes and race strategies. He tracks and analyses his opponents' records as he sets his eyes on the world number one spot, and beyond. 
"I CAN BE WORLD NUMBER ONE ANY TIME"
Acknowledging that tower running is not as well-known as other sports, Wai Ching said: "If you interview 10 people, maybe one, or none, knows about this sport." 
An article on the Tower Running UK website said the first recorded competitive stair racing event happened on Jul 14, 1903 on the steps of Rue Foyatier in Paris, "a straight sprint up 256 steps". Two years later in 1905, the first known tower race took place at Eiffel Tower with 283 participants, according to the same site. 
Today, this running discipline is governed by the Towerrunning World Association, which manages a global ranking system covering races at man-made structures around the world. 
Besides the aforementioned landmarks, events are held at places such as the Shanghai Tower, Komtar Tower in Penang, Willis Tower in Chicago and Eureka Tower in Melbourne. 
A running enthusiast, Wai Ching was dared into tower running in 2017 by a friend when he was in the final year of university. With one month's training, he ended up being just 13 seconds behind the champion, a Kenyan, in the KL Tower event. He eventually claimed the top spot two years later. 
His competitiveness drove him to excellence. He spent the RM5,000 (US$1,200) cash prize to participate in overseas races to gauge his capabilities at the global scene, and has not looked back. 
In August the same year, Wai Ching finished fifth in the Beijing Vertical Run at China World Summit Wing, where runners darted up 82 floors to reach the helipad. He was one minute and 39 seconds behind world number one Piotr Lobodzinski from Poland.     
"I told the world number one, 'Give me three years' time, I am gonna beat you one day.' He said if I beat him, he is gonna retire," he recounted.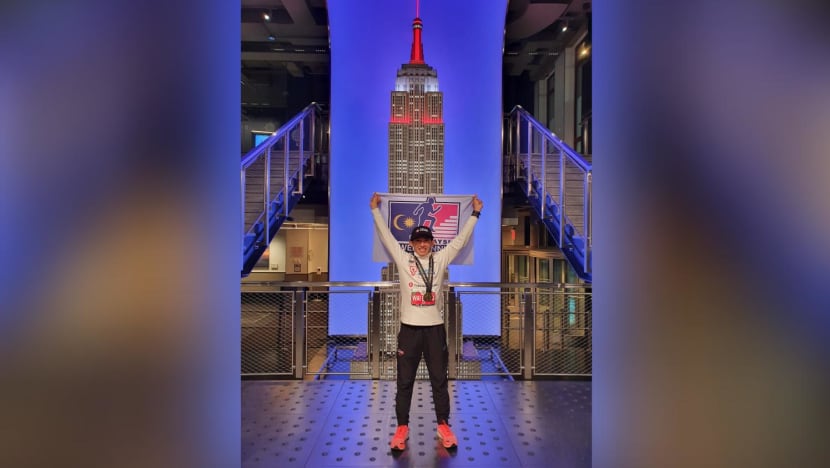 And Wai Ching did just that in February 2020, finishing ahead of Piotr by two seconds at the Vertical Run Almas Tower in Dubai after trailing behind him in 21 races. "He was so upset and disappointed, because the race offered 10,000 dirhams (US$2,700) to the champion and the second prize winner got nothing." 
However, Wai Ching's goal of clinching the world number one spot by December 2020 has been derailed by the COVID-19 pandemic, which halted races and restricted participation. 
He has remained at the number two spot since November 2019, but is not overly concerned.
"I know myself, I am already there." 
"I know I can be world number one any time when the races come back," he said with confidence.
HIS TACTICS AND STRATEGIES
Ascending the stairs can be as simple as lifting one leg up after another, or as complicated as studying sports biomechanics and ascertaining the best training methods to strengthen the muscles involved. 
It took Wai Ching a lot of trial and error to excel in stair races as such resources were not readily available, unlike the treasure trove of information on other disciplines of running, he said. 
Outside of races, he spends time analysing other participants' results and styles. On the race courses, he observes their running movement. These came from his experiences as an avid competitive chess and Chinese chess player in school. 
"I am a logic, strategy type of person. I like numbers, I like data, I like to see probabilities and possibilities.
"When it comes to playing chess, I have lots of strategies on how to tackle my opponents, how to progress, how to get advantage over others and how to get into a better position," he shared.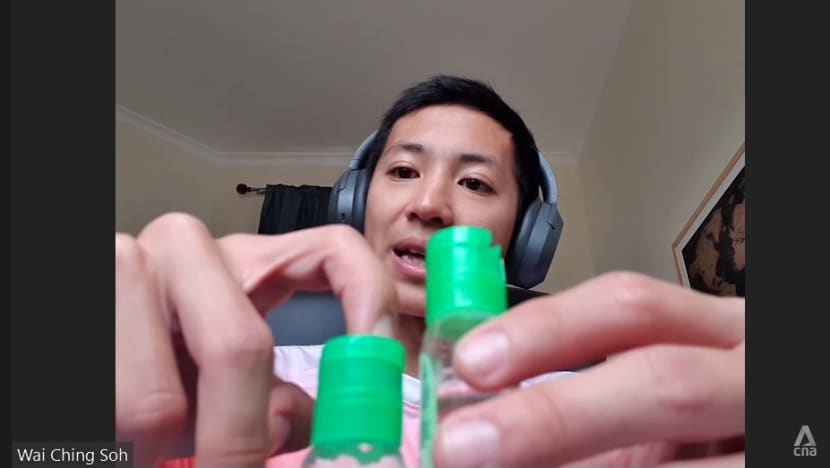 In tower running, Wai Ching focuses on pushing himself to beat his own previous record, especially in events where elite participants are flagged off individually and have no knowledge of their placing until the race is over.  
"You give your best until you cross the finishing line. That's the beauty of tower running. 
"It's similar to life. If you want to get promoted every year, you have to continue climbing up the ladder. In tower running, you climb the floors and you don't see the whole (path). You just climb up step by step and it will eventually lead you to the finishing line."
PUTTING MALAYSIA ON THE MAP 
His priority now is to attempt setting double Guinness World Records at the 2,909-stepped Burj Khalifa in Dubai, the world's tallest building. He is likely to try for greatest vertical height stair climbing in one hour and fastest vertical mile stair climbing events.
He also wants to get his name on skyscrapers as the fastest athlete to ever run up the buildings, and to promote tower running around the world, hoping that it can be included in major sports meets like the Olympics and Commonwealth Games one day. 
"If Malaysia gets the chance to host the Southeast Asian Games or Asian Games, as long as they put in tower running, I can guarantee a gold medal for Malaysia. That's what I told the sports ministry," he said.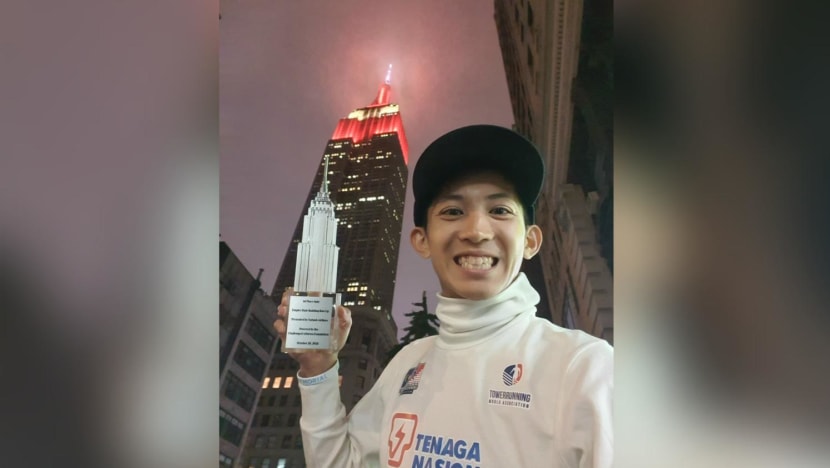 With the combined efforts of several Malaysian runners, Malaysia is ranked sixth in the tower running nation rankings. Wai Ching dreams of building a strong team, leading the runners to participate in overseas races and dominating the sport. 
"We want to be number one," he said.  
"Malaysia has been known for badminton, diving and cycling. Hopefully one day tower running will be accepted as a mainstream sport in Malaysia."
He and fellow enthusiasts have already set out to work towards that. 
They formed the Malaysia Towerrunning Association in August 2019 and organised a race up the 54 floors of Menara TM in Kuala Lumpur in November the same year. About 1,400 participants from 40 countries - 1,200 of whom were Malaysians - took part in the event. 
When the pandemic eventually calms down, the association plans to have one race per month at different landmarks across the country, such as The Exchange 106, Merdeka 118 and Four Seasons Hotel in Kuala Lumpur, Wisma Sanyan in Sibu, Alor Setar Tower, the Terengganu Drawbridge and more. 
Wai Ching said: "I like to challenge the impossible and make it possible. I hope I can inspire many youths, many Malaysians to take the risk and try something they think they might be good at. 
"Once they find their passion and purpose in life, they should just go all in."
Read this story in Bahasa Melayu here.