How the Myanmar military coup has affected the Karen ethnic group
Myanmar's military government is set to hold elections later this year, so some are expecting the Myanmar military government to clamp down on the various ethnic armed groups, including the Karen.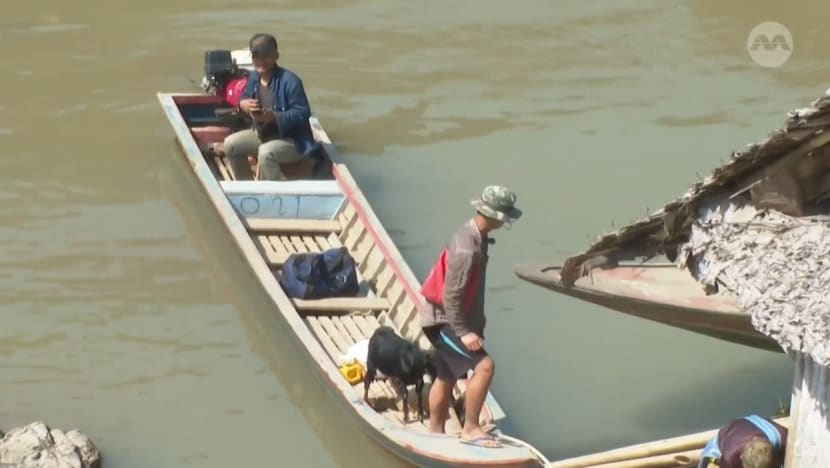 MAE HONG SON, Thailand: The Salawin river is one of many natural borders dividing Thailand and Myanmar. 
Few boats carrying people and goods cross back and forth from the pier in Mae Hong Son province in Northwest Thailand. 
But the tranquility hides a dire situation. 
Under the cover of darkness, the boats travel into a remote part of the border between Thailand and Myanmar. On them are volunteer relief workers delivering food, medicine, and other necessities to those caught in the crossfire in an armed conflict like the Karens.
For decades, the Karen, an ethnic group that lives on both sides of the Thai-Myanmar border, have been fighting the Myanmar central government for independence in one of the longest active conflicts in the world.
Shortly after the military coup in 2021, those tensions escalated again. 
HOW THE KAREN ARE TREATED
Mr Uthai Payapthanakorn works for a Thai-Karen non-governmental organisation (NGO) which has seen firsthand how the Myanmar military is handling the insurgency. 
"Previously, they mostly used ground troops, but now they are using planes to shoot and drop bombs, forcing our Karen brothers to flee," said Mr Payapthanakorn. 
The fighting has caused a fresh influx of people to cross into Thailand seeking refuge.
Footage by Thai authorities shows injured people caught in the crossfire being treated in nearby clinics. 
But such care may not always be provided. Some observers said the Thai's handling of refugees is inconsistent, if not contradictory. 
What usually happens is refugees coming from Karen state are allowed to enter Thailand and stay, said Mr Patrick Phongaathorn, senior advocacy specialist at Fortify Rights.
However, their stay could be temporary, said Mr Phongaathorn. 
"Thai troops have said once we can't hear any firing of guns or any landing of bombs anymore on the other side of the border, you have to go back. But it's not necessarily safe," he said. 
NO CONCRETE NUMBERS FROM THAI AUTHORITIES
In March 2021,Thai Prime Minister Prayut Chan-o-cha publicly denied anyone being forcibly pushed back into a conflict zone. 
Two years on from the military coup, the United Nations refugee agency estimates that 72,000 people have fled Myanmar into neighbouring countries. 
However, there are no concrete numbers from Thai authorities, given the country does not have an asylum system and does not provide refugees with any legal protection.
CNA's attempts to seek clarity from the Prayut government to find out how it is handling the Karen refugees have gone unanswered. 
They claim that there are currently no Karens seeking refuge in government-run temporary shelters. 
UPCOMING ELECTION
Meanwhile, fighting is expected to intensify.
Myanmar's military government is set to hold elections later this year, which it can only do if its ongoing conflicts with various ethnic armed groups are pacified, including with the Karen. 
Some are therefore expecting the Myanmar military government to clamp down on the various ethnic armed groups to make the political climate more conducive. 
That also means more work for organisations sending goods to those displaced by the conflict. NGOs are facing more uncertainty over resources to keep funding their relief efforts. 
"Everybody had a hard time since COVID. It's difficult, so we only ask for funds or donations only when we need (them for) like a really urgent emergency," said one volunteer relief worker from Metta Charity, who wanted to be known as Johnny. 
He did not want to be named for fear of reprisals. 
The Karen are a group with differing dialects and faiths. There is a sizeable Christian population among a majority of Buddhists. 
But the most recent wave in the conflict is raising the solidarity among the Karen on both sides of the border. 
"No matter where we are, we are of the same blood. When we hear that the Karen are experiencing injustice, we can't look away and need to see what's going on and find a solution to it," said Mr Payapthanakorn.