PAS and its chief Hadi Awang 'biggest amplifiers' of racial rhetoric at Malaysia polls last year: Study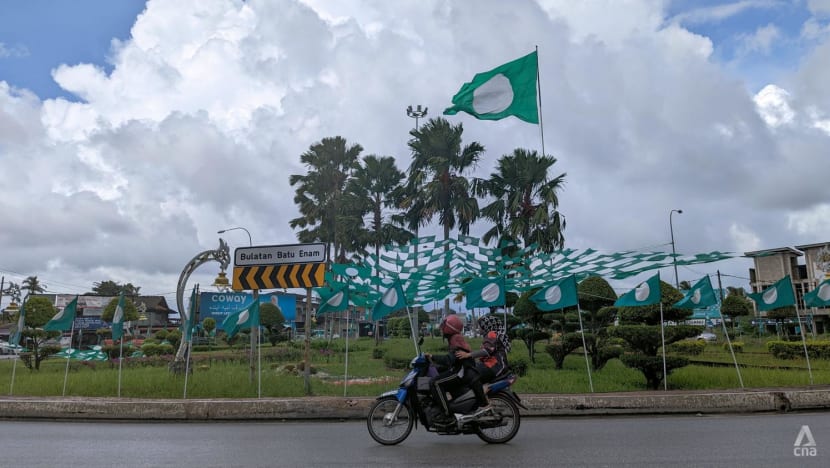 SINGAPORE: The Islamist party Parti Islam Se-Malaysia (PAS) and its president Abdul Hadi Awang played up racial rhetoric the most during Malaysia's 15th General Election (GE15) in November, according to a study.
The report, published by Malaysia's Centre for Independent Journalism (CIJ), aimed to identify the severity levels of hate speech before, during and after the election by monitoring the social media activity of key figures and entities.
The study said Mr Abdul Hadi had pushed anti-Chinese sentiments through negative social media posts against the Democratic Action Party (DAP), and that he had called its fielding of Malay candidates a "dangerous and slick move".
"In the run-up to previous elections, online users employed divisive language and hate based-narratives around race, religion and royalty, popularly known as 3R. The GE15 was expected to be no different," the report said.
"This was especially because a couple of issues had made social media an important space that shapes political discourse, including by promoting hate and toxic rhetoric."
PAS emerged as the biggest winners in GE15 by winning 43 out of 222 parliamentary seats, although its Perikatan Nasional (PN) coalition is now in the opposition after Pakatan Harapan (PH), Barisan Nasional and parties from Borneo formed a unity government.
The CIJ report - a joint effort with Universiti Sains Malaysia, Universiti Malaysia Sabah and University of Nottingham Malaysia - said PAS and Mr Abdul Hadi were the "biggest amplifiers of race".
For example, the report pointed out that Mr Abdul Hadi's TikTok post claiming that PH's Chinese-based DAP was merely using Malay candidates to gain voter traction racked up 2.5 million engagement counts - the highest across all social media platforms.
"Posts on race were also found to perpetuate disinformation," it said.
Hate speech and disinformation during elections are not new and have emerged as issues for several countries that are keen on countering how they could shape public discourse and influence voting patterns.
At the recent state assembly polls in India, the right-wing Bharatiya Janata Party in the main IT hub of Karnataka strategically targeted religious minorities, especially Muslims, for electoral benefit, said a political observer in an Al Jazeera report.
In the US, misinformation about the upcoming midterm elections - including the security of mail ballots and rumours about non-citizens voting - is again building up, reported the Associated Press. Former president Donald Trump is one of the main proponents of such allegations.
The CIJ report in Malaysia further pointed out that after polling day on Nov 19, content created by young TikTok users to "manufacture fear" went viral with high cross-platform amplification. 
Content on race frequently intersected religion, it noted.
"The monitoring saw a shift in focus where religious narratives became the main divisive and polarising tool, as it clearly intersected with race and became the basis for the attacks on LGBTIQ persons," it said, referring to those who identify themselves as lesbian, gay, bisexual, transgender, intersex or questioning.
The report asserted that hate speech against the LGBTIQ community - laced with terms like "liberal" and "anti-Islam" - was a "political tool" used largely to discredit DAP, PH and its chairman Anwar Ibrahim, who is also the current Prime Minister.
"At the same time, body shaming and the policing of modesty were aimed at women from across the political spectrum," it added.
RESULTS AND METHODOLOGY
The study identified 99,563 unique messages on social media with four levels of hate speech severity, using automated tools and human intervention in a three-step filtering process. Prior to the filtering process, researchers analysed over 2.3 million unique messages. 
Level 1 is described as a "disagreement or non-offensive", while Level 4 points to "incitement or a call to violence". 
Race-based narratives topped the chart with 66,933 posts. This was followed by religion, royalty, gender and LGBTIQ, as well as migrants and refugees.
Politicians were the key actors contributing to racial narratives, while the government was the main actor that targeted refugees and migrants, the report noted. Actors refer to politicians, political parties, key opinion leaders, government, and the media.
PAS president Abdul Hadi was the only actor with two posts classified as Level 3, defined as "dehumanising or hostile", the report said.
A number of other actors, including PN chairman Muhyiddin Yassin, DAP chairman Lim Guan Eng, United Malays National Organisation president Ahmad Zahid Hamidi and former prime minister Mahathir Mohamad, had one Level 3 post each.
"We also observed that posts from some key actors became the launching pad from which hate messages were amplified by social media users," the report said.
The report highlighted that some actors with high numbers of social media posts perpetuated disinformation without giving evidence.
Actors such as PAS and Mr Abdul Hadi, for example, repeatedly accused the DAP of being communists, while Muhyiddin claimed Jews and Christians had a covert agenda to proselytise and convert Muslims in Malaysia, the report said.
The study also found what it claimed to be a seemingly well-coordinated and paid attempt on social media to generate anti-DAP and anti-Chinese fear and hatred, especially late on polling day.
Inflammatory posts, that were mostly on TikTok, pushed an anti-DAP agenda while calling for a PN government, the report said.
"The main actors monitored did not censure or curb commenters from spewing hatred. They did not stop their supporters from spreading extreme messages," it added.