Malaysia asks attorney-general to clarify Pedra Branca claim 'controversy', hopes for discussions with Singapore: Anwar
Singapore said in October that it stood ready to "robustly defend" its sovereignty over Pedra Branca.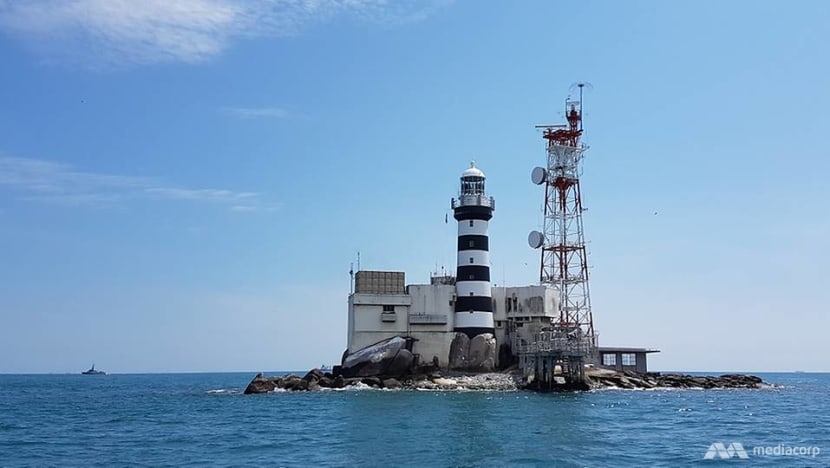 SINGAPORE: Malaysia has asked its attorney-general to clarify its claims on Pedra Branca, Prime Minister Anwar Ibrahim said on Wednesday (Dec 14), adding that he hopes for discussions with Singapore to ensure there are no problems between the two countries.
"We asked the attorney-general to clarify the controversy of the claims for Batu Puteh, which has now been awarded to Singapore by the ICJ (International Court of Justice)," Mr Anwar said after a Cabinet meeting, using Malaysia's name for the island.
Mr Anwar said his government will also ask that "related consequences" are studied again so there can be more "meaningful and immediate" discussions with Singapore. This is to ensure there are no problems in the relationship between the two "friendly" countries, he added.
This is the first time that Mr Anwar has brought up the issue of Pedra Branca as the country's leader, after his predecessor Ismail Sabri Yaakob said in October that his Cabinet had agreed to proceed with legal action at the ICJ on the issue.
Singapore's Ministry of Foreign Affairs (MFA) responded then that Singapore stood ready to "robustly defend" its sovereignty over Pedra Branca, located near the eastern entrance of the Straits of Singapore, about 44km east of mainland Singapore.
The dispute over Pedra Branca dates back to 1979, when Malaysia published a map indicating that the island was within the country's territorial waters.
The matter was brought to the ICJ in 2003, and on May 23, 2008, it ruled that Singapore had sovereignty over Pedra Branca, while Middle Rocks was awarded to Malaysia and South Ledge belonged to the state in whose territorial waters it is located.
"After the Court's decision, both Singapore and Malaysia publicly announced that they will accept and abide by the Court's decision which is final," MFA said.
"In 2017, Malaysia instituted an application for revision and a request for interpretation of the Court's 2008 decision, which were subsequently withdrawn by Malaysia in 2018.
"Under the Statute of the Court, an application for revision cannot be made after the expiry of 10 years from the date of the Court's 2008 judgment, that is, May 2018."
Mr Anwar was sworn in as prime minister on Nov 24 after Malaysia's 15th general election. He leads a unity government comprising his coalition Pakatan Harapan (PH) and the previous ruling coalition Barisan Nasional (BN), among other parties.
BN chairman Ahmad Zahid Hamidi is also one of two deputy prime ministers in Mr Anwar's Cabinet.
NO ELECTRICITY TARIFF INCREASE FOR HOUSEHOLDS
On Wednesday, Mr Anwar also addressed cost of living issues, one of PH's main causes during its election campaign.
He announced that a suggested increase in electricity tariffs will not apply to households, stressing that the government did not want to burden the people.
"We also discussed cost of living based on NACCOL's report yesterday, and we have decided that the previous suggestion of increasing electricity tariffs will not be done, because this will put a burden on the people," he said.
NACCOL refers to the National Action Council on Cost of Living, which on Tuesday proposed intervening at the consumer level to tackle the supply shortage of goods in the country.
But Mr Anwar said the tariff increase will apply to multinational corporations (MNC) that are in the business of exporting to help ease the burden on the nation's coffers, acknowledging an "urgency" to raise tariffs that are expected to cost the government RM30 billion next year.
"Because the tariffs are too low for (MNCs) and the subsidies should not be given to large companies that make high profits. But the people, SMEs as well as farming and food production companies will be exempted," he said.
Mr Anwar said the subsidies, which are supposed to help everyone, seem to benefit "very rich companies" more. "The decision is not to increase the tariff, except for the very rich," he added.
Nevertheless, he said the tariff increase for these companies will be "reasonable" and "very gradual" to ensure their operations are not disrupted, adding that Environment and Climate Change Minister Nik Nazmi Nik Ahmad will announce further details.
VOTE OF CONFIDENCE
Mr Anwar also addressed a question on whether he was confident of passing a vote of confidence on his leadership as prime minister, scheduled to be held in parliament on Dec 19.
In his first press conference as prime minister on Nov 24, Mr Anwar announced that a vote of confidence would be held in parliament to end questions about the legitimacy of his government.
This came after the recent election produced no clear winner, with neither PH - which won 81 seats - nor the rival Perikatan Nasional coalition - which clinched 74 seats - securing a simple majority in the 222-seat Lower House.
"Party leaders from PH, BN, GPS (Gabungan Parti Sarawak), GRS (Gabungan Rakyat Sabah) and a few other parties have given their commitment, and God willing we can proceed well and I ask for prayers for the best," Mr Anwar said.