COVID-19 fails to mute Philippines' campaign frenzy as election season shows cracks in democracy, say analysts
MANILA: The Philippines' election frenzy came in full view on Tuesday (Feb 8), as Southeast Asia's oldest democracy embarked on a 90-day period of campaigning by presidential candidates looking to succeed Rodrigo Duterte after the May 9 polls.
Loot bags for supporters, celebrity endorsements and the ever-present - and always awkward - song-and-dance routines by aspiring statesmen marked the first day of campaign season, long criticised as a battle of popularity instead of principles.
Despite a raging pandemic, thousands in matching shirts gathered on Tuesday to support their favoured candidates in motorcades and proclamation rallies set in different parts of the archipelago.
THE CANDIDATES
Survey frontrunner Ferdinand "Bongbong" Marcos Jr is backed by a well-oiled political machine, made stronger by his partnership with the Davao City mayor - vice presidential bet and the president's daughter Sara Duterte. 
The pairing is seen as a strategic alliance between political families from the Philippines' north and south, as well as a consolidation of power by third-generation political dynasts. Their campaign debut was held at the world's largest indoor arena in a province north of Manila.
Marcos Jr's main rival, based on surveys, is sitting vice president Leni Robredo. She began her campaign in her political bailiwick of Bicol, which delivered votes for her in the 2016 vice presidential race when she defeated Marcos Jr. 
Aiming for a national post for the first time is Manila mayor Isko Moreno, who launched his campaign near City Hall. A former actor who grew up in the slums of Manila, Moreno is seeking to scale up social welfare programs he initiated in the capital, where he defeated former president Joseph Estrada in the mayoral race three years ago.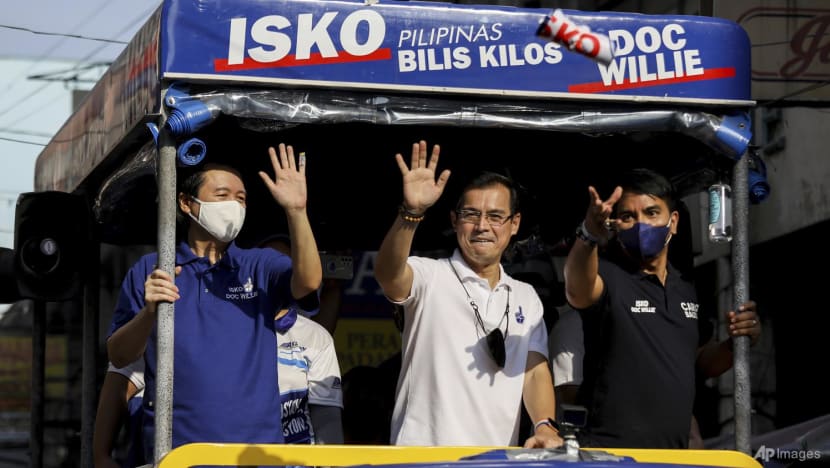 Meanwhile, sitting senator Manny Pacquiao went back to his roots in the southern city of General Santos, the Philippines' boxing capital, where he once worked at the fish port before achieving spectacular success in the ring. 
Pushing for transparency and rooting out corruption that he says keeps the country poor, presidential candidate, sitting senator and former police chief Panfilo "Ping" Lacson started his campaign in Cavite province, south of Manila. Lacson said he will push for data-driven, science-based policy-making if voted in as president.
Veteran labour leader Leody de Guzman's campaign kick-off was held at a monument for the martyrs during martial law under the rule of Ferdinand Marcos Sr. The left-leaning activist has been criticised by fellow rights advocates for potentially cornering votes that could have gone to Robredo, whom they view as the only viable block against another Marcos presidency.
CRACKS IN DEMOCRACY
The campaign season reveals the usual cracks in the country's political system, experts told CNA.
Political analyst Edmund Tayao said political loyalties often shift during election season due to a weak multi-party political system. 
When parties fail to delineate from each other based on policy stances, name recall defines the game, he said.
"The campaign is always just limited to personalities. So if there will be a possible agreement or an alliance that is on the table, whether with the administration or in the opposition, the only reason for agreement is to agree on spoils," said Tayao.
"So if, for example, you are running for president and I'm your opponent, we can only agree to find an alliance if, for example, I will withdraw, but you will give me particular positions in government," he told CNA.
Patronage and nepotism in government, analysts said, have long held the country back.
Direct engagement with voters is expected during campaigning. But a key strategy is also courting the support of local government officials who have a loyal following in their respective provinces, cities and municipalities by virtue of deep kinship ties.
Analyst Aries Arugay explained that this network of support from local governments forms part of a national candidate's political strategy, adding that money, services and promises of future political favours are often exchanged during this process of persuasion.
Arugay said it is precisely the resource-intensive nature of campaigning that makes it problematic, as candidates are often beholden to major donors or financiers. 
"If democracy is governed by money politics, then the electoral process is jeopardised. It only means that it is those who have the most financial resources (who) will have not only access, but (be) able to really have the edge in supposedly a politically equal process," he said
A 2020 report by anti-corruption non-profit Transparency International revealed that, among 17 countries and territories in Asia, vote-buying was most rampant in the Philippines and Thailand.
POLITICAL BAGGAGE
The Marcoses have long relied on traditional political methods, with a vote-rich stronghold in the Ilocano-speaking northern Philippines.
Marcos Jr is facing disqualification cases before the election commission for failing to file income tax returns between 1982 to 1985. 
But such disqualification cases can be appealed to the Supreme Court. The timeframe of such cases varies, with some lasting even years after a candidate wins and his or her term ends. 
The petitions were filed mostly by victims of abuses during military rule under his father's leadership, which saw martial law in effect for 14 of his 21 years in power.
Massive corruption scandals plagued the Marcos presidency, plunging the country into debt. To this day, the Philippine government continues to recover stolen assets from the heirs of Marcos Sr.
While these abuses and the baggage that comes with the Marcos name may be seen by outsiders as a political vulnerability, analysts have noted what they see as rampant historical revisionism.
"It's been the long-term attempt of the Marcos family to restore their name and to revise Philippine history in terms of the legacy of their family, and that culminated during the current administration of President Rodrigo Duterte when he allowed the burial of the dictator Ferdinand Marcos in the cemetery for national heroes," explained Cleve Arguelles, political science lecturer at De La Salle University in Manila.
But the appeal of Marcos Jr also comes from the perceived failures of the 1986 revolt dubbed the EDSA People Power Revolution, named after the highway where it took place, that led to his father's ouster.
"There are two key promises of the EDSA People Power Revolution. One is definitely democracy and freedom. But the other part is really inclusive growth and having people experience and share the supposed prosperity that would come after the dictatorship ... I think that's also what the Marcoses are taking advantage of. Sort of like the failures to deliver some of the promises of the EDSA People Power and the elitist nature of democracy," Arguelles added.
Other academics argue that a "revolution" did not take place in 1986. What happened was merely a change in the political elites who control much of Philippine governance.
Political power in the Philippines is still concentrated in a few feuding families, with some breakout personalities who seek to join these rivalries.
Two of the six Philippine presidents after Marcos were children of past presidents, underscoring the enduring power of political dynasties.
DUTERTE PACKING UP, AWAITS "TURNOVER"
As for the man whose term ends on Jun 30, he said he is waiting for "the day of turnover" to the new president. 
In a speech that aired on the eve of the kick-off of campaign season, Duterte joked of one day leaving the presidential palace without soldiers saluting him.
"They are not required to execute a salute, because you are nobody. That's how it is in our practice, in our government, in our democracy," Duterte said, drawing laughter from a crowd of mostly Cabinet ministers.
"I am already packing up."