MANILA: Polls opened nationwide on Monday (May 9) for the national, provincial and local elections in the Philippines. 
According to the Commission on Elections (COMELEC), there are about 65.7 million registered voters in the country. There are 1.69 million others overseas.
Filipinos can cast their ballots between 6am and 7pm to elect a new set of leaders, including a president, a vice president, senators, lower house legislators and provincial as well as local officials.
"I'm excited because this election is very important. We are going to elect new leaders of the country that badly needs change," said Jolito Catibog, 61.
"After this election, we will also remain vigilant as the fight doesn't stop on the election day. It continues."
Many of those casting their votes on Monday will be first-time voters, including John Tristan Bulacan, 18.
"I feel okay. I think the people I voted for will change the system," he told CNA outside the polling station in Makati, Manila.

"It is important to vote because there are many corrupt politicians who need to be removed from their positions. Particularly for the poor, they need change."
Another first-time voter is 18-year-old Maria Tricia Tenazo.
She said: "We are going to elect the new president and vice president who will run the country. That is why this is important to me because I want us to have leaders who will lead the country well.
"I've just turned 18. So, this is my first time voting. I feel a bit nervous as I am still not so familiar with the process, which is different due to the pandemic.
"I am also happy to be finally part of the voting public. The welfare of the people is at stake here, especially because we are still in a pandemic."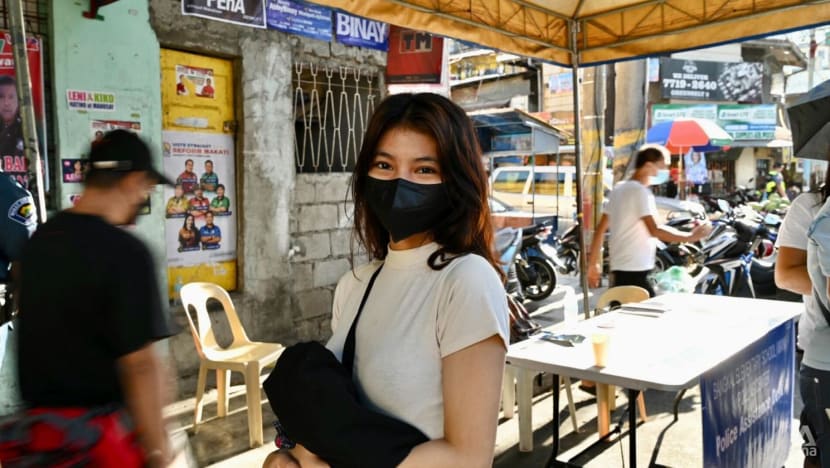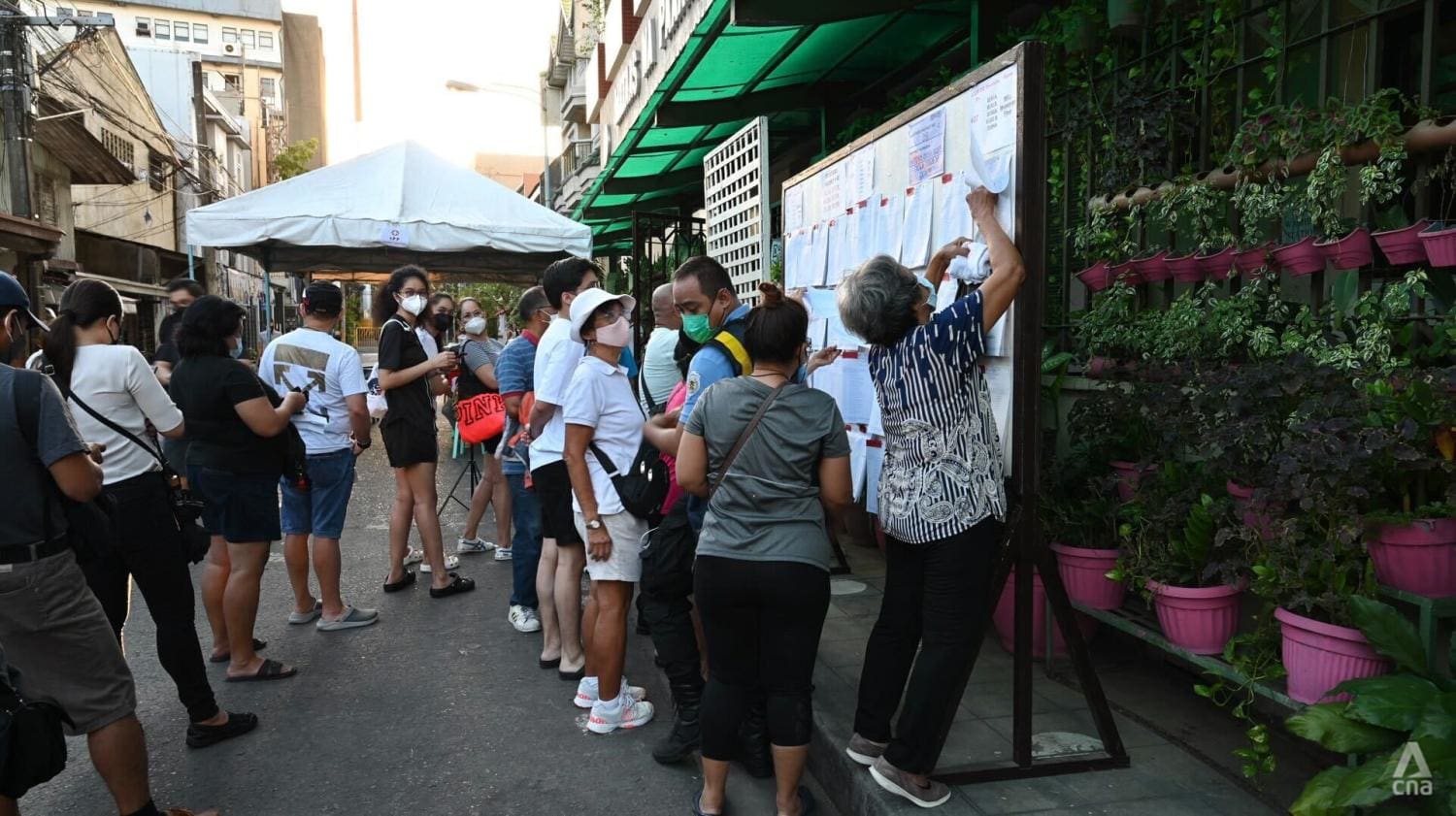 LENI VERSUS BONGBONG
At the national level, voters are set to decide on who will succeed incumbent President Rodrigo Duterte and Vice President Maria Leonor "Leni" Robredo. The latter is running for president against nine male candidates. 
One of them is frontrunner and former senator Ferdinand "Bongbong" Marcos Jr, the only son of the late President Ferdinand E Marcos, whose authoritarian regime was marred with corruption and human rights abuse.
In 1986, his family fled into exile in Hawaii after the People Power Revolution ended Marcos' 20-year rule.
The presidential election on Monday is largely perceived as a two-way race between Bongbong, 64, and former human rights lawyer Leni, 57, who emerged as the top two contenders in nationwide surveys. The pair also ran for vice-president in the 2016 election, where Leni emerged victorious.
Bongbong's critics claim that his presidential candidacy is a deliberate attempt to take back the power that once belonged to his family.
Other presidential candidates include incumbent Manila Mayor Francisco "Isko Moreno" Domagoso and former professional boxer Senator Manny Pacquiao.
Whoever gets elected will lead the Philippines for the next six years and will not be able to run for re-election.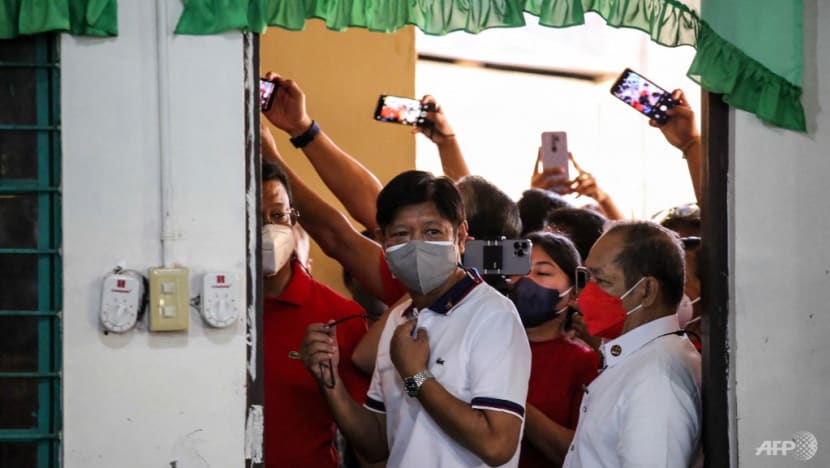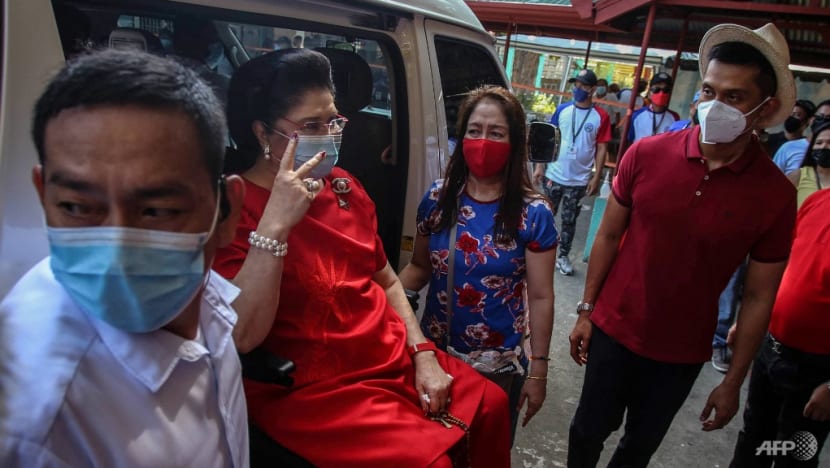 VICE-PRESIDENTIAL CONTEST 
In the Philippines, the vice-president is elected separately from the president. This means they can come from different political camps. 
This year, there are nine candidates in the vice-presidential race. One of them is Sara Duterte, incumbent Mayor of Davao City. 
The 43-year-old is also the daughter of President Duterte and running-mate of Bongbong. The Marcos-Duterte tandem is supported by several political groups.
Other candidates include Leni's running mate and Senator Kiko Pangilinan and incumbent Senate President Tito Sotto.
The term of the vice-president is six years. He or she can run for one re-election but cannot serve more than two consecutive terms.
Polls will close at 7pm. After that, votes will be counted and consolidated before preliminary results reveal who will govern the Philippines for the next six years.