Leni Robredo promises better future for Philippines in final rally before presidential election
MANILA: Philippine presidential candidate and incumbent Vice President Maria Leonor "Leni" Robredo promised a better future for the country in her final campaign rally on Saturday (May 7) ahead of next week's election.
Dressed in pink - the colour of her presidential campaign - she greeted the cheering crowds that had flooded Ayala Avenue in the central business district of Makati in Manila. Many of them had camped out on the street since Friday night.
A message of hope and dreams rang loud and clear in her speech when she described her vision for the Philippines.
"It's intertwined, the hope of the Filipinos who are hardworking, who sacrifice and who love their fellow Filipinos. The hope is to survive. The hope is to have a comfortable life. The hope is for our loved ones to achieve their dreams," said Robredo after being introduced on the stage by her daughters.
In front of her, Ayala Avenue was alive with hundreds of thousands of her supporters in pink outfits, waving colourful flags. Loud cheers and applause rippled across the rally.
"If we love the Philippines, it's easy to have these dreams - a country where nobody goes hungry, where the sick can be treated whether they have money or not, where the children can go to school, where you can save from your hard work," she told the crowd.
Robredo also said that the Philippines under her leadership could become a country where "innocent people are free and the guilty ones are held accountable".
"I cannot promise that we will achieve all of these immediately or that all of our problems will be solved right away," she added.
According to organisers, about 750,000 people turned up to support Robredo and her running mate, vice-presidential candidate Senator Kiko Pangilinan, as the pair wrapped their 90-day campaign for the country's top jobs.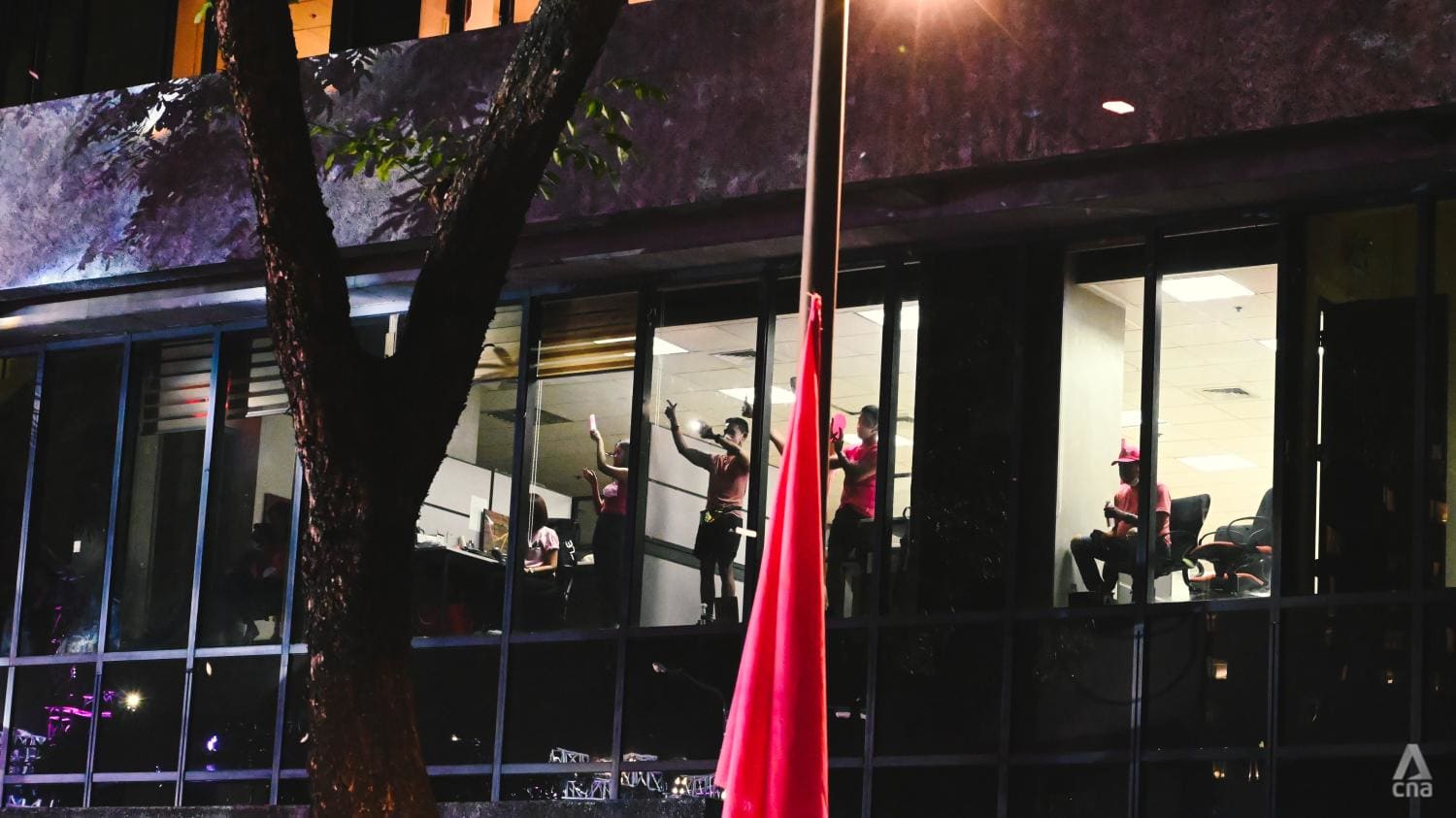 Filipinos will go to the polls on May 9 to elect a new set of leaders to lead the country for the next six years.
During her speech, Robredo also reminded voters to cast their ballots for her team and to document anomalies in the voting process.
"On Monday, bring a list. Make sure that the people included in the list are sensible, competent and trustworthy. When you go to the precincts, bring anyone you can bring along. Be observant. Record anything you notice to be unusual," she told the crowd.
"Wear any colour you like. Do not fear because there are so many of us."
PINK CONFETTI RALLY 
Besides skyscrapers, banks and glitzy office buildings, Ayala Avenue is also known for its role in key historical events.
The road is well-trodden by protesters who have shaped Philippine political history. These include thousands of people who left their offices and descended on Ayala Avenue in 1983 to protest the assassination of then opposition leader Benigno Aquino Jr as yellow confetti poured down from the buildings.
The event mobilised what would later be known as "confetti rallies" and led to anti-government protests that eventually toppled the authoritarian regime of then-president Ferdinand E Marcos in 1986.
Today, his only son - Ferdinand "Bongbong" Marcos Jr - is competing against Robredo in a race to the Presidential Palace, a seat of power where the Marcoses lived until their exile.
In a symbolic attempt to remind Filipinos of the controversial era, when the first family then was tainted with corruption and human rights abuse, the Saturday rally in Makati featured showers of confetti.
Small pieces of paper rained down from an office building on Ayala Avenue to a sea of supporters, who cheered and waved with excitement.
This time, however, the confetti was mostly pink and the message could not be clearer.
"We will not forget the painful lessons of history, the abuses under martial law, fellow Filipinos who disappeared and who were killed," vice-presidential candidate Pangilinan said during the rally on Saturday.
"We will vigorously oppose anyone who dares to rewrite our history."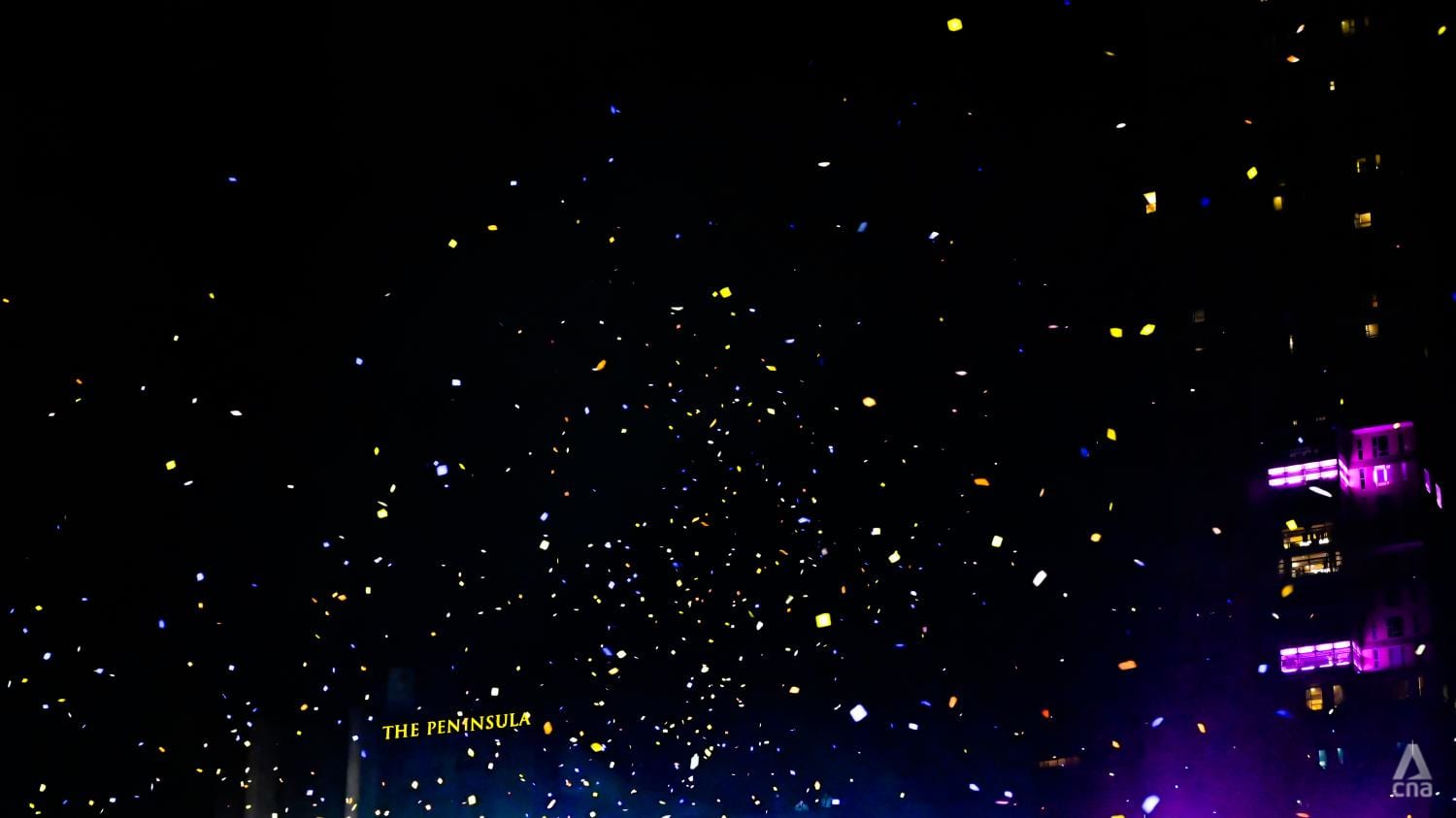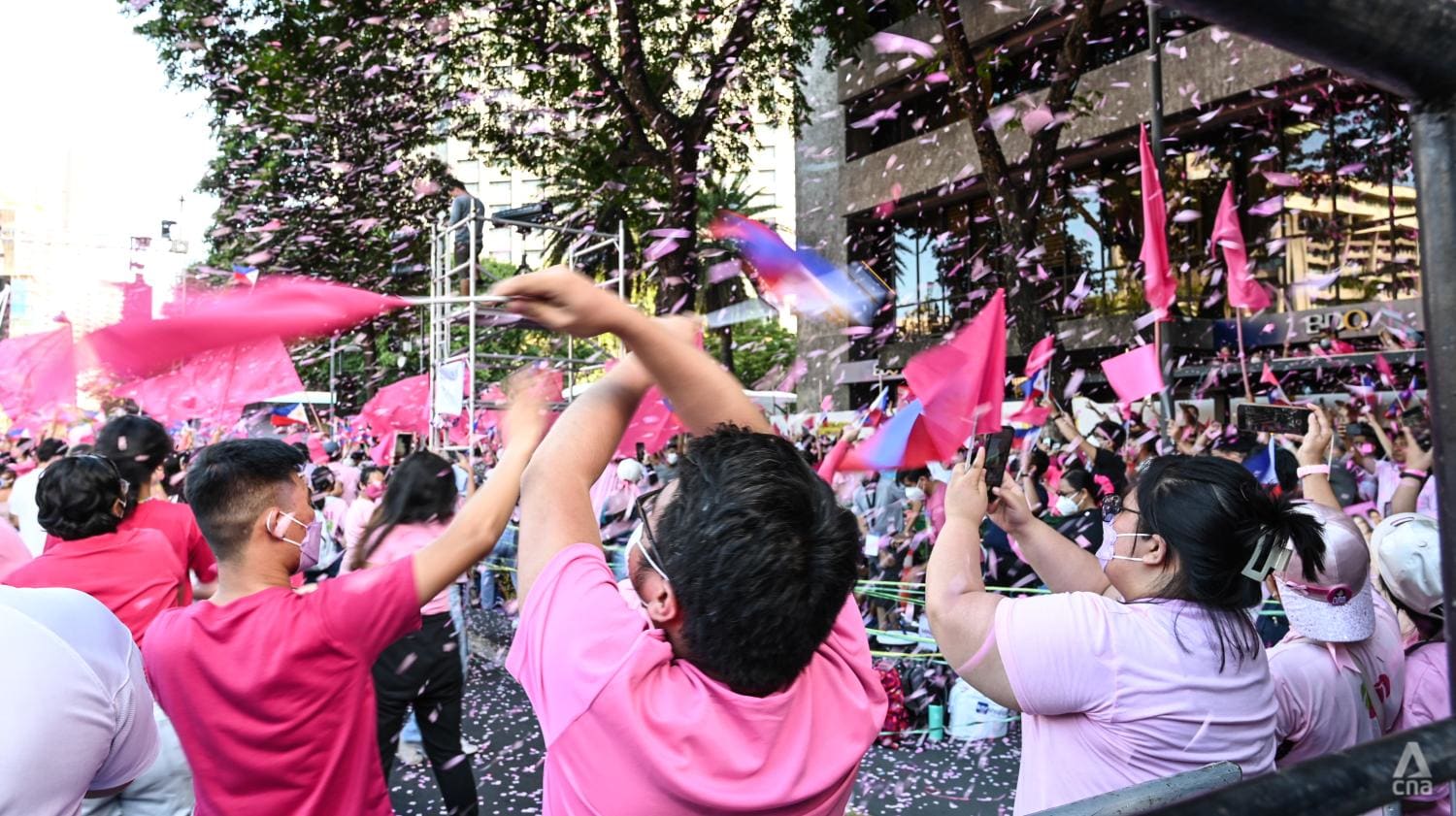 "IF LENI ROBREDO WINS"
There are 65.7 million registered voters in the upcoming elections. Their ballots would determine the winner of the two-way presidential race between Robredo and Marcos.
Makati is situated at the heart of the National Capital Region where more than 7 million people are registered for May 9 polls.
Recent surveys have shown that Marcos is the preferred candidate for the presidency. However, at the Saturday campaign rally, Robredo's supporters said they are confident she would emerge victorious.
"People strongly believe that if Leni Robredo wins, the future of the Philippines will be great. We are standing here because we know among ourselves that the other person, who is not deserving, will lose," said first-time voter Reenalyn C Lamit.
The 21-year-old nutrition and dietetics student from the Polytechnic University of the Philippines believes that the vice president has "the cleanest track record" when it comes to corruption as well as "wonderful projects for the people".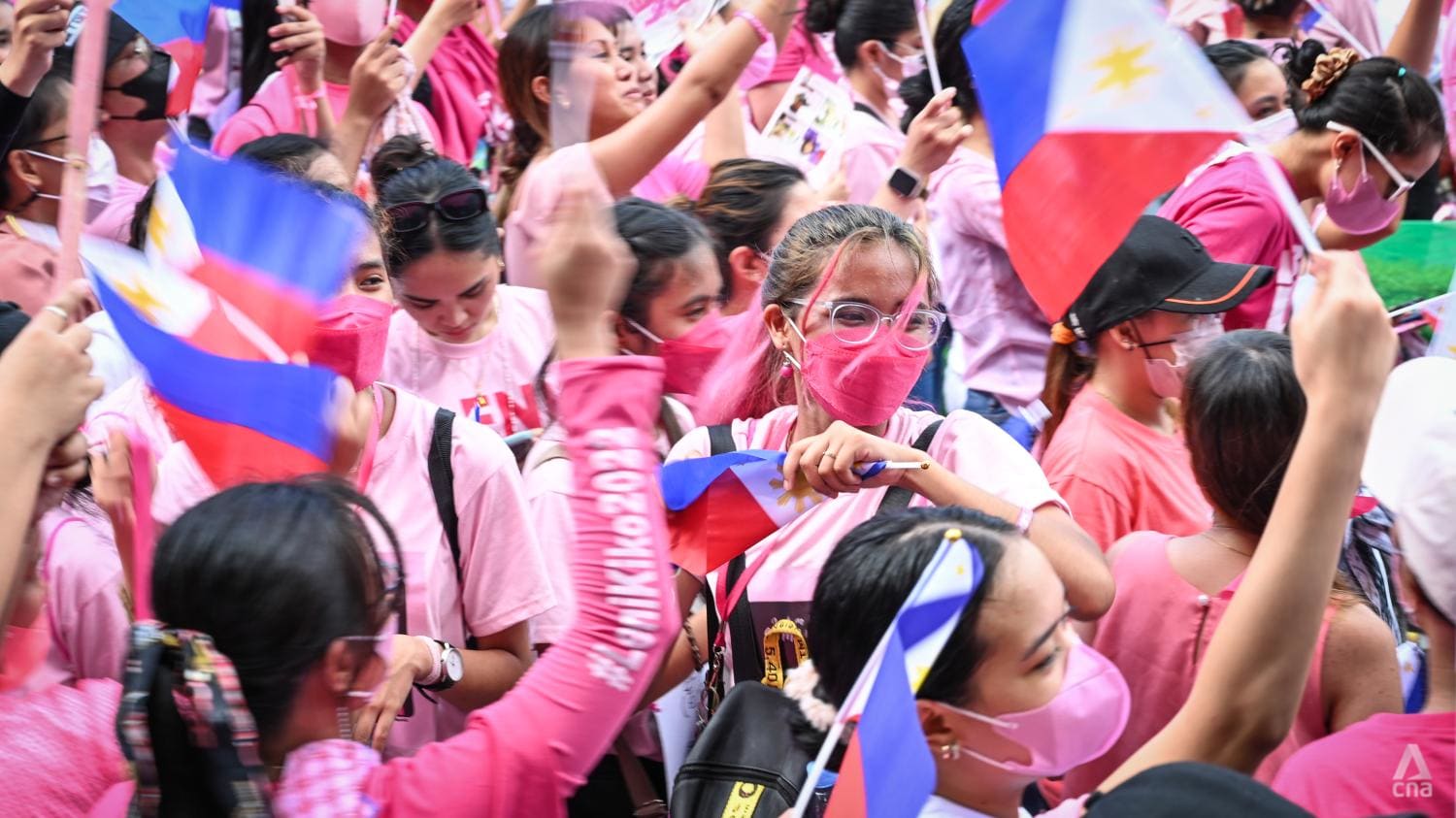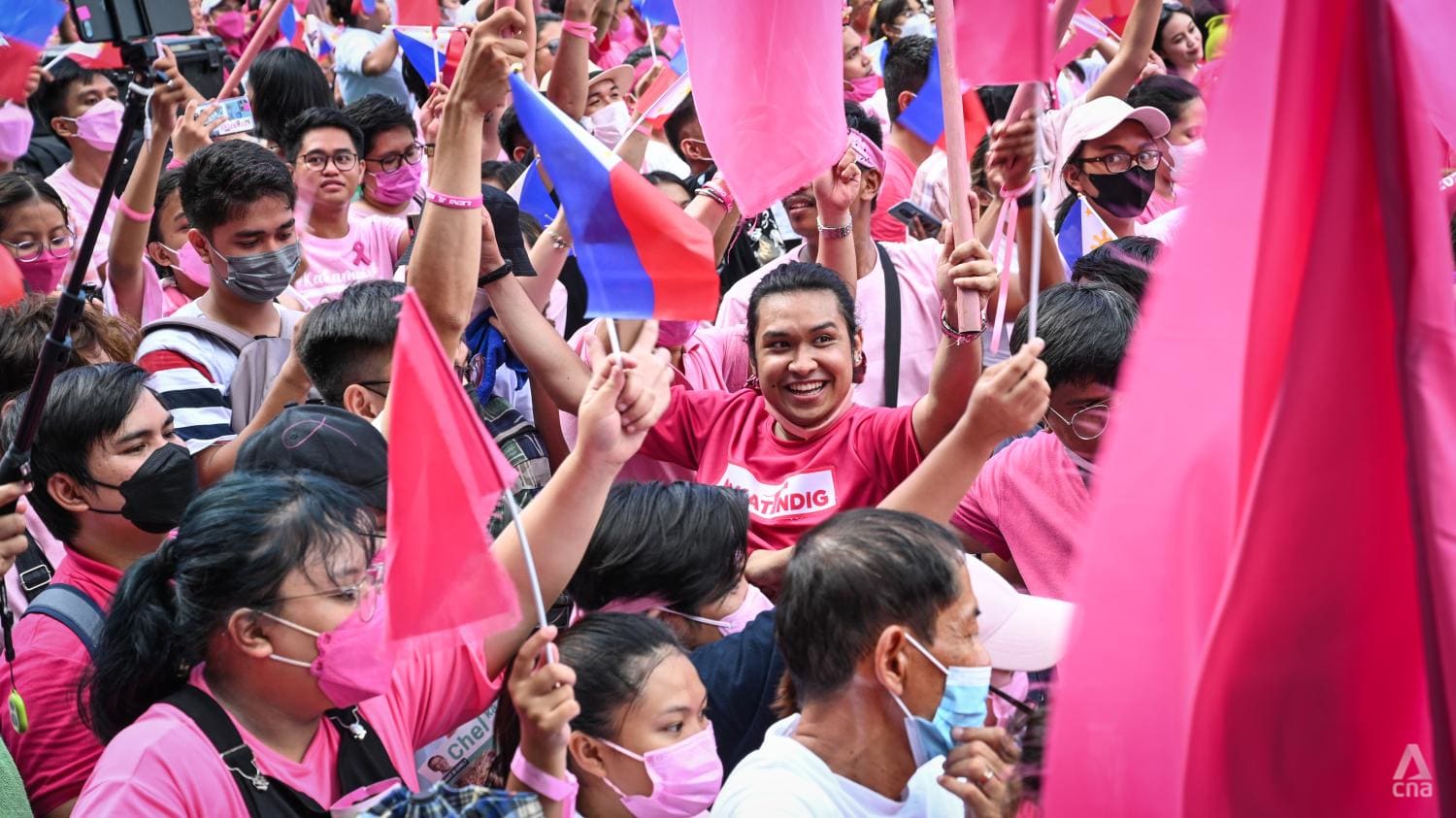 Lamit came to the rally with her friends and waited for several hours in the sun to hear Robredo's final campaign speech and show her support.
"We decided to come because we are the young ones who are taking a stand not only for ourselves and our communities but also for everyone. What I see in the next six years if Leni Robredo becomes the president is prosperity," she told CNA.
Many supporters believe in her transparency and ability to run the Philippines through the COVID-19 pandemic using good governance. One of them is 4th-year student Maria Urielle Priuado, who came to get a spot on Ayala Avenue at 8am.
"As public administration students, we are studying good governance, and now we have a candidate who emulates this kind of concept in the administration. So one of the reasons why I'm here is to fight for my country as a 'scholar of the country'," she said.
"This is not only for myself but this is my way of returning the favour to taxpayers who are funding our education."
Although the presidential candidate is popular among young voters, there are also supporters from the older generation who experienced the 20-year rule of the late president Marcos and life under martial law.
Some of them remember the feeling of disappointment toward various administrations that ruled the Philippines after the Marcoses' exile.
"We repeatedly heard about unity and peace. I've already heard those things since 1986," said Ricky Roel, 54, from Manila.
He added that he attended the rally to get to know the presidential aspirant better, among other reasons.
"I have attended plenty of rallies and inaugurations, and sometimes you see candidates who are just pleasant at first but change over time. So, I'm hoping that whatever she says will truly happen," he told CNA.
"To be honest, for me, whoever sits as president, the most important thing is the person's sincerity to help the nation and the people."