Philippine presidential race tests Filipinos' belief in democracy, but surveys show 1 in 2 voters prefer dictator's son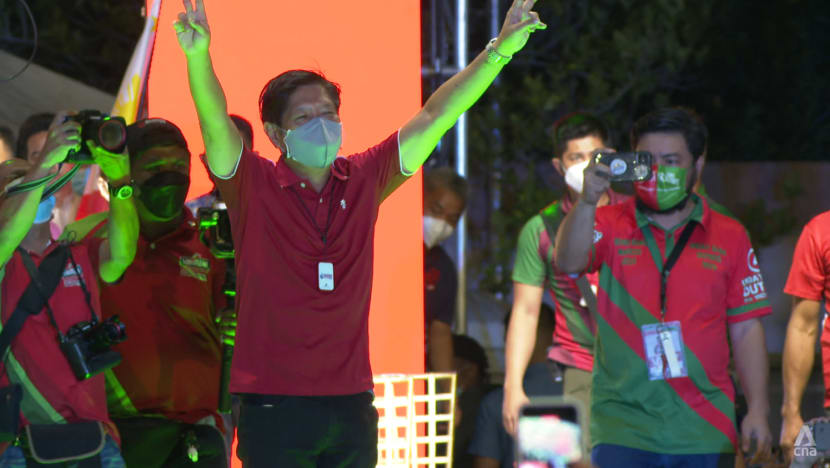 ILOCOS NORTE, Philippines: As a snaking line of tourists wait their turn for a taste of the city's famous orange-coloured pastry, looming above them is an imposing monument in front of the open-air downtown rotunda.
Welcome to Batac City, the hometown of the Philippines' late dictator Ferdinand E Marcos Sr.
The former president was ousted in a peaceful 1986 revolt that restored democracy after years of brutal military rule when thousands were killed, tortured and detained without warrant by state forces. 
During his 21-year rule, the Marcos family amassed from the Philippines government an estimated US$5 billion to US$10 billion in ill-gotten wealth. It plunged the country into debt and state asset recovery efforts continue to this day.
For all his notoriety, the monument in Batac, along with a museum glorifying the late strongman, remains a strong draw for visitors. 
THE MARCOS EFFECT
These days, the Marcos effect is apparent even outside the museum. Holding campaign paraphernalia of presidential bet Ferdinand "Bongbong" Marcos Jr are tourists taking selfies. A large campaign poster of Marcos Jr with his vice-presidential running mate and the current president's daughter Sara Duterte hangs outside the building.
More than 67 million Filipinos have registered to vote in the Philippines' May 9 national elections that will decide the successor to Rodrigo Duterte.
Analysts look at the 10-way presidential race as a test of Filipinos' faith in democracy. Mr Marcos Jr leads the pack by a wide margin, with an unprecedented one in two voters supporting him, based on pre-election surveys that put reformist Vice President Leni Robredo a distant second.
"We can't just simply blame the return of the Marcoses to the political centre stage as simply a product of manipulation or disinformation," said sociologist Nicole Curato, who has conducted research on voter preference for Marcos Jr.
"A lot of people have been discontented with the way the Philippines celebrates democracy but doesn't really deliver the results when it comes to better employment, when it comes to poverty alleviation.
"So I would really not necessarily dismiss the Marcos Jr supporters as people who are manipulated, people who are not thinking, or people who are just taking intellectual shortcuts," she told CNA.
The Marcoses' political comeback has riled rights groups, who fear a return of authoritarian and corrupt leadership under the son.
"Almost 35 years (of democracy), and nothing changed. More Filipinos became poor. We will vote for Marcos Jr. He will bring change to our country," said one of the middle-aged tourists who came with his family.
GOLDEN ERA?
Batac is one of the cities in "Marcos country", a term often used to refer to the province of Ilocos Norte, where the Marcoses govern with little opposition save for the rival Farinas family.
The area containing Ilocos Norte and a group of Ilokano-speaking province is dubbed the "Solid North" for supposedly voting into power members of the controversial Marcos family.  
Marcos Jr's elder sister is a sitting senator, his nephew is a provincial governor, his cousin is a sitting congressman and his son Sandro Marcos is running for a congressional post.
At a park in Laoag City, Ilocos Norte's seat of power, is a pavement known as "Heroes' Walk", where Ilokano heroes are honoured with busts.
That list includes Marcos Sr, whose bust is just a stone's throw from a stadium also named after him. 
"The Marcos strategy of mythmaking has been in place since Marcos Sr was president. And part of this mythmaking are these glamorous infrastructure projects that people can point to as the achievement of the martial law regime," said Curato, the sociologist.
The infrastructure-building drive under Marcos Sr was fuelled by foreign debt. Local think-tank Ibon Foundation said the country will continue to pay for Marcos-era debts until 2025.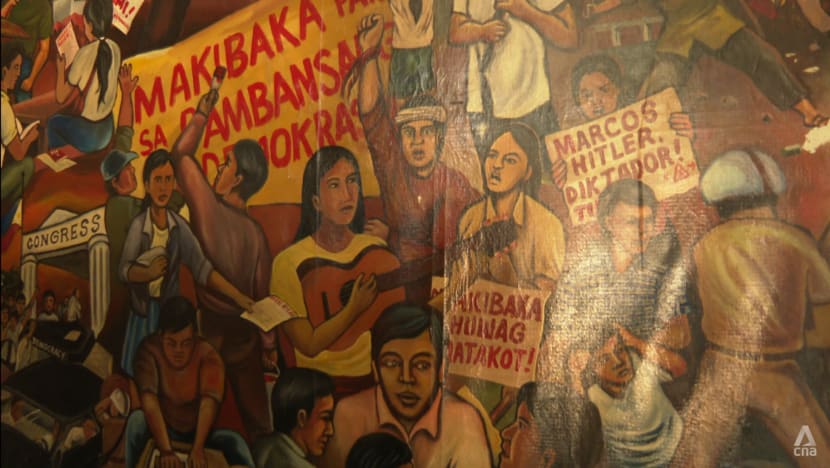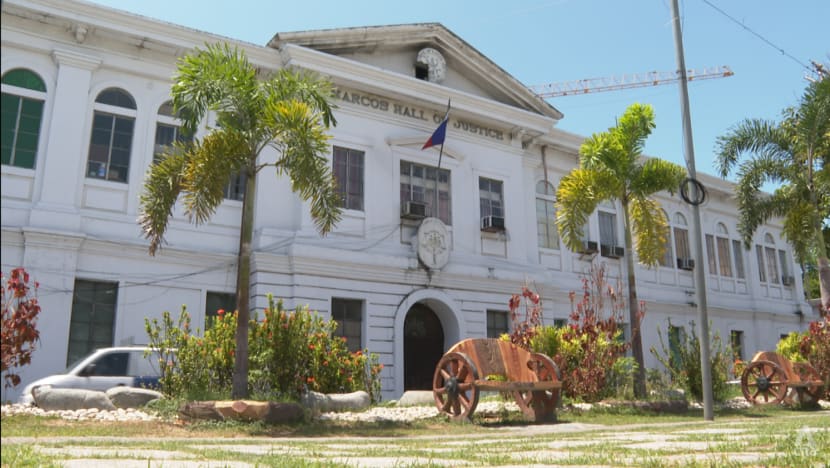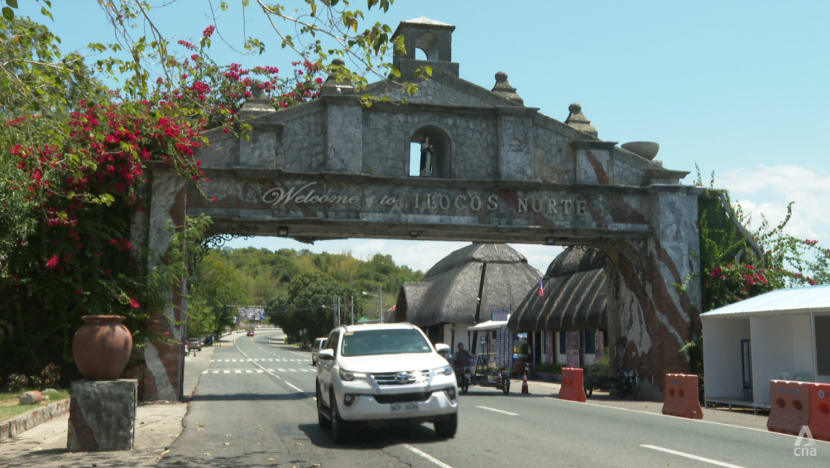 Yet, the Marcos presidency as a "golden era" is a myth repeated many times over in online networks promoting their version of history.
"Even though I wasn't alive then, I know that Marcos Jr's father declared martial law for a purpose. It was needed," said Gian Kris Antonio, 21. His friends are Marcos Jr supporters. One claimed to support Robredo, which drew jeers.
"Yuck," Antonio exclaimed.
The Marcos Sr infrastructure strategy, essentially facelifts that have little effect on improving lives, is still in play these days, detractors told CNA.
The Takuat Training Center, an imposing structure rising from the middle of rice fields in Ilocos Norte, was supposed to be a technical skills school with a dormitory.
Built during Macros Jr's governorship, it was abandoned for years and is now used as a quarantine facility.
"SENSE OF CONTINUITY"
From the mannerisms to the campaign jingle to the slogan, Marcos Jr has consistently drawn from his father's playbook.
"I'm voting for Marcos Jr because I saw what his father can do. In his speeches, what he wants is unity and no quarrels," said Adriana Nadonga. The 52-year-old is touring Ilocos Norte with fellow Marcos Jr supporters. They travelled all the way from the capital region Metro Manila, an eight-hour car ride.
"I think at the heart of Marcos Jr's appeal for unity is an appeal to people's visceral dislike for antagonistic politics in the Philippines," explained the sociologist Curato.
"I think that is very appealing in a time where people are so exhausted with the pandemic, at a time where people are just looking for something that will make them feel good.
Marcos Jr's call for the Philippines to "rise again" is reminiscent of his father's 1965 campaign slogan: "We shall make this nation great again", a line Marcos Sr repeated in his inaugural presidential address that year.
"It appeals to a form of nationalism that is not humble, but it's a form of nationalism that really elevates the Filipino as a special kind of people in the world ... emphasising the grand infrastructure ... foregrounding the so-called achievements of the father," explained Curato.
"So in a way, there has been a lot of parallelism with the way they talk, with their gestures and their mannerisms. And I think that is deliberate because it's appealing to that sense of continuity," she added.
"CRACK AT THE CORE OF THE SOLID NORTH"
Like thousands of others, Raisa Salvador's father was arrested without a warrant and tortured during martial law.
Growing up in Ilocos Norte, she has felt like an outcast. Many invalidated her family's experience.
"I am a mother. I have a son. The most difficult part is the pain and suffering of my grandparents grieving for a lost son. If you don't believe the tortures (that took place) under martial law, you're lucky," said Salvador.
"It means you or anyone you know didn't get to experience it."
Her father, Lenville Salvador, said he was arrested while in a public bus on trumped-up charges of illegally carrying arms. His family searched for him as he was transferred from one military camp to the next.
Lenville has carefully documented cases of those tortured and illegally detained in Ilocos Norte from 1984 to 1986 under the then-governorship of Marcos Jr.
By his count, at least 23 people were tortured, nine illegally detained and 13 executed, creating what he calls "a crack at the core of the Solid North". 
"I think accountability is the main reason why we should always remember and never forget," said his daughter.
"There are people who died. Millions were stolen from us. I don't think that's fair. I don't think we should move on."
Additional reporting by Faye Sales
On Monday (May 9), millions of Filipinos will head to the polls to elect their new president. The race has evolved into a two-way race between Leni Robredo and Ferdinand Marcos Jr, who traded allegations of dirty tricks and vote-rigging on Friday. Buena Bernal reports.