Black market for fuel growing amid supply crisis in Sri Lanka
The authorities have vowed to stamp out the trade. Repeat offenders may be denied fuel rations and face legal action. 
COLOMBO: Akshant looks just like any tuk tuk driver in Sri Lanka, but his wages are three times higher than the others.
This is because he has been selling fuel on the black market amid a severe shortage recently.
"It is more profitable than driving a tuk tuk," the 59-year-old said from behind the wheel of his red vehicle. 
The three-wheeled open vehicle was parked in a quiet neighbourhood of Colombo, where queues outside petrol stations usually stretch for a few kilometres.
"If I buy 5 litres of petrol, I'll unload 3 litres and sell it to other people," he explained.
Akshant (not his real name) has been making a profit from selling fuel over the past few months.
At petrol stations, a litre of petrol costs about 450 Sri Lankan rupees (US$1.26). But at his home, where containers of petrol are kept for the underground trade, he retails them for 2,500-3,000 rupees per litre.
"My customers are motorcyclists and tuk tuk drivers. The owners of other vehicles don't buy from me because they'd need 50-60 litres. I can't give them that much," he told CNA.
Millions of Sri Lankans are struggling amid the worst economic crisis in their country's history. State coffers are running dry of foreign exchange reserves and there is not enough money for essential imports such as fuel.
"We have to wait three to four days to get fuel and we can only get 2,500 rupees' worth of it each time. That's not enough. So, some people would unload fuel from their vehicles and sell it for a higher price. I've started to do that too," Akshant said.
The island nation of 22 million people is officially in default after failing to make debt interest payments in May. Its economic collapse has severely disrupted various aspects of life with soaring cost of living and serious shortages of fuel and medicine.
According to Sri Lanka's power and energy minister, Kanchana Wijesekera, fuel imports will be restricted for the next 12 months.
For the likes of Akshant, rising inflation and the fuel shortage have led to economic opportunities.
His clients are locals who have enough money but no time to wait in line. They are willing to pay more for fuel at exorbitant rates, instead of spending days queuing and sleeping on the road.
The illicit fuel trade is spreading in the commercial capital Colombo and other parts of the country, where the precious commodity is distributed through a rationing system.
HOW FUEL RATIONING AND THE BLACK MARKET WORK
All motorists are required to register their vehicles with the government to obtain a National Fuel Pass. 
Once verified, each vehicle will be given a specific QR code that can be used to buy fuel at petrol stations.
Each QR code comes with a weekly quota for fuel and the quantity differs according to the vehicle types. Tuk tuk drivers, for instance, can fill their tanks with up to 5 litres of petrol at fuel stations each week. Motorists with bigger vehicles are allocated bigger quotas.
"The QR system was introduced since the daily fuel demand cannot be fulfilled," Wijesekera, the energy minister, wrote on Twitter last week.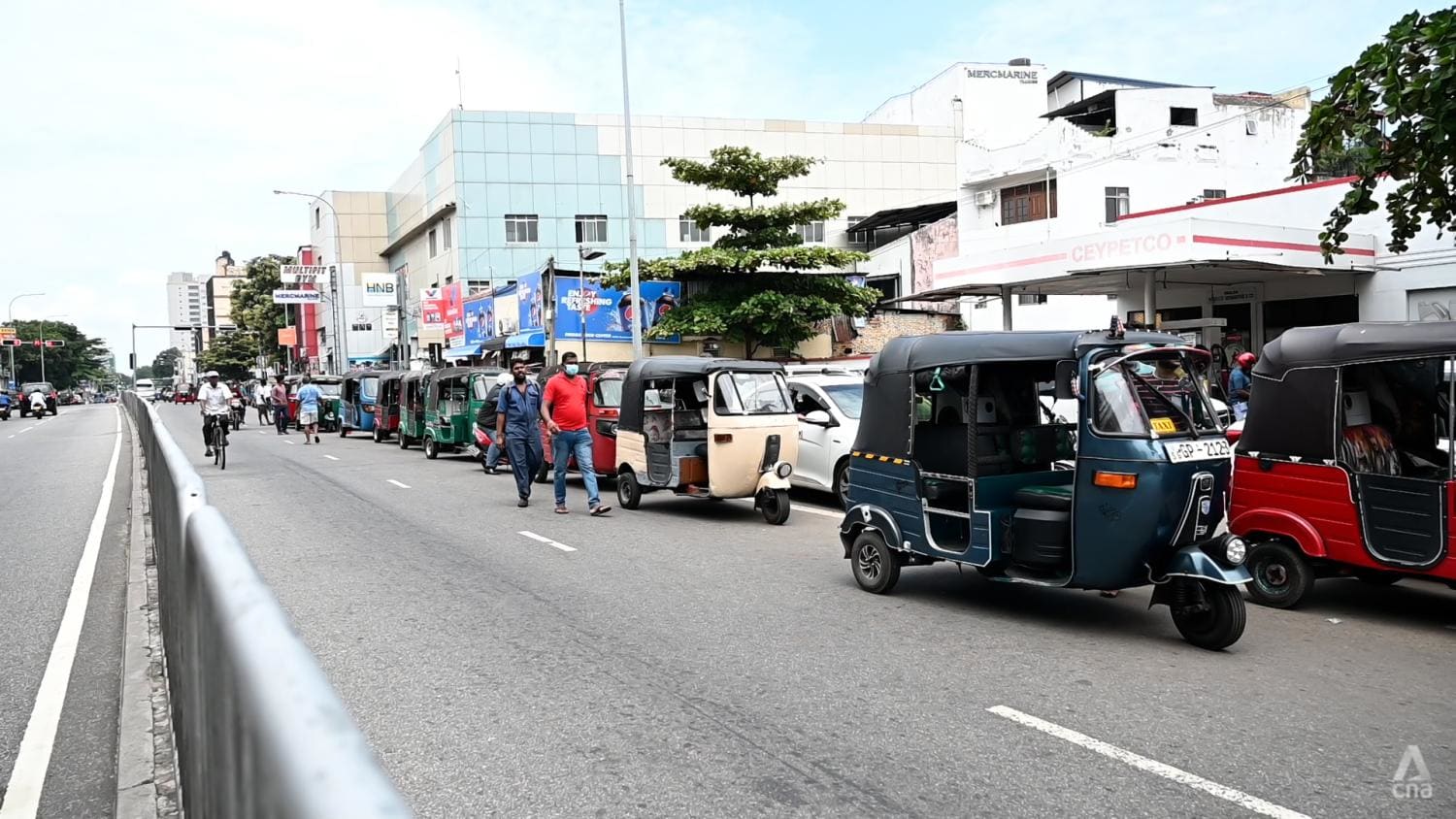 Despite the rationing system, long queues remain outside petrol stations.
"Sometimes, there is no fuel in the shed. So, we have to wait in the queue until it comes. It may take a day, two days or three days. During that time, we have to stay inside the car, eat our food there and wait," said tourist van driver Frank Joseph Alvis.
"It's very hot. You can't turn on the air conditioner because there is no fuel."
When the queue moves forward, Alvis will push his van instead of switching on the engine to conserve as much fuel as possible.
Like many drivers in Sri Lanka, he cannot afford the expensive fuel sold on the black market and has to wait in line every week.
"This is the worst crisis. Even during the Civil War, we didn't have this fuel problem," he said, referring to the intermittent insurgency against the government from 1983 to 2009.
On Monday (Aug 1), the QR code system was applied at all fuel stations nationwide. Operators were encouraged to make sure that every vehicle's number plate matches what is on its National Fuel Pass.
"Fuel distribution will be prioritised for fuel stations that have adopted the QR system. The system will be monitored to check the number of users of QR (codes) from the stocks distributed to fuel stations," the Ministry of Power and Energy said in a statement last Saturday.
According to some drivers, the QR code system strictly limits fuel allocation and makes it harder to stock it for illegal sales. Still, there might be ways to circumvent the policy. 
"I get a tankful of petrol by giving some extra money to a worker at the station," Akshant claimed.
He added: "Some bus drivers also do the same business with diesel. They buy it, unload it and sell it for a higher price."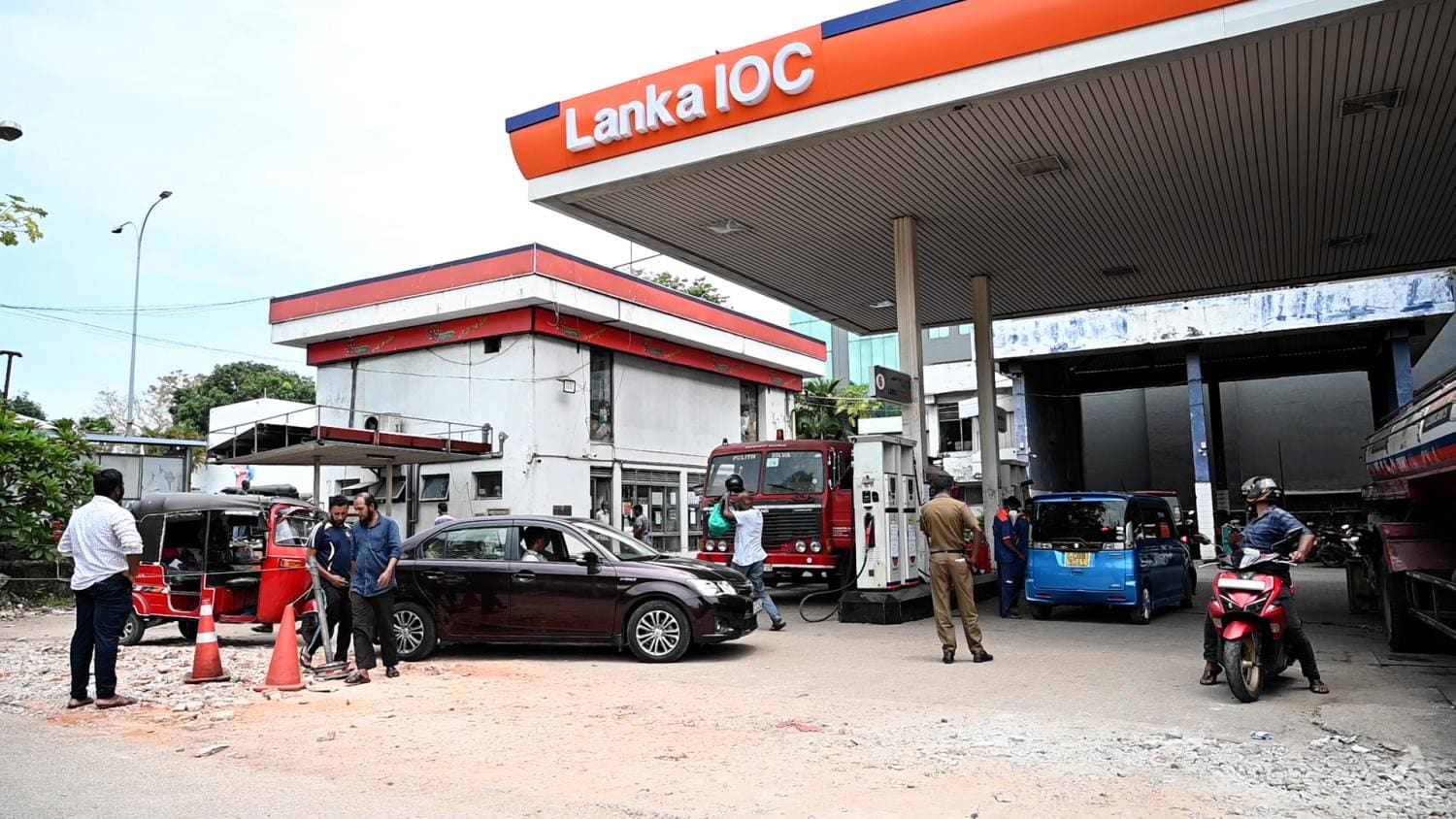 AUTHORITIES STAMPING OUT THE TRADE
The government is aware of the illicit fuel trade and working to eliminate it.
Tissa Maldeniya, a police inspector at Kollupitiya police station in Colombo said: "For the first time, we can advise them about the proper way. We can tell them 'don't do this' and explain how to do it correctly according to the law.
"If they don't listen the first time and do it for the second time, we'll bring them to the police station, record their statements and warn them."
"After that, if they still don't listen and continue doing the wrong and illegal thing, we can take necessary actions. Otherwise, we don't want to do it because they're innocent people and we have a crisis in this country right now," he added. 
According to the Ministry of Power and Energy, repeated offenders could have their QR codes suspended and face legal action. 
In Colombo, many petrol stations have put up signs to discourage malpractice.
"Petrol shall only be supplied directly into the fuel tank of the vehicles at Lanka IOC sheds with immediate effect. No sale of petrol shall be allowed from Lanka IOC sheds into cans, containers or bottles," read a sign on a fuel dispenser at one of the petrol stations owned by energy firm Lanka IOC.
Still, some people have found a way to carry on the underground trade.
"The owners of the petrol stations don't know about this extra money business. It's between the staff and the drivers," Akshant said.
Akshant's name has been changed to protect his identity.