Appointment of prime minister from Thai opposition a hurdle for parties post-election: Analysts
"You need quite a large majority in parliament to be able to outvote the senators if they all vote en masse for one particular candidate, which is what they did last time," one analyst told CNA.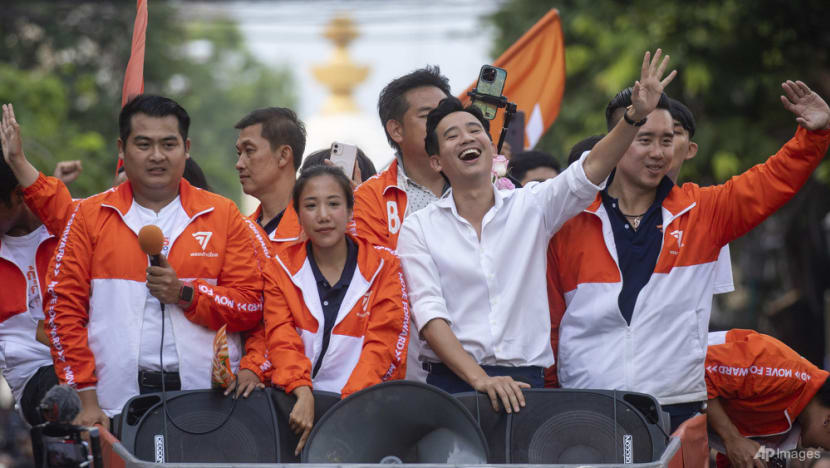 The appointment of a prime minister in Thailand will be one of the first hurdles for the opposition parties after their landslide win in the May 14 general election, an analyst said a day after the country went to the polls.
The 500 newly elected Members of Parliament (MPs) will have to, by law, vote for the new prime minister alongside 250 senators appointed by military generals who staged the coup, noted Professor Duncan McCargo, director of the Nordic Institute of Asian Studies at the University of Copenhagen.
"You need quite a large majority in parliament to be able to outvote the senators if they all vote en masse for one particular candidate, which is what they did last time," he told CNA's Asia Tonight on Monday.
The 309 opposition MPs expected to form a six-party coalition would "struggle to get their prime ministerial candidate nominated if all the current government MPs voted along with the senators, as the numbers would not add up, he noted. The coalition will include Move Forward Party, which emerged the victor in Sunday's general election, and runner-up Pheu Thai.
This would be among "a number of obstacles" facing the parties, he said.
"If Thailand was a normal country, you'd assume that these two opposition parties that have secured far more seats than the former government parties would now be in a position to get together and form a government," he said.
"But things might not pan out exactly like that. I'd like to believe they'd pan out like that. But there are quite a number of obstacles along the way which could result in something rather different from what the results could superficially suggest at first glance."
Ms Pongkwan Sawasdipakdi, lecturer at the Faculty of Political Science at Thailand's Thammasat University said that the situation is "not very optimistic" for the opposition parties.
"It was kind of questionable whether they (the senators) are going to vote for the Move Forward Party or they're going to vote absentee. It looks like right now, they just expect the member of the parliaments to form a big coalition of more half of the Parliament members," she told CNA's Asia First on Tuesday. 
"They put more pressure and responsibility on the members of parliament and the Move Forward Party themselves, meaning that they're probably not going to be willing to vote for the Move Forward Party."
CHANGES IN THAI POLITICAL CLIMATE
Thailand's opposition securing a stunning win was "not surprising", given that people had been wanting change, said Ms Sawasdipakdi.
"We had a movement two years ago that (made it) really clear that people had enough with the military government," she said.
However, what was cause for surprise was the Move Forward Party winning a majority, given their progressive agenda that included reforms of the military and the lese majeste law, she said.
"It was clearly an indicator that people, the newer generation or more than half of the country now, is willing to move beyond this conflict and wants the country to be more progressive rather than freezing … the landscape (the way the) conservative wants," she said.
While existing divides based on region, class identity and prior political allegiances were obvious in this year's election, "generational divide looms the largest as an emerging new cleavage in Thai society", said Prof McCargo.
"There's a very, very big difference in worldview between people under 30 and people over 30, and their willingness to go along with what were considered to be traditional natural assumptions about the way Thailand should be organized is much, much less than it was in previous generations," he said.
CHANCES OF PARTIES BEING DISSOLVED
Despite the support the opposition has garnered, he noted that parties can be dissolved and MPs disbarred.
"Thailand has dissolved more political parties than any other country in the world over the past 20 years. They've got a pretty good track record of doing that," he said.
He noted that the Move Forward Party is a replacement for the Future Forward Party, which ran in the last election but was dissolved by order of the constitutional court.
"That threat is always there, that Move Forward could be banned, that Pheu Thai could be banned, that any of the other parties could be banned," he said.
"There are an awful lot of rather complicated, obscure and ambiguous regulations governing elections in Thailand, which would make it possible for charges to be brought."
He noted that Move Forward's leader Pita Limjaroenrat is already being threatened with charges related to media share ownership.
Ms Sawasdipakdi said that the final results will not come out anytime soon.
"It's probably going to be delayed until 60 days after the election. A lot of things can still happen along the way," she said, adding that there are attempts by the conservative party and the army to push back on this progressive agenda.
"That's something that we have to really keep an eye on really closely because from now to 60 days after this, and even after the formation of the coalition, many things can happen," she said.
"We have the senators, we have the election commission, we have the constitutional court. These are the mechanisms that can always come back to oppose the democratically elected government."