Thai election: Move Forward Party has replaced Future Forward Party, but can it make a similar splash?
Future Forward Party, which made a splash at the last Thai elections in 2019, is now defunct, having been dissolved by the Thai Constitutional Court over alleged campaign finance violations.
BANGKOK: Future Forward Party, which made a splash at the last Thai elections in 2019, may now be defunct, but in its place is the Move Forward Party looking to make the same impact in the upcoming polls.
The Future Forward won 81 seats on its maiden outing at the polls, delivering the second-best performance by an opposition party then. It was the country's second biggest opposition party led by billionaire co-founder Thanathorn Juangroongruangkit and was barely two years old at that point.
Its surprise success in the 2019 elections was thanks to young voters drawn by the party's liberal-progressive stance.
However, three years ago, Thailand's Constitutional Court dissolved the Future Forward Party over alleged campaign finance violations, leading supporters to think the ruling was a political plot to remove any perceived threat to the government.
All its executives, including co-founders Mr Thanathorn and Mr Piyabutr Saengkanokkul, are banned from seeking office for 10 years.
"If the powers that be think that they are extinguishing our fire, let me assure you - they are wrong. This will spread like wildfire," said Mr Piyabutr.
THE MOVE FORWARD PARTY
The remaining members have carried on the work, naming themselves the Move Forward Party, and appointing a new leader, Mr Pita Limjaroenrat.
The people have taken a shine to him. At a rally in downtown Bangkok in late April, he received a rockstar reception.
The Ivy-League-educated 42-year-old is just one of many new faces who hope to repeat Future Forward's election success.
Despite the new name, it has the same liberal-progressive ideology - almost radical for Thai standards, and drawing the ire of Thai conservatives.
These elections will be the first since the youth-led protests between 2020 and 2021 - sparked by the dissolution of the Future Forward Party - have challenged the political status quo.
Activists soon called for a wholesale reform of the entire Thai power structure, including curbing the political influence of the military and the monarchy, an institution considered sacrosanct in Thailand.
The state cracked down on the unprecedented dissent, charging hundreds of Thais, some of them with lese majeste that punishes criticism and insult of the monarchy with up to 15 years in jail per offence.
MOVE FORWARD CANDIDATES
One of these activists is Ms Chonthica Jangrew, who still has 20 cases against her.
But that has not stopped the Move Forward Party from putting her up as a candidate in Pathumthani province on the outskirts of the capital Bangkok, convincing voters her platform is more than just about civil liberties.
"One thing that everyone I meet seems to agree on is that everyone wants good politics. They all wonder if bread and butter issues can be tackled without a fair political system or good governance and without a leader that has a vision," she told CNA.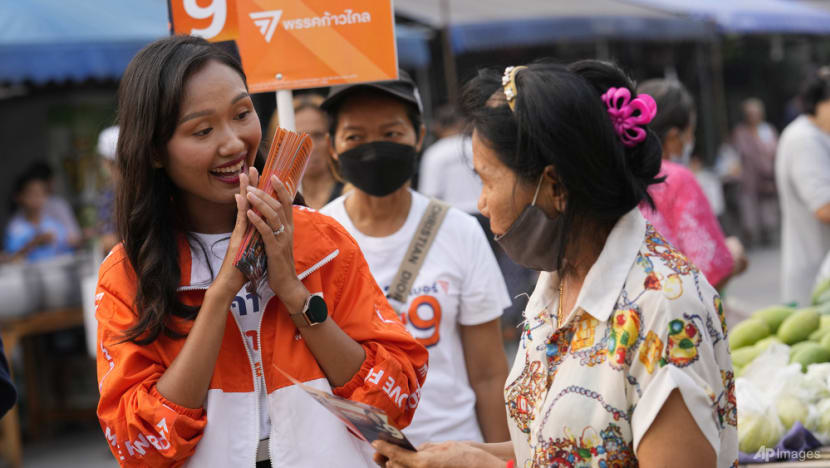 As Ms Chontica attempts to make the leap from activist to lawmaker, fellow pro-democracy activist Rangsiman Rome, Move Forward's spokesperson, has already done so.
His first four years as an MP have been an eye-opening experience, he told CNA.
"You don't get paid by the people's taxes as a political activist and people don't expect you to work on all issues," he said.
"But once you're a politician, the expectations change. How can you be an MP that cares about democracy, but not about labour rights? Or not about the environment? You can't. You have to care about it, because the people are paying your salary and they are putting their hopes in you."
EXPECTATIONS OF SUPPORTERS
The expectations of the party's supporters is that it stays true to its liberal-progressive ideals, even if it confines them to the opposition bench.
During one rally in Bangkok, party leader Limjaroenrat made it clear that they will not join hands with the parties supporting Prime Minister Prayut Chan-o-cha and his deputy Prawit Wongsuwan, often referred to by many as "uncles".
"Our stance is clear: There's no 'us' with the 'uncles'. And there'll be no 'uncles' with us," he told the crowd, which responded to him with loud cheers.
"That's what we're trying to say (to) really draw the line between what the future looks like and what the past looks like."