'We need to talk about it', says Thailand mental health chief as suicides increase during COVID-19
Thailand's Mental Health Department expects suicide rates to increase as the COVID-19 pandemic drags on and encourages the public to seek mental health support when they need it.
BANGKOK: Suicide rates are on the rise in Thailand as COVID-19 has undermined public mental health for almost two years. 
Latest data from the Mental Health Department showed a marked increase in suicide deaths, which rose from at least 5,768 in 2018 to 5,870 in 2019. The figure was 6,597 in 2020. 
This means last year alone, Thailand recorded 10.08 suicide deaths per 100,000 population. 
"Suicidal tendencies are increasing and the suicide rate has been going up for the past one year," said Dr Amporn Benjaponpithak, the director-general of Thailand's Mental Health Department.
She expressed concern over the upward trend in suicide deaths, which has been influenced by the COVID-19 crisis.
"Every crisis has a mental impact. People who are unable to adjust or have limitations will be affected. The most serious impact, which we are most worried about, is suicide."
According to Dr Amporn, the pandemic has caused loss of life and affected socio-economic status. These tend to happen abruptly. Many people lost their loved ones. Others lost their jobs or became burdened with debt.
"One day, everything just turns upside down and they can't adjust to the loss of such magnitude," she explained when interviewed by CNA.
"Such great loss has consequences and provokes. It is the final straw."
DETECTING SIGNS OF MENTAL DISTRESS, SEEKING HELP
Mental health support in Thailand is available through various channels. 
The Mental Health Department offers free counselling via the 24-hour 1323 hotline, its Facebook chat service and via @1323forthai on the Line messenger app. 
It also provides a web-based platform known as Mental Health Check In for the public to assess their own mental health or others'. Users can get the assessment outcome quickly and receive advice on how to take further action.
Since Jan 1 this year, more than 2.4 million people have been assessed through Mental Health Check In. The majority of them are members of the public (33 per cent), followed by village health volunteers (17 per cent). The elderly make up 16 per cent of this group.
Official data showed 240,226 respondents were at risk of depression, 205,005 people suffered from high stress and 132,931 others were at risk of suicide.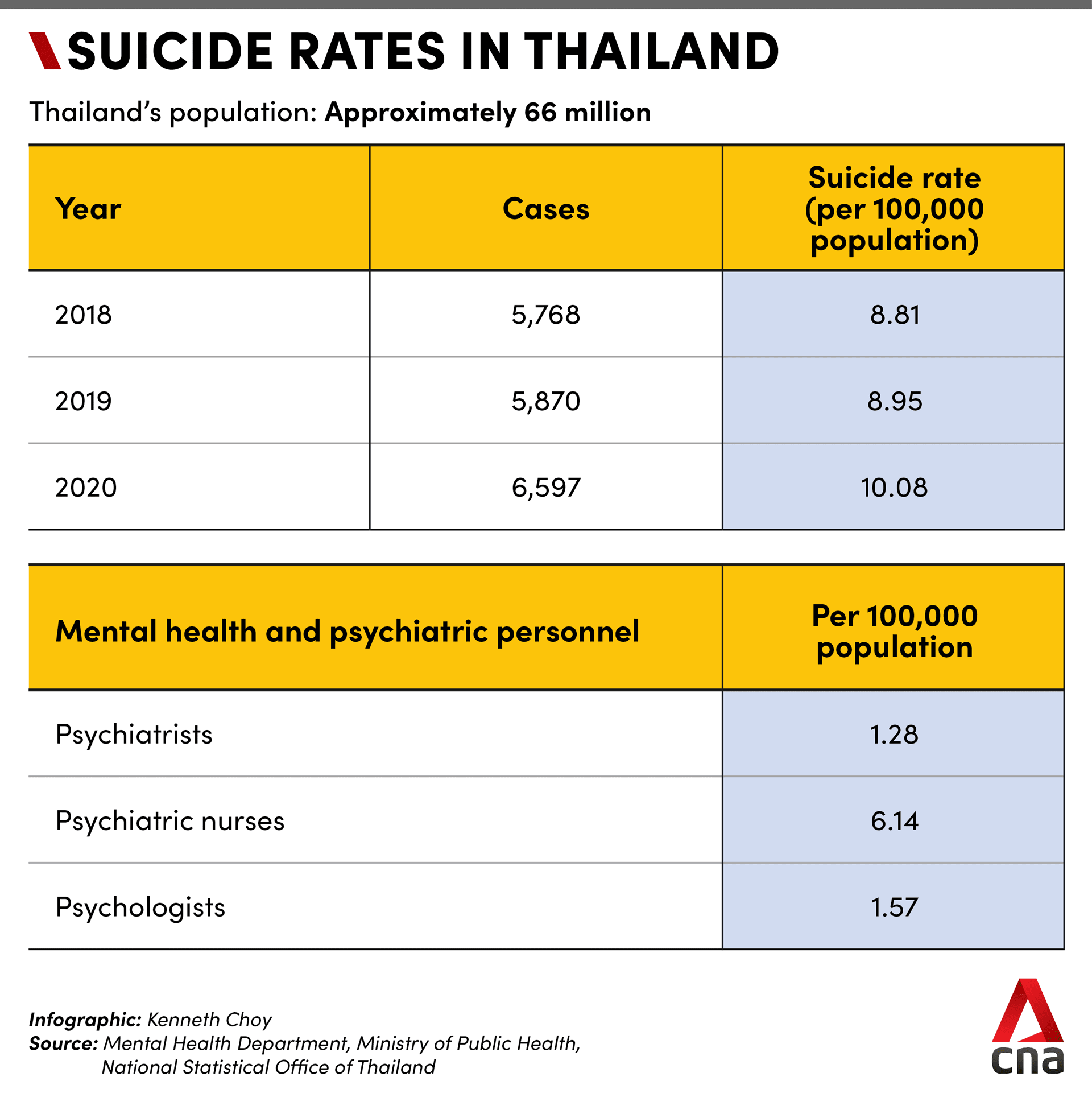 Suicide is a public health issue that is openly discussed in Thailand. However, according to its mental health chief, the conversations should focus more on how people can detect signs of mental distress and how to seek help.
"It's clear this aspect is still limited. Many people still don't know how to notice if someone is sad or whether the risk of them killing themselves is low, medium, high or so critical they can't be left alone but must see a doctor. Most people still don't know this. We need to talk about it," Dr Amporn said.
"Our society tends to talk about news of suicide from a perspective where it is dramatised," she added. "The dramatisation could influence people to imitate, that is to say, to become copycats."
COVID-19 INCREASES STRESS, DISCOMFORT
According to the World Health Organization (WHO), suicide is the second leading cause of death among people aged between 15 and 29.
Although many mental health conditions can be effectively treated at relatively lost cost, WHO said "the gap between people needing care and those with access to care remains substantial" and "effective treatment coverage remains extremely low".
In Thailand, a country of some 66 million people, the Mental Health Department's main telephone counselling channel only operates using 20 lines. Its director-general admitted the lines can get busy due to their limited number, particularly in the evening and at night.
"We may need to reassess the situation as the crisis continues. If we see the need for this, we will try to adjust and may increase public access to (mental health) support in different ways," Dr Amporn said.
Besides her department, mental health counselling is also available at several organisations in the country. One of them is the Samaritans of Thailand, which has advocated suicide prevention since 1978.
Since Thailand reported its first case of COVID-19 in January last year, several waves of transmission have restricted social interactions and weakened the economy. Many people had to work from home while others became unemployed.
The circumstances have resulted in more stress and further aggravated the situation for people who were already vulnerable.
Ms Sriaroon Thanarattikannon, director of the Samaritans of Thailand, told CNA that the number of people seeking counselling through its helpline and social media platforms has doubled since the pandemic started.
Before COVID-19, the organisation usually provided consultation to about 700 people per month. Currently, the number has grown to about 1,500.
"Unemployment is a key issue. Also, when people have to work from home, they can be stressed because it's our nature to go outside," she said. 
"So, when they have to spend the whole day with their family and if their relationship isn't smooth, it means 24 hours of being stuck together, which can cause discomfort."
YOU ARE NOT ALONE
Since August, the Mental Health Department has recorded a surge in the number of children and adolescents visiting its website for mental health assessment, according to the director-general.
Globally, UNICEF estimated that more than 13 per cent of adolescents aged between 10 and 19 live with a diagnosed mental disorder, particularly anxiety and depression.
According to its report The State of the World's Children 2021, which was published earlier this month, almost 46,000 children and adolescents aged between 10 and 19 end their own lives every year, or about one in every 11 minutes. 
"Investment in promoting and protecting mental health – as distinct from caring for children facing the greatest challenges – is extremely low," the report said.
"Lack of investment means workforces – including community-based workers – are not equipped to address mental health issues across multiple sectors, including primary health care, education, social protection and others."
As the pandemic drags on, Thailand's Mental Health Department is working to expand its network to reach out to more vulnerable people and support them. This is done through its collaboration with village health volunteers, local administrative organisations and various ministries.
"It is the Mental Health Department's job to pass on the knowledge and skills to members of our network, including how to offer counselling and how to listen to someone who is stressed share their feelings in a way that would help them," Dr Amporn said.
Meanwhile, phone and online counselling continues to be offered by suicide prevention groups.
According to Ms Sriaroon from the Samaritans of Thailand, listening helps remind people who are vulnerable that they still have someone who understands their suffering.
"When they speak to someone, it's like they get to listen to themselves. So, we listen to them and let them talk about what is troubling their mind. As they keep talking, sometimes they'll realise that actually, there is a way out," she told CNA.
"I want to tell them that they're not alone. At least, there are volunteers who are happy to be their friends and listen to their problems. I want them to know that in fact, their lives are valuable. Even though it may be full of hardship right now, if they can get through this period, their life ahead is valuable."
Where to get help:
Samaritans of Singapore Hotline: 1800 221 4444
Institute of Mental Health's Helpline: 6389 2222
Singapore Association of Mental Health Helpline: 1800 283 7019
You can also find a list of international helplines here. If someone you know is at immediate risk, call 24-hour emergency medical services.