One year on, what do Chinese residents living on the China-Russia border think about the Ukraine war?
The Chinese government has largely maintained neutrality on the war in Ukraine, calling for a peaceful resolution while refusing to condemn Russia.
HEIHE, Heilongjiang: In the city of Heihe at the northeastern border of China, the Russian town of Blagoveshchensk can be seen in the distance, across the Heilongjiang – also known as the Amur River.
Here, the close ties between China and Russia can be observed in the food, the architecture, and in the faces of the people.
With their blue eyes and brown hair, some men and women in this city look like Russians, but they are in fact Chinese nationals of a Russian ethnic minority group.
"My great-grandfather and great-grandmother escaped from Russia to come here," Ms Peterluowa, a brown-haired, blue-eyed Chinese citizen said in fluent Mandarin.
"And this man here, his great-grandfather went to Russia to find a Russian wife," she added, pointing to her friend Zhao Zhencheng, a dark-haired, blue-eyed man with rosy cheeks.
"I am a Chinese (of Han ethnicity). I was born in China and studied Chinese culture," chipped in Mr Zhao, a baker who owns a restaurant.
These ethnic Russian Chinese citizens said that crossing the border causes a lot of confusion for the border guards on both sides due to their facial features.
"When we visit Russia, the Russians get confused, especially the border inspectors. When we come back to China, the Chinese border inspectors get confused," Ms Peterluowa said, laughing.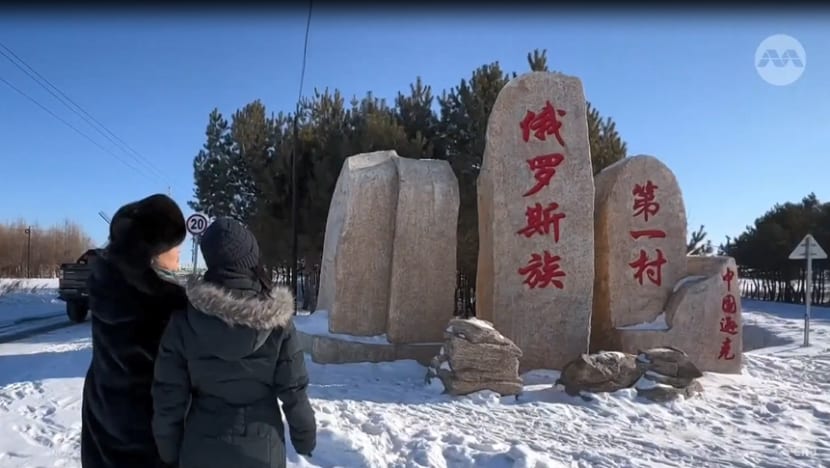 About 163km from the city is the First Russian Ethnic Village in Xunke County, where about 40 per cent of the population has Russian heritage.
The village is located right on the bank of the Heilongjiang, less than 2km across the river from Russia.
In one of the houses that CNA visited, portraits of Soviet revolutionaries Lenin and Stalin hang alongside those of Chinese Communist Party leaders Mao Zedong and Zhou Enlai.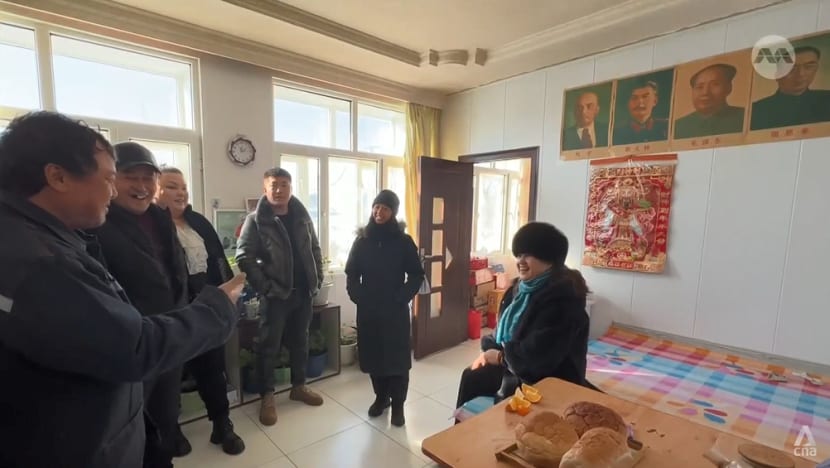 Locals in the village sometimes bake the dalieba – a sourdough bread – at home. The bread, first introduced by the Russians, is commonly sold in the street side shops of Heilongjiang province.
With such close proximity to Russia, what do these citizens think about the invasion of Ukraine?
SENTIMENTS ON THE GROUND
When CNA spoke to residents in Heihe, many avoided answering the question, or simply said they support whatever position the Chinese government takes.
"No comment, this topic is inconvenient for me to comment too much," said a resident.
"The state protects us very well. So if there is any problem, I believe in our motherland. I believe in the Communist Party," said Ms Chen, a student who only wanted to be known by her last name.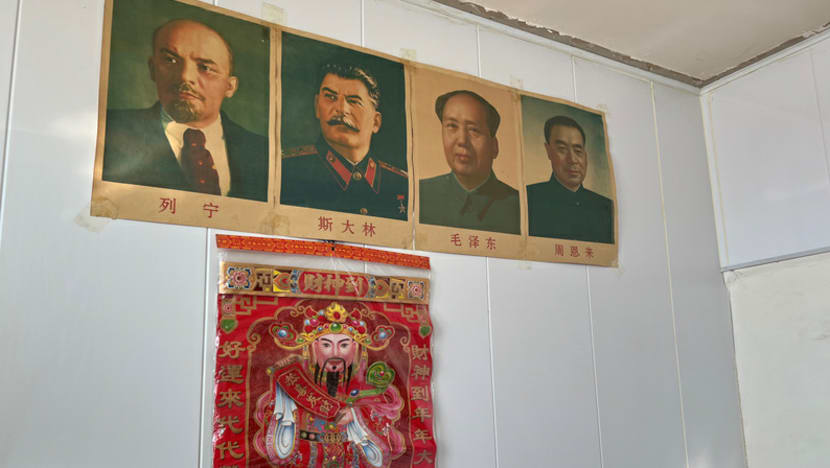 Those who shared their views mostly said they supported Russia. Not so much because they are against Ukraine, they said, but because the Russians are their neighbours, friends, and even loved ones, due to many intermarriages in the area.
"I feel that Russia is better. Yes, (I support Russia) because after all, we are close to Russia. Because our Sino-Russian friendship is relatively good," said Ms Zhang, a local.
"I support Russia. But I don't want war because I don't want civilians to be hurt," said Ms He, a 56-year-old resident.
Some said they support Russia because they are against the United States, which they see as the common adversary of China and Russia.
"Of course I support Russia. Why? Because Russia is a big country, and because Putin is very just. We all like him… If Ukraine provokes Russia, Russia must hit back," a retiree told CNA.   
Some locals also appeared to view identity through the lens of civilisations, not national borders.   
One middle-aged woman told CNA she believes the areas under attack in Ukraine belong to Russia. She said this is because people from both countries share the same ethnic origins, adding, "They are one country. They are all of Russian origin. It's just that now they are separated."
While most of the residents CNA spoke to supported Russia, experts said there may be a silent group that believes China should distance itself from Moscow.
"(There are) people who say that it is simply wrong. You don't attack another sovereign nation," said Mr Xu Qinduo, a senior fellow at Beijing-based public policy think tank Pangoal Institution.
"You invaded another sovereign nation. That should be condemned."
FROM ICY FOES TO "NO LIMITS" PARTNERSHIP
Once icy foes during the Cold War, Moscow and Beijing have over the past years ramped up political and economic cooperation, driven by a common desire to counterbalance what they see as US hegemony.
After the US and Europe imposed severe sanctions on Moscow following its invasion of Ukraine, Russia has increasingly pivoted to Asia – and China in particular – as a driver of its economic growth.
With the US and its allies looking to contain China, it has also prompted Beijing to move ever closer to Moscow.
In early February last year, weeks before the war, Beijing and Moscow jointly announced a "no limits" strategic partnership with no "forbidden areas" of cooperation.
A few months later in June, a road bridge connecting Heihe and Blagoveshchensk – the first highway bridge linking China and Russia – was opened to great fanfare and fireworks.  
The US$369 million Heihe-Blagoveshchensk bridge, a project pushed by the presidents of both countries, symbolises the deepening of bilateral ties across the border.   
It is a key infrastructure to bolster trade between the two sides, which hit record high last year at US$190 billion – up more than 30 percent from 2021.   
The Chinese government has largely maintained neutrality on the war in Ukraine, calling for a peaceful resolution while refusing to condemn Russia, despite rising pressure from the West urging China to do more to denounce the war.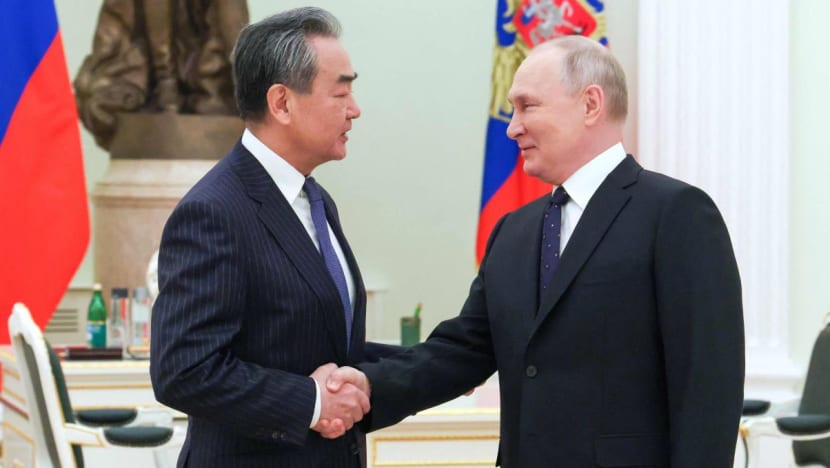 On Tuesday (Feb 21), China's top diplomat Wang Yi told Security Council of Russia's secretary Nikolai Patrushev that Beijing's relationship with Moscow was "rock solid", adding that both countries should work on new joint steps to ensure their security.
Mr Patrushev, one of President Putin's closest allies, replied that that Beijing was a top priority for Russian foreign policy and said the two nations must stick together against the West.
The deepening ties between China and Russia is a source of concern for the West, said analysts.
"This no-limits partnership (with Russia) made a lot of other governments, especially European and North American governments, highly sceptical about Beijing's intentions," said Political Science Professor Chong Ja-Ian from the National University of Singapore.
"I think that helped fuel some of the downturn in China-European relations, which Beijing is trying to recover right now," Prof Chong added.
CHINA UNLIKELY TO CHANGE STANCE
In recent months, Beijing has notably softened its tone on foreign affairs and tried to lift its diplomacy with Western governments.
China's top diplomat Wang Yi, just completed a whirlwind tour in Europe to win back lost ground and stabilise relations.
However, analysts say that China is unlikely to change its stance on the war meaningfully.
"Beijing does see itself in sort of pretty intense competition with the US and to some degree, Europe," said Prof Chong.
He added that Beijing considers Russia as an important, alternative voice on the world stage in its effort to counter what it sees as a Western-led global order.
"Beijing has very little incentive to see Russia diminished," he said.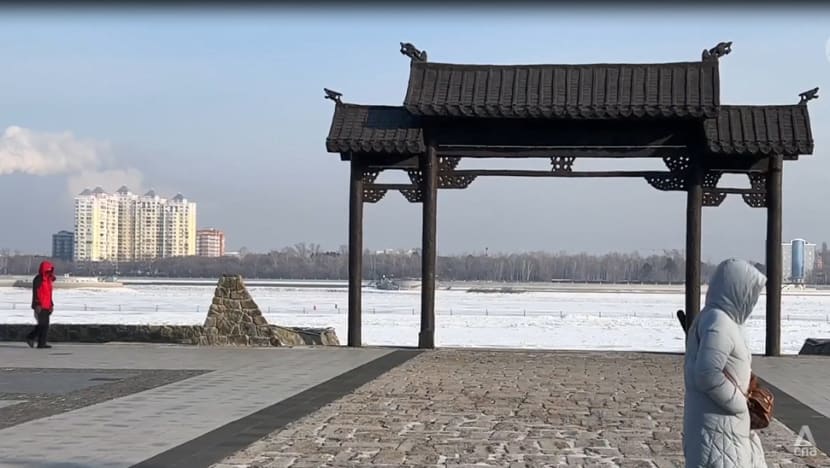 With the two countries sharing over 4,000km of common border, it is not surprising that China finds it difficult to distance itself from Russia.
As Ms Wang Hui, a shopkeeper selling Russian goods in Heihe told CNA, "We support Russia out of our own self-interest. We must support Russia and hope they win the war. If Russia does well, we will do well too. We share a common fate."   
"If they win, their economy will improve, and then the Russians will come here to spend their money."