I still do -Eager to settle down, Chan Jia Wei and Janet Ng are going ahead with their wedding — even it means compromising on aspects of the celebrations.
When Chan Jia Wei, 31, and Janet Ng, 29, started planning their wedding back in 2019, the couple had intended to invite their large extended family and friends living overseas to be part of their big day. They also envisioned hosting an entertaining wedding dinner, complete with fun elements like a photobooth and a live band, topped off with boisterous toasts of "yam seng".
But not long after paying the deposit for a 220-person banquet at a four-star hotel in December 2019, the COVID-19 pandemic hit. Soon after, Jia Wei and Janet were told that their wedding venue would be used as a facility for people to serve their stay-home notice — with no confirmed end date in sight.
"When the pandemic first began, our planned wedding date — 27 March 2021 — was still far away. We thought that things would improve eventually," says Janet, a learning and development executive. "But by August-September last year, the situation did not get any better and we knew we had to change plans and find an alternative wedding venue."
With no end in sight to the global health crisis as their nuptials drew closer, the pair were confronted with two choices: they could either adapt their mindset and plans in order to fit the new normal, or postpone their wedding. While some couples chose to reschedule their big day, Jia Wei and Janet decided to go ahead with a smaller-scale, more intimate wedding. They made their decision after accepting how it would be impossible for relatives living overseas to attend the event due to the travel restrictions. They are thankful, however, that the hotel they booked previously offered a full refund of the deposit, and they have since switched to a smaller wedding venue.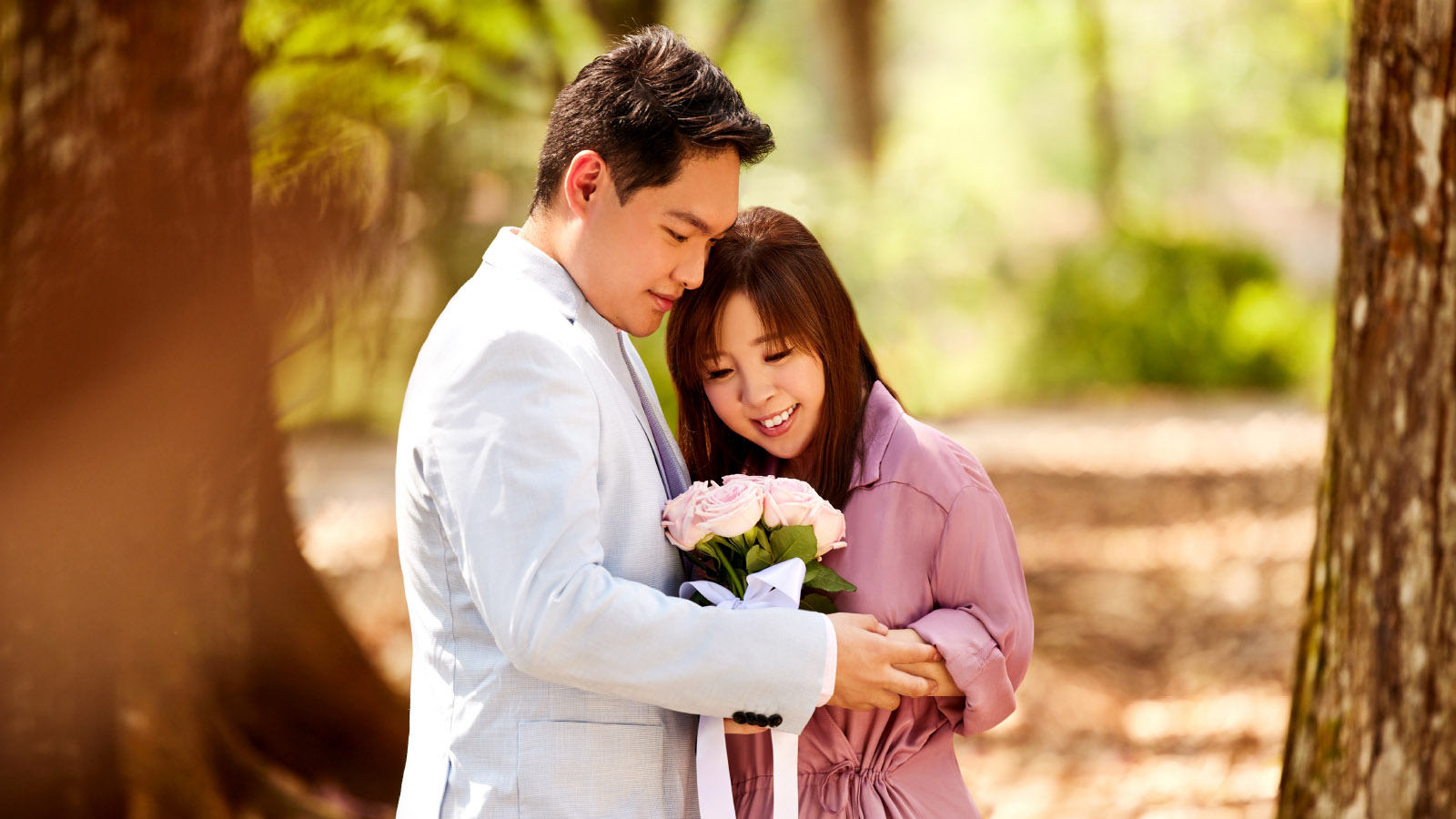 For the couple, the 'main event' is not the wedding itself, but the life they will share together as husband and wife.
GETTING THEIR PRIORITIES STRAIGHT
Explaining why they decided to get married during the pandemic, the couple shares that they did not regard the wedding day itself as a potential "showstopper" moment in their union. Instead, they want to prioritise family planning and hope to have children early as they are "not getting any younger", Janet says.
Being apart during the circuit breaker period last year also made them realise the depths of their love for each other. "That was one of the most challenging times in our relationship," Janet recalls. "I never want to experience that ever again, so even if we can't have our dream wedding, it's okay because that, to me, is just a formality."
Agreeing, Jia Wei, a technical engineer, adds, "Even now, we cannot confirm if there will be more restrictions on guest numbers by the time our wedding day comes around. My take is not to think too much, whether you have a 50- or 100-person guest list."
With large extended families living in Malaysia, their parents have been grappling with disappointment. "I am the only child, so my mum's idea for her son's wedding was to invite all of her brothers and sisters and their families, to celebrate the occasion," shares Jia Wei. "But adapting our mindset and plans was the only way forward. We can only console our parents that we might hold a smaller dinner in Malaysia after the pandemic. In the meantime, we will probably send a video clip of our wedding day to our overseas relatives after the event."
ROLLING WITH THE PUNCHES
Despite the restrictions, Jia Wei and Janet believe it is possible to safely incorporate fun elements into the event. The couple also intends to go digital to interact with their audience. This involves using Mentimeter, a quiz and presentation software that allows guests to interact in real-time, as well as Kahoot!, a game-based learning platform that can generate customised pop quizzes.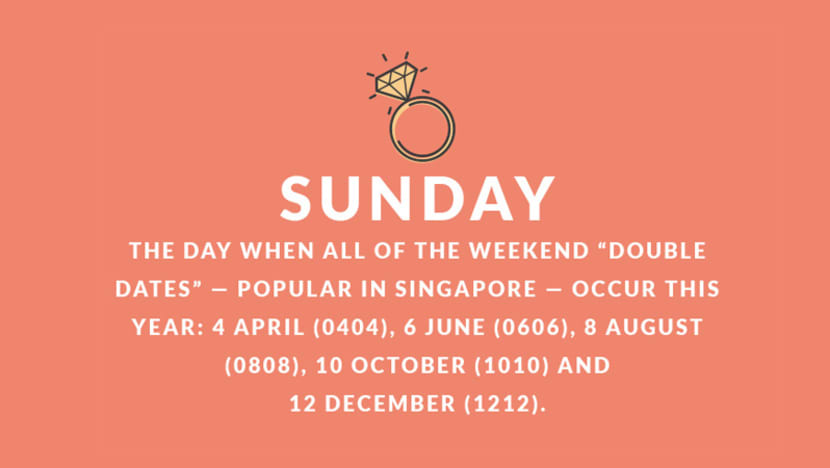 Janet says one upside to a small, intimate wedding is that it allowed her to personally prepare a handmade resin coaster for every guest, which would not have been possible in the case of a large-scale affair. The couple started working on the project in June last year and have painstakingly handcrafted nearly 100 coasters so far. "We've been staying home a lot because of the pandemic, so we spend our time together making the coasters. Our parents have seen what we've done and are supportive of our project too," Jia Wei adds. His parents showed their support by letting them use one of the rooms at home so that they could work on their resin coasters comfortably.
IT'S TIME TO GET REAL
The couple are under no illusions during this challenging time. They are mentally prepared to pare down their guest list further, should the coronavirus situation worsen in Singapore after the Chinese New Year festive period. "At all times during our planning, we kept a 50-pax and 100-pax guest list in mind. This is so we are always prepared and know who gets to attend even if the situation changes," says Janet, who adds that having a back-up plan is important to reduce stress and anxiety in the lead-up to their wedding.
TALK IT THROUGH
Communication is key to a happy marriage. Jia Wei and Janet advise couples to discuss and identify what's most important for a wedding. For example, is it paramount that the wedding take place on the original date or should they postpone it so they can invite loved ones from overseas? They feel it is also important for couples to communicate with their parents and adjust their expectations accordingly. "While matrimony is between husband and wife, I think couples can try to console their parents. Perhaps tell them they can hold a big man yue (full-month) party when the baby arrives and invite all their family and friends over when the pandemic ends," Jia Wei suggests.
Regardless of the COVID-19 crisis, Janet says that love surmounts all obstacles. "Unfortunately, this (coronavirus) situation is very much out of our control. The important thing is not the wedding itself, but the love shared between the couple," she notes. "Many people hold grand weddings but do not know most of the guests. A wedding should be between the couple, so even if it is a small and intimate wedding, it is good enough." Adds Jia Wei, "If a couple is keen to get married, all of the challenges brought about by the pandemic can be solved."
Jia Wei and Janet add that while the pandemic has brought about many uncertainties, one thing remains clear: On 27 March, they will take their marriage vows and affirm their steadfast love for each other.

TOGETHER, FOREVER — AND NEVER TO PART
Organised by Families for Life, 'I Still Do' is an annual campaign that celebrates love and marriage. Check out the website for useful marriage tips and bonding activity ideas that dating and married couples can do together.
FIND OUT MORE