Even in 'normal' times, planning a wedding often proved overwhelming and somewhat of a logistical nightmare. And now, the COVID-19 pandemic — which halted events, celebrations and activities in 2020 — has thrown another spanner in the works. If you're one of the couples affected by the current restrictions and are still undecided as to whether to go ahead with your wedding in 2021, here's advice from the professionals in the industry, who also share how they've pivoted to adapt to changing times.
THE VENUES
Couples who've had to pare down their guest list, especially on short notice, should focus on planning the list, says Ms June Choong, director of events at Grand Hyatt Singapore. "We advise [couples] to prioritise the people they most want to have physically present," she adds. The hotel has focused on creating intimate wedding packages that are tailored to local regulations and offer advice on solutions for scaled-down events, "without compromising the celebration of this key milestone". New initiatives at the hotel include transforming its four ballrooms to accommodate 100 guests, instead of 300, and allowing couples to mix and match menu courses. For larger celebrations, it offers live-streaming and video recording.
For couples worried about the venue aesthetic due to safe distancing measures, hotels use floral arrangements, fairy lights and other creative solutions to demarcate the different zones. For instance, traditional message and photo books have been replaced by virtual well-wishes and online streaming of photos using a QR code, while trivia games are live-streamed on social media. Amid live music restrictions, one hotel even arranged for a groom to be filmed at the venue singing a song for his bride, then projected his performance onscreen on the day itself.
WEDDING PLANNERS
Says Ms Hannah Chong, founder of Heaven's Gift, a creative special events design house, as well as The Party Stylist, a bespoke home celebration stylist: "Couples also face constant changes to the regulations. These create added stress, so having a planner helps a lot." Her team has designed removable, clear acrylic shields and screens that can be easily set up and dismantled at banquets. "We believe that in order for dining to resume as normal, some protection had to be in place other than wearing masks or staying a metre apart. So right off the bat, in April 2020 when the circuit breaker measures first started, we imagined how the pandemic would affect such events moving forward. Our shields were designed for sitting as well as standing, so whether it's dining with strangers or talking across the table to a loved one, everyone has a level of protection from [respiratory] droplets [which are a contributing factor to the spread of COVID-19]," she says.
FLORISTS
When it comes to flowers for weddings, brides can now add their own DIY touches, such as those created by florist Fiore Dorato. "We offered an option where virtual guests received DIY floral kits for them to recreate their own floral centrepieces to 'liven up the mood' when attending the couple's wedding via Zoom," says its director and founder Ms Brenda Lee. "Another way to make weddings during the pandemic special for couples, is to rethink the flower arrangements we did. For instance, we arranged for five small vases to be placed in the centre of each table to resemble a large arrangement, where each guest can take home a vase each as a favour."
In addition, she advises couples to know their vendors' cancellation and rescheduling policies, the date by which they have to confirm their decision, and whether the deposit transfers with the new date. "Also ask if there are restrictions on the new date as some vendors let you reschedule only if it's within a year," she adds.
>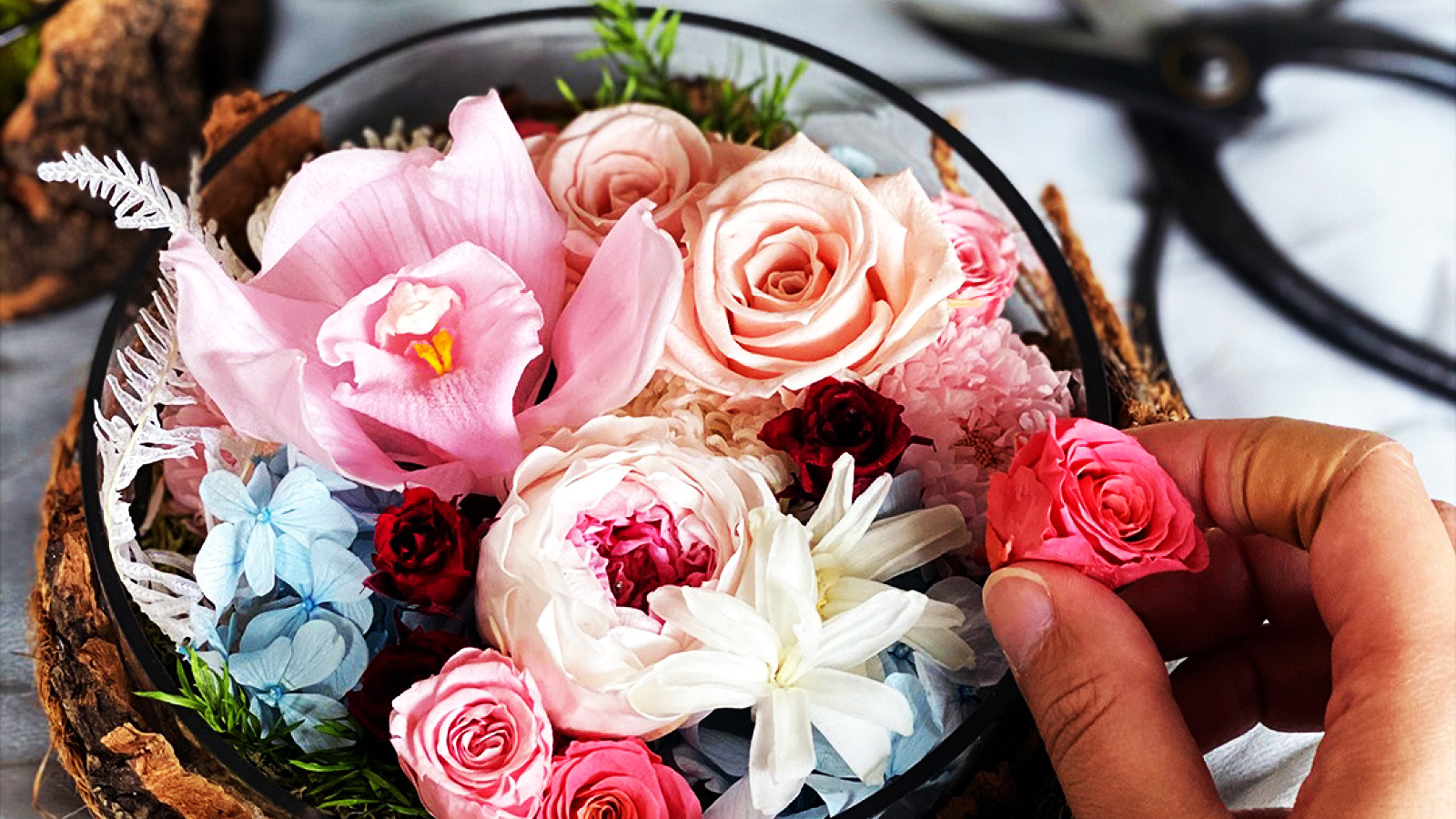 DIY floral kits are a beautiful way for guests watching the wedding virtually to create their own centrepiece for the wedding. (Photo: Fiore Dorato)
PHOTOGRAPHERS
To be safe, look to photographers with postponement policies. One such photographer is Ms Caline Ng, who allows her clients to push back their wedding once at no charge, up to two years from their original date. She says the hardest part about initial social distancing restrictions has been the inability to capture the festive mood at weddings, as guests are not able to hug or interact freely. Yet she also notes one "huge difference" with today's smaller events. "Couples are a lot more relaxed on the day," she says. "Their schedules are also less packed, which gives them the time and space to soak in the celebrations."
BRIDAL FASHION PURVEYORS
With a scaled-down celebration comes scaled-down packages, which means you don't have to spend as much on your wedding outfits. Instead of comprehensive packages that once included the wedding dress, evening gown, groom's suits, makeup and hair, and photography, Yvonne Creative Bridal "introduced wedding packages to help couples save costs and still provide them with all they require for their big day," shares Ms Tiffany Ye, its manager. For example, its wedding package includes a wedding gown, suit, and makeup and hair. Couples are also offered the flexibility of swapping items in their package and reassessing the prices. Those who postpone their wedding are also advised to do their pre-wedding photoshoot first, due to the uncertain circumstances.
Couples, who also had to plan for their wedding rings a few months' in advance previously, can now look to bespoke jewellers such as Ms Sandra Chew, founder of bespoke jeweller Artemis Rings. Ms Chew has the unique dilemma of clients needing to try on ring sizes or feel the texture of her pieces. Her clients' ring sizes are now measured using photos. She sources for her own materials, instead of relying on external suppliers hampered by logistical interruptions. Her tip: "Spend more time planning an intimate wedding — by personalising favours or the menu, for instance — that you could otherwise never do with a big wedding."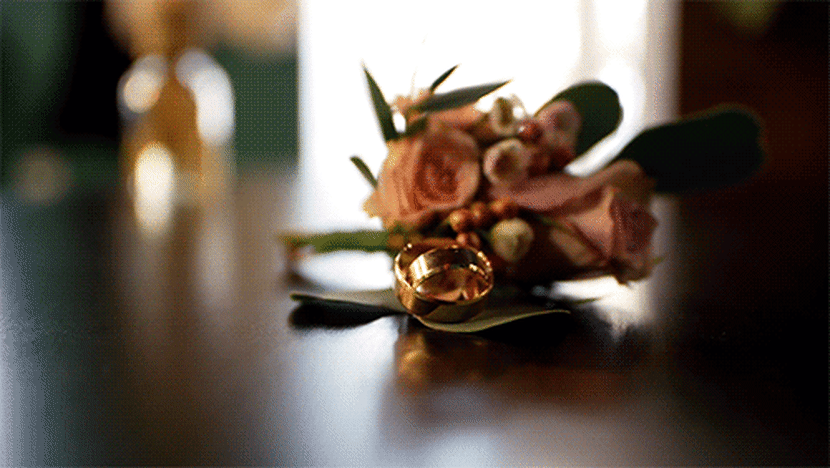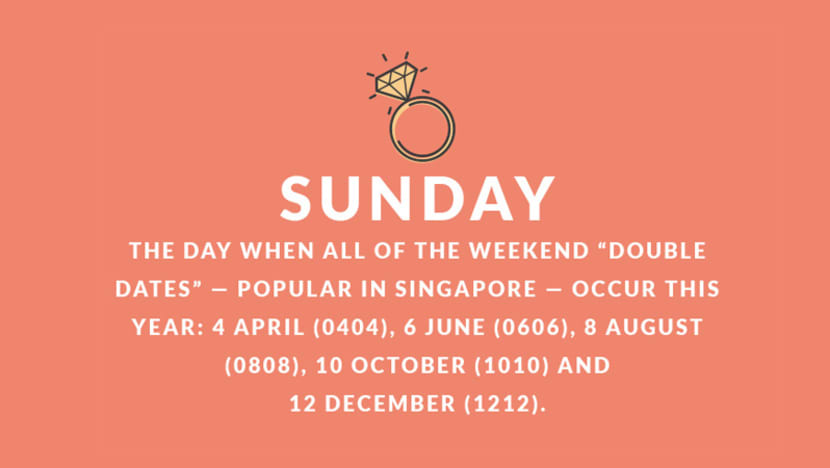 Due to the safety measures in place, couples now have to wear surgical masks with their wedding finery. When it comes to restrictions, Ms Helan Tan, the founder and designer of Gioielli Wedding & Bridal Accessories, says that 'embracing' such obstacles through creative solutions may be the answer. She began making face masks for brides and grooms during the early days of the pandemic. Her masks are now highly sought after as they can be customised to match the bride's outfits and other accessories.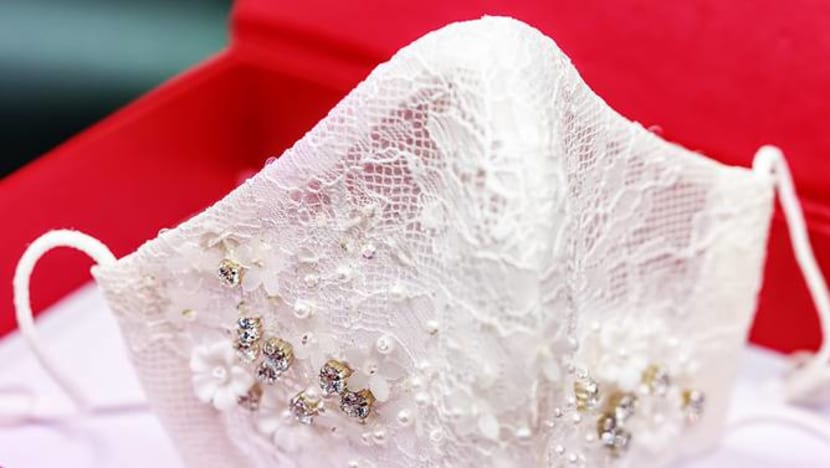 "SAFETY COMES FIRST, WE ALSO HIGHLIGHT TO OUR COUPLES THAT THE NEW PRACTICES DURING THIS TIME ARE A MUST."
MAKEUP ARTISTS AND HAIRSTYLISTS
Worried about hygiene practices due to close contact with your makeup artists and hairstylists during the wedding? Industry veterans Mr Grego Oh and Mr Khai Lee say they now use disposable tools and are constantly sanitising and disinfecting their workspace. "Safety comes first," Mr Oh stresses. "We also highlight to our couples that the new practices during this time are a must." Should you prefer something remote, Mr Lee now also helps clients look good via online makeup tutorial sessions on social media.

HERE'S TO 'HAPPILY EVER AFTER'
Join in the annual celebration of love and marriage with Families for Life 'I Still Do' campaign. Check out the website for useful dating and marriage tips, as well as bonding activities that couples can participate and enjoy together.
FIND OUT MORE