Of all her 29 years, 2020 would probably be the most memorable one for Sharvena D/O Gunasekaran. For starters, she and her sweetheart of seven years, Dinesh Dharminderpal Singh, got married in October after months of hectic planning for their flat purchase, home renovations and wedding. At the same time, she found herself working on the frontlines of the fight against the COVID-19 pandemic as a staff nurse at Tan Tock Seng Hospital's Intensive Care Unit. Taken together, it makes for a compelling tale indeed. "I think we can all write a book about our 2020 experiences," says Sharvena.
Sharvena and Dinesh, 34, an executive for council affairs at the Singapore Manufacturing Federation, say that the pandemic situation never dampened their plans. The couple had always wanted to tie the knot on 25 October because that was the date they first met in 2013 — and Dinesh did not see the point in delaying it. "We do not know when the pandemic will end, and postponing our marriage indefinitely was not an option. But once we decided to get married, we knew we would have to compromise," he says.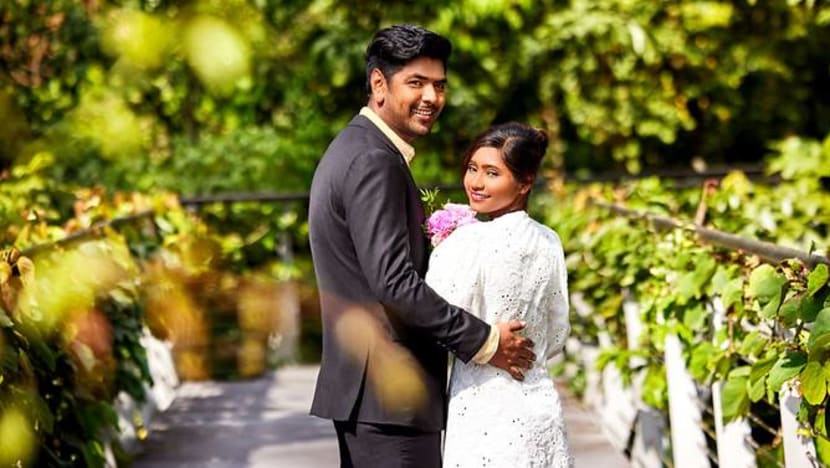 But how did they pull off so many feats, especially in a year that introduced new norms such as social distancing rules, guest restrictions and border closures? The couple says they have their family and friends to thank. "We both have huge families and are very family-oriented people," Sharvena says. In fact, Dinesh reveals, "I actually went down on one knee to propose to Sharvena, in front of her family, at the stroke of midnight on New Year's Day."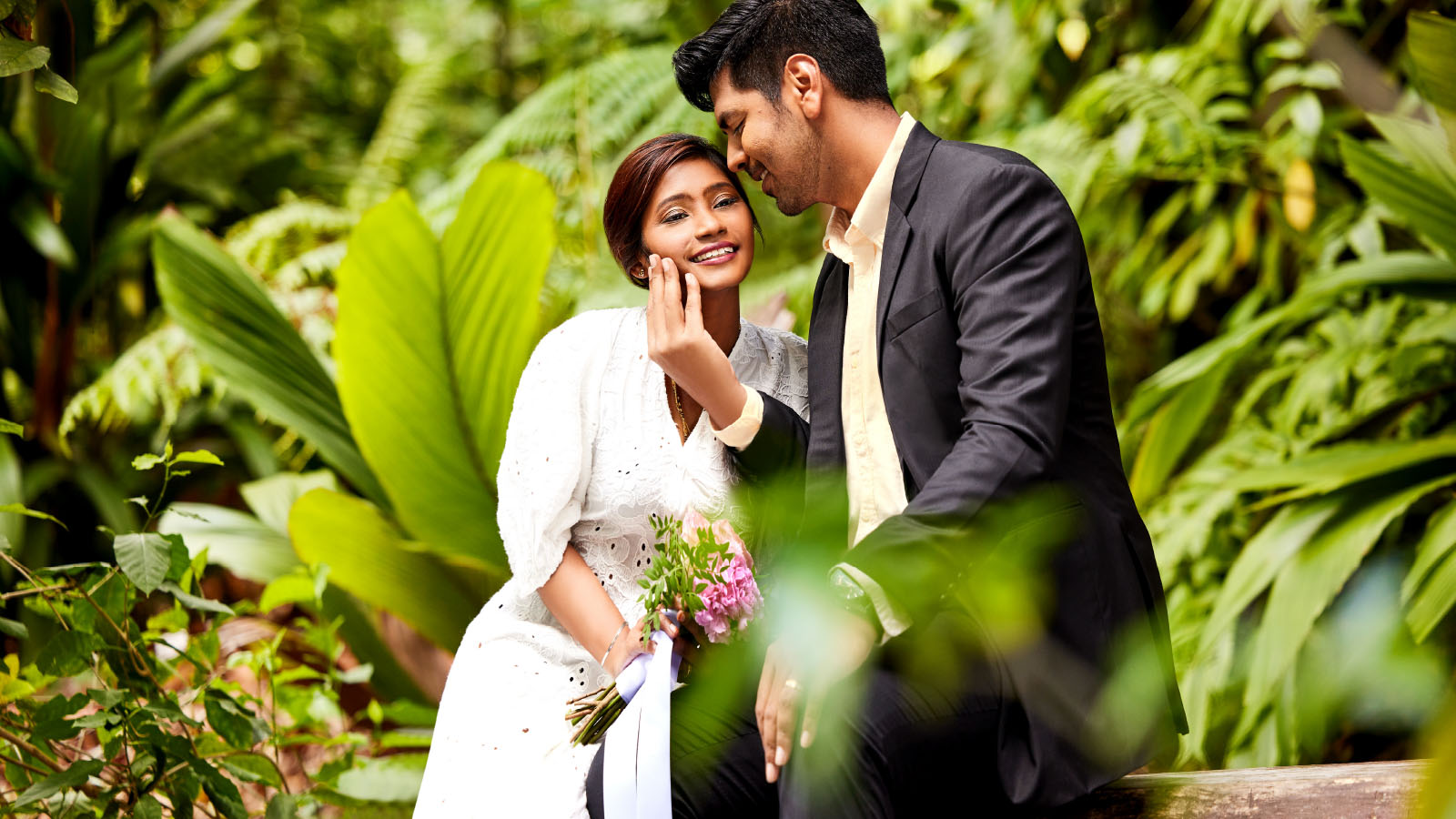 A positive attitude, and a deep appreciation for life, family and love toppled the obstacles that this couple had to face.
TURNING ADVERSITY INTO ADVANTAGE
Being the only daughter and son in their respective families, Sharvena and Dinesh had always hoped that they could have "an extravagant, big wedding" one day. But the pandemic threw them a curveball and made them reevaluate their plans.
Their initial plan had been to hold a wedding reception at the Serangoon Gardens Country Club, in addition to a religious ceremony at the Gurdwara Sahib Yishun. But, says Dinesh, "When the circuit breaker period (from 7 April and 1 June last year) was announced, our plans went up in smoke." As wedding venues were not confident about accepting advance bookings at that time, the couple had to do without a wedding reception. When Phase Two was announced in mid-June last year, "planning got easier because we knew the restrictions involved".
Even then, barely two months before their wedding date, they had to change the venue for their religious ceremony from the Gurdwara Sahib Yishun to the Central Sikh Temple, which could accommodate up to 100 guests, allowing Dinesh and Sharvena to invite more friends and relatives. The last-minute changes meant that they had only a few weeks to put things together, a process that usually takes about six months.
Thankfully, Dinesh and Sharvena had not sent out any invites yet, so they did not have to deal with having to un-invite guests or inform them about the venue change, as they recall in jest. They also did not mind wearing masks, as Dinesh quips, "It wasn't so bad because we had customised masks with beads which we also gave to some of our closer friends and family members!"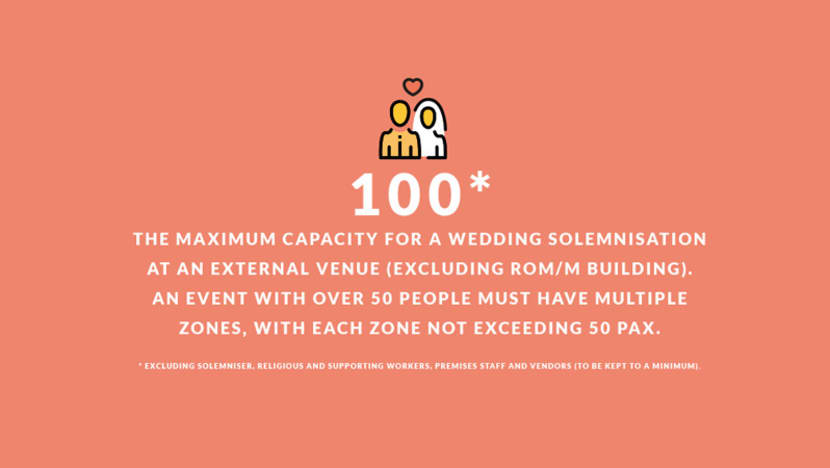 NEAR, DEAR AND HERE FOR THE COUPLE
Despite taking this setback in their stride, Dinesh and Sharvena were nevertheless a little wistful that not all their original 385-person guest list got to witness their wedding in person. Instead, they broadcast their temple rites to more than 400 other guests, which included both local and overseas contacts, on a Zoom live-stream that Sharvena's elder brother Sharvin coordinated. Says the couple, "Without his help, we would not have been able to do this." And even then, there was a final hiccup to their plans: the temple did not allow them Wi-Fi access, so the couple had to use a mobile phone network. But as Sharvena puts it, "As long as Dinesh and I got married, nothing else really mattered."
Family and friends who could not attend were understanding and helped where they could. Some loaned their cars for the wedding entourage, others helped to send turbans and masks to guests, and Dinesh's family members packed goodie bags right up till the day before the wedding. As Sharvena — whose family is Hindu — was not familiar with Sikh religious customs, family members and friends even took notes during the pre-wedding rehearsal at the temple for her. Says Dinesh, "Our wedding could not have gone off as smoothly as it did without the support of our family and friends. There were many relatives and friends who could not be there physically, and their understanding of the situation was a gift in itself." In fact, the couple stresses that "marriage is about more than the ceremony". "What made ours special was having our loved ones around us and sharing in our joy. While the run-up to the wedding was extremely challenging, we would not change a thing about it," shares Dinesh.
"BEING A HEALTHCARE FRONTLINER, I WAS QUITE WORRIED. BUT HAVING
SEEN HOW ABRUPTLY LIFE CAN END, I'VE COME TO REALISE THAT LIFE IS
TOO FRAGILE AND UNPREDICTABLE TO BE BOGGED DOWN BY WORRIES.
I AM GLAD THAT WE OVERCAME THE ODDS AND GOT MARRIED."
BREAKING DOWN THE WALLS, ONE BY ONE
When asked if her close contact with COVID-19 patients at work made guests uneasy about attending their wedding, Sharvena says that they were not the least bothered and were just excited about celebrating the special day with the couple. "Being a healthcare frontliner, I was quite worried. But having seen how abruptly life can end, I've come to realise that life is too fragile and unpredictable to be bogged down by worries. I am glad that we overcame the odds and got married," she explains. Additionally, the measures put in place by her employer, Tan Tock Seng Hospital, to protect the employees, and the training she underwent provided Sharvena with the confidence to go ahead with the plans despite her heightened risk.
If anything, Sharvena's shift work made it hard for her and Dinesh to find common pockets of time to plan for their wedding and home renovations. Thankfully, their family members stepped up to the challenge and pitched in to help in the execution. The couple had completed the purchase of their HDB resale flat in April, just as Singapore entered the circuit breaker.
Their executive apartment was ready a mere week before their wedding day, giving them little time to carry out their post-renovation clean-up and housewarming rites — even while they had to prep for their wedding. Their loved ones once again came to the rescue. "Our family and friends gave us a lot of advice, down to what we should look for in the sink fixtures," the couple recalls. "They also helped us to pack and move." The couple started renovating their Bukit Panjang flat in mid-August last year, working with their interior designer, to get things ready barely a week before their wedding. "You can imagine how hectic those two weeks before our wedding were," reminisces Sharvena. As Dinesh says, "Because of this trying time, we feel that we can now deal with the stresses of marriage better as we have seen the bigger picture. We are just grateful that we are both safe — and so are our families."
And what has life been like for the two as a married couple now? "We think marriage takes effort and keeping the romance alive is a choice that we make daily." They cook for each other, plan date nights and, on special occasions, take turns to give each other surprises. But their favourite idea of romance is the simple pleasure of relaxing and cuddling on their sofa and just watching a good movie together.
When asked for advice to couples who are unsure about getting married during COVID-19, Dinesh says, "Just go for it. There will never be a perfect time to get married. What matters is you plan well and have the support of your loved ones."

SAY "YES" — OVER AND OVER AGAIN
The annual 'I Still Do' campaign by Families for Life celebrates love and marriage for both dating and married couples. Check out the website for useful dating and marriage tips, as well as bonding activities that couples can participate and enjoy together.
FIND OUT MORE