Despite the COVID-19 restrictions, we in Singapore are fortunate to not be grappling with the prospect of 'all pandemic and no play'. There is still much fun to be had (just be sure to stick to the rules) and that applies to the business of planning a wedding, too. While putting together such a celebration under current conditions is no easy feat, it can still be done, and done well. Just take it from the experts — we speak to wedding planners in Singapore on creative workaround solutions for your big day.
UPGRADE YOUR HOME WEDDING
For Ms Cheryl Tan, founder of The Wedding Concepteur, the idea of wedding solemnisations at home can be meaningful and touching. "When planning for a wedding celebration at home, make sure it is something you will truly love and can reminisce about in 10, or even 50 years' time," says Ms Tan, who believes that couples should not compromise on their vision despite the smaller scale.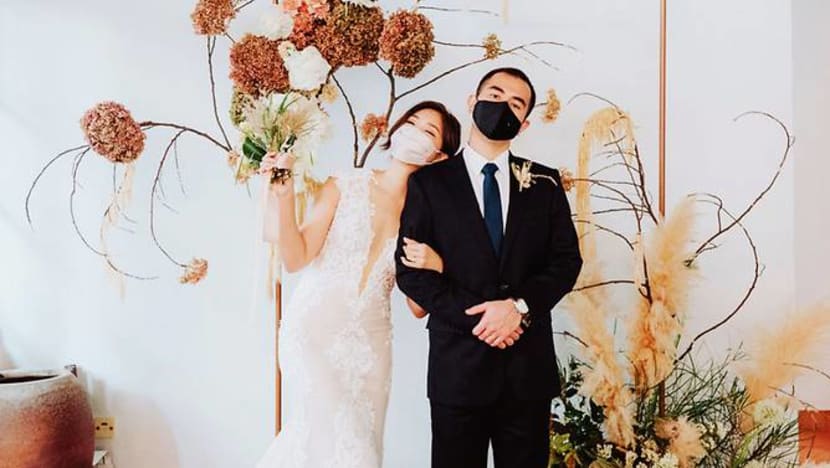 She recommends that couples explore the space they have at home, noting that the living room is now commonly used for wedding ceremonies as it can accommodate the most number of people. "As the available space is usually limited, especially in HDB flats and even condominium units, explore ideas that free up more space — such as floral wall decorations instead of a floral arch," she says. She also suggests using your dining table as the main area for the ceremony and beautifying it with floral garlands. For post-ceremony refreshments, many caterers now offer personalised — and more hygienic — bento boxes.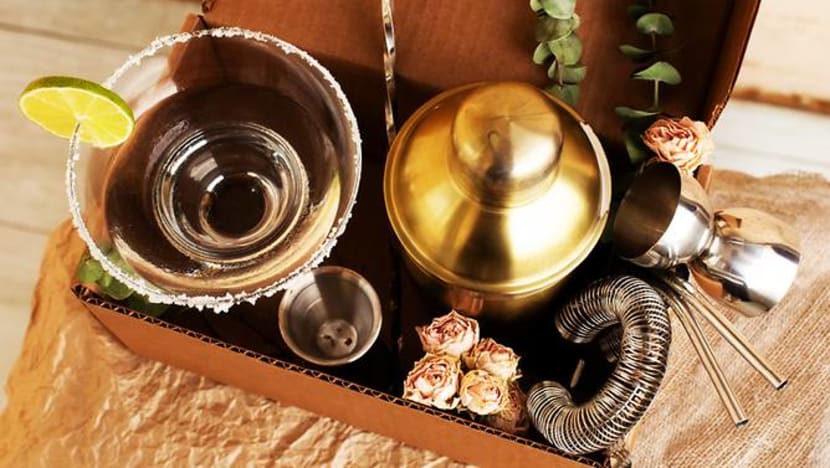 MERGE THE ONLINE AND OFFLINE ASPECTS
Rope your 'virtual attendees' (the Zoom audience) in on the festivities by sending food packages from the wedding menu. While the social distancing arrangements may seem different, you'll still have to consider your guests' food preferences, like a regular wedding. For intimate weddings, send guests the menu beforehand so they let you know their preferred order. In the case of larger weddings, offer guests two or three options from the menu. You can also have your guests toast to your marriage by sending them a small bottle of Champagne or cocktails just in time for the yam seng.
Advertisement
TURN IT INTO A FANCY DRESS BALL
Instead of trying to coordinate your bridal party outfits with masks, have the members put on costumes instead! Before Covid-19, it was the norm to see the bridal party decked out in coordinated fashion styles. However, with masks being compulsory, couples now think of creative and fun outfit ideas while abiding by safe distancing regulations. One of the cleverest ideas seen at a wedding, according to Ms Caroline Yakop-Lim, principal planner and co-founder of The Wedding Entourage, was the wedding party parading down the aisle in dinosaur costumes.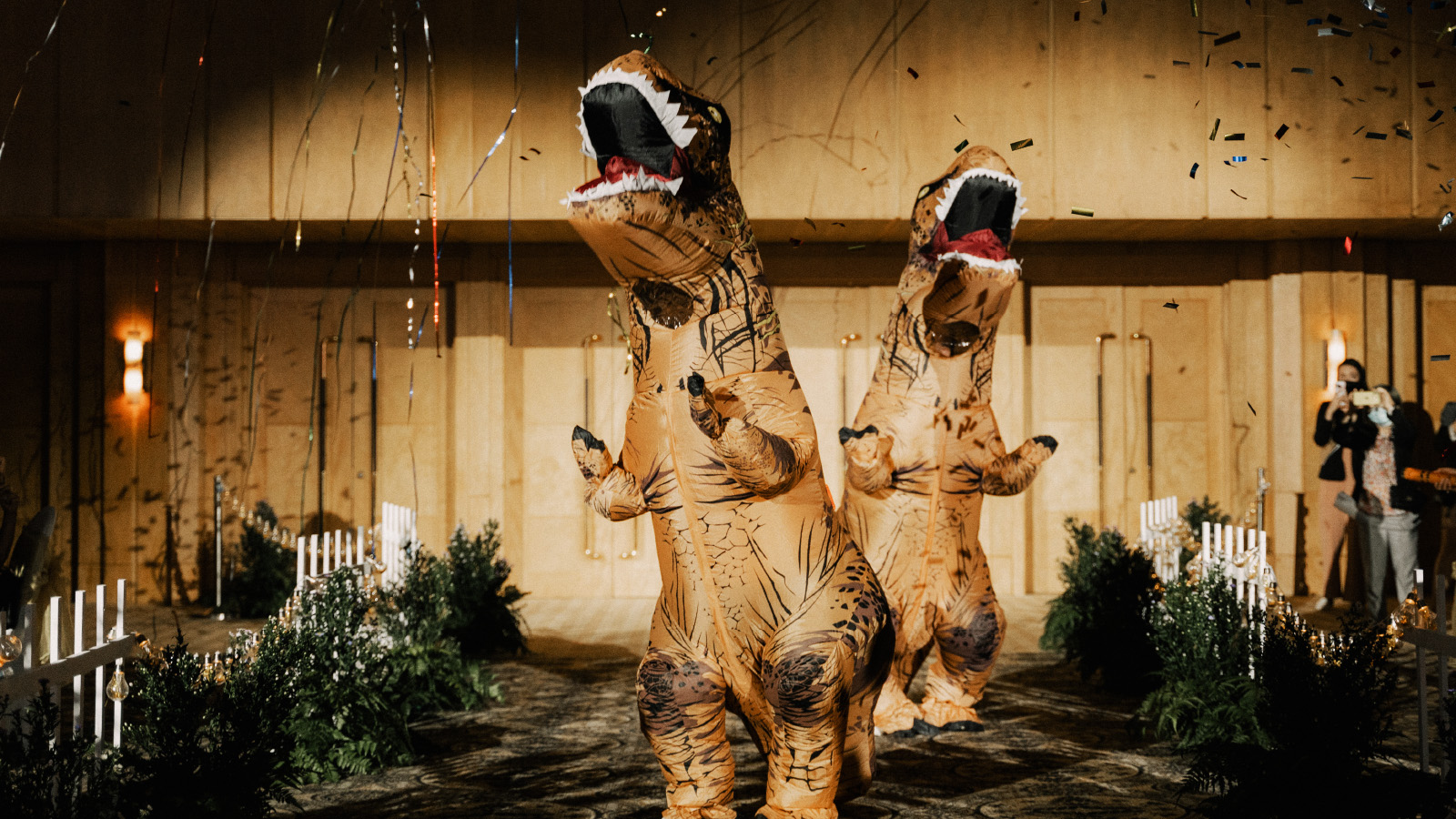 Given the need to be 'covered up', the wedding party can opt to go 'all the way' and inject a sense of fun by wearing fancy costumes over their masks. (Photo: Highest Kite Weddings)
"PREVIOUSLY, THERE WAS NO SUCH THING AS SEGREGATING GUESTS INTO ZONES. WITH THE EXTRA RULES IN PLACE, THIS GIVES US MORE ROOM TO CREATIVELY DRESS UP THE VENUE INSTEAD OF SIMPLY USING THE ROPES OR BORDERS PROVIDED BY THE VENUE. THE IDEAS ARE ENDLESS SINCE [YOU CAN ALSO] ENHANCE THE DECOR AT THE AISLE. DIFFERENT DECOR ELEMENTS CAN BE USED SUCH AS LIGHTBULBS, GARDEN FENCES, FLORAL ARRANGEMENTS AND MORE."
GIVE OUT PRACTICAL WEDDING FAVOURS
Give your guests gifts they can use, especially during this period. "We've seen a few of our couples giving favours that are related to hygiene — including masks, mask holders and sanitisers — which were a hit," says Ms Yakop-Lim.
Personalised wine glasses are another option if you're gunning for luxurious-yet-safe gifts. These pretty glasses reduce waste and minimise contact while looking photogenic. For vintage-themed weddings, you can pack old-school Singaporean treats in retro sweet tins. And for couples wanting to go green, eco-friendly favours such as plantable seed papers or flower seed packets are a sustainable choice.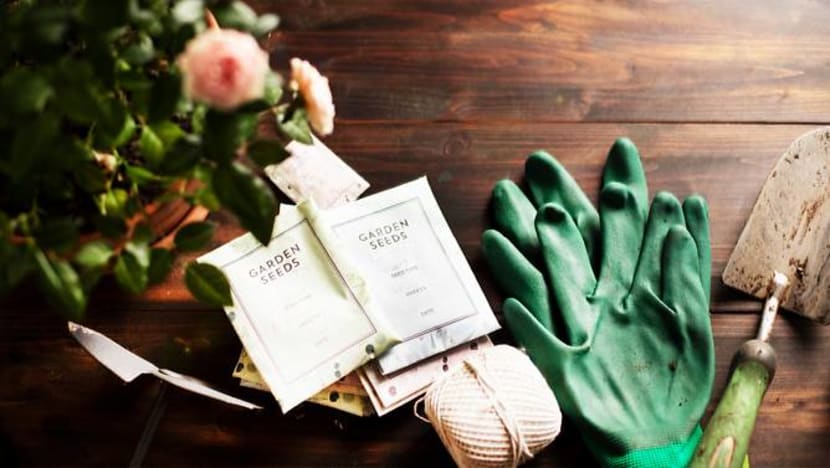 BE INVENTIVE WITH ZOOM
'Hybrid weddings' have become a necessity during the pandemic, where guests can attend weddings both in person or virtually. "We've seen couples invest in bigger LED TV screens so they can take clearer photos with all their guests," says Ms Yakop-Lim. "Plus, the layout on Zoom can be customised to fit in with the couples' wedding theme and décor, which adds a festive touch."
GO FOR THE 'MATCHY-MATCHY' LOOK
Instead of drab medical masks or plain cloth ones you wear daily, have a designer customise your masks to match your outfits. Designer Ms Helan Tan, founder of Gioielli Wedding & Bridal Accessories, offers bespoke creations — think sequins, lace, beads and crystals — for you to mask up beautifully on your big day.
Likewise, Ms Lynette Tan, a registered clinical psychologist at The Psychology Practice, says that holding a wedding during these times can present an opportunity for couples to reflect on what the occasion means to them. "They can ask themselves if there is the pressure of having to conform to certain practices that may not actually be meaningful to them as a couple. Instead, they can think about how the wedding can be conducted in a way that is more representative of who they are or even consider personalising the experience for their guests, which may be hard to do on a larger scale. 'Smaller scale' does not mean it has to be any less memorable." 
2021'S TOP WEDDING TRENDS
Cosying Up: Intimate weddings may be the way moving forward, says The Wedding Entourage's Ms Caroline Yakop-Lim. "There has been a change in the culture — Singaporean families are now starting to only invite their 'A-list'," she says. "This has long been a social norm in western countries, but not the case in Singapore until recently." Live (Streaming) Entertainment: Instead of having live performances at their celebrations, couples are turning to live-streaming music sessions, says Ms Cheryl Tan of The Wedding Concepteur. E-asy Solutions: As hybrid weddings take flight, couples are opting for digital invites and e-hongbao. These are easy to access, help to save money on physical invites and are eco-friendly. Other popular wedding traditions that are now on Zoom include inviting overseas guests to give their wedding speeches virtually and organising guests into breakout rooms for photo-taking, says Chere Weddings' Ms Sophia Lim.
GET IN THE ZONE, CREATIVELY
One Phase 3 regulation is that if the total number of attendees is between 50 to 100 people, they must be assigned to multiple zones of up to 50 people per zone. Instead of a cut-and-dried method of simply dividing the venue into two, Ms Yakop-Lim and her team thought of several ideas for each zone. "Previously, there was no such thing as segregating guests into zones," she says. "With the extra rules in place, this gives us more room to creatively dress up the venue instead of simply using the ropes or borders provided by the venue. The ideas are endless since [you can also] enhance the decor at the aisle. Different decor elements can be used such as lightbulbs, garden fences, floral arrangements and more."
Ms Sophia Lim from Chere Weddings feels the same way. "Zoning can be done creatively rather than just putting up q-poles or barricades, as the increased amount of space available allows for a better design of setup. Hence this area is increasingly being considered for further decor enhancement," she says.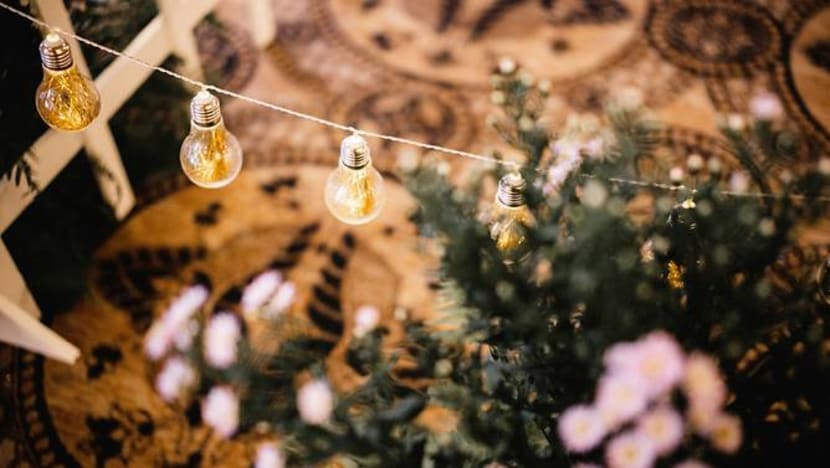 KEEP THINGS LIGHT-HEARTED
Make the most out of the situation with clever signs! You may have seen couples get creative with their wedding signage; having tongue-in-cheek displays at celebrations during the pandemic are no exception. Some clever ideas as seen online include: "Love is in the air, but so is COVID" and "Party like we're in a pandemic!"

KEEP THE FLAME BURNING
Organised by Families for Life, 'I Still Do' is an annual campaign that celebrates love and marriage. Check out the website for useful marriage tips and bonding activity ideas that dating and married couples can do together.
FIND OUT MORE