In the southwest of Singapore lies a farm – just not the type of farm you might assume it to be. At 45 hectares, it's a serene sight in blue that houses one of the nation's most exciting green developments: Sembcorp Industries' floating solar farm at Tengeh Reservoir.
The farm is one of the world's largest inland floating solar photovoltaic (PV) systems – and a creative solution to the challenge posed by Singapore's land constraints.
The 60 megawatt-peak (MWp) farm generates enough clean energy to offset around 7 per cent of PUB's annual energy needs – enough to power all five of Singapore's local water treatment plants, or around 16,000 four-room HDB flats.
It's also just one of the ways that companies in Singapore are powering the green transition in line with the Singapore Green Plan, and contributing to our national climate target of achieving net zero emissions by 2050.
A TIME FOR RENEWABLES TO SHINE
The success of the solar farm at Tengeh Reservoir has opened the door for large-scale floating solar PV systems to be built at PUB's 17 reservoirs. Besides reducing evaporation and conserving the drinking water supply, floating solar PV systems offer significant performance benefits – like higher energy efficiency due to the cooling effect of the water – over rooftop and ground-mounted PV systems.
To equip the workforce with new green skills to navigate the emerging and fast growing solar industry, Sembcorp has invested in the development of the solar talent pipeline by upskilling local third-party contracting firms. To date, more than 400 industry professionals have undergone structured training programmes on topics such as designing solar systems, workplace safety and installation and electrical techniques.
It has also worked with institutes of higher learning to develop certified curricula on solar energy competency. With the Institute of Technical Education, Sembcorp set up a first-of-its-kind integrated sustainable solutions training centre. Here, students can participate in simulation-based training, and mid-career professionals can enrol in Certificate of Competency programmes.
Sembcorp's effort in greening its energy business does not stop with solar technology. They are also driving the deployment of energy storage systems to complement their renewable generation portfolio. In February, Sembcorp and the Energy Market Authority officially launched a 285 megawatt-hour Energy Storage System (ESS) at Jurong Island – the largest in Southeast Asia, and the fastest of its size to be deployed in the world.
According to Mr Koh Chiap Khiong, CEO of Singapore and Southeast Asia, Sembcorp Industries, the energy sector contributes around 40 per cent of Singapore's total carbon emissions, which means the company's efforts to green its energy business would have a significant impact on the environment.
The facility's fast response batteries will help to support Singapore's growing deployment of solar energy and enhance grid resilience by actively storing or discharging energy to manage mismatches in electricity supply and demand.
In addition, Sembcorp is looking to fulfil the growing international demand for green energy and technology, with a renewable energy portfolio focused on key markets apart from Singapore, including China, India, the United Kingdom and Vietnam.
Mr Koh said that the growth of renewable energy has outpaced that of fossil fuel sources, especially as emerging markets ramp up their deployment of renewables to address energy resilience.
"As a leading Asian renewable energy player with 10GW of renewable energy capacity globally, as well as one of Asia's largest battery operators, Sembcorp is able to cross-deploy capabilities, gain knowledge of industry best practices and apply its expertise across geographies," he said.
INTEGRATING GREEN TARGETS INTO OPERATIONS
For SMEs, adopting greener operational procedures is both an environmental and business imperative. More environmentally friendly practices can help reduce operating costs and create a more sustainable business model.
Globally, the steel industry is one of the top three producers of carbon dioxide. Decarbonising this sector is a global challenge, given that steel is one of the most essential materials used in engineering and construction.
Kawarin Enterprise is one of Singapore's leading steel processing centres. According to managing director Ken Lin, the local small and medium-sized enterprise (SME) began to examine ways to go greener after energy costs began to rise around 15 years ago.
We started with minor steps to reduce carbon emissions directly or indirectly, by reducing paper, packing material and timber usage. We also purchased carbon emissions-free equipment." said Mr Lin. "We also obtained ISO-14001 certification, which emphasised stringent environmental protection.
Greening their business, however, took more effort, as it required examining every aspect of their supply chain and operations.
According to Mr Lin, Kawarin Enterprise purchases steel then processes it to the required sizes. Some of its high-grade steel products are used in power station transformers here and in the region.  "The challenge is introducing high efficiency, low-carbon materials from the steel mills to build the most efficient transformers, which are produced for global transformer makers," he explained.  Kawarin Enterprise had to thread a fine line, however. "High quality, high efficiency steel material comes with higher costs – which can be challenging in a tendering business for the transformer makers." Mr Lin said.
The company sources its steel material from world-class steel mills which prioritise low carbon emissions. It also replaced ageing machines and equipment with newer, more energy-efficient versions.
"We bought a new slitter, a new shearing machine and a new press machine," said Mr Lin. "We managed to reduce our machine idle time and improve efficiency to reduce energy usage."
MAKING THE GREEN TRANSITION VISIBLE
For Containers Printers, which provides metal and flexible laminate packaging solutions to leading international brands in the nutrition, food and medical industries, evaluating how sustainability could be integrated into operations started with an overhaul of its corporate culture. The SME's chief executive officer Amy Chung said that the first step was to track production waste and set reduction targets.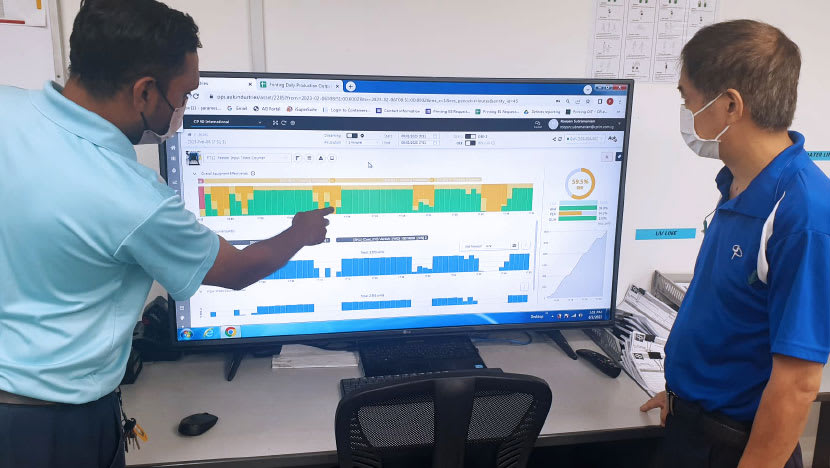 "We looked to initiatives that would help our teams see the changes we were making," she said. "One such 'visibility initiative' was to move from using wooden pallets to green plastic ones for local deliveries."
Ms Chung explained that plastic pallets were reusable and lasted considerably longer than wooden pallets. "We also designed and built tables and chairs using these plastic pallets, when they were no longer useable for deliveries. Our canteen is filled with repurposed plastic pallets."
Like Kawarin Enterprise, Containers Printers is looking to drive energy efficiency by improving its operating processes. "We have upgraded or retrofitted our factories with more energy efficient equipment and use Internet of Things technologies to monitor energy consumption in real-time, and data analytics to identify ongoing improvements." said Ms Chung.
MAKING USE OF MATERIALS AND EXPERTISE
SMEs like Kawarin Enterprise and Containers Printers are looking to tap on their existing resources to generate new opportunities in the green economy.
"We are in discussions with Sembcorp to explore purchasing electricity generated by solar panels installed on the rooftops of our premises," said Mr Lin. "There will be significant savings for Kawarin and we can manage our own portfolio of renewable energy certificates."
The company is also exploring new green business ventures using its own steel materials produced in-house.
"We are making ourselves an essential and sustainable green steel company in Singapore," said Mr Lin. "While multinational companies are leading the change, it's time for SMEs to play our role in the global effort to fight climate change."
Since the implementation of the Mandatory Packaging Reporting (MPR) scheme in 2021, Containers Printers has helped its customers understand their MPR obligations, developing 3R (reduce, reuse, recycle) plans and finding ways to fulfil them.
"SUSTAINABILITY NOT ONLY SERVES AS A VECTOR OF INNOVATION AND GROWTH. BY INTEGRATING SUSTAINABILITY INTO THEIR BUSINESS STRATEGY, SMES BENEFIT FROM LOWER COSTS, REDUCED RISKS, AND NEW BUSINESS OPPORTUNITIES."
"The level of support required by each customer varies with their existing internal support systems," said Ms Chung. She added that some customers have teams dedicated to environmental reporting and only require a methodology for calculating packaging data, while others require the packaging data itself.
She added: "Some customers are selling in markets that have clear guidelines for what kinds of sustainable packaging are required and might want to implement similar changes for Singapore, while other customers need us to help determine which direction to pursue – for example, reducing packaging weight – and how to implement these changes."
Containers Printers has also begun to offer life-cycle assessment services, aimed at helping companies reduce the environmental impact of their products and production systems. It uses digital tools to measure and validate the carbon footprint from a company or product, and then develops new solutions to improve on this baseline.
With these new offerings, Containers Printers is helping to build a sustainable eco-system that its customers can leverage to fulfil their green objectives. Said Ms Chung: "Sustainability not only serves as a vector of innovation and growth. By integrating sustainability into their business strategy, SMEs benefit from lower costs, reduced risks, and new business opportunities."
SAVING ENERGY AND MONEY
Kawarin Enterprise and Containers Printers tapped on the NEA Energy Efficiency Fund (E2F) and reduced costs by replacing their air compressors and fluorescent lighting in 2020.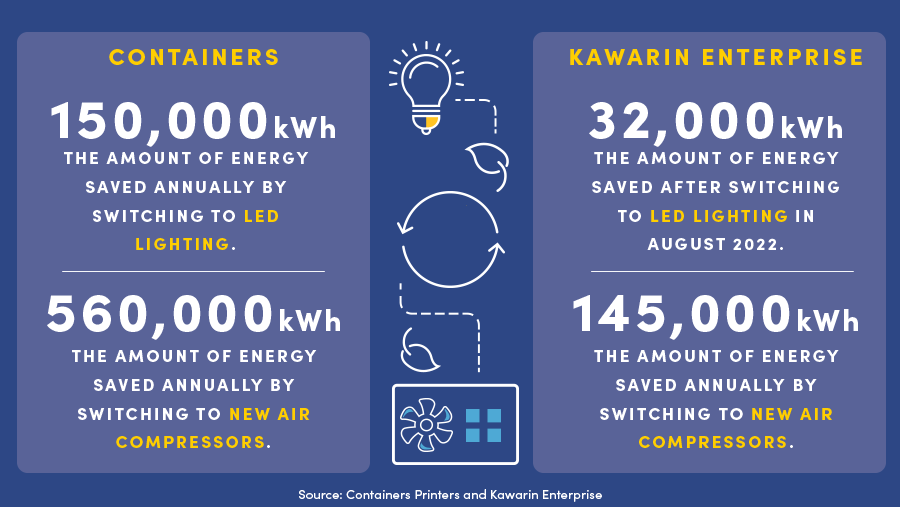 Singaporean companies like Sembcorp Industries, Kawarin Enterprise and Containers Printers are taking steps to decarbonise and invest in a low-carbon future. In a rapidly evolving market environment, businesses in Singapore can gain a competitive advantage by repositioning themselves to capitalise on new green opportunities – a transformation that generates new sources of revenue and contributes towards a low-carbon future for everyone.
THE ROAD TO NET ZERO
Find out why achieving net zero emissions by 2050 matters and how businesses can do their part against climate change.
FIND OUT MORE