The year 2050 is a key milestone for the world to achieve net zero emissions. Achieving this goal on a global scale would constitute one of the most powerful approaches to limit the ongoing rise in the earth's temperature to not more than 1.5°C above pre-industrial levels, as laid out in the United Nations' Paris Agreement in 2015.
Net zero emissions is a state achieved when the amount of greenhouse gases emitted into the atmosphere is equal to the amount of greenhouse gases removed.
Countries are adopting measures to lower carbon emissions and developing the infrastructure to power a green economy. More than 80 countries have set net zero targets, including the United States, European Union and China, which account for around 76 per cent of total greenhouse gas emissions globally.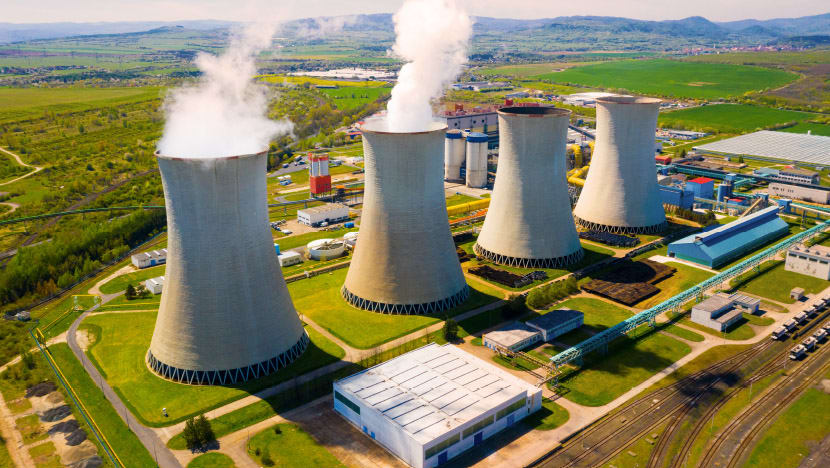 Last October, Singapore announced that it would raise its climate target to achieve net zero emissions by 2050, despite being a city-state with limited alternative sources of energy. It also declared an emissions target of 60 million tonnes of carbon dioxide equivalent (MtCO2e) by 2030 after peaking earlier.
Singapore submitted these updated commitments to the United Nations Framework Convention on Climate Change (UNFCCC) last year, reaffirming its continuing support for international cooperation on climate change. Singapore also enhanced its 2030 Nationally Determined Contribution and Long-Term Low-Emissions Development Strategy, fulfilling one of the obligations as a member of the UNFCCC – setting mitigation goals after reviewing its national circumstances.
But how do these grand goals factor into our everyday lives? Singapore's road to net zero emissions is built on four pillars that aim to accelerate the transition to low carbon across businesses, the economy and society.
CATALYSING BUSINESS TRANSFORMATION ON THE ROAD TO NET ZERO
All businesses can play a role by transforming their businesses. Businesses can catalyse their transformation by leveraging on initiatives such as the Resource Efficiency Grant for Emissions and the Energy Efficiency Grant. These efforts will help businesses reduce costs and remain competitive in a low-carbon future.
The Resource Efficiency Grant for Emissions assists manufacturing facilities and data centres in their transition to improve resource efficiency and competitiveness, and the Energy Efficiency Grant helps small to medium enterprises (SMEs) in the food manufacturing, food services and retail sectors invest in more resource-efficient equipment.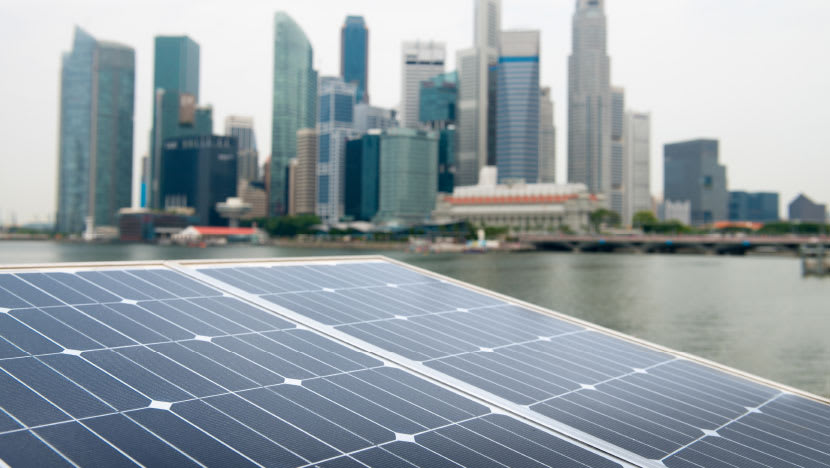 INVESTING IN LOW-CARBON TECHNOLOGIES
Singapore faces numerous challenges in implementing alternative energy solutions such as solar, nuclear and wind power due to its limited land area and high population density. Thus, investing in low-carbon technologies, such as carbon capture, utilisation and storage (CCUS), solar and energy storage systems, and low-carbon hydrogen remains a key thrust in shifting to a lower-carbon energy system.
CCUS can help reduce emissions by capturing the CO2 emissions from hard-to-abate sectors – sectors whose ability to transition to low-carbon methods is hampered by immature technology or prohibitive costs. CCUS can either convert the CO2 into useful products such as building materials, aggregates or synthetic fuels and chemicals, or store them in sub-surface geological formations.
SINGAPORE'S ROAD TO NET ZERO EMISSIONS IS BUILT ON FOUR PILLARS THAT AIM TO ACCELERATE THE TRANSITION TO LOW CARBON ACROSS BUSINESSES, THE ECONOMY AND SOCIETY.
Singapore is also making inroads with solar energy. It remains the most viable renewable energy source despite issues such as high cloud cover and urban shading, which result in intermittent sunshine. The floating solar panel farm at Tengeh Reservoir, launched in 2021, generates enough energy to power 16,000 four-room HDB flats in addition to carbon savings of 32 kilotonnes a year – the equivalent of removing 7,000 internal-combustion-engine cars' worth of emissions from our roads.
A key potential decarbonisation pathway for Singapore's energy sector is hydrogen, which could supply up to half of our power needs by 2050. Low-carbon hydrogen could also be used to decarbonise heat, steam and power generation, or used as feedstock in industrial processes. The fulfilment of Singapore's national hydrogen strategy will be a significant driver of achieving net zero emissions by 2050.
PURSUING GLOBAL PARTNERSHIPS
To overcome its constraints such as its small size and limited renewable-energy options, Singapore is engaging in international carbon markets with high-quality carbon credits and collaborating with regional power grids to create the supply chains and infrastructure needed for green energy.
For example in 2022, Singapore received its first renewable energy import from the Lao PDR-Thailand-Malaysia-Singapore Power Integration Project, which relies on existing interconnections to transport renewable hydropower from Lao PDR to Singapore.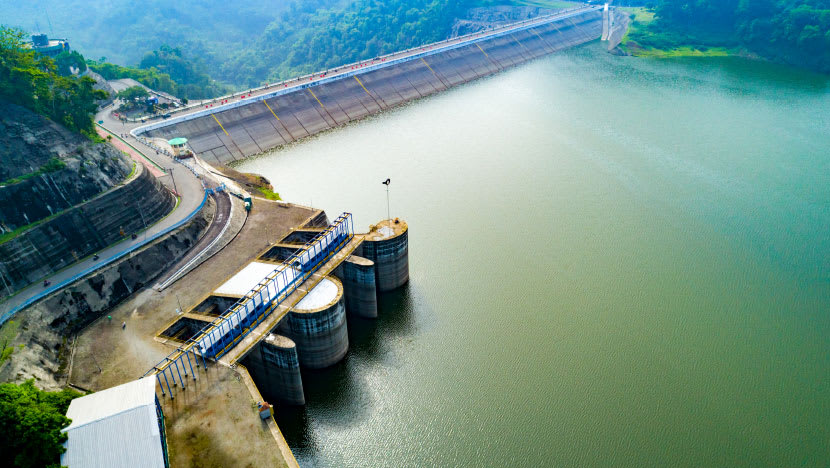 In the same year, Singapore and Indonesia signed a bilateral memorandum of understanding (MOU) regarding cooperation on climate change and sustainability, including areas such as carbon pricing and markets, clean technology, nature-based solutions and green finance. In addition, Singapore has signed other MOUs on low-emissions solutions with countries like Japan and Chile, and has signed first-of-its-kind bilateral Green Economy Agreement with Australia.
Singapore has also signed MOUs with like-minded countries like Colombia, Morocco, Peru, Papua New Guinea and Vietnam on carbon markets collaboration, which would support our collective climate ambitions and advance global climate action. We have substantively concluded our first Implementation Agreement with Ghana, which sets out the bilateral framework for carbon trading aligned with Article 6 of the Paris Agreement, with the view to having it signed  later this year.
WITH INITIATIVES SUCH AS THE ENVIRONMENTAL, SOCIAL, AND GOVERNANCE IMPACT HUB AND THE GREEN BONDS PROGRAMME OFFICE TO GROW THE GREEN FINANCE AND TECHNOLOGY SECTORS, SINGAPORE IS WORKING ON BECOMING A CARBON SERVICES AND TRADING HUB.
With initiatives such as the ESG Impact Hub and the Green Bonds Programme Office to grow the green finance and technology sectors, Singapore is working on becoming a carbon services and trading hub. The Climate Action Data Trust, a global carbon market infrastructure initiated by the World Bank that is based in Singapore, will collect data from major carbon credit registries to create a decentralised record to enhance transparency and integrity of international carbon markets.
LIVING A GREENER LIFE
The final pillar is the adoption of low-carbon practices in daily living – something almost every Singaporean can achieve by making changes in one's day-to-day routine.
This includes opting for public transport in our commutes, switching to cleaner energy vehicles, as well as cycling and walking under the Walk Cycle Ride SG initiative. Singapore's goal is for 8 in 10 households to be within a 10-minute walk of an MRT station, while the cycling network will increase from 460km to 1,320km by the 2030s.
Individuals can also make a difference by practising the 3Rs: Reduce, Reuse, Recycle. Singapore is also implementing a circular economy infrastructure that will propel its zero-waste nation ambitions and support low carbon practices. NEWater and NEWSand are examples of this, as used water is recycled into potable water and waste treatment residue will be recycled into sand for construction.
The country's sustainability journey is being spearheaded by the Singapore Green Plan 2030. This seeks to advance Singapore's sustainable development goals by setting ambitious environmental and sustainability targets for 2030. Hitting these goals will help ensure that Singapore is well on the path to achieving net zero emissions by 2050.
HOW SINGAPORE IS BUILDING A GREENER FUTURE
One of Singapore's key levers for reducing emissions is its carbon tax, which motivates businesses and large emitters to invest in low-carbon technologies and equipment, make sustainability a priority, and align their operations, investments and products with national climate goals.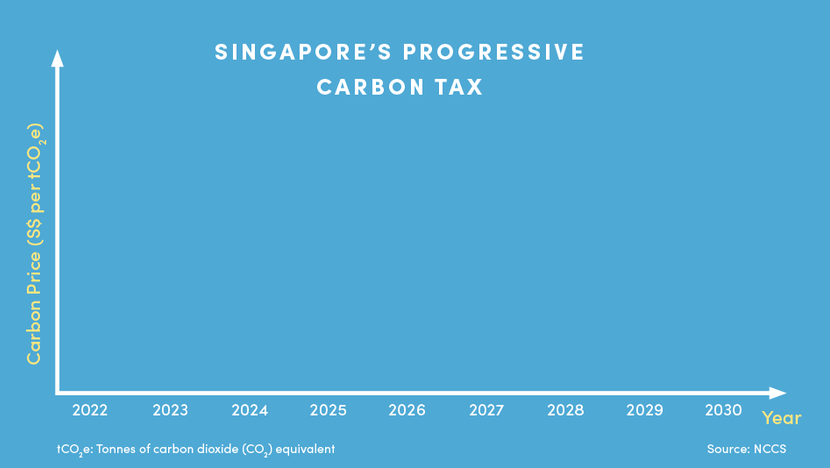 Revenue from Singapore's carbon tax will help support decarbonisation efforts and the shift to a greener economy, while cushioning the impact of the low-carbon transition on businesses and households.
The green economy offers career opportunities as well. With funding support from the Low-Carbon Energy Research Funding Initiative, academic institutions can collaborate with industry partners on researching safe and sustainable ways to import, handle and utilise low-carbon hydrogen on a large scale, develop more efficient methods of carbon capture suitable for local deployment, and produce useful products from the captured CO2.
Other continuing educational providers are set to launch relevant jobs training to ensure skilled workers are available to meet the manpower needs of Singapore's forthcoming hydrogen supply chain.
The road to achieving net zero emissions by 2050 may seem like a long and challenging one, but the goal is worth striving for. Climate change requires global collective action to tackle, and Singapore can play our part. Every greener choice we make is one step closer to conquering climate change – and ensuring that Singapore remains a resilient home for generations to come.
THE ROAD TO NET ZERO
Find out why achieving net zero emissions by 2050 matters and how it will change the way you live, work and play.
FIND OUT MORE