As a child, Mr Benjamin Moey watched as his grandfather modelled the habit of lifelong learning. A doctor by training, his grandfather continued reading science books and staying curious even into his 80s, and always encouraged his grandchildren to read more.
"So I picked that up from him as a young child," said Mr Moey, 44, who has become quite the learner himself. Not only did the multiple degree holder balance work and postgraduate studies, but he has also embraced change throughout his career. He has worked in the semiconductor, hedge fund and energy sectors, occupying roles ranging from engineering, finance and strategy, to research and development as well as mergers and acquisitions.
His latest role is Vice President (Advance Manufacturing, Digital Industries, ASEAN) of Siemens, where he heads its Advance Manufacturing Transformation Center (AMTC) in Singapore. AMTC is also the base of operations for Siemens' Advanced Manufacturing (Additive Manufacturing) Learning Programme, a company training course offered under the SGUnited Mid-Career Pathways Programme. Mr Moey thus brings a unique perspective to upskilling — as a keen learner, employer and training provider.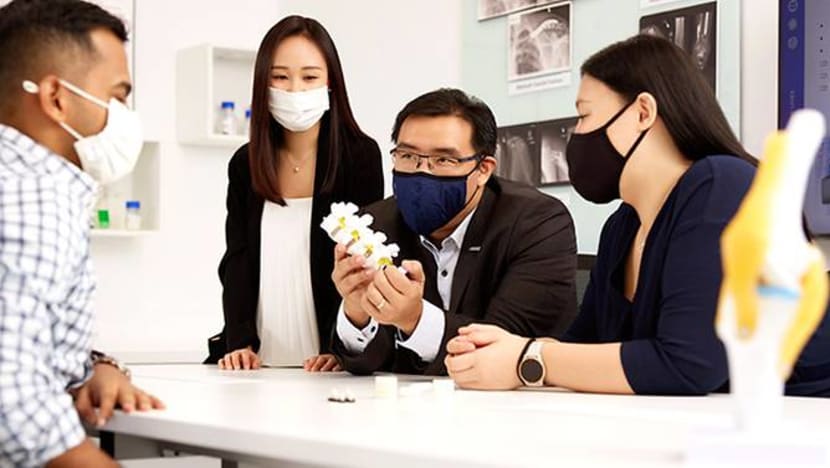 BRIDGING THE SKILLS GAP
Many in Mr Moey's generation may feel stuck professionally, having reached the middle of their careers. But, he argued, that is even more reason to upgrade their skills. "Change is the only constant. With the digital tools we have today, gone are the skillsets we can use for 10 or 20 years. Technology moves very quickly, so we need to move with the times. To be competitive and relevant, we have to embrace change and be resilient."
"EMPLOYERS TODAY ARE LOOKING FOR HIGHLY-SKILLED AND EXPERIENCED TECH TALENT IN AREAS SUCH AS ARTIFICIAL INTELLIGENCE, EDGE COMPUTING AND PROGRAMMING. BUT JOBSEEKERS IN SINGAPORE AND THE REGION ARE CURRENTLY NOT READY FOR THAT."
It doesn't help that there is often a gap between what employers look for and what jobseekers bring to the table. "Employers today are looking for highly-skilled and experienced tech talent in areas such as artificial intelligence, edge computing and programming," he said, adding that "upstream" open-source developers are especially in demand. "But jobseekers in Singapore and the region are currently not ready for that."
On that score, training courses rolled out under the SGUnited Jobs and Skills Package give jobseekers an opportunity to close the skills gap and learn about emerging technologies and innovations.
RELEVANCE AND REINVENTION
Siemens is one of many companies to host trainees under the SGUnited Mid-Career Pathways Programme through its Advanced Manufacturing (Additive Manufacturing) Learning Programme. The course is conducted at AMTC, a first-of-its-kind competence centre that provides guidance, support and training to manufacturing facilities across the ASEAN region as they seek to adopt cutting-edge manufacturing technologies such as digital twins and 3D design, printing and post-processing.
Trainees on the course are equipped with fundamental know-how on industrial digitalisation before they get to apply their newfound skills to real prototyping or other industrial projects. Said Mr Moey, "Working with customers on actual projects gives trainees their first experience of utilising their skillsets, and helps them start the journey. It's not just a paper certification but a portfolio that they can show."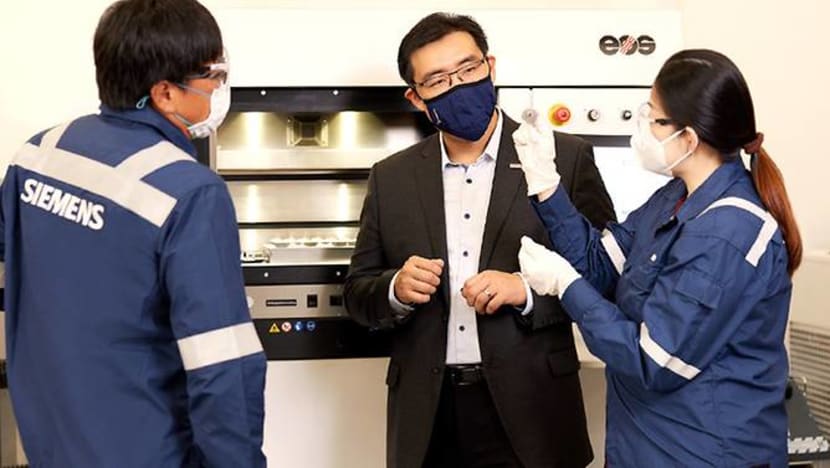 Being involved in the early consultancy phase of Siemens' projects for customers can also open career doors. "Once the customer decides to go 'live', the possibility of these trainees coming on board as full- or part-time contractors is high," noted Mr Moey. Other forms of employment support for trainees include networking events and project-pitching sessions to potential employers.
"WORKING WITH CUSTOMERS ON ACTUAL PROJECTS GIVES TRAINEES THEIR FIRST EXPERIENCE OF UTILISING THEIR SKILLSETS, AND HELPS THEM START THE JOURNEY. IT'S NOT JUST A PAPER CERTIFICATION BUT A PORTFOLIO THAT THEY CAN SHOW."
Mr Moey is heartened that the trainees — who comprise not just engineers but also former educators, property agents and human resource professionals, among others — exhibit a positive attitude and eagerness to learn. "We also benefit when we let them do some heavy lifting in terms of 3D design work and data analysis, which take a lot of time," he added.
Offering some parting words for jobseekers, Mr Moey urged them not to be resistant to change. "The pandemic has given us an impetus to try something new and reinvent ourselves. Keep an open mind and expose yourself as much as possible to what is out there, then figure out your options. Think about how you can leverage your past experience and build on your skills to help companies move into a new world of digital transformation."