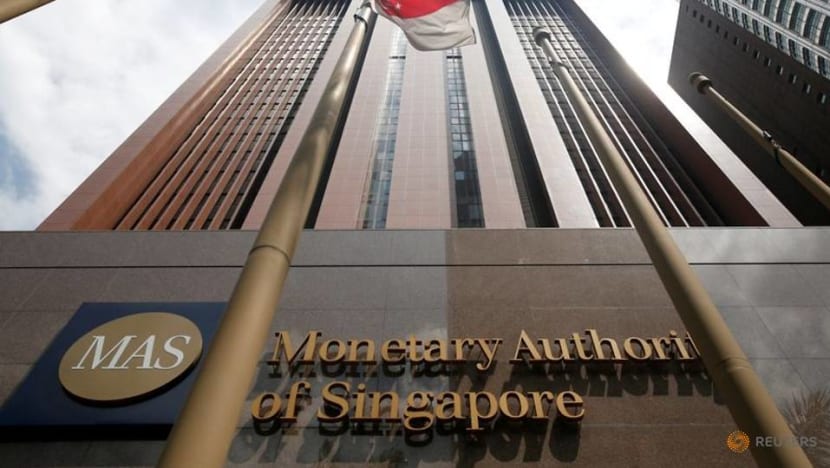 SINGAPORE: Singapore's central bank left its monetary policy unchanged on Wednesday (Apr 14), as widely expected, on the back of weak inflation and uncertainties from the COVID-19 pandemic.
In its half-yearly monetary policy statement, the Monetary Authority of Singapore (MAS) said it is maintaining "a zero per cent per annum rate of appreciation" of its policy band.
The width of the policy band and the level at which it is centred also remains unchanged.
All 15 economists polled by Reuters had predicted that the central bank would keep its exchange rate-based policy settings unchanged.
Instead of setting interest rates, the MAS manages the economy through the currency. It lets the exchange rate float within an unspecified policy band, and changes the slope, width and centre of that band when it wants to adjust the pace of appreciation or depreciation of the Singapore dollar.

It kept policy unchanged at its last review in October last year and said its accommodative stance "will remain appropriate for some time".

On Wednesday, the central bank reaffirmed this and said: "As core inflation is expected to stay low this year, MAS assesses that an accommodative policy stance remains appropriate."

Core inflation, a key consideration for MAS' monetary policy, turned positive for the first time in a year in February. But the central bank said the gauge, which strips out private transport and accommodation costs, is set to "rise only gradually" this year and "will remain short of its historical average". 
"While higher global oil prices will continue to pass through to domestic prices, surplus oil production capacity should cap further large price increases. Lingering negative output gaps in a number of Singapore's key trading partners should also keep overall imported inflation contained," it said.
Domestically, improvements in labour market conditions and a recovery in private consumption could see price increases in more components of the core inflation basket of goods and services.

But these would be gradual, "in line with subdued wage growth as the slack in the labour market will take time to be fully absorbed", the MAS added, while keeping its 2021 forecast for core inflation at a range of 0 to 1 per cent.

On the other hand, the forecast for headline inflation, which includes all items, was upgraded to 0.5 to 1.5 per cent, up from -0.5 to 0.5 per cent previously.
The central bank cited more-than-expected increases in private transport and accommodation costs in the first two months of the year. The former is expected to "stay resilient" amid improving consumer sentiment and reduced Certificate of Entitlement quotas.

ECONOMY TO RECOVER, BUT RISKS REMAIN

Preliminary data released separately on Wednesday morning showed that Singapore's economy grew by 0.2 per cent year on year in the first quarter of 2021, a turnaround after three quarters of contraction.

The MAS said prospects for the global economy have improved since October last year, on the back of additional fiscal stimulus in some economies and a steady pace of vaccine deployment across several major countries.

These have underpinned "a marked strengthening in business and consumer confidence, which has started to feed through to a more rapid expansion in production and spending", it added.

This upturn in external demand is set to "sustain an above-trend pace of growth" in Singapore's economy for the rest of this year, although it could be uneven with travel restrictions continuing to hinder the recovery in travel-related services.

The MAS also flagged "significant uncertainties" that remain, such as the possibility of further virus mutations, that could derail global and domestic recovery.

"The Singapore economy will grow at an above-trend pace this year, but the sectors worst hit by the crisis will continue to face significant demand shortfalls," it said

NO TIGHTENING IN NEAR TERM: ECONOMISTS

With that, economists said the central bank is unlikely to tweak its monetary settings anytime soon.

"While GDP (gross domestic product) is set to continue recovering at a decent pace, a persistent output gap is likely to remain, keeping a lid on underlying price pressures," said Mr Alex Holmes, an economist at research firm Capital Economics.

Strict travel curbs also remain as a headwind, with "persistent weakness" in the aviation and retail and hospitality sectors likely to hold back the economic recovery.

"As such, we suspect that the MAS will maintain its accommodative stance for at least the next year," he added.

ING's senior economist for Asia Prakash Sakpal said the persistent global pandemic will continue to threaten Singapore's export-led recovery over the rest of 2021, even as base effects help to shore up growth rates at the start of the year.

On the inflation front, the lingering impact of the latest hike in petrol prices and low base effects should push inflation upwards in the coming months, although "demand-side pulls on prices should continue to be muted".

Even with the latest change in headline inflation forecasts, Mr Sakpal said: "We don't think these trends will warrant any tightening in the October MAS policy statements either."