Enjoy your stay: Pandemic pivot opens new doors for hotel sector
When Singapore's borders were closed in March 2020, many hotels became isolation centres as part of public health protocols. Money Mind finds out what it takes to reopen one of Singapore's biggest quarantine hotels.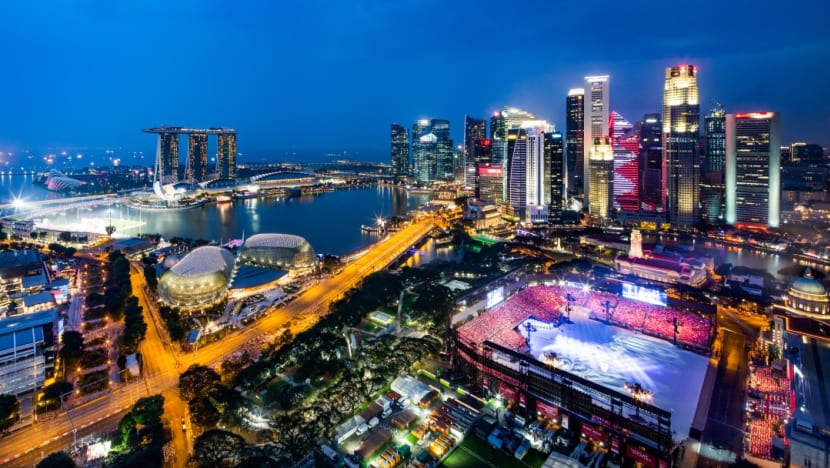 SINGAPORE: "We have one job in hospitality. It's to make people who walk through our doors happy."
Mr Marcus Hanna, managing director at Fairmont Singapore and Swissotel The Stamford, takes this objective seriously.
It has seen him through the challenges over the past few years - first when borders closed at the start of the COVID-19 pandemic and visitor arrivals plunged to the lowest in four decades, then when Swissotel was asked to pivot from a luxury hotel to quarantine facility.
"In March 2020, STB (Singapore Tourism Board) called all the hotels to the auditorium at their office and asked us whether we would be willing to do this. And obviously hotels were a bit nervous because it was something different, something that we've never done before," said Mr Hanna.
The change from luxury hotel to quarantine facility meant many changes to operations.
"We had up to 1,600 (quarantine) guests at any one time staying in the hotel. So you can imagine the challenges that come with delivering 1,600 meals. Breakfast, lunch and dinner," said Mr Hanna.
He added that on some days the hotel received about 1,000 packages for their guests, all of which had to be delivered to rooms in the 73-storey hotel.
These deliveries were not just food items – the hotel once took delivery of a piano. However due to health protocols, it was not possible to send the piano to the recipient in quarantine.
PREPARING FOR REOPENING
After two years of serving quarantine guests, Swissotel was able to reopen to business and leisure travellers on Apr 11.
The last quarantine guest checked out in early March.
In preparation for the reopening, rooms had to be deep-cleaned. With more than 1,000 guest rooms in the hotel, this was no easy task.
"We had to get the building back in shape. We've had to do a lot of maintenance within the hotel to ensure that we touch up all the areas that that we need to. Some areas were cordoned off from the rest of the complex, so we had to bring them back and also touch them up," said Mr Hanna.
To ensure the safety of guests, the hotel also installed new features, such as plastic panels at the buffet line in the executive lounge.
The hotel also had to ensure that manpower was up to speed.
"A lot of our team haven't checked anyone in or out for over two years, so there's retraining of processes … Right now we're in the midst of hiring and recruiting more colleagues," said Mr Hanna.
OUTLOOK FOR HOSPITALITY SECTOR
With Singapore's borders now open to fully vaccinated travellers, industry experts say the outlook for the hospitality industry here is one of measured optimism.
"Despite COVID-19 related headwinds still being out there, we expect recovery in the sector to accelerate in the third quarter of the year with the government's recent relaxation of border measures," said Mr Nihat Ercan, senior managing director and head of investment sales for APAC at JLL Hotels & Hospitality Group.
He said that the sector has seen a return in demand from countries such as the US, UK and Australia, and expects visitors from Southeast Asia to pick up.
"Singapore will be a beneficiary of this as the region's key hub. China's outbound travel will likely remain shut for the balance of the year so pivoting towards other sources such as India will be important for Singapore in its road to recovery towards pre-pandemic levels."
Ms Kwee Wei-Lin, president of Singapore Hotel Association, added: "The last two years have made our industry a lot more resilient ... One is in diversifying our revenue mix but (another is) in diversifying our talent.
"Many of the staff had to wear double hats ... We often think of frontliners as doctors and nurses. But we also have this whole army of workers who were in the SHN hotels (and) helped care for guests. And before COVID-19, they had no training for this."
ALL READY
Back at the Swissotel, the staff are not just looking forward to receiving guests. For the first time in a long while, they will also get to interact with all their colleagues.
Ms Kho Yung Chien, its director of front office operations, said that the hotel was divided into zones when it was a quarantine facility, with staff split into teams to reduce risk of cross infection.
"During the zoning, we had to ensure that colleagues didn't mix with each other. So I had to split my team into two. And for the two years, they didn't meet each other. I think they miss each other a lot," said Ms Kho.
After two years of working under pandemic conditions, which included donning medical-grade protective equipment for their daily duties, the staff are looking forward to the new normal.
As Mr Hanna put it: "Our team is delighted and so looking forward to doing that."