Why investors are selling off tech stocks and what's next
Rattled by uncertainties in the macroeconomic environment, investors have taken flight from loss-making tech stocks since the start of the year.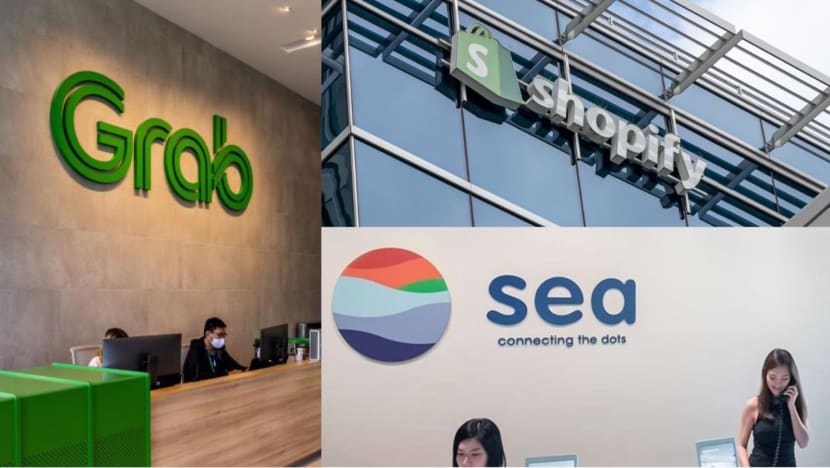 SINGAPORE: Amid an uncertain environment and concerns about their profitability, shares of once buzzy technology firms have been in freefall this year, with some plummeting as much as 70 per cent. 
Tech stocks that benefited from the COVID-19 pandemic have suffered especially, such as streaming service Netflix, which has seen its share price plunge around 60 per cent since January.
Canadian e-commerce firm Shopify, which received a fillip from the pandemic-induced online shopping boom over the past two years, has seen its shares fall around 70 per cent year to date. 
Singapore-headquartered tech groups have not been spared from the rout.
Shares of Grab, which made a much-anticipated debut on the Nasdaq stock exchange in December 2021, last traded at US$3.73 on Monday (Aug 15). This marked a nearly 48 per cent decline since January and a loss of almost three-quarters in value since its listing.
Sea, which owns mobile gaming company Garena and online shopping platform Shopee, has also seen its shares on the New York Stock Exchange fall by about 61 per cent this year.
Several of these industry disruptors have since announced layoffs. Shopify said last month that it will axe about 1,000 workers, or 10 per cent of its global workforce, while Sea's Shopee retrenched an undisclosed number of employees across several markets in June.
The layoffs come as tech firms are "consolidating" ahead of a possible recession and as liquidity dries up amid rising interest rates, CNA previously reported.
Moving forward, with the global economic outlook and company fundamentals still far from certain, experts said investors who are looking to jump into beaten-down tech stocks should remain cautious.
WHAT'S HURTING TECH FIRMS?
Stock markets have in general been pummelled since the start of 2022 by concerns over surging inflation and rising interest rates, while Russia's invasion of Ukraine added geopolitical unrest into the stew of volatility.
But the tech sector, especially disruptors such as e-commerce or ride-hailing firms, seems to have taken on a larger hit as investors desert so-called growth stocks for safer pockets in the market like energy and utilities. 
For instance, the tech-heavy Nasdaq has lost almost 18 per cent year to date, versus the 11 per cent decline in the S&P 500 and 9 per cent in the New York Stock Exchange Composite.
"Shares of all kinds of companies have taken a beating this year but tech companies have lost significantly more than other sectors," said Associate Professor of Finance Vijay Yadav from the ESSEC Business School Asia-Pacific.
"Rising interest rates have disproportionately higher negative effect on the valuation of new tech companies because their cashflows are generally far into the future and therefore get discounted more heavily at higher interest rates.
"The risks of recession and geopolitical uncertainty also hurt share prices of new tech companies more because their valuations are often driven by investor sentiment that seems to have turned negative in the changing environment," he added.
The precipitous drop in some of these highest-growth tech stocks also signalled growing wariness among investors about companies that are not yet able to turn a profit.
"The extent of the decline is a reflection of the risk inherent in their business," said Maybank Securities analyst Samuel Tan, noting that many Internet stocks remain loss-making companies "with much of their value locked up in a "terminal value" in the future when they are profitable … and can be valued through free cash flow models".
Echoing that, Associate Professor Nitin Pangarkar from the National University of Singapore (NUS) Business School said: "A lot of the high valuations were based on assumptions that may or may not pan out and now that there are obstacles in the way, optimism has turned into pessimism.
"Markets have become very sceptical of money-losing companies."
"REMAIN CAUTIOUS"
Even with the recent rebound, experts said the outlook for these tech stocks remains uncertain.
Referring to the likes of Grab, Sea and Shopify, Assoc Prof Yadav said: "It remains to be seen whether the recent rebound in their share prices was only a bear market rally or represents a real change in fortunes for these companies."
While the large declines may represent a buying opportunity, investors "should remain cautious in the current uncertain economic environment", he added.
An analysis back in May from investment news site The Motley Fool carried the same piece of advice.
Using the example of Shopify, it noted that while the stock may be looking like "a clear-cut bargain" after the selloff, there is the risk of "rapidly decelerating growth" given how e-commerce players will have to cope with challenges such as rising shipping and logistics costs.
"Even if Shopify does well, growing faster than the e-commerce market as a whole and maintaining its status as the go-to for online selling tools, outperformance is far from guaranteed. Be careful out there," it said.
Assoc Prof Pangarkar said the steep share price declines underscore the importance for tech firms to showcase their ability to rein in spending and display fiscal discipline after having depended on subsidies and aggressive marketing to fuel years of growth at breakneck speeds.
"They can no longer go overboard with spending just to grab market share. You need to have a path to profitability," he said.
Mr Tan, whose equity research covers Grab and Sea, said rising interest rates will be a bigger factor for the share prices of these two Singapore-based tech firms moving forward.
"Catching the bottom for these two stocks will be difficult, but Sea looks to already be trading below what is justifiable vis-a-vis peers, while Grab is still at a premium," he told CNA.
He explained that this is because Sea's valuation remains "well supported" by its profitable gaming arm Garena. The company also has a "much lower bankruptcy risk" due to the same reason.
Sea posted a US$580.1 million net loss for the first quarter ended March, wider than the US$422.1 million loss a year ago.
The company also turned cautious on Shopee due to "elevated macro uncertainties" and revised its e-commerce revenue forecast to be between US$8.5 billion and US$9.1 billion for FY2022, down from the previous range of US$8.9 billion to US$9.1 billion.
Mr Tan said the company could disappoint in its second-quarter earnings report due before the US market opens on Aug 16, as the results will have to reflect the costs of unwinding its business in Spain and the challenge of elevated freight rates. There is also the possibility that Garena might "disappoint as people game less" due to the scaling back of work-from-home arrangements.
But both e-commerce and gaming are "well-proven and very sticky business models" in the long run, added the Maybank Securities equity analyst, who has a "buy" call and a target price of US$105.
Sea's shares was last seen trading at US$87.42 on Monday.
For Grab, Mr Tan said the tech company's shares may see "a short-term uplift" on the back of positive sentiment for its ride-hailing business as economies reopen and adjust to life with COVID-19.
But in the long run, Grab's ability to achieve profitability "remains an identifiable risk".
"GMV (gross merchandise value) must double by 2025 to achieve group profitability and free cash flow positive target of 2025, (without) factoring in the digital banks which will have heavy capital requirements," he said.
Grab's digital bank joint venture with Singtel – known as GXS Bank – has secured licences in Singapore, Malaysia and Indonesia, with the launch in Singapore likely happening in the coming months.
As part of the authorities' guidelines, the digital bank in Singapore must have S$1.5 billion in minimum paid-up capital. Grab will have to fork out S$900 million based on its share in the joint venture, said Mr Tan.
"This is not inclusive of the Malaysian and Indonesian digital banks, which both have their own capital requirements to meet," he added. "We will monitor closely how they manage the capital requirements of the digital bank."
Meanwhile, the digital bank venture could take seven years to turn a profit, according to Mr Tan who cited the example of UK's digital-only bank Atom. Overall, the analyst has a "sell" call on Grab at a target price of US$2.29.
CGS-CIMB analysts offered a different view on Grab, noting that higher ride-hailing fares and easing competition across different markets in recent months could accelerate the firm's path to profitability.
For instance, it noted that ride-hailing fares in Singapore were up between 22 and 42 per cent in the second quarter of FY2022, while promotions "reduced meaningfully". Lower discounts were also observed in the food delivery segment in different markets.
"We believe Grab is at an inflection point with strong margin improvement potential starting (in the) second quarter of FY2022," the analysts wrote in a report dated Jul 29.
They added that they expect gross merchandise value and segment profitability of the mobility business to "surprise on the upside" thereby helping Grab to narrow quarterly losses.
For the first quarter ended Mar 31, Grab announced losses of US$435 million, down 35 per cent from the US$666 million loss a year prior.
Revenue grew 6 per cent to US$228 million from US$216 million on the back of growth in its food and grocery business segment, as well as a rebound in the mobility segment. Grab is set to report second-quarter results on Aug 25.