I grew my cryptocurrency portfolio by 8 times. Then I blew it on a scam
Sajid Ikram had made a bundle in cryptocurrency, so when he met a 'cryptocurrency analyst' on Facebook with a winning trading strategy, he didn't think it would be a scam. It turned out to be an elaborate one.
Sajid Ikram, 49, is an IT entrepreneur living in Canada. This is an edited version of his story, as told to CNA Insider.
EDMONTON, Canada: Actually, the scammers didn't reach out to me first. I was the one who added one of them.
It all started in August last year when Facebook recommended a Nydia Chen to me as one of the "people you may know". And I'm like, "Why does Facebook think I should connect with this person?"
To find out, I added her as a friend.
We chatted a little via Facebook and, when I asked her what she did, she replied that she was a cryptocurrency analyst. That's probably why Facebook connected us.
I live in Edmonton, Canada, and I've been in the technology industry my whole life. I started dabbling in crypto in 2017, but only got into it properly at the end of 2020, when the whole scene started heating up.
I started with maybe C$30,000 (S$30,800) and by May or June last year, my portfolio was worth about eight times that.
It was around this time when there was a crypto crash. I was keeping my coins in a ledger wallet but because things move fast in crypto, I needed my coins available and easier to move.
At the time I met Nydia, I was looking to either take out some money or find a way to grow my portfolio more. You could say I was vulnerable.
THE FIRST PROFITS
Nydia told me she lived in Vancouver. She was an attractive woman, but I wasn't looking for romance — I was happily married. It was clear to me that she wasn't interested in me in that way either.
She seemed a very private person. She wasn't very flashy and didn't like to chat about herself much. Now and then, she revealed glimpses of her personal life, like the time she was going to buy a house and asked me what I thought of it, or the time she made some dumplings.
But most of the time, we chatted about crypto. She told me she'd created a system of trading that she'd used for more than two years and that was about 80 per cent accurate.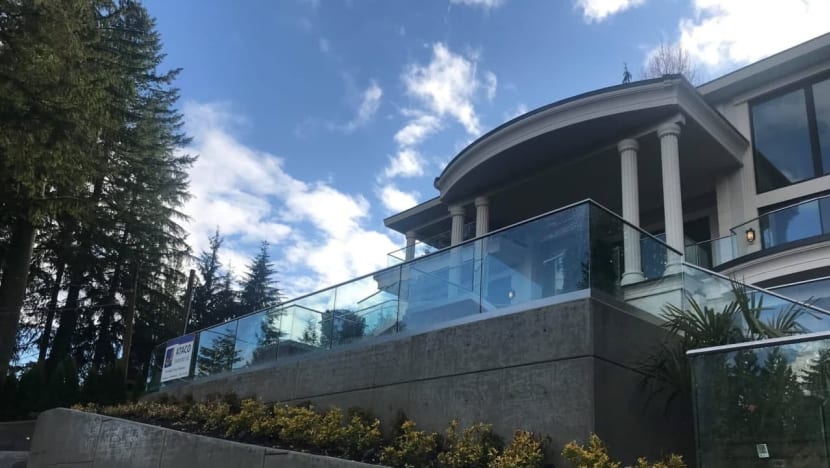 I asked her to show me her strategy on the crypto exchange, Binance. But she told me she was unfamiliar with it. Instead, she used this other platform: Antsex.com.
"You're not familiar with Binance, the biggest crypto exchange in the world?" I thought, incredulous. Besides, I'd never heard of Antsex.com, and I told her that.
She didn't seem surprised at my response. She said the platform was popular with the Chinese community and was in fact an Ant Group company, but it wasn't allowed to say that because the Chinese government might shut it down.
I'd heard of the Alibaba-affiliated Ant Group, and this sounded plausible at the time. (Editor's note: The Ant Group clarified that Antsex and Antsex.com are not affiliated with them.) 
In the end, she persuaded me to try putting in US$5,000 (S$6,900). It was just a small part of my portfolio. I created an account, logged on, and she guided me through the process.
Our first trading session lasted an hour; in that time, my money doubled. Of course, I told my wife. And when Nydia told me to take out US$1,000 and treat my wife to a good dinner to celebrate, I did just that.
Listen: Sajid on how the scammer revealed bits of her "personal life"
'WE HAVE AN EDGE, RIGHT?'
Nydia told me to pledge, or stake, the rest of the profits to ANTC, a token on the platform.
I'd been doing staking — locking up crypto assets in exchange for daily interest — with some of my other coins. But the returns from ANTC were amazing in comparison.
Nydia told me it wasn't a mainstream token and wasn't listed on other exchanges. Once it was listed, she said, the value would go through the roof.
"This is my gift to you," she told me.
She said the investment strategy should be to keep enough money in my trading account — so it'd be available if the opportunity to trade came up — and keep the rest in ANTC because it was a "safe" investment that not only paid good interest but also was increasing in value.
I'd seen the value of a token go from US$0.10 to US$1.50 on the first day of trading on other exchanges like Binance, so I knew this could happen.
I was excited to be a part of this, so two weeks later, I put another US$10,000 in for a trading session. Again, I was able to take out some money, and pledge the rest of the profits.
EXPLORE CNA'S SCAMS MICROSITE: Scammers exposed: Investigating Asia-based scams targetting victims around the world
In total, I'd put in US$15,000, but the platform showed that my account had more than US$100,000. This meant the token had appreciated a lot, and the investment was doing well.
It was around this time that Nydia highlighted the benefits the platform provided to people who make an appointment — a commitment to deposit a large sum of money. If I were to deposit US$100,000, for example, I'd get a 10 per cent bonus in USDT, a type of crypto.
"You're expected to lose money on the platform," she said. "But of course, we have an edge, right?"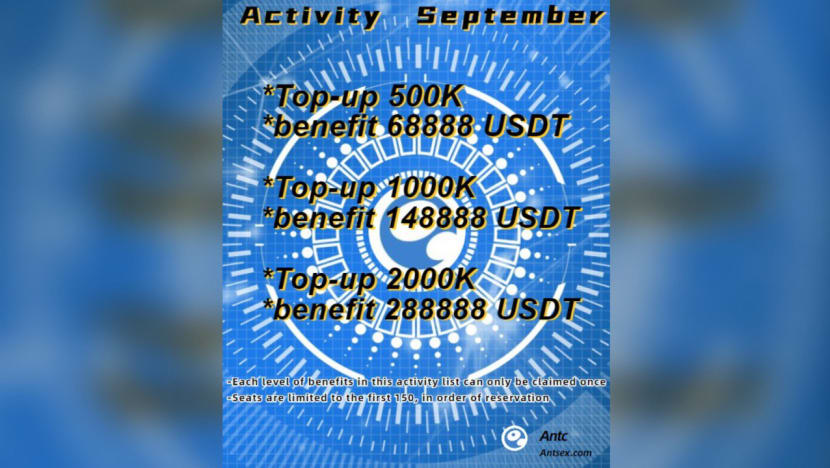 It was a very attractive offer, and she told me I should take advantage of it. Besides, she said, we'd be trading in USDT (which is supposed to be pegged to the United States dollar), so if crypto crashed again, I'd be insulated (in theory).
So I started selling crypto in my existing portfolio. One of my largest holdings, at nearly US$100,000, was my Cardano crypto. I was waiting for the crypto to hit US$4 — it was worth almost US$3 at the time — but Nydia told me to sell it all. She told me it'd never even hit US$3.
I listened to her, and she was right. Its value went down fast after that point. I was so proud of my decision. There were at least three other times when she'd advised me on these things, and each time she was spot on.
There was no way she'd have been able to manipulate the overall crypto markets. She knew where things were headed, to my mind, so I decided to trust her and I made that appointment.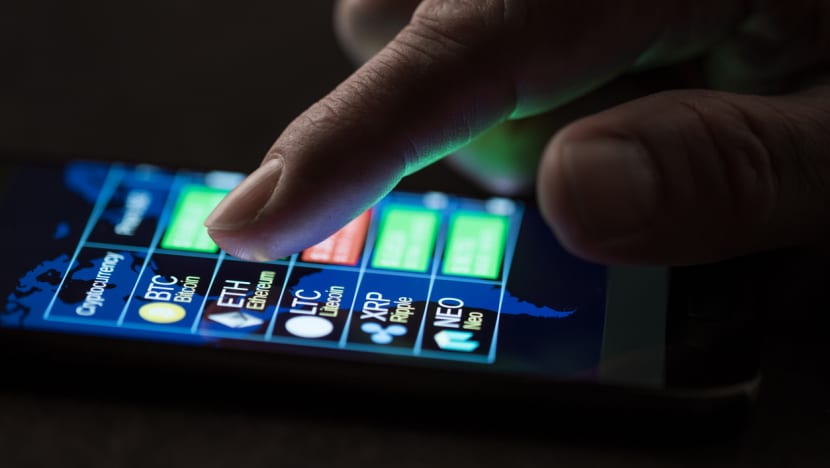 SHE CONVINCED ME IT WASN'T A SCAM
Before I deposited the money, I had to check out the platform again.
I saw a Reddit post that said the platform was part of a romance scam, with posters talking about an attractive Chinese woman and how they couldn't get their money out after depositing it. I couldn't find much information about the platform besides this.
I panicked. I needed to get my money out. But I couldn't make any withdrawals.
So I chatted with the site's customer service via WhatsApp. They told me my account would be frozen until the appointment was completed. They explained that this was so that they'd know I'd be depositing new funds.
This sounded fair to me. But when I asked if I could withdraw my appointment, they told me my account would be permanently frozen, and they'd sue me for breach of contract. That freaked me out.
I should've walked away there and then. Instead, I consulted Nydia. And she convinced me that the only way to resolve this was to go ahead and complete the appointment.
"Don't believe what you read," she also told me. "Everyone's competing for customers — it could well be Binance that planted this story on Reddit."
It sounded plausible to me, maybe because I was worried about what would happen if I didn't pull the trigger. I took a deep breath and deposited that US$100,000.
I GOT MY FRIENDS INVOLVED
Within the next month or so, I transferred the remainder of my portfolio to the account. I thought the crypto that I had wasn't going to go up much more, and I wanted to continue growing my money.
Indeed, I saw the value of my investment rise to more than US$750,000. It may seem a ridiculous amount, but to me, it wasn't anything out of the ordinary. I'd made huge amounts of money from cryptocurrency before.
I was also still able to make withdrawals; up to this point, I'd taken out close to C$75,000 (S$77,500).
Then Nydia asked me to get my friends involved, to help them in the same way she was helping me.
I told them I was doing something risky, and they could lose everything, so they should do it only if they have the money.
My friends wanted me to prove that I could successfully withdraw money from the platform. So I withdrew US$50,000 to show them that it worked, then I put it back in.
Three of my friends put in a total of C$71,000. The value of the coin kept going up, and the numbers kept growing in the account.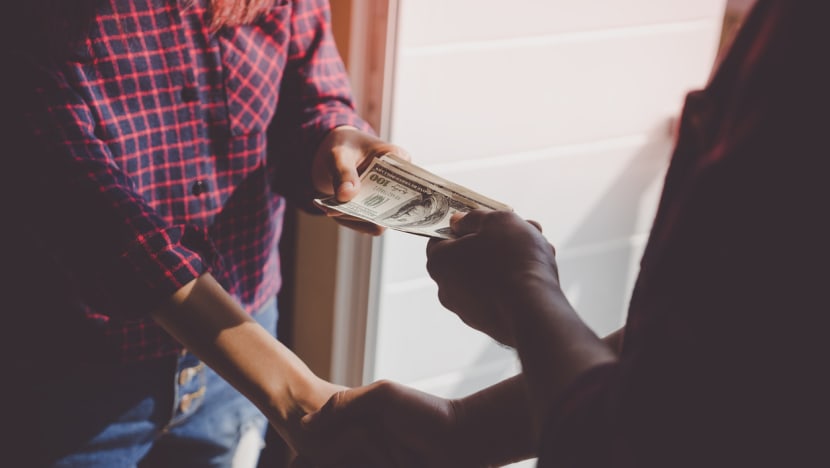 Then in October 2021, Nydia tried to persuade me to make a second appointment, this time for US$200,000. She told me it was time to move to the next level of trading, and the bonus for the deposit would help me get to the amount required to hit that level.
All my liquid capital was already on the platform, so Nydia suggested I borrow from other friends and pay them back with 10 per cent interest after a month. She said the profits would be way more than 10 per cent, and my friends were going to profit themselves, just by helping me out.
I put in C$25,000 of the money I'd taken out previously and borrowed about C$100,000 from another friend. The three friends who'd earlier invested put in another C$30,000. But it wasn't enough to make the appointment, so Nydia lent me the rest, which she sent to me on the platform.
Each time I asked my friends for money, I was upfront about why I needed it. They knew what I was up to and had seen my gains previously. One of my three initial friends sent me another C$50,000 after I completed the appointment. I put it in the platform anyway.
EVERYTHING BLEW UP
By last November, the value of my account was more than US$1 million. I wanted to withdraw US$200,000, the largest withdrawal I could make at a time, according to the site's customer service. I wanted to pay my friends back.
But it didn't work. Customer service told me my account had been permanently frozen and was being investigated for fraud.
They added that I'd triggered the platform's audit mechanism by making too many transactions, and I needed to deposit fresh funds — 15 per cent of the account balance, or approximately US$220,000 — within three days so they could test the security of the flow of funds into my account.
Once the audit had passed, they would deposit the money. I negotiated with them, and they agreed to let me pay about US$10,000 first. The rest, they said, would be due in seven days, after which my account would lapse.
I think it was when I heard this that it finally hit me that I'd been scammed. That was when everything blew up. I couldn't sleep and was on edge all the time, just worrying about the money.
And my marriage was rather strained. My wife had known all along that I was trading, but I'd promised her that I wouldn't borrow money from other people. But I did, so there are now trust issues in my marriage.
Listen: Sajid on his regrets, and the fallout
I wanted to continue chatting to Nydia to see if I could learn anything about the scam or figure out where the scammers were so that I'd have more information before I went to the police. But my wife insisted that I block her.
"This person is getting under your skin," she told me. "She's brainwashed you."
I haven't chatted to Nydia since then, and I haven't been looking for her. She might still be out there, but I wouldn't know.
THE FALLOUT, AND SOME RED FLAGS
I lost more than C$450,000, more than half of which was my friends' money. It wasn't easy telling them their money was gone.
I'm selling some personal assets so I can pay some of my friends back. That's a bitter pill to swallow.
As for my marriage, things are better now. It takes years to build trust and you can ruin it in a minute. I think this is going to hang over our relationship for a long time.
I was in therapy for a while, and I think I've been able to deal with it.
Part of my therapy involved volunteering for the Global Anti-Scam Organisation (Gaso). I help with its website, talk to some scam victims and share my story as much as possible to raise awareness about pig-butchering scams (involving bogus investments).
I created a website called Stopascammer.com — with information on how to spot such scams and how they work — to help other people who've been scammed. Just maybe, we can find these scammers. (I've since merged it with Gaso's services.)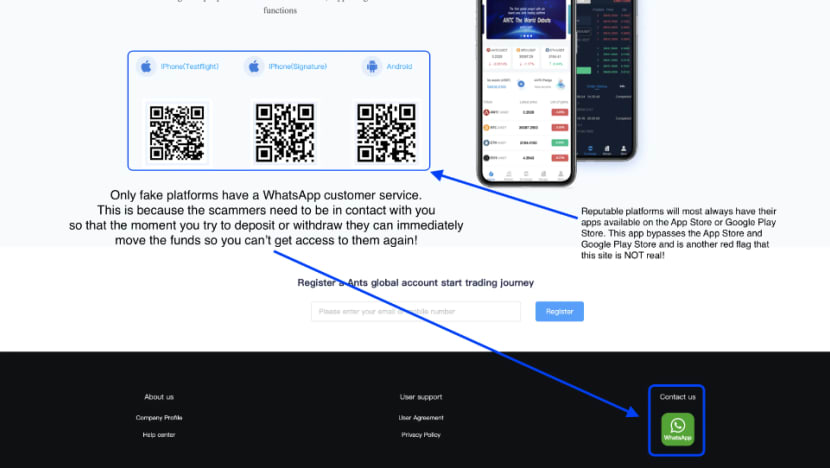 This is what I tell people to look out for: Firstly, look up the domain name to see when it was registered. In many cases, it may have been registered within a year or even months before you came across it.
Secondly, if there's a WhatsApp or online customer service chat to make withdrawals or deposits, that's a dead giveaway.
Thirdly, it may be a super slick website, but look at their terms of service — you may find inconsistencies and spelling or grammatical errors there.
But the most important piece of advice I'd give a friend is: These kinds of profits don't happen with a stranger you met on the internet.
Yes, I experienced dramatic gains myself in the crypto world. But that comes from learning and talking to some friends. Sometimes your friends are right, sometimes they're wrong, but a stranger on the internet chatting to you is never right.
Text: Lianne Chia
To read more first-person accounts by scam victims and former scammers, explore our microsite: Scammers Exposed.