A motorcycle accident left him with aphasia. He's now fighting to regain his speech
Nicholas Tan had his own business and was after his first million dollars when he had a road accident. He suffered brain damage that stopped him speaking his thoughts. This is his journey battling aphasia.
SINGAPORE: When Nicholas Tan woke up after a six-day induced coma, he wanted to tell his parents: "Daddy, Mummy, love me."
But no matter how hard he tried, he could not put it into words.
"No voice," he tells CNA Insider simply, six years after his motorcycle skidded on Tampines Expressway. He was 33.
Meanwhile, his parents desperately tried to find out how he was doing.
"We said, 'Nicholas, give us a thumbs up if you're in pain.' Then he put his hand up, so we realised he could hear us, but he just couldn't express himself," said his father, Peter Tan. "We felt helpless."
What Nicholas had — and still has — is aphasia, a communication impairment that occurs after a brain injury, such as from a stroke, infection or tumour growth. His accident in 2016 led to a head injury resulting in three strokes.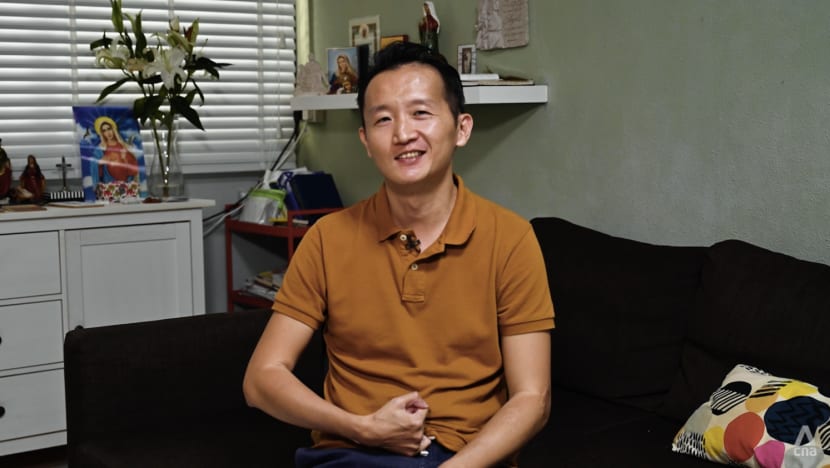 Aphasia is a communicative disorder arising from damaged neural pathways in the brain, which means thought cannot connect to language instantaneously. Afflicted persons have difficulties in speaking, reading and writing as well as in understanding spoken and written language.
Indeed, in the first few months following his accident, Nicholas could barely remember his ABCs, much less form words, says his 67-year-old father, a private-hire driver.
Before that, Nicholas, the eldest of six sons, was an entrepreneur running an up-and-coming Thai food and delivery business.
"He was after his first million dollars," says Peter, adding that people had not heard of players like GrabFood back then. "Nicholas was a go-getter."
His hobbies included fishing and playing football, recalls his mother, Pauline Tan.
When asked what he misses most about the old him, Nicholas, now 40, says: "Miss, no. Memories, yes. Dance, then drink. Fun.
"Last time, many things I do. But accident, then … all the time things don't do, then depressed."
FROM MILD TO 'VERY OVERWHELMING'
There are times when Nicholas shuts his eyes and puts his hand to his head in the middle of a conversation.
This is how Pauline knows to wait. "(People with aphasia) need that dignity to know that, given time, they'd be able to come up with (the words)," says the 65-year-old early intervention teacher.
Something like asking Nicholas where he wants to go can be distilled into a simple reply for us, she cites, "but in the early stages, it's very overwhelming (for him)".
After 30 seconds to a minute, he might find the right word or simply say, "forget already". That is when she will offer him some options. Pasir Ris? Tampines? A nod will affirm his thoughts.
His former speech therapist Evelyn Khoo, 45, likens aphasia to the experience of being in a country where you do not speak the language.
"Let's say you don't speak Japanese, and you go into a cafe where the menu is entirely in Japanese script. The server speaks to you in Japanese — you have no means to respond to him," she says.
"That's how a person with aphasia feels, (only) the tip of the iceberg."
She stresses that it is not, however, an intellectual disorder. "It's purely a language disorder where the person has difficulty comprehending language, speaking words … And sometimes they have reading, writing and spelling problems."
Going by the local stroke registry in 2019, Evelyn, who runs non-profit organisation Aphasia SG, estimates that more than 3,000 individuals in Singapore develop aphasia due to stroke alone every year.
There is a spectrum of severity, from mild aphasia to severe impairment of language abilities, she adds. She has also seen patients as young as early 20s.
TYPES OF APHASIA
There are two broad categories of aphasia and several types within these groups.
Expressive aphasia, or Broca's aphasia: It occurs when the part of the brain responsible for speech production is damaged. Affected persons may understand speech and know what they want to say but have difficulty forming the words.
Receptive aphasia, or Wernicke's aphasia: It occurs when the area in the brain responsible for language comprehension is damaged. Affected persons will find it harder to understand words, whether written or spoken. They may speak in complete sentences, but the words are often gibberish, and they do not realise they are not making sense.
Nicholas Tan has a mix of expressive and receptive aphasia, according to speech therapist Evelyn Khoo.
Speech therapy can help to improve the condition. With intervention, some people fully recover or at least recover a large part of their communication abilities.
'ARDUOUS' PROCESS OF RELEARNING WORDS, NUMBERS
Evelyn and Nicholas met in 2018 at the Abilities Beyond Limitations and Expectations (Able) rehabilitation centre. His goal then was to read simple signs and relearn his numbers, and he worked hard for it, she says.
He learnt again to recognise the alphabet and the associated sounds of each letter. He did drills to recognise numbers — writing down and saying each one. "We started with single digits and then tens, and then hundreds, thousands," says Evelyn.
It was, as Peter describes, like going back to kindergarten. At home, Nicholas practised reading aloud with the help of apps like Constant Therapy and did it "religiously", adds Evelyn.
The "long, arduous process" took almost a year, she recalls. "At the end of it, he could read short paragraphs. Kudos to him — he never gave up."
Today, she often cites Nicholas as a case study for other patients struggling with numbers. "He's super with numbers. I'm so impressed," she says. "In terms of communication, I find that he's more confident and more fluent."
There is now a lot less guesswork involved when speaking to him, says Peter. "He's able to say, like, four- to five-word phrases. And we're able to fill in the blanks. We know exactly what he wants."
Nicholas' parents, for their part, have learnt to speak slowly and simply to him.
"We make an effort to ask him how his day was, and he'll try to communicate … in very simple sentences. Then he'll ask me, 'Mummy leh?'" says Pauline.
"I'll take the opportunity to tell him stories … He'll kind of enjoy that conversation."
He will withdraw, however, when there is too much talking and noise around him.
So at family gatherings, Peter reminds his other sons: "Slow down for your eldest brother, and have one-to-one contact with him so that he can join in and feel like a part of the family."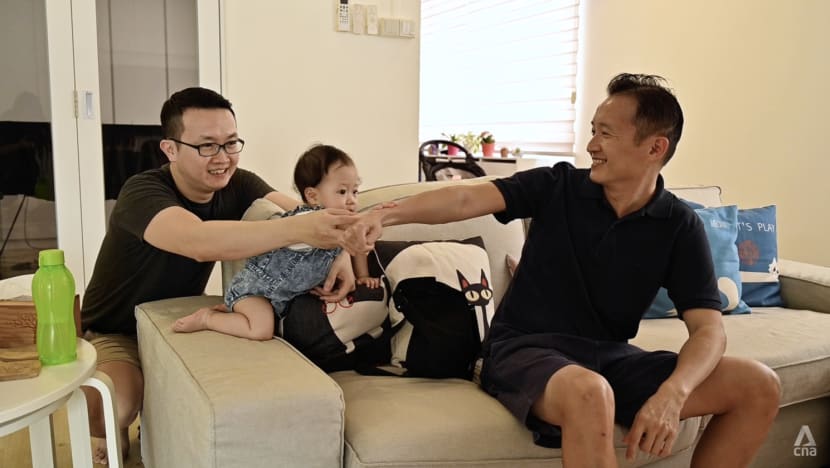 BUILDING CONNECTIONS
When Evelyn met Nicholas for the first time, she was "a bit troubled" by his isolation from people his age.
She "quite often" hears of patients losing friends now that their ability to communicate has been impaired. They might feel uncomfortable when people around them are talking too fast, or lack the confidence to reach out to others, she says.
On the flip side, some friends might drift apart owing to their discomfort with communicating with a person with aphasia, or to a lack of topics of conversation.
WATCH: Life with aphasia: I lost the ability to communicate, now I'm fighting to regain it (8:25)
Persons with aphasia struggle to talk about "abstract concepts like emotions", Evelyn says. They might want to have more in-depth conversations but "don't have the language for it".
"It's very, very challenging for persons with aphasia to express something that isn't seen when they're already struggling with concrete stuff," she notes.
That is why she started Aphasia SG and its Chit Chat Cafe in 2018, for people with aphasia to gather monthly and chat with one another in a safe space.
While it is not therapy, it might help them to "process some of the emotions that they have, in their own way", says Evelyn, who feels strongly about "the lack of access to mental health for this population of patients".
"(If) you have a problem, you talk to psychologists (or) a counsellor. But what if talking isn't an option for me? What do I do? Whom do I approach?"
Before the pandemic, the cafe operated as a pop-up where members could meet friends and volunteers over food and drink. Then they met virtually once a week until the monthly Aphasia SG gatherings resumed this May.
Nicholas was excited to once again chat in person with people his age. They exchanged questions like "What happened to your leg?" or "You (had a) stroke, eh?" and listened patiently. Silence is not awkward but appreciated here.
Trained volunteers also help to elicit responses and facilitate conversations, especially for folks with more serious conditions.
"They may have no words, but it doesn't mean we treat them like nobodies," says Evelyn. "The facilitator will still find ways and means (of getting them to) respond."
For example, facilitators could ask yes-no questions or ask for gestures like a thumbs up.
Sometimes music helps. As "Top of the World" by the Carpenters was played to close the cafe session in May, the floor burst into song.
"With aphasia, it's the left side of the brain that's impacted," says Evelyn. "But music and rhythm tap the right side of the brain … so we're using a different neural pathway to facilitate verbal expression."
"Once the music is turned on, it's like — voila! The speech comes on."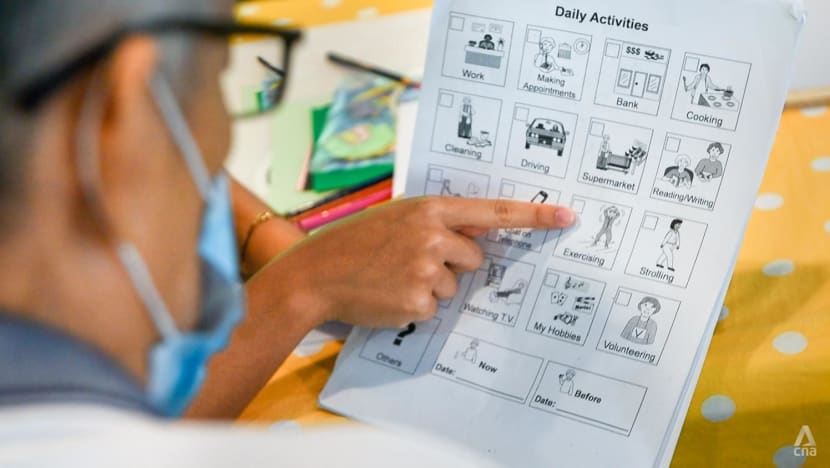 Besides the cafe, Aphasia SG also runs a choir programme with elements of musical therapy. It helps participants to practise phonetics, word-finding and pronunciation in a fun way.
"We have participants who have severe expressive aphasia; they can't really speak fluently in a single sentence," says Evelyn. "But when they sing, they sound very fluent, and it gives them a lot of confidence."
NEW NICHOLAS, NEW PERSPECTIVE
Evelyn's team is also experimenting with art therapy to provide more mental health support for persons with aphasia.
What they hope for most of all, though, is more awareness, she says.
"We want to let people know that there are individuals with communication problems walking amidst us. Please be patient, please be kind when you meet someone who has this difficulty."
HOW TO INTERACT WITH SOMEONE WITH APHASIA
1. Do not fill in the blanks for them
Give them time to find the words they want to say. Evelyn suggests counting down 10 seconds before speaking. "Sometimes the word is on the tip of their tongue. They just need a bit more time," she says.
2. Be natural, and use body language to show empathy
Do not use baby talk. And communicate your interest in what the person has to say. "When someone loses the ability to communicate, (his or her) confidence is taken away," says Evelyn. Encourage individuals to take their time, she adds.
3. Be prepared to write or draw
Visual cues can help people with aphasia to better understand what you are saying, says Evelyn. Writing or drawing can also facilitate word retrieval for some affected individuals. For example, one individual she knows will fingerspell in the air to help arrive at the word he wants to say.
For the Tans, Nicholas' accident was "devastating", but his recovery and journey with aphasia has given them a fresh perspective.
"Friends who know about Nicholas' condition would ask me, 'How's Nicholas nowadays?' And I always tell them, 'Well, I'll never get back the old Nicholas,'" says Peter.
"What I have now is a new Nicholas. Thank God I have this new Nicholas."
Even after his accident, he remained fiercely independent, says Pauline, tears in her eyes. "I believe if he could, he'd tell me he's sorry that he met with this accident, that he doesn't want to be a burden to us."
Six years on, what Nicholas wants to say — and can say — to his parents is: "Love, uh, love Mummy and Daddy, uh, for persevering, persevering all the while."