Malaysia's billion-ringgit vaping empire — and the anti-smoking bill that could curtail it
As a law to curb vape sales is proposed, Talking Point talks to a major player in Malaysia's globe-spanning vaping industry. And a public health expert says why we should be sceptical of the industry's claims.
KUALA LUMPUR: He started with a single shop selling vaping products in the Selangor town of Puchong in 2013.
These days, Zachary Oh's company, Vape Empire, has 115 shops all over Malaysia, including in Borneo. It also manufactures and exports e-liquids to places such as Europe, South Korea, Australia and Japan.
Oh's business has grown in tandem with Malaysia's vape industry which is estimated to be worth RM2.7 billion (S$830 million), according to a 2021 study by the Malaysian Vape Chamber of Commerce. The country is reportedly one of the world's largest e-liquid manufacturers.
"Vaping is the new smoking," declared Oh, who told Talking Point that his Malaysian customers were largely under the age of 35.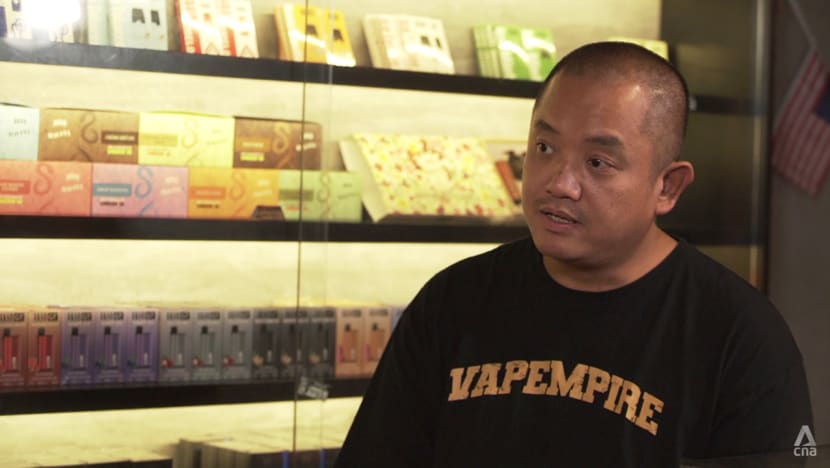 This reflects in the youthful design of the company's advertisements on social media, for new types of vape tech or flavours ranging from Rainbow Candy to Watermelon Ice. Oh insists, though, that they do not sell to youths under 18, and that they "do not encourage" new customers who aren't already smokers.
Amid growing concern over the rapid rise of vaping particularly among the young, and the controversy over its effect on health, Malaysia is set to introduce a game-changing law to ban smoking and vaping for an entire generation, those born from 2007.
Currently, the vape industry operates in a legal grey area in the country.
While vaping is not regulated, the sale of e-liquids containing nicotine – while commonplace – is technically illegal. And several states including Johor have banned the sale of vaping products.
E-liquids are a component of e-vaporisers, also known as vapes or e-cigarettes. The liquids often contain nicotine and, when heated, turn into vapour that is inhaled by users.
Vapes are touted by advocates as a smoking cessation tool. Oh for instance, said: "We are not claiming vapes as a 100-per-cent healthy product. We are selling vape as harm reduction compared to smoking." 
WATCH: Vaping Is The New Smoking: Can We Get Youths To Quit Vaping? (22:24)
But the World Health Organisation (WHO) states that e-cigarettes are harmful to health and not safe. A lab test done by Talking Point found lead and formaldehyde, among other things, in vape juices and emissions.
Nicotine, a highly addictive substance, can also harm the brain development of children and adolescents, the WHO notes. It adds that the evidence on e-cigarettes as a smoking cessation aid is "inconclusive", and that it is too early to provide a clear answer on the long-term impact of using e-cigarettes or being exposed to them.
'POOR BUSINESS MODEL' TO TARGET ONLY CURRENT SMOKERS
In Malaysia, vaping took off in the last five years when more convenient products – like ready-made coils that were cheap and of good quality – entered the market, Oh told Talking Point host Munah Bagharib.
Two years ago, disposable e-cigarettes entered the picture, making vaping even simpler. "You just go over to the counter, buy, open the wrap and you can use," he said.
At prices ranging from RM15 to RM38, disposables are also cheaper than traditional vapes, which can cost hundreds of ringgit per set, said sales executive Armand Kaser.
The e-liquids, or vape juices, come in an array of flavours including grape, mango, lychee and even crème brulee. 
In fact, Malaysians have become "quite well-known worldwide" as vape juice brewers, said Oh.
Everyone is trying to come out with something more interesting, more flavourful, that catches everyone's tongue."
To curb the harm of tobacco and nicotine products, Malaysia is debating the Control of Tobacco Products and Smoking Bill. Also called the generational endgame bill, it seeks to ban the sale of cigarettes, tobacco and vape products to those born from 2007. The bill was referred to a Parliamentary Special Select Committee for a review in August and is due to be tabled in the Lower House.
Many vape associations are against vaping products being included in the ban, and have called for regulation of their sale instead. This way, cigarette smokers have "a safe alternative to turn to", the Vape Consumers Association Malaysia said in a statement in July. 
Oh, for one, insists: "We do not encourage new vapers who are not (already) smoking. That, I want to make it clear."
But Yvette van der Eijk, an assistant professor at the National University of Singapore's Saw Swee Hock School of Public Health, is sceptical of vape makers' and retailers' claims about targeting only current smokers. 
It makes for a "very poor business model" as more countries are moving towards a tobacco endgame and implementing stricter tobacco control measures, she said.
In order for their business to survive, they also need to be targeting non-smokers, most of (whom) are going to be young people, teenagers."
Industry lobbying is also "very strong" against efforts by policymakers to regulate their products, van der Eijk said. The tobacco or vape firms may argue for voluntary regulation where there are no penalties or enforcement, and low compliance, she added.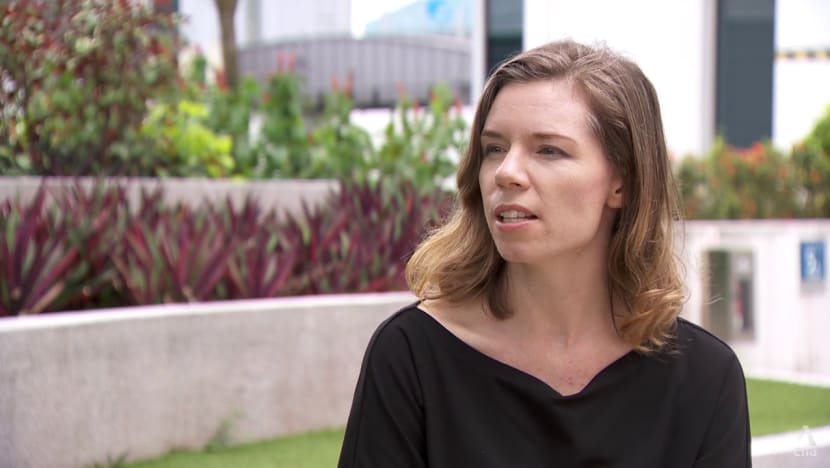 Companies will also try to influence policies by sponsoring events, striking up relationships with influential people, or setting up their headquarters in various countries for "political clout" with industry-focused government ministries, she said.
Meanwhile, more youths are drawn to vaping through the companies' sophisticated product design, marketing and social media campaigns, added van der Eijk.
HARD TO POLICE SOCIAL MEDIA
Singapore youths who vape told Talking Point they get most of their supplies through Telegram groups; and Professor May Lwin of Nanyang Technological University said it is difficult for advertising regulations to keep up with social media.
"Unless you had an army of people who were able to police, or in some countries (be) decoy personnel who behave like individuals who are under 12, under 18 or an elderly person, to see what sorts of messaging you would get, it gets very difficult to police," said Lwin, who specialises in strategic and health communication and is from the Wee Kim Wee School of Communication and Information.
Ads from other countries with freer rules could also reach their target audiences residing in stricter places, she said.
Asked about Vape Empire's products being marketed in Telegram groups in Singapore – where the use, purchase, possession, sale and import of vapes is banned – Oh said his company follows the law "as much as possible". But many Singaporeans head to Johor Baru and may have bought vapes for their own consumption or to sell to their friends, he reckoned.
Oh maintains he does not sell to anyone under the legal smoking age of 18. He also points to how the company stays away from "cartoon character" packaging that would be "child enticing".
When Talking Point noted that teens said they were attracted to vaping by the array of enticing flavours, Oh responded: "The only way you can kick the habit of smoking is to find an alternative that you can stick on. If I'm going to vape another tobacco flavour, how do I stop smoking?"
He himself began vaping 10 years ago, and claims he managed to stop cigarette smoking seven years ago. 
"My consumption of vapes has reduced (by) at least five times now. I'm slowly cutting down," he said, adding: "Maybe in two to three years' time, I might even stop vaping totally." 
Was this for health reasons, perhaps? "Definitely once you reach an older age, you tend to take care more of your health," he said. "Things that you think (are) not good, you will try to stop it, you know."
Watch this episode of Talking Point here. Watch the first episode on vaping among Singapore youths here.