Commentary: The days of smoking cigarettes are numbered in Singapore
More countries worldwide are targeting to slash smoking prevalence to 5 per cent or less. A tobacco endgame in Singapore would be less of a shock and a natural continuation of ongoing measures, says Yvette van der Eijk of the Saw Swee Hock School of Public Health.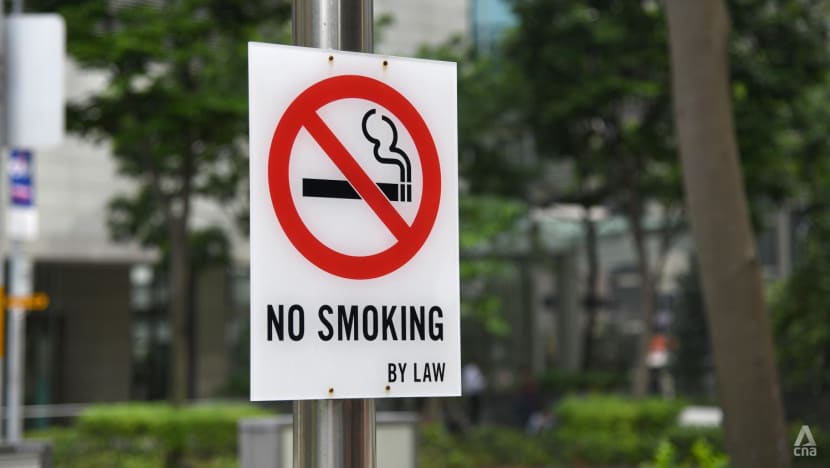 SINGAPORE: As smoking remains a top cause of preventable death worldwide, governments are stamping out the habit for good.
In December 2021, New Zealand announced a bold plan to create a tobacco-free generation, by banning tobacco sales to people aged 14 and under beginning in 2027. It will also reduce the number of tobacco retailers by 95 per cent and cap the nicotine content in cigarettes to a very low level.
Since then, Malaysia and Denmark have announced similar proposals.
The idea of phasing out tobacco sales for age cohorts is not new. Over a decade ago in Singapore, a group of doctors and researchers advocated for a ban on tobacco sales to individuals born in or after 2000.
Although the proposal fell flat in Singapore, other cities like Balanga in the Philippines and Brookline, Massachusetts passed such a law.
Ireland, Sweden, Finland, the UK, the US, Australia and Canada have also set "tobacco endgame" targets to get rid of tobacco by a certain year. This is generally defined as a smoking prevalence of 5 per cent or less.
With an ever-growing list of tobacco endgame countries, Singapore's absence from it is becoming increasingly apparent.
SINGAPORE A GOOD CANDIDATE FOR TOBACCO ENDGAME
Singapore is, in many ways, the perfect candidate for a tobacco endgame. The general consensus is that a tobacco endgame is likely to succeed in a country with strong political will, a low smoking prevalence and strong anti-tobacco climate.
The Singapore Government has had a strong anti-tobacco stance since the 1980s, when it launched a tobacco control programme with the theme Towards a Nation of Non-Smokers.
Since then, measures have become progressively tighter, from the minimum legal age of smoking gradually rising from 18 to 21 to prohibitions on smoking in certain public spaces. As of today, Singapore's tobacco regulations are among the world's strictest.
Smoking prevalence in Singapore is 10 per cent. This is lower than in most other tobacco endgame countries, and just 5 percentage points shy of the tobacco endgame target.
As smoking in Singapore is increasingly frowned upon, more people support stricter measures. In such a context, a tobacco endgame would be less of a shock and more a natural continuation of ongoing measures.
Although many different tobacco endgame strategies have been proposed, two of the most popular ones include the tobacco-free generation proposal and low-nicotine cigarettes.
A TOBACCO-FREE GENERATION IN SINGAPORE?
As the tobacco-free generation proposal initially came from Singapore, it would only seem right for Singapore to reconsider it.
Most people who smoke start young. In Singapore, close to 95 per cent of smokers take their first puff before they turn 21, with 45 per cent becoming regular smokers between the ages of 18 and 21.
Besides phasing out smoking as the population ages, a tobacco-free generation policy would send a powerful message that smoking is not acceptable at any age. This is different from the current minimum legal age laws, which imply that smoking is an acceptable rite of passage into adulthood.
Senior Minister of State for Health Koh Poon Koon said in Parliament on Jan 11 that Singapore is open to the idea of a cohort smoking ban similar to New Zealand's.
But he noted youths in Singapore are generally not taking up smoking, and that the rising popularity of e-cigarettes is a bigger challenge. Enforcement may also be a challenge if older smokers supply tobacco products to affected cohorts.
Another drawback of a tobacco-free generation policy is that it would take a few decades to reach a 5 per cent smoking prevalence target. Although it is an effective long-term measure, it needs to be complemented with other measures designed to reduce smoking in the short term.
VERY LOW-NICOTINE CIGARETTES IN SINGAPORE?
Another option is to cap the nicotine in cigarettes to a very low level. It is one of the most well-researched tobacco endgame policies, and is being considered in New Zealand, Canada and the US.
Nicotine is the main reason why cigarettes are so addictive, so the policy would strip nicotine from cigarettes to the point where they are not addictive. This level is around 0.4 mg/g: A 95 per cent reduction compared to the 10 to 15 mg/g found in most cigarettes.
Numerous studies, including four large randomised controlled trials, found that when smokers switched to low-nicotine cigarettes, their addictions improve, they smoke less and develop only mild withdrawal symptoms. This was observed even in smokers who were not interested in quitting.
This policy would also benefit youth because if they picked up smoking, they would not get addicted to it. Very few would continue smoking into adulthood.
Studies estimate this policy would reduce smoking prevalence to less than 5 per cent within just a few years.
Although this is a dramatic drop, tobacco companies might try to find other ways to make cigarettes appealing. They may add flavours such as fruits and menthol, and decorate cigarettes with colourful designs to make them more appealing to youth.
PLAIN CIGARETTES TO MAKE SMOKING AS OFF-PUTTING AS POSSIBLE
To prevent this, Singapore could go a step further with a "plain cigarettes" policy. Just as plain packaging standardises the design of cigarette packs, plain cigarettes would standardise the design of cigarette sticks so they have no nicotine, no added flavours and no fancy designs.
Banning flavours could have a dramatic impact, as over half of the cigarettes sold in Singapore contain added flavours. A study published in April estimated that a tobacco flavours ban would reduce smoking prevalence by over a third in Singaporeans ages 18 to 29. Combined with a very low nicotine policy, the decline would be even more dramatic.
In addition, cigarette sticks could be designed to look as unpleasant as possible, plastered with health warnings in a drab colour such as dark green or yellow. Studies so far show that these sticks are quite off-putting to youth, and may be more effective than plain packaging as smokers are exposed to the health warning every time they take a puff.
Although no country has a plain cigarettes policy, Canada comes close as it has banned tobacco flavours and recently proposed to print health warnings on cigarette sticks. Tobacco flavours are also banned in the UK, European Union and several African countries.
Whichever approach Singapore chooses to take, one thing is clear: It's time for a tobacco endgame in Singapore.
Yvette van der Eijk is Assistant Professor at the Saw Swee Hock School of Public Health, National University of Singapore.
Listen: Why do we fall for e-commerce scams?