We travelled to Germany and back without stay-home notice. Here's what you need to know
Talking Point's Steven Chia endured five swab tests for his trip to Munich. He also asked travel and insurance insiders for tips. Was the work holiday worth the time, effort and money?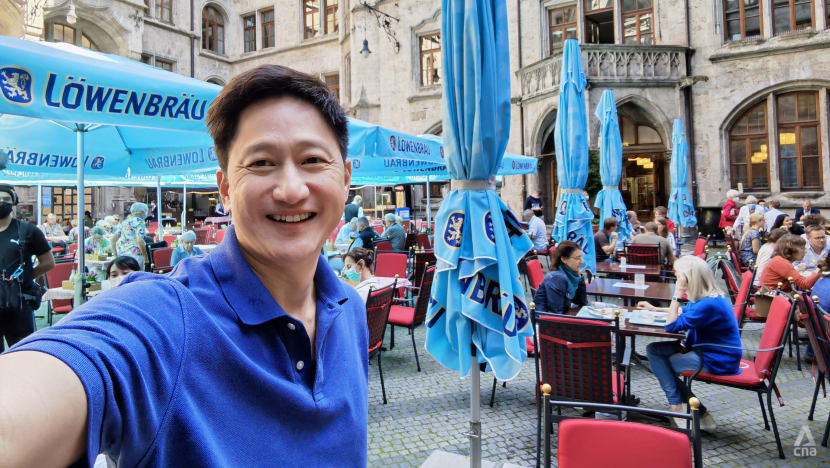 SINGAPORE/ MUNICH: With Singapore soon to announce Vaccinated Travel Lanes (VTLs) for more countries, people in Singapore who've received their COVID-19 shots will be able to travel to and from more places without having to serve a stay-home notice when they return.
What is it like to plan for such a trip, and to undergo four polymerase chain reaction (PCR) tests just before and after one's return to Singapore?
Talking Point host Steven Chia took a work holiday to Munich to find out.
Singapore residents have been able to travel to Germany without undergoing quarantine on arrival since October last year. All they need is proof of a negative COVID-19 test result, full COVID-19 vaccination, or recovery from infection.
And under the VTL, which is currently extended to travel from Germany and Brunei, they can also return home and move about freely almost immediately if conditions are met.
Here's a handy guide if you're thinking of taking advantage of VTLs in the coming months. 
PLANNING YOUR TRIP
Making bookings with flexible cancellation is "the number one thing" to keep in mind, so that you're able to get refunds as quickly as possible if plans change, said Expedia's Asia-Pacific communications head Lavinia Rajaram.
If you plan to take public transport during your holiday, avoid peak travel times if you want to avoid crowds, she advised. Otherwise, you may want to book a car. 
There is no minimum number of days you must spend in Germany before returning to Singapore via the VTL scheme.
But, if you wish to hop over to another country in Europe's passport-free zone, such as Switzerland or the Netherlands, know that you'll have to spend 21 days in Germany before returning to Singapore under the VTL scheme, said Rajaram.
The travel history of those arriving in Singapore from Germany will be based on self-declaration, and those who make a false declaration can face action, including enforcement under the Infectious Diseases Act.
WHAT YOU NEED TO DO BEFORE YOU GO
You will need your digital vaccination certificate or physical vaccination card to enter Germany. You should authenticate your vaccination certificate and download it from www.notarise.gov.sg. The certificate contains details such as passport number, vaccine type and vaccination dates.
Buy travel insurance early. Some plans now cover trip cancellations and overseas medical expenses as a result of COVID-19. "It's important to consider one that covers you for before your trip, during your trip as well as after your trip," said Kelvin Ng, head of advisory at finance portal MoneySmart.
An example of pre-trip coverage is the refund, or reimbursement of non-refundable costs, if you're diagnosed with COVID-19 before your flight and have to cancel the trip.
Check if a policy offers quarantine allowance – some insurers don't, said Ng. 
Some travel insurance policies also require you to undergo a PCR test before coverage kicks in – while the test will be at your own expense, the policies may offer a wider scope of coverage, he said. 
To give an idea of insurance costs, COVID-19 add-on coverage for a seven-day trip to Germany could mean an extra S$28 on top of a premium of S$40.
When packing for the trip, remember to bring surgical and N95 or KN95 masks. N95 and KN95 masks are similar to FFP2 masks in Germany. Cloth masks are not accepted in the country.
AT THE AIRPORT AND ON THE PLANE
Chia took a pre-flight PCR test as his travel insurance policy required it. Clearing immigration at Changi Airport was simple and "everything was totally contactless" with the use of facial recognition technology, he said.
He opted to wear an N95 mask on his flight "just to feel a little bit safer" in a confined space. The Singapore Airlines cabin crew wore protective gear and he noticed the toilets were sterilised "several times" during the flight.
When he arrived in Munich, all Chia had to do was verify his vaccination certificate. "It was a breeze," he said. He was free to go about his activities after that. 
WATCH : Travelling During A Pandemic: How Has It Changed? (24:02)
RULES WHILE IN GERMANY
Over 64 per cent of Germany's population has been vaccinated. Four vaccines are authorised there: Pfizer-BioNTech/Comirnaty, Moderna, Johnson & Johnson/Janssen, and AstraZeneca. Sinovac is not recognised in Germany.
The country has implemented a 3G rule for indoor spaces – allowing access to only geimpft (vaccinated), getestet (tested) or genesen (recovered) persons. The rule doesn't apply to schoolchildren. Neither does it apply to public transportation.
COVID-19 rules may vary across Germany's different regions. In Bavaria state, where Munich is the capital, masks are mandatory indoors – in malls, hotels and museums, for instance – as well as on public transport. But they're not required outdoors except for the entrances and meeting areas of events with 1,000 or more people.
While contact tracing check-in is mandatory at eateries in Munich, the Talking Point team noticed that it's not strictly enforced by all businesses there.
Just as TraceTogether is used in Singapore, the German government advises people to download the Corona-Warn-App, which informs you if you have spent time near an infected person. There is also the CovPass app, which lets users load a European Union Digital COVID Certificate onto their smartphone.
When Chia wanted to have lunch with his tour guide Markus Angstwurm, he found that the German app was not available to download in the Singapore app store. He manually filled in a form before being allowed into the restaurant.
Note that the pandemic situation might change from time to time, so watch out for alerts. Bavaria now uses a traffic-light system to track the coronavirus' burden on its healthcare system. Level yellow is when there are more than 1,200 COVID-19 patients admitted to hospitals within the last seven days, while level red is when more than 600 COVID-19 patients are in intensive care units in the state.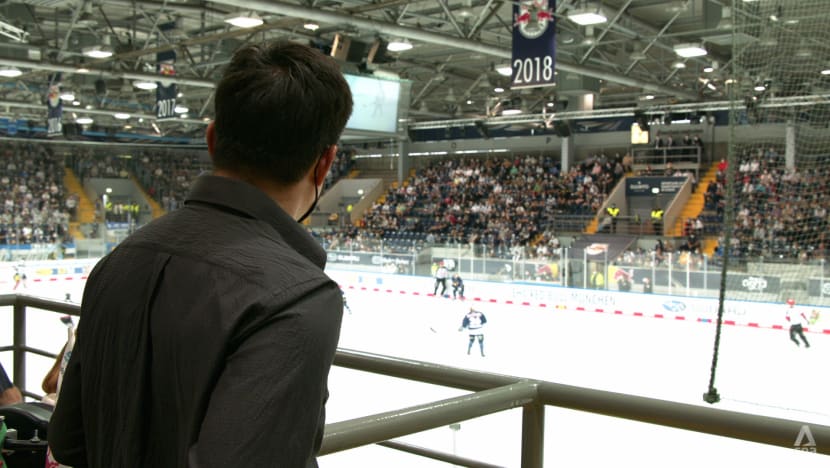 At level yellow, people may have to return to wearing N95 masks, among other restrictions, said Professor Ulrike Protzer, a virologist at the Technical University of Munich. At level red, a new partial lockdown could be imposed, she said.
THE TOURIST EXPERIENCE IN GERMANY
If you're planning to visit in October, do note that Munich's Oktoberfest, the world's largest beer festival, has been cancelled for the second year in a row due to the pandemic. But there'll be smaller events and activities all around the city. 
Christian Schottenhamel, managing director of Paulaner am Nockherberg, the restaurant and beer garden of Paulaner brewery, said the venue would have a band and an "atmosphere like the Oktoberfest". 
But unlike the Oktoberfest, which draws 6.5 million people over 16 days, "we have only 350 people", he said. Patrons will have to remain at their tables and dancing is not allowed.
Besides Oktoberfest, Chia said it was easy to forget that the pandemic was still going on. "Everything is open" and there was little change to daily life, he observed. 
At eateries, for instance, there was no limit on the number of people who could sit together.
Asked about the risk of cross-border infection in Europe, Protzer said people are not allowed to freely cross the border without a European Union vaccine passport. And if they come from a country with high infection levels, they have to quarantine themselves.
RETURNING VIA THE VTL
Before heading home on a designated VTL flight – specific Singapore Airlines and Lufthansa flights – Chia had to take a pre-departure PCR test within 48 hours of the flight.
While there are test centres around Munich and the rest of Germany, a convenient place to get tested is at the airport.
Chia could pick from several test providers at the Munich airport and booked with one called Centogene.
He fasted for 15 minutes before his PCR test and picked the option that would serve up results fastest – in 35 minutes. It cost about S$380.
He received the results of the saliva test via email. "In the email, there's a link. If you activate the link, that takes you directly to the report. The report can be used then for your flight with the airline," explained Dr Michael Mehler, head of COVID business unit at Centogene.
German health authorities will be automatically alerted to anyone who tests positive, and they will not be able to board their flights, he said.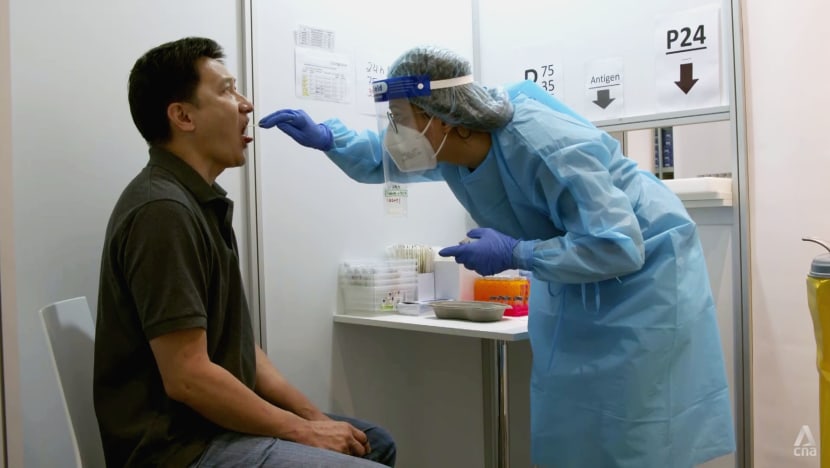 Touching down at Changi Airport, Chia was ushered through Customs and straight to a swab station. He then went home to self-isolate before getting his results six hours later. With a negative result, he could go about his usual activities.
Two more swab tests at designated clinics followed on the third and seventh day of his return.
The bill for travel insurance and the five tests Chia did for his trip came up to nearly S$960, which was equivalent to the cost of his air ticket.
His verdict: Chia said he certainly enjoyed the experience of travelling again. "Life felt almost normal."
But as the VTL is only for vaccinated travellers, family holidays are out for now as his 11-year-old son is not eligible to be jabbed. "There's also the cost that adds up and, of course, there is always the risk that you may come home infected," he said. 
"Still, I'm hopeful that more countries with high vaccination rates like Canada and Mauritius may be opened up for quarantine-free travel for Singapore travellers in time to come," he added.
Watch this episode of Talking Point: Is It Worth Vacationing During A Pandemic? here. The programme airs on Channel 5 every Thursday at 9.30pm.