Why fish in Singapore is more expensive, and the prospect of prices remaining high
Malaysia supplied a quarter of Singapore's seafood last year. The programme Talking Point heads north to get the low-down on costs from a fishing fleet owner, a fish farmer and a spokesperson for fishermen.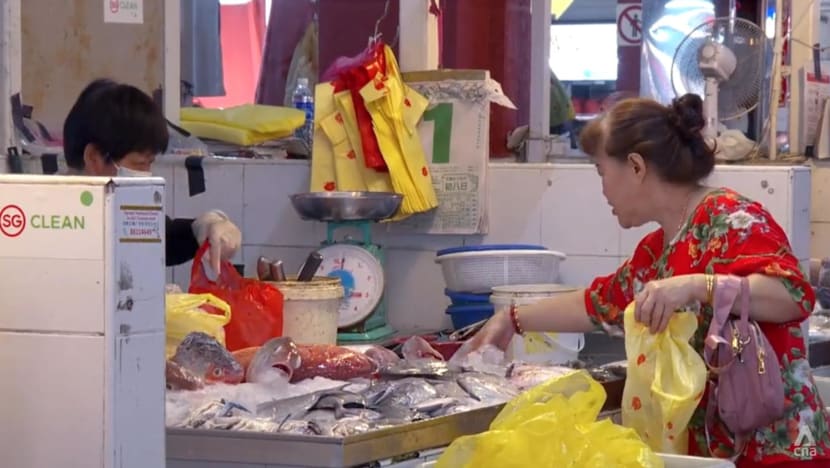 JOHOR: Rosidi Yapa began fishing 20 years ago. He still enjoys what he does for a living, "but there's a lot of difference (between) now and then".
In the past, he could head out to the waters off the coast of Johor and net over 20 tonnes of fish in three days, but now it takes "at least five to six days".
"There are fewer fish now," said Rosidi, the captain of a boat owned by seafood wholesaler GM Seafood. "We have to travel to Kuantan, Terengganu and other places, because there's (hardly any) fish nearby."
Catching the same amount of fish takes more effort and means higher costs. This is one reason that fish prices in both Malaysia and Singapore, which gets 25 per cent of its seafood from its northern neighbour, have been increasing
WATCH: Why fish prices are rising because of climate change (2:57)
Fish prices in Malaysia have reportedly gone up by 10 to 30 per cent. In Singapore, the increase has been 20 per cent or more this year.
Tekka Market fishmonger Lee Yit Huat told CNA that Spanish mackerel, locally known as batang, cost S$20 to S$25 per kilogramme in September, up from S$15 to S$20 two months prior to that.
More days out at sea means more diesel burnt by fishing boats. And the price of diesel has gone up to RM4.15 (S$1.24) per litre, from around RM3.70 previously, said GM Seafood director Gary Ko.
He spends a weekly average of S$320,000 on diesel — 12 per cent more than a year ago — for his fleet of over 40 boats. And because fishermen are paid daily wages, more days out at sea means higher labour costs.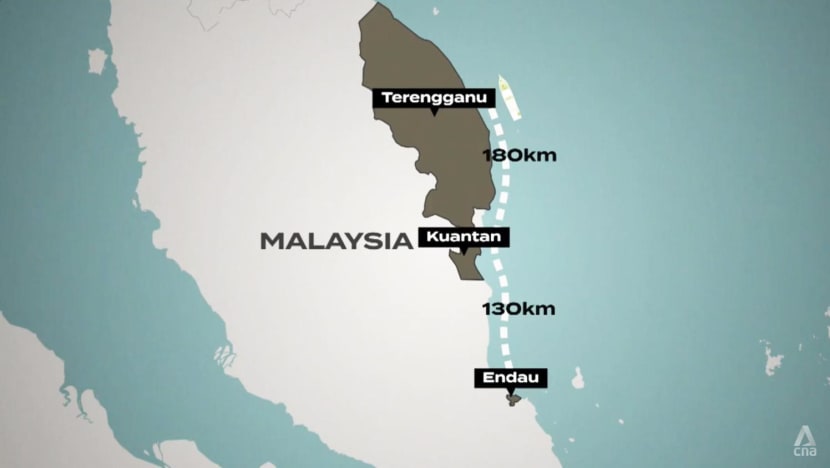 Altogether, Ko's production costs have increased by 25 to 30 per cent, he told the programme Talking Point. Profit has dropped by 30 per cent, and his company has had to charge 15 per cent more for its fish.
WEATHER CONDITIONS A FACTOR
Singapore consumed 133,400 tonnes of seafood last year and produced 8 per cent of this amount. Malaysia was Singapore's biggest source of seafood last year, followed by Indonesia and Vietnam, according to statistics published by the Singapore Food Agency.
The bulk of fish in Malaysia is caught, while less than a quarter is farmed, and erratic and severe weather conditions have prevented fishermen from heading out to sea, adding to the supply crunch.
Meteorologist Toh Ying Ying of the country's meteorological department said it has seen "more and more thunderstorms" occurring, owing to natural climate variability as well as human-driven global warming.
"For example … during the south-west monsoon, we generally will have a pattern (of) drier weather. But this year, we aren't seeing that pattern. The weather is slightly wet compared to the previous year," she said.
Malaysia has seen a 0.02 degree Celsius annual rise in temperature in the period from 1981 to last year, she added. This produces more moisture, which in turn causes the country to have "more extreme" thunderstorms and heavy rain.
WATCH: Why is fish so expensive? (22:06)
Aileen Tan, the director of Universiti Sains Malaysia's Centre for Marine and Coastal Studies, told CNA previously that the rising temperatures of surface waters were also slowing down the carbon exchange between deep and surface waters.
"In locations with warmer waters, the upper layers are more saturated with CO2 and can't absorb more, and the lower (deeper) layers have less oxygen," said the professor.
More carbon dioxide in the waters means increased acidity. Warmer and more acidic waters will affect marine life. For instance, higher temperatures encourage the growth of marine bacteria and fungi, which could be fatal for some fish, Tan cited.
PAYING MORE FOR FISH FEED, PROBIOTICS
What about fish farmers?
Even as they have better control of breeding conditions, such as the acidity or salinity of ponds, costs are "very high now", said Raymond Tea, the founder of seafood wholesaler DTS Group, which rears barramundi, seabass, grouper and shrimp.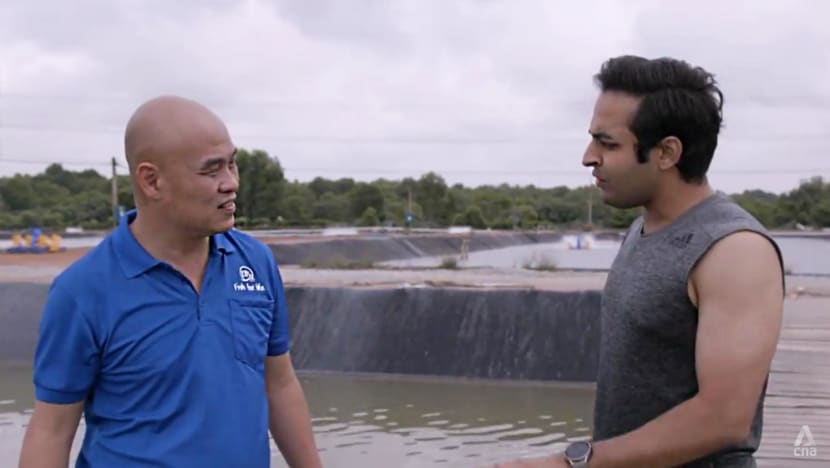 Feed is the biggest component, making up 70 per cent of costs, he said. And feed prices have gone up in the past year as corn and wheat prices have risen.
About 400kg of feed is required daily for a pond at DTS' fish farm in Negeri Sembilan, and it costs about US$600 (S$830). "So a hundred ponds is a lot," said Tea, whose company exports to Singapore.
DTS also uses probiotics imported from the United States to digest sludge and waste in its ponds. The ringgit's depreciation against the US dollar over the past two years, coupled with higher raw material costs, means paying about 20 per cent more for the probiotics, he added.
To make up for these higher costs, he has raised his prices by 15 to 20 per cent.
To top things off, borders were sealed when the COVID-19 pandemic erupted in 2020, leading to a labour crunch in the migrant-reliant industry. DTS "had to hire a lot of part-timers" to help out.
"Now it's easier, because the borders of Nepal (and) Pakistan have already opened," said Tea. He has since managed to recruit 30 foreign workers, and wage costs are 6 per cent higher than two years ago, he estimated.
EXHAUSTED FISHERIES
Costs aside, fishers such as Rosidi face an issue that will not go away in the foreseeable future: Much of the world's fisheries have been overfished.
In Malaysia, fish stocks in some areas have tumbled by up to 96 per cent since 1970, studies have found. One of the problems is illegal, unreported and unregulated fishing.
The country loses an estimated RM4.2 billion to RM6 billion a year to illegal fishing by foreign vessels, cited Azrilnizam Omar, secretary of the Malaysian Inshore Fishermen Association for Education and Welfare.
Fisheries are running out of fish not only because of overfishing but also fishing methods and gear that are "very harmful to the fish population and … marine ecosystem", he said.
For instance, some vessels from Vietnam use two-vessel trawls that stretch over a kilometre, he cited. The nets also drag on the sea floor, destroying the seabed and catching fish (including juveniles) indiscriminately, he added.
While authorities have caught and prosecuted illegal fishers like these, combatting the scourge is complex.
If consumers must have their seafood, there are ways to do it more responsibly.
For sustainability, environmental organisation World Wide Fund For Nature (WWF) recommends avoiding two species that Singaporeans consume on a regular basis: Red grouper, which is commonly steamed and is in high demand at weddings; and stingray, as in sambal stingray dish.
The WWF also lists species that are not considered to be over-exploited in its Singapore Seafood Guide 2016.
They include red tilapia farmed in Malaysia, Indonesia and China with the Aquaculture Stewardship Council label, and Vannamei prawn farmed in Vietnam with the same label.
Watch this episode of Talking Point here. The programme airs on Channel 5 every Thursday at 9.30pm.