Commentary: Stop wasting time and energy toggling between apps in the office
The abundance of apps in the post-COVID workplace might be the silent killer of productivity, says tech CEO Yoshihisa Aono.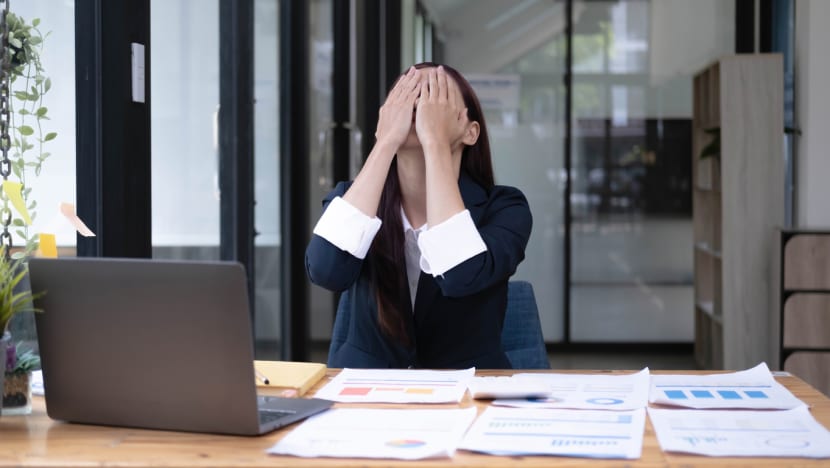 SINGAPORE: It's 9am. You're finalising a report for an important meeting at 10am on Zoom. A colleague pings you on Slack, asking for information. You answer, and get back to your report.
Five minutes later, another colleague pings you on WhatsApp, asking for the contact of a client. You send it to him, and get back to your report again. Ten minutes later, yet another colleague pings you on Slack, asking for a file that you keep on your Google Drive. You send it to him, and attempt yet again to get back to your report.
By now, it's 9.30am, you're exhausted, and you've barely had any time to work on the report for the meeting.
Sounds familiar?
Toggling between multiple apps and tasks takes a toll on productivity, creativity and overall well-being, as it takes time and energy to switch between tasks, refocus our attention and get back into a state of flow.
There's a consensus among experts that smart technology platforms are critical in operating and growing a business. Most businesses have already adopted a plethora of new collaboration apps, expecting to save time and make work easier for employees.
But could the abundance of work apps be counterproductive, causing employees to slow down instead?
THE COST OF LOST TIME
The average worker toggles between apps 1,200 times over the course of the day, according to researchers who studied groups of employees at three Fortune 500 companies. Every moment spent jumping between platforms, searching for information, and doing repetitive tasks is a moment not spent doing meaningful work.
On any given day, workers might have meetings across Microsoft Teams and Zoom and text-based communication over Slack, WhatsApp and Gmail.
They will then go on to organise work files on Google Drive, Microsoft Office or Dropbox, and perhaps spend some time sharing and analysing information on digital platforms like Bullhorn, Salesforce, Telum or Meltwater. Not to mention, HR software that helps employees to apply for paid time off and track their payslips.
Silo platforms are rapidly becoming outdated, and employees forced to continue using too many digital tools are growing increasingly burnt out after a single workday. In fact, companies of all sizes, from small- and medium-size enterprises to multinational corporations, are beginning to consolidate multiple business functions so that they can reduce the quantity of apps to rectify the loss of employee productivity.
FINANCIAL RIPPLE EFFECTS OF APP OVERLOAD
Research has shown that all that toggling about between apps saps employees of focus, productivity and engagement.
One survey by IT service management company Okta last year found that larger companies deployed 187 apps on average, up from 77 since 2015.
A separate study by software company WalkMe found that enterprises believe they are only realising about half of the total value of their apps, with nearly one-third of such tools being redundant or adding little value.
The ongoing issue of inflation also compounds the problem. Increased costs are squeezing company budgets across the economy, and the cost for many workplace platforms is increasing. The more platforms a company relies on, the more they are at the mercy of rising subscription fees.
Overall, spreading work across too many digital platforms amounts to spending more money on solutions that waste time, causing employees to be less productive and more frustrated.
In an inflationary economy, companies should be looking for ways to increase efficiency and cut costs while still providing their employees with competitive salaries and benefits. A natural solution is to save on tech by switching from multiple platforms with costly overheads to a single platform that can be easily customised without the need for sophisticated IT skills.
LISTEN: 5 things you need to know about mental health at the workplace
A SELECTIVE AND FLEXIBLE MINDSET WILL CUT UNHELPFUL APPS
Even before the pandemic, many people were already feeling overwhelmed by technology, which led to the common misconception that IT departments should be in charge of implementing new software tools. This belief harms businesses, as it is no longer in line with the technology solutions available today.
Any employee from any department of any company can seek, customise and implement a piece of software that will reduce their time spent on menial tasks, such as mindless app hopping. Where you used to need coding skills, all you need now is motivation and a flexible mindset.
Another misconception about business software is that different jobs have different needs, therefore each department within a company needs its own specialised software tool. Multiplying tools make collaboration more difficult, which is why modern providers have designed multi-use platforms to accommodate the diverse needs of companies.
Beyond that, business leaders must be selective with every piece of software used in the office. While some apps are still deemed essential in the workplace, the future of business software will expect these platforms to be pairable with an integrated and interconnected ecosystem across multiple departments.
Recognising the poor cost-effectiveness of juggling too many apps may be the wake-up call many businesses need to finally provide their employees with technology people actually want to use. Business software should raise productivity and satisfaction, not confusion and frustration.
Now, back to that report of mine.
Yoshihisa Aono is the CEO and Co-Founder of Cybozu, whose flagship product is the groupware platform Kintone. He is also the author of several workplace-related books.