Commentary: Water leaking through the ceiling in malls could point to issues in Singapore's built environment
Newer buildings with award-winning designs cannot replace the safety and health of workers, users and occupants, say NUS professors Daniel Wong and Gabriel Kor.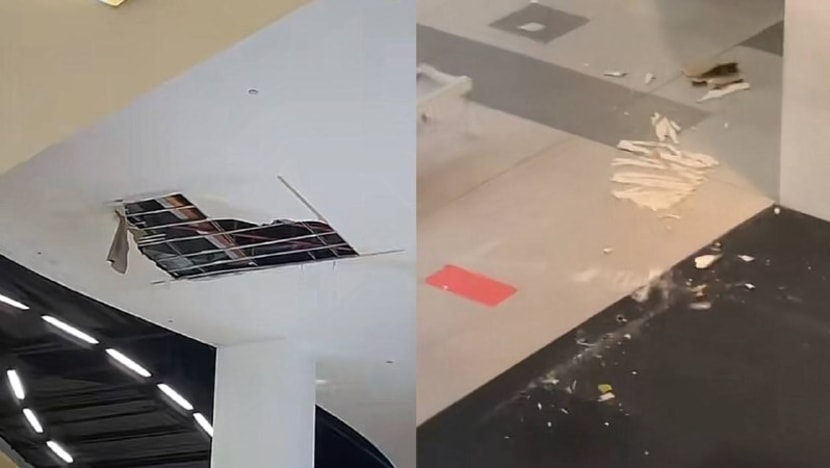 SINGAPORE: On Aug 6, parts of a false ceiling at NEX shopping centre in Serangoon crumbled onto the floor following a water leakage incident.
The next day, Westgate mall in Jurong East reported that a broken pipe from a unit on the fourth floor had caused water to leak to the atrium on the second floor, with online videos showing water trickling down from a cracked false ceiling.
The back-to-back incidents remind us of the need to take care of our buildings.
Why is this happening in a first-world country like Singapore? Are we seeing the beginnings of neglect or were these one-time incidents?
NEX was opened in November 2010, while Westgate was opened in December 2013. Irrespective of the year they were built, it is essential to operate and maintain these million-dollar assets to ensure lives are protected and revenues remain healthy.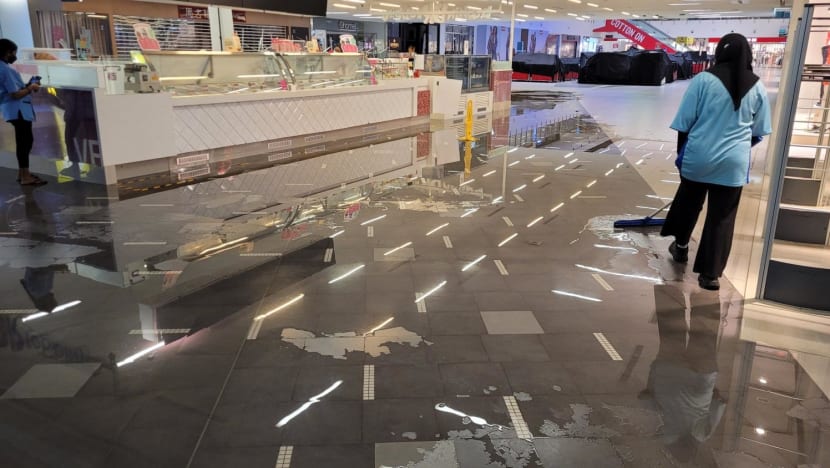 BRAIN DRAIN
The Building and Construction Authority (BCA) has projected total construction demand to reach between S$25 billion and S$32 billion per year from 2023 to 2026, supported by public sector projects. 
In line with the Singapore Government's ambitions to develop a world-class infrastructure and built environment, we have been pushing the ambit of sustainability, resilience, wellness and digitalisation.
However, it has been harder to retain built environment experts such as architects, engineers, project managers, facility managers and quantity surveyors, as they seek greener pastures for better salaries and opportunities.
This brain drain leaves junior staff with little or no practical training. Perhaps it is timely to relook the human capital deployed in relation to the value of invested assets.
AWARD-WINNING DESIGNS CANNOT REPLACE SAFETY
As a nation, we have found the economic drive to improve construction, operations and maintenance costs by outsourcing and having outcome-based contracts where payment is tied to measurable requirements.
Could this be the early warnings of a need for a more focused and collaborative approach to projects and facilities?
In terms of time and cost, developers now have a shorter construction time to get their buildings up, particularly when you consider higher sustainability standards and regulatory compliances for COVID-19 that need fulfilling. This is followed by short-term contracts of one to two years' maintenance.
Such is the prevalence of this old practice, and it is timely to reset the outdated cycle. Newer buildings with award-winning designs cannot replace the safety and health of workers, users and occupants.
LEGAL RAMIFICATIONS OF BUILDINGS WITH IMPERFECTIONS
And what about the legal ramifications to the owners of building assets with the imperfections? From a regulatory perspective, penal consequences may flow from the Building Control Act as well as the Workplace Safety and Health Act.
There are provisions in the Building Control Act that allow BCA to step in and order the building owner to carry out investigations and repair works. Periodic structural and facade inspections are also the norm with the latter being the more recent enhancement in building control law.
Failure to adhere to such laws results in fines. The Workplace Safety and Health Act places obligations on the building owner as the principal to ensure the safety of those who work upon their premises.
From a civil law standpoint, businesses and individuals adversely affected by these defects in the buildings may have legal recourse to the building owners for damages via tort law namely negligence, occupier's liability, and possibly even private nuisance.
Dispute resolution methods may include the Small Claims Tribunals, mediation and, as a last resort, litigation. An out-of-court settlement is usually preferred due to confidentiality concerns.
WHAT CAN BE DONE?
So, what can we do to address the issues? First, there should be more access to more government-published benchmark construction and facilities maintenance cost data.
This cost data can determine realistic budgets for the next tender if it is professionally costed. With a fair and reasonable estimated procurement value, contractors can hire more experts for better supervision.
Second, infrastructure development, as well as project and facilities management, involve a multitude of skills. These skills are important to deliver the best-in-class infrastructure and buildings with a life-long objective to be sustainable and resilient.
To achieve this, sufficient human capital - especially at technical to middle management levels - must be addressed. The human capital factor cannot be understated.
With the recent COVID-19 pandemic, Singapore is realising that our reliance on foreign manpower and imported materials is not sustainable. With top management wanting middle management to tighten operating expenses, it is inevitable there may be more of such workplace incidents.
Moving forward, we must embrace technology and training to deliver better outcomes. Benchmarking is not only for profits, but also for safety and health.
If workers are not being supervised or a team is being stretched beyond limits, this is just the tip of the iceberg. There must be a paradigm shift in the way we support our built environment experts.
International company CBRE estimates that facilities management costs in the United States have risen about 17 per cent since January 2019 due to the tight labour market and rising material costs.
In Singapore, we will probably see an increase of at least 20 per cent to 30 per cent in cost for construction and facilities, based on recent trends in public and private tenders. In addition, the cost of new technology and sustainability measures will add to the many things needed to operate and maintain.
This should be commensurate with the projected salaries of built environment experts.
The total capital expenditure will lead to a higher cost for operating a building, but in the long run, can Singapore afford to avoid this cost?
Daniel Wong Hwee Boon is an Associate Professor practising projects and facilities management. Gabriel Kor Meng Chiat is an Associate Professor of Law instructing students and industry on facilities management law. Both are professors from the Department of the Built Environment at the National University of Singapore.