Commentary: Building Changi Airport Terminal 5 now gives Singapore first-mover advantage
With the uptick in Singapore's inbound travel despite the region's relatively slower recovery, the resumption of Changi Airport's expansion is timely, says IPS' Faizal Yahya.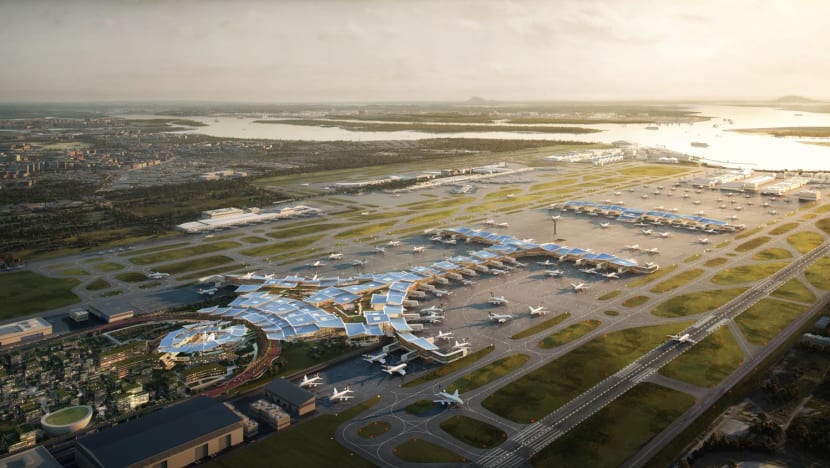 SINGAPORE: In his National Day Rally speech, Prime Minister Lee Hsien Loong reiterated the continued development of Terminal 5 (T5) as integral to Singapore's long-term development plans for the aviation sector.
T5 is essential to the future of the aviation sector. Its capacity to handle 50 million passengers per year – more than T1 and T3 put together – is required because travel volume is expected to double by the time T5 is operational, in the mid-2030s.
The scale of the mega-terminal seems massive especially in comparison to the muted air travel of the last two years. During the COVID-19 pandemic, travel was disrupted due to the closure of borders. The construction of T5 was paused for two years as a result.
But recovery is on track as more countries shift into a post-pandemic normal. According to the Association of Asia Pacific Airlines, passenger volume in the region expanded by more than two and a half times in the first quarter of 2022, compared to the same period in 2021.
However, Asian countries are at various phases of reopening their borders, hence the recovery of the Asia Pacific (APAC) aviation sector lags other regions. Flight capacity in Southeast Asia is only at 66 per cent of pre-COVID levels, compared with 88 per cent in Europe and 90 per cent in North America.
The greater China region, which includes Hong Kong and Taiwan, has reopened more slowly compared to India, Indonesia and the Philippines.
China, which contributes to the bulk of tourism in the region, still adheres to a zero-COVID policy and has restricted the inflow and outflow of its own citizens. In contrast, in the Philippines, passenger seat booking increased to 20 per cent of pre-pandemic 2019 levels in January, then to 40 per cent in June.
Pre-COVID, Chinese nationals comprised almost a third of all tourists in Southeast Asia. While the impact of China's zero-COVID approach has stifled tourism growth in the region, other countries like Singapore can still leverage the industry's post-pandemic recovery.
INBOUND TOURISM PICKING UP PACE IN SINGAPORE
The resumption of construction work at T5 this May after a pause of two years is timely. Singapore has seen the highest increase of inbound flights among countries in Southeast Asia, and so will have a first-mover advantage by expanding Changi Airport now.
Since removing pre-travel testing requirements in April, tour bookings here have risen. A local tour operator reported that spending on customised tours has surged from S$2,000 per person to between S$4,000 and S$6,000. This can be attributed to tourists staying longer in the country, from three to four days to as long as 10 days.
While T5 is a long way off into the future, the current uptick in inbound tourism reflects Singapore's strategic location. It offers connectivity to various destinations in Southeast Asia and beyond in Europe, America and Africa.
Having been proposed almost a decade ago in the 2013 National Day Rally, T5 is part of the country's long-term strategy to solidify its status as a global aviation hub.
PREPARING FOR POST-PANDEMIC AVIATION TRENDS
COVID-19 has highlighted the need for Changi Airport operations to operate more flexibly and safely if another pandemic were to occur. T5 will thus be able to scale operations up and down as needed. It will be designed with the flexibility to operate as smaller sub-terminals, and spaces that can be used for testing or segregation of high-risk passengers.
Experience in automation, contactless and seamless travel have been refined during the COVID-19 pandemic and will enable Changi Airport to isolate passengers from different flights swiftly and efficiently to reduce cross-infections.
Another long-term aviation trend Changi Airport hopes to ride on is sustainability. There is increasing demand for environmentally friendly travel and accommodation with activities that focus on physical and mental well-being.
T5 will decarbonise its operations by adopting solar panels, smart building management systems and district cooling combined with thermal energy storage. It will also support the use of cleaner jet fuels like sustainable aviation fuel.
T5 TO CAPTURE EXPONENTIAL GROWTH IN INTERNATIONAL TRAVEL
Singapore's lack of a domestic aviation market puts it at a disadvantage compared to other airports worldwide. By resuming the construction of T5, the country is positioning itself to capture exponential growth in international travel.
While the Pacific Asia Travel Association forecasts that international visitors to APAC will only return to pre-COVID levels in 2024, international flight capacities in the APAC region have nearly doubled since the beginning of 2022.
Regional airlines carried a combined 9 million international passengers in June, which is only 28.3 per cent of numbers in June 2019 but a six-fold year-on-year increase. Changi Airport's passenger traffic is at 55 per cent of pre-pandemic levels, a recovery faster than expected.
This trajectory is set to continue with Singapore aiming to host more conventions and exhibitions in the second quarter of 2022, and Formula 1 in October. The Changi Airport Group needs to fill 250 job vacancies by the end of 2022 and Singapore Airlines is recruiting more cabin crew to cope with the anticipated rise in demand.
The development of Changi Airport's T5 is key to ensuring that Singapore can grow as an air hub in the region. Indeed, as what Mr Lee said at the National Day Rally, "T5 will show the world what sort of place Singapore is."
Dr Faizal Yahya is a Senior Research Fellow at the Institute of Policy Studies, Lee Kuan Yew School of Public Policy, National University of Singapore.