Commentary: How ending mine disasters could help China's energy security
China is compounding the problems of the coal industry by failing to deal with its noxious waste products, says David Fickling for Bloomberg Opinion.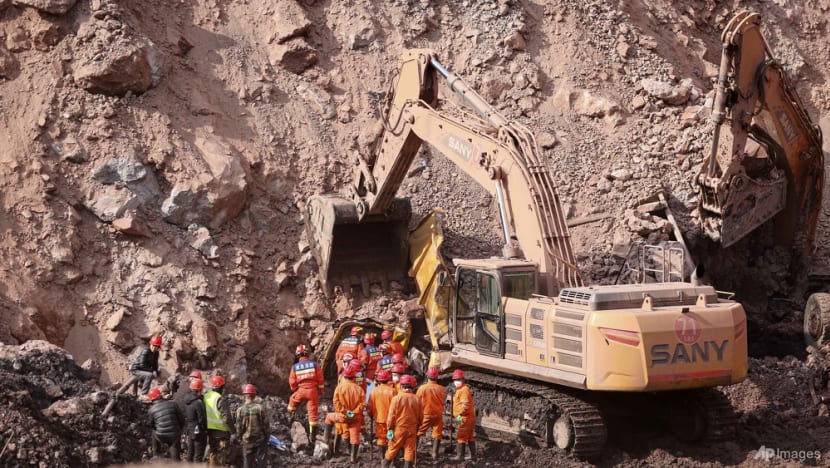 SYDNEY: Feeding China's voracious energy demands poses a series of interlocking problems.
Coal, the traditional bedrock of its power system, is abundant in domestic fields. On the other hand, it's dangerous to mine, damaging to the climate and human health, and ill-suited for handling the needs of a grid hosting ever-growing amounts of renewable power.
Natural gas is cleaner and more flexible for electricity generation, but it's relatively scarce domestically. Beijing, which is wary of dependence on foreign powers for essential commodities, imports 40 per cent of the gas it uses, a proportion that may well rise in future.
Meanwhile, use of fossil fuels is driving a climate-exposed country toward disasters that could have a devastating human and environmental toll.
What if there was a way to deal with all these problems with one weird trick: Displacing a third of gas imports, cutting emissions by hundreds of millions of tonnes, and reducing risks to miners all at once? That's the potential if the country can crack down on methane released from its coal mines.
THE THREAT OF METHANE
Methane is responsible for about a quarter of global warming. Its sources are many: Gas escaping from petroleum wells, burps from cows' ruminant stomachs, and bacterial decomposition in sewage farms and landfills.
It's also produced in coal seams, and escapes when rock is dug up. The 28.3 million tonnes of methane emitted by China's energy sector in 2021 - all but a sliver of it coming from coal mines - was responsible for about 7 per cent of the country's overall emissions. That carbon footprint could be reduced by about 90 per cent if the gas was simply burned for fuel, rather than released into the atmosphere.
The gas is also a standing threat to mine workers. China has been remarkably successful in improving safety in a coal industry that killed thousands of miners every year during the 2000s, but methane remains a looming threat.
Just last week, 11 miners died in a gas explosion in Yan'an, a city in Shaanxi province that's famed as a birthplace of the Chinese Communist Party and a key location in the political biography of President Xi Jinping. As many as two-thirds of deaths in China's coal mines between 2001 and 2018 were caused by gas either igniting, causing rock to give way, or suffocating people, according to government statistics.
Geological and economic factors make the problem worse. Methane concentrations tend to increase with depth. As a result, open-cut mines have fewer problems - but more than 80 per cent of China's coal mines are underground pits. With surface deposits exhausted, depths are now increasing by 8m to 25m every year. The deepest coal pit descends nearly 1.6km below the surface.
Underground mines are also more dangerous in the event of an explosion, providing a confined space and unstable surroundings to maximise the effect of any blast. Those dangers accelerate as mines are worked harder and corners cut to achieve output targets, as has been happening in China since a power crisis caused rolling blackouts in 2021.
Cracking down on this should be a priority for any nation - but it's particularly important in China, given its hunger to pay foreign countries for the same gas its own coal mines are throwing away.
Chinese companies have been on a shopping spree in the global gas market lately. China National Petroleum in June signed a 27-year liquefied natural gas deal with Qatar.
LNG imports could double over the coming decade to about 188 billion cubic meters, according to consultants Rystad Energy. Pipelines totaling 85 billion cubic meters from Russia and Turkmenistan could add close to the same amount again.
The country is so desperate for more molecules that it's started drilling a 10,000m gas well in Sichuan province, one of the deepest ever.
CLEANING UP COAL MINE METHANE
Why has it been so hard to clean up China's coal mine methane? The technology to do so is fairly straightforward, and widespread in other coal-mining regions such as the US and Australia: Drilling into coal seams to release their gas, and if necessary fracturing the rock to drive more of it out.
Regulations introduced by Beijing during the 2000s even provide incentives and penalties to encourage mine owners to drain their pits before work begins. There's little firm evidence of success, though. Satellite monitoring indicates that waste gas has, if anything, accelerated.
A separate study that found some positive effects still saw them falling short of government targets. Abandoned pits can also release methane long after mining ceases.
At root, the problem is the same one that plagues the country's entire coal industry: Government fears about power cuts, combined with an electricity market set-up that makes poor use of renewables and the declining quality of local coal, are twisting the sector out of shape.
Hitting tonnage targets is all that counts. If doing so means skimping on gas recovery and putting workers at risk, it's seen as a necessary price to pay.
That's a dangerous mistake. China is compounding the problems of an industry that mines half the world's coal by failing to deal with its noxious waste products. The sooner it regulates, reins in and shrinks its solid fuel mines, the better for both the planet, and its own pit workers.