Commentary: Fresh COVID-19 wave in Singapore could have a long tail of long COVID
The recent spike in COVID-19 infections driven by XBB subvariants may be part of living with endemic COVID-19. But there is still the concern of long COVID, which may increase with reinfection, says infectious diseases doctor Loh Jiashen.
SINGAPORE: Singapore is experiencing a fresh COVID-19 wave, weeks after stepping down pandemic measures in the community in February.
With 28,410 cases recorded in the final week of March and social media users sharing anecdotes of individuals coughing and sneezing without their masks, it is understandable that some anxieties about COVID-19 risks are resurfacing.
Doctors CNA spoke to said that most COVID-19 patients have mild symptoms. The Ministry of Health also said that there is currently no evidence of increased severity in the cases, driven by a mix of XBB subvariants including XBB.1.16 also called Arcturus.
Though the number of hospitalised COVID-19 patients has increased, Health Minister Ong Ye Kung put this into context as being much lower than those hospitalised for non-COVID infections and said that the current situation is "what endemicity should look like".
How can Singapore break the current wave? Infection numbers fall when a sufficient proportion of the population becomes immune (through infection, vaccination or death), but can rise again when new strains emerge that overcome the current population immunity - and the cycle continues.
This cycle is a global phenomenon as long as people are free to travel, so measures like mask mandates are no longer helpful if we cannot isolate the country from the world. Individual mask-wearing is an option for those concerned about their own risk exposure, while the act of social responsibility of masking up or staying home when unwell could do more to minimise those risks at source.
DOES LONG COVID RISK INCREASE WITH REINFECTION?
Concerns about COVID-19 aren't limited to acute infection, especially since many in Singapore should be protected against severe outcomes through vaccination.
There is also the risk of long COVID. Its prevalence continues to vary greatly - from 10 per cent to 70 per cent across studies - depending on the symptoms presented and the cohort studied.
But there are indications that the risk of long COVID can increase with reinfection. One study published in Nature found that people who recovered from their second infection were about one and a half times more likely to have long COVID symptoms than those who recovered from their first infection. The increased risk occurred even in people vaccinated with two doses of COVID-19 vaccines.
A pre-print study in the United States also found evidence that long COVID was more likely after an Omicron reinfection than after an initial Omicron infection.
Another study suggests the prevalence of at least one long COVID symptom was lower for Omicron and Delta, compared to the initial Alpha variant. Though it does not account for different vaccination rates during the time each variant was dominant, the comparatively larger number of people infected with Omicron means many more are at risk of long COVID.
This is potentially concerning when reinfections make up 30 per cent of cases in the current wave in Singapore and 20 per cent to 25 per cent in the previous wave.
WE STILL DON'T KNOW ENOUGH
Research in the last three years has helped improve our understanding of long COVID, though much is still unknown or unclear about the condition.
Its definition - symptoms that develop three months after the initial COVID-19 infection and last for at least two months with no other explanation - is not based on the disease's pathology, but a working definition decided on as a common starting point for research and epidemiological purposes.
There are some hypotheses offered as to how long COVID develops, but these are not yet sufficiently matured or commonly agreed upon that clinical tools may be derived from them and deployed at the bedside. Some of these hypotheses include direct viral invasion of multiple organs during acute infection, residual viral particles contributing to low-grade smoldering inflammatory response, autoimmunity, and reactivation of latent viruses.
But given over 200 symptoms have been ascribed to long COVID, it may mean that different groups of long COVID patients have different biological underpinning. Already, early research demonstrates some differences between those with or without neurological symptoms, or in patients presenting with excessive sputum and prolonged cough.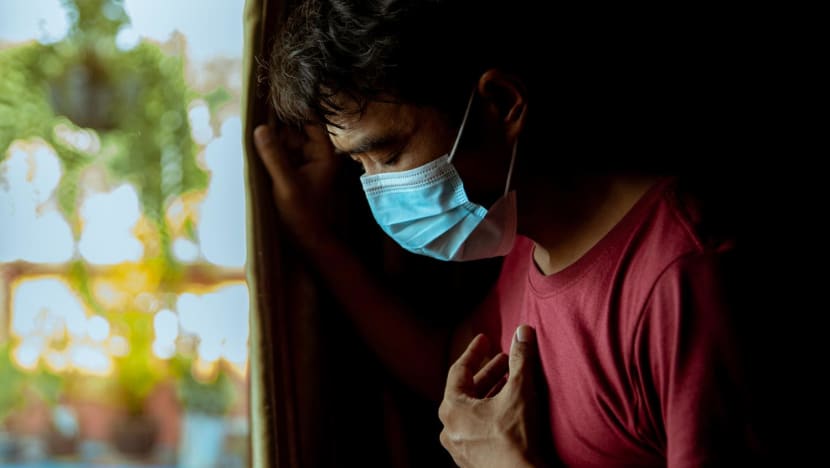 As our understanding matures, it is conceivable that long COVID may also settle into more than one disease entity with unique disease definition.
HEALTHCARE BURDEN OF LONG COVID
Hidden here is the healthcare burden of long COVID, as it is a diagnosis of exclusion.
A formal diagnosis needs to comply with the working definition, and also rests upon the exclusion of other illnesses that can present the symptoms commonly reported in long COVID. For example, symptoms like chest pain and shortness of breath are also seen in severe heart diseases.
A sizeable load of investigations will essentially have to turn up negative so that diagnoses of long COVID may be made.
Management currently is essentially symptomatic. Cough mixtures and antihistamines relieve prolonged cough while light sedatives can help with poor sleep.
Brain fog and fatigue require a slightly more complicated strategy of plan, pace, practise and push - making a realistic plan for the day, pacing it to the person's effort tolerance, practising that pace and slowly pushing up the pace over time. Perhaps, add patience to the four "P"s above too.
But what we do know is this: First, vaccinations decrease the chance of developing long COVID after a COVID-19 infection. Second, a greater severity of infection is directly proportional to a higher likelihood of long COVID.
While a large proportion of Singapore's population has minimum protection by vaccination, the way forward will also be paved by next-generation vaccines that better protect against infection. One promising possibility is the development of oral or nasal vaccines that stop the virus at entry.
Current antiviral treatments are also too expensive and not indicated to be broadly given as pre- or post-exposure prophylaxis. A more affordable drug could be widely deployed to reduce transmission or decrease the severity of COVID-19 infections, which could in turn play a role in decreasing the prevalence of long COVID.
Although there are still many questions surrounding long COVID, the answers are slowly coming in.
Loh Jiashen is an infectious disease specialist, practising mainly in Farrer Park Hospital and Raffles Hospital. He also serves as a visiting consultant in Khoo Teck Puat Hospital.