Commentary: Go on, don't be afraid to ask someone out on a date IRL
It used to be simple - you meet someone in a social setting, you think they are nice, you ask for their number and go on a date. Technology has ruined everything, says Crispina Robert.
SINGAPORE: My first date was mortifying.
It's a long and frankly silly story, but I had food stuck in my teeth and a straw found its way to my hair. I was 18 and I suppose it was the nerves. No one had talked to me about how to communicate romantically with another human being.
But after much practice, dating became enjoyable. It was fun and interesting to get to know a person. It seemed an utterly normal thing for me and my peers to ask someone out if we thought they were nice.
We discussed the issue of the increasing number of singles in Singapore on CNA's Heart of the Matter podcast with two young guests and Violet Lim, co-founder of matchmaking company Lunch Actually.
What prompted this discussion was the latest 2021 Marriage and Parenthood Survey, where half of the singles surveyed said they were not currently dating. Among the respondents – who were aged 21 to 45 - 38 per cent had never dated before, and we wanted to find out why.
'SWIPING FATIGUE'
Violet, who began her business 18 years ago, has seen how things have shifted over time.
She says technology has changed the dating game and the downsides are playing out.
Dating apps have created what she calls "swiping fatigue", and this is because people now have so much choice, they are drowning in them.
"People are not willing to commit or even choose because they just feel that, 'oh, this is good, but maybe the next one is better' … and it keeps going on and on,'' she explained to Steven Chia, host of the podcast.
I've seen firsthand how this is true. A recently single friend is on several of these apps and he's constantly swiping, based on just how someone looks and how they've described themselves.
When he drops them a text, most replies are insipid. I don't blame the women; they must be drowning in a ton of texts. And unless you look like Harry Styles, the hope for any meaningful conversation is a lost cause.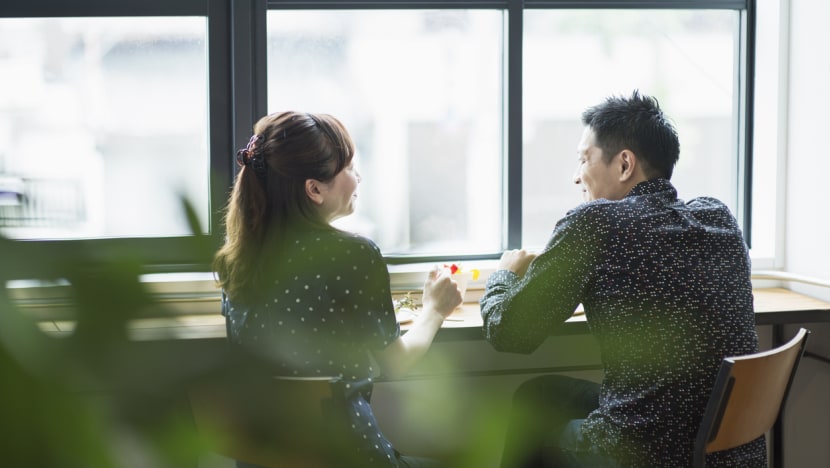 TEXT TO THE HAND
Vanessa Chan, a 22-year-old undergraduate, is a card-carrying member of Generation Z. She goes one step further to say she has "texting fatigue".
"I can barely find it in me to reply to texts with people I love, cherish and care about. So, imagine having to hard carry these awful conversations with random people on the Internet."
And if you think that's problematic, there's more.
Alan, another 22-year-old undergraduate who didn't want to use his real name, said it is even harder for people his age to pick up the phone, punch in a number and actually speak to someone.
"Gen Zs have a phobia of picking up the phone,'' he says. The subtext is: Why do you call me? We were texting! Don't do such a silly thing.
As a mother of two Gen Z boys, this makes complete sense. They prefer not to talk, and sometimes my texts go unanswered for days. But this isn't just a boomer rant (okay, perhaps a tiny one) – it's a fact. This generation grew up on the Internet. They live there. It's impossible for us to expect them to behave any differently.
Violet suggests young people get offline and meet face to face. That sounds like sound advice, but sadly, the prognosis seems quite poor.
In observing my boys, I come to a few unscientific conclusions. One, that you are so much cooler on the phone because you can think about what you want to say, delete a message if you don't like it, use emojis instead of actual words and blue tick to your heart's content.
Besides, no one will ever know you have bad breath or dirty fingernails.
My 19-year-old says, most of the time, the conversation fizzles out online but that's perfectly okay because he hasn't wasted a single cent.
But if the "textee" is interesting, then it's on to level 2 – a real-life date. And there, the real test takes place. It's the way someone looks, the small things they do like how they talk to the waiter or how good a listener they are. And yes, you can observe basic hygiene too.
DATING REQUIRES SKILL
Vanessa hasn't really been on many dates and she's not alone. The young women I work with tell me they don't either. It's work, then gym or yoga, friends and the cycle repeats.
Partly, it's because they have a fear of rejection or that all their effort may go to waste.
Offline, Vanessa made an interesting point. Throughout school – from primary and secondary school to junior college or polytechnic – some parents raise their kids as if they are in a monastery.
"No dating! Study first, don't 'ruin your life'." I know because my mother was exactly this Mother Superior.
My own parenting philosophy was different. While we didn't actively encourage them to have girlfriends, we didn't put the fear of God in them for dating either.
We've had conversations about safety, the importance of consent and consequences of having sex when they aren't ready.
They have had their fair share of ups and downs with girlfriends over the years. A few have showed up in my home. Whenever this happens, my sons tell us just to say hi and not make conversation in case we seem like cops investigating potential criminals.
To me, there is enormous value in giving young people the space to craft the skill of communicating with the opposite sex. Isn't life more interesting when you meet new people, find new perspectives, fall in and out of love?
In my mind, it simply doesn't work that you don't date at all and then magically at 25 (once you've got that great job, thanks to your straight As), you find the perfect partner and everything just falls into place like a Hollywood movie.
Honestly, how do you even know you've found your prince if you haven't kissed a few frogs?
I know there are families who actively discourage this on account of their religion – and I think that's perfectly fair. But young people cannot grow up in a vacuum, there can be healthy, guided ways they can learn how to communicate.
Violet's conclusion is that younger Singaporeans lack the "the skill set to escalate the relationship to the next level".
I agree it takes considerable skill to find someone you can consider a life with, but no one is going to develop it by sitting behind a computer or phone screen.
A key part of this is learning how to communicate. Things like when to ask questions, when to listen, how to deal with awkward silences. Navigating personal space, fine-tuning the radar for weird behaviour, and having the time and space to see if your values align.
Sure, technology remains the best enabler for people to meet. But that's as far as it should go – once you find someone nice, ask for their number. Go out. Have a meal. Even if it goes badly, hey, you would have learnt what not to do next time.
Crispina Robert is a senior editor overseeing podcasts.
Listen to the full Heart of the Matter episode on why young Singaporeans aren't dating: