Commentary: Ruckus over US Democracy Summit a sign of insecure Singapore?
Focusing on the wrong issues in foreign relations can blind us to what Singapore's national interests are says CNA's Lin Suling.
SINGAPORE: I chided myself this week for reading about the outcomes of the Democracy Summit on Friday (Dec 10) like some obsessive stalker not invited to the wedding of an ex. 
News broke this week of US President Joe Biden's holding court over 100 countries at what was touted as a gathering of world leaders to counter a rising tide of authoritarianism. 
The implication, to quote a foreign policy cliché, is that if you're not at the table, you're on the menu. 
Inferring so, some in Singapore were deeply disappointed we weren't invited.
Political commentators gave their two cents over how this is typical American behaviour - thinking of Singapore in terms of a country bereft of free speech, intolerant of differing political opinions and trigger-happy when it comes to caning people. (Really? It's been over 25 years since Michael Fay.)
Ambassador-at-large Prof Tommy Koh criticised the omission on Thursday.
Singapore should have been invited, Prof Koh said, because it satisfies what he sees as critical criteria for democracy - with free and fair elections, a constitution guaranteeing fundamental freedoms, an independent judiciary and the rule of law. 
Now, Singapore was not the only country to have felt annoyed at this perceived slight. 
The Democracy Summit also sparked a trading of unpleasant barbs elsewhere - like this gem from a Russian political analyst writing in the Global Times and comparing the meeting to "a mistress of a brothel teaching morals … to school girls".
Chinese media also went all out to throw shade at whether America really still represented the best democracy has to offer and suggested that democracy has a broader definition China too would have fulfilled. But does that sound a bit too "if you can't beat them join them"? 
A BELT AND ROAD INITIATIVE DEJA VU
The big Singapore reactions were surprising because it felt like déjà vu.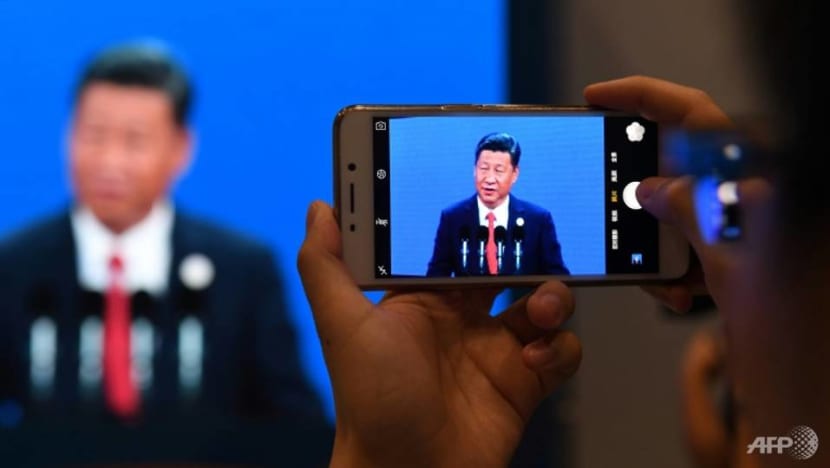 In 2017, when China invited heads of states to the Belt and Road Initiative (BRI) Forum for International Cooperation, analysts too tried to draw some inference from our glaring omission when it was discovered Singapore wasn't invited. Was it a snub, a diplomatic falling out and why relegate Singapore, which had been one of the biggest advocates of the BRI?
Was it because Singapore took a principled stance on the South China Sea? Was this an expression of displeasure regarding Singapore's training in Taiwan? Or related to the Terrex vehicles earlier seized in Hong Kong? 
Some even suggested this was a concrete sign China-Singapore relations had waned after founding Prime Minister Lee Kuan Yew passed on in 2015. 
In retrospect, the relationship turned out fine - with the high-level official forum, the Joint Council for Bilateral Cooperation, and other big government-to-government projects in Chongqing, Tianjin and Suzhou, proceeding apace.
It's a good thing leaders from both sides didn't let unhelpful talk and navel-gazing neuroses about the BRI invitation get in the way of bigger national interests.
WHY SHOULD WE CARE WHETHER WE'RE INVITED TO THE DEMOCRACY SUMMIT?
So have we learnt our lessons from four years ago?
Commentators have pointed out how the Democracy Summit invitation list, as with all international events, are determined by a mix of geopolitical considerations. Much as it really shouldn't matter who goes, they point to some members having questionable records on human rights, corruption and free elections turning up. 
And yet somehow many of us reading the news in Singapore still seethe, as if the non-invite was a besmirchment of our national honour.
Have we become so unsure of our global standing that we're constantly searching for signs of reaffirmation?
Part of this foreign policy FOMO is understandable if the Democracy Summit reaps important outcomes that charts an agenda for concrete cooperation that entrenches the grouping somehow and spreads some benefits around. Who wouldn't want some of that dipping sauce?
But where the subsequently announced Presidential Initiative for Democratic Renewal, part of the Democracy Summit outcomes, seems to tie US$424 million of aid potentially to US conditions of fighting corruption, bolstering democratic reforms and more, there is some relief Singapore wasn't there.
The announcement of fresh sanctions against China to "send a message that democracies ... will act against those who abuse the power of the state to inflict suffering and repression," according to US deputy treasury secretary Wally Adeyemo on Friday, also reinforces the uncomfortable finger-wagging approach of the summit.
LEAVE THE 'SINGAPORE PUNCHES ABOVE ITS WEIGHT' THINKING BEHIND
No country appreciates being told how to govern itself. With hindsight, perhaps the US did us a favour by not inviting us. If we rather decide ourselves what form of governance makes most sense for Singapore, it makes little sense to be part of a discussion where the biggest boy in the playground has the loudest say on what's the right way.
Perhaps a longtime fixation on international rankings and what countries say about us has led us to mistake rhetoric for reality. 
Just like how we respond to our attendance at G20 events like a proud parent despite having nothing to do with the important but mind-bending work of the Foreign Affairs Ministry, does being absent from an international gathering feel like a dismal loss of status?
Maybe we really need to ditch this whole "Singapore punches above its weight" kind of puffery and quit taking every event as a test of our national reputation. 
For touchy critics who still suspect some sort of aspersion has been cast on our status as a democracy, Prof Koh provides perspective. He points out that the US Democratic Party has never seen Singapore to be a democratic country - with the subtext being that they probably never will.
It is odd we are surprised. Even Alexandria Ocasio-Cortez, leader of The Squad and darling of the Democratic Party's progressives, thinks her own party isn't democratic enough. If she had her way, the US electoral college system would be abolished and the popular vote would determine elections.
NOT GOING TO THE PARTY DOESN'T MEAN WE'RE NOT FRIENDS
That is not to say we can't have a productive relationship with the US, whatever shade of democracy Singapore is. 
Shaping a conducive international environment for Singapore's continued survival has been a key tenet of our foreign policy. Having good relations with a superpower like the US, a liberal democracy that promotes free trade, global commons and international rules, has been core to that.
Not being invited to a forum like this has no bearing on any of these goals.
It should be more than enough that Singapore was the stop of visits by not only US vice-president Kamala Harris, but also secretary of defense Lloyd Austin and secretary of commerce Gina Raimondo in the past six months.
Let's not forget those visits were coming at pivotal moments in history, when the US was simultaneously orchestrating a disastrous withdrawal from Afghanistan and later, during Biden's historic virtual summit with Chinese President Xi Jinping.
More broadly, both countries share a longstanding, multifaceted and substantive bilateral relationship anchored by the first Free Trade Agreement the US has with an Asian country, a 1990 Memorandum of Understanding allowing US forces to use facilities in Singapore and so much more. 
ESTABLISH GREATER FOREIGN POLICY LITERACY
Those of us who are foreign policy enthusiasts should be sceptical about any ideological approach to organising international cooperation. The Democracy Summit isn't some paragon of virtue but a values-based approach to establishing relationships and asserting power.
Southeast Asia has borne witness to decades of superpower wrangling and resisted big power influence over regional order. The Association of Southeast Asian Nations (ASEAN) was established on the premise that cooperation and common gain can be beneficial, no matter what regime type or domestic preoccupation each country had (even if Myanmar's uncomfortable situation makes that harder).
Singapore officials, schooled in the cut-throat, clear-eyed cauldron of realism, have been a pragmatic bunch who will work with any government, whether led by a certain blond-haired, blue-eyed, red-tie man who brushes aside conventions and sensitivities to promise "fire and fury" on "little rocket man" and bypass international organisations.
Or a leader well-versed in the foreign policy language of common values and skilled at getting more countries to pick up the slack in the name of those grandstanding virtues.
This is something the US too understands, having worked with a range of regimes and leaders in the past. In fact, some of its biggest acknowledged global mistakes have been to withdraw support from partners like Egyptian President Hosni Mubarak in the name of "democracy" that have had wider implications.
If only us foreign minister wannabes in Singapore had a deeper appreciation of history and how Singapore's interests are best served sometimes by moving quietly behind the scenes instead of posing for the camera. Am I the only one who long for those days when National Day Rallies and frank conversations with leaders helped contextualise what global developments mean for Singapore and Singaporeans?
A final word: Much has been made of Biden's slipping approval ratings and whether the polarising nature of the US' brand of politics suggest not only that it hasn't lived up to those ideals but also that the country represents the worst of what democracy has to offer.
Any astute observer would know better than to underestimate America. It can be a divided place but it has proven incredibly resilient.
Just don't look to it for approval.
Lin Suling is supervising editor at CNA Digital where she oversees the Commentary section and hosts CNA's Heart of the Matter podcast.