Commentary: Seniors are spending too much time on their smartphones which can spell trouble
For so long, it was common to lament seniors not getting on the digital bandwagon but as more get access, a new challenge looms, says NUS' Natalie Pang.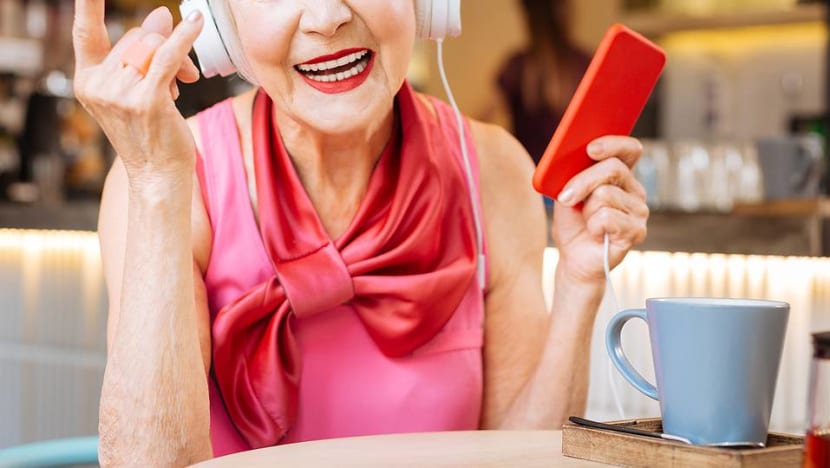 SINGAPORE: Hands up those of you who have trouble getting your Ah Ma or Ah Kong to pay attention to you at the dinner table – because they were busy watching a TikTok video on their phone or playing Candy Crush?
This scene, while charming in some ways, is fast becoming a common one. And what a change it was from just a few years ago. The elderly among us have always been singled out as the slowest to adapt to digital technology.
We've heard of older hawkers unable to pivot to food delivery platforms to seniors who are digitally estranged from family because they could not communicate using Zoom or Skype.
When it comes to digital technology, seniors have been consistently painted as reluctant and "technophobic". But there are valid reasons for this. Some are newly retired and more interested in pursuing other activities while others have trouble reading off the screen of a mobile phone.
Yet, just as many are not averse to technology. This became particularly important during COVID-19 when lockdowns and restrictions gave them the impetus to use tech to stay connected to their children and grandchildren.
The rise in the number of seniors adopting technology is clear. According to the 2020 IMDA Annual Survey on Infocomm Usage, smartphone use has risen sharply from 2019 to 2020 for residents aged 75 years and over – from 41 per cent to 60 per cent, alongside the rise in Internet usage for residents in this age group.
The seniors I speak to share stories of using their smartphones to watch drama series', follow YouTube channels and play games. Instant messaging platforms like WhatsApp and WeChat have also become a popular means of accessing and disseminating information too.
Recent announcements by the IMDA to expand outreach efforts, increase resources and work with more partners to get seniors to become tech-savvy will only supercharge this trend.
EASY PREY FOR SCAMS
For many, communications on instant messaging platforms are often driven by desires to maintain as well as to intensify their relationships – for instance, sending that morning greeting and what seems to be an important warning about COVID-19 can be seen as a way to strengthen their ties to family and friends.
This could mean they sometimes prioritise entertainment and appearing relevant as opposed to being accurate. Coupled with their general unfamiliarity with the Internet and increasingly sophisticated disinformation tactics, the phenomenon of seniors becoming more susceptible and spreading falsehoods is deeply troubling.
In a 2020 survey, the Cyber Security Agency (CSA) found that the elderly, or those aged 55 and above, had generally lower awareness and adoption of good cyber practices like strong passwords and enabling two-factor authentication. 
This makes them easy prey for online scams. Many seniors I meet are savvy in person but can be quite vulnerable when it comes to online tactics because these are sophisticated and new to them.
In 2018 for instance, the Singapore Police Force reported elderly persons were cheated of S$88,000 – a huge jump from just S$4,700 in the previous year.
Scam tactics are also persuasive, particularly if they're conflated with similar experiences and processes, they are familiar with in the real world (such as giving personal details to verify account details in a bank).
Education can help. At the recent Scaminar conference organised by the Home Team Behavioural Sciences Centre of the Ministry of Home Affairs, one suggestion was to make conversations about scams a daily activity within families and friends.
DEALING WITH SMARTPHONE DEPENDENCY
Beyond the obvious awareness campaigns of scams and online falsehoods, the risk of too much dependency on smartphones is something that cannot be dealt with as easily.
While there is no direct evidence of excessive use, the increase in seniors using mobile devices for various online activities is clear. The IMDA Annual Survey on Infocomm Usage is a good indicator.
The most notable increase came from using social networking sites on the mobile for those aged 50-59 years old – from 64 per cent in 2018 to 85 per cent in 2019. This is a 21 per cent jump when compared to the average increase of just 3 per cent across all age groups for this activity is significant.
This shows how dominant social networking has become among this older age group. These numbers were based on pre-COVID-19 times – the frequency of many of these activities would have intensified during the pandemic.
Like youths, seniors can be enthralled with mobile games, online videos and social media. But the danger is that they may replace important in-person social interactions and physical activity with time on their smartphones.
It may seem counterintuitive. After all, smartphones have been used by seniors to connect with family members and deal with boredom. Social media can also be used to rekindle friendships and discover new interests and communities.
But too much of a good thing can become bad. Research shows experiencing new, exciting things (such as the apps in our smartphones) can release dopamine to make us feel happy.
A surprising notification on our social media, a hilarious meme in a chat group or that unexpected bag of coins we find when playing a mobile game can all release dopamine in our brains, increasing our dependence on smartphones.
Seniors are not immune to such effects.
Facebook for instance is especially popular because it is easy to use and has a high interactive nature. It's no surprise the company is expecting its largest growth of new members joining the platform in the United Kingdom to be those over 55.
Listen to Dr Natalie Pang discuss what a viable news model in Singapore may look like:
TALKING ABOUT SMARTPHONE USE IMPORTANT
In our quest to get them up to speed with apps and platforms, we also need to talk about digital mindfulness. Learning how to download and play games or navigate online videos on the smartphone can be fascinating, but seniors can turn to them as a quick resolve to loneliness and anxiety.
But studies show that such use can in fact worsen their existing emotional and mental health. Like young people, they too can become heavily invested in likes, shares and comments.
The conundrum is that unlike children for whom you can set time limits, for seniors, this is not a practical option. So, the next best thing to do is for loved ones to talk to them about excessive use.
Their children or caregivers can actively encourage them to go out and exercise or meet face to face, so they don't become heavily dependent on their phones to pass the time.  
In his book on Digital Minimalism, Cal Newport suggests useful questions to ask on how we use technologies – these can be used to start conversations with a senior who has a new phone or is downloading new apps.
For instance, family members can discuss how YouTube is great for entertainment but to also explain how this platform works, that algorithms can serve up recommendation videos on a constant loop and some of these are unhealthy to watch.
The result of conversations on what they consume and how much they consume it can inspire the whole family, and not just seniors, in changing the way they use digital technologies.
Natalie Pang is a senior lecturer at the Department of Communications and New Media, National University of Singapore. Her research interest is in digital inclusion, as well as information practices and digital resilience.