Commentary: How about an energy rationing exercise, like Singapore did with food and water in the past?
European countries have avoided the worst-case scenario of energy rationing, amid gas supply woes arising from Russia's invasion of Ukraine. RSIS' Alvin Chew considers if an electricity rationing exercise makes sense for Singapore.
SINGAPORE: Europe is facing one of its deepest energy crises in decades. Record warm winter temperatures, though, have helped it avoid the worst of Russia's squeeze and many Europeans' nightmare scenario - energy rationing.
The region's heavy reliance on imported Russian natural gas, weaponised as part of the war in Ukraine, has meant households and companies have been asked to curb energy consumption amid tight supply and high prices.
Japan too has been urged to reduce electricity use since early 2022, amid struggles with power shortages and a record heat wave in summer. The country is the world's largest importer of liquefied natural gas (LNG) and has also felt the spill-over effects of the Russia-Ukraine war.
All this raises the prudence for Singapore, primarily dependent on the import of natural gas for its electricity supply, to keep up energy conservation and diversification efforts - and perhaps even consider conducting an electricity rationing exercise.
WHY CONSIDER ELECTRICITY RATIONING
Energy conservation is a social effort to make households and businesses more aware of consumption habits. When rolled out as a policy, it becomes a rationing tool that puts a cap on the energy demand.
A closer look at the energy situation in Europe and Japan helps us understand why rationing was considered.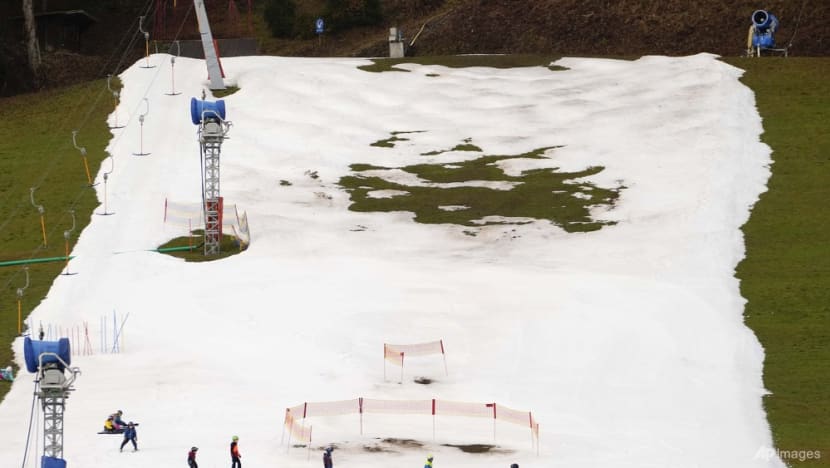 Europe had already been transitioning towards renewable energy, to wean off its dependence on fossil fuels, including natural gas, to advance climate action. The war in Ukraine has sped up this process, toward the long-term vision of relying solely on clean renewable energy sources to generate power.
But renewable energy from wind or sunlight is intermittent in nature and at present, not widely considered as a baseload source of energy. Prior to its invasion of Ukraine, Russia was the biggest supplier of gas to European countries like Germany and Italy.
Japan itself relies on nuclear energy to generate almost one-third of its power. When all its nuclear power plants were shut down for safety inspections and upgrading after the 2011 Fukushima accident, its energy supply was topped up with additional imports of natural gas.
With Russian supply and the cost of energy pressing issues, it is not surprising that these countries have rolled out campaigns to encourage people to reduce their demand for energy.
DIVERSIFICATION OF ENERGY SOURCES IS KEY
So if electricity rationing is a stopgap measure to address the immediate supply shortage during a crisis, the question becomes this: Could Singapore face a situation where it needs to do so in the future?
Singapore's electricity mix currently comprises less than 3 per cent of renewables, according to the Energy Market Authority (EMA). Though 95 per cent of electricity is produced from imported natural gas, diversification of gas suppliers has enhanced energy security, providing more stability to generate the baseload requirement of electricity.
In addition, Singapore's entire electricity grid is located underground. Unlike Japan, which has transmission grids hanging above ground surfaces, Singapore's power lines are more resilient to natural hazards caused by extreme weather conditions such as high winds or torrential rains.
Looking beyond just Singapore, Southeast Asia collectively has sufficient energy resources. Therefore, mutually agreed energy cooperation and security frameworks are important among ASEAN member states to ensure a stable management of the energy equation within the region. 
Hence, electricity rationing is not a highly probable scenario within this context. So why conduct such an exercise that is highly disruptive in nature to economic and social development?
It could be argued that an electricity rationing exercise can possibly instil greater awareness and resilience among its society, like the food and water rationing exercises held in the 1960s.
But electricity is different in how fundamental it has become in all aspects of society, to sustain our homes and fuel our industries. A one-day exercise would also disrupt our work and productivity, while not being realistic of an actual supply crisis which could go on for months - especially when infrastructure is affected.
TECHNOLOGICAL ADVANCEMENTS
The point is there are certainly better options for raising awareness and better manage Singapore's energy demand in the longer term.
It will be more viable to inculcate the population with habits to conserve electricity - such as switching off the lights when not in use or reducing the use of devices. Even then, it has to be done delicately to align with the lifestyle of Singapore's population.
For example, email exchanges have shown to be a big contributor to our global carbon footprint, but we certainly cannot revert to sending "snail mail" entirely.
The advent of more energy-efficient systems can also help to manage its energy demand. Technology advancement has also helped us to harness more sustainable energy resources, such as renewables and even nuclear power - a clean and reliable energy source that will play a crucial role towards realising the United Nations 2030 sustainable development goals.
In Germany, its national decision to phase out the nuclear option after the Fukushima accident led to the country having to burn more coal and ration electricity consumption on public infrastructure in winter. Japan's inability to fully restart all of its nuclear power stations has led to national campaigns to reduce air-conditioning use during the summer heat wave. 
Nuclear should be seen as an integral component of the energy mix needed to sustain society and contribute to climate action. Singapore, with its long-term planning strategies, has better and more viable options than electricity rationing policies.
Dr Alvin Chew is a senior fellow at the S Rajaratnam School of International Studies, Nanyang Technological University.
Why is the energy crunch happening and how will this change where energy supplies come from in the future? Listen to CNA's Money Mind: