Commentary: Why has fast food become so slow?
To put the "fast" back into fast food, operators need to rethink their business models and priorities, says Nanyang Business School's Dr Lynda Wee.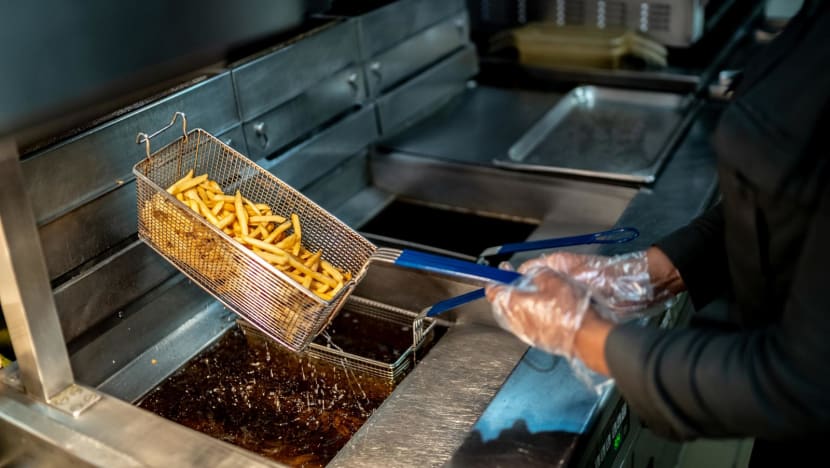 SINGAPORE: When diners go to a fast-food restaurant, they typically expect a speedy meal.
Last month, however, a student in Singapore reportedly waited for about one-and-a-half hours for her lunch at a McDonald's outlet at Khatib, sparking an apology from the fast-food chain and a debate online about how fast food has seemingly become slower amid the speeding up of self-service technologies.
Fast-food chains used to operate on this format: Convenient location, large ingress, multiple counters, and counter service. They had a limited menu, a couple of bestsellers and the occasional seasonal item. There was even a one-minute hourglass serving rule at one point. The aim: Keep it simple so that things move fast; eat and go within 30 minutes.
Technology emerged and service counters were replaced with self-ordering digital kiosks and cashless payment capabilities. Status boards were erected to provide information on orders, from preparation to ready-for-collection. With ordering being automated and handled by customers, workers could focus their attention on food preparation and order collection. The aim: Keep it efficient so that things move even faster; eat and go in less than 30 minutes.
Then came the COVID-19 pandemic that prompted a circuit breaker and movement restrictions to minimise the risk of infection.
As residents stayed home, more people turned to online orders and deliveries or self-collection. Fast-food restaurants leveraged technology and third-party delivery partners to respond to this new business opportunity and converted their dine-in spaces into production and collection hubs.
With fewer dine-in customers, manpower and menu items were scaled down. Food or drinks that were not suitable for delivery were also removed. Through a steep learning curve, online orders gradually became more accurate with on-time fulfilment. During peak periods, however, some orders could take an hour to be delivered.
WHERE'S MY ORDER?
As COVID-19 restrictions eased and Singapore transitioned to endemic living, diners started returning in droves to enjoy their meals at restaurants. With that, placing and waiting for one's order started creeping over 30 minutes. Why?
Before the pandemic, the bulk of orders at fast-food restaurants came from onsite customers. The size of the kitchen and seating capacity were paired for optimal business outcomes to serve them.
During the pandemic, people became used to ordering online. This new behaviour eventually became habitual as consumers became used to the convenience. Post-pandemic, they continued to order online.
There's no denying that the rise of online ordering and mobile ordering has transformed the fast-food industry, allowing for more revenue streams. At the same time, with more orders coming in through various channels, the production aspect may not be able to correspond at the same pace and capability as technology. Hence, the imbalance.
Moreover, the COVID-19 pandemic has resulted in lingering challenges, such as staff shortages and supply chain disruptions, which have further impacted the ability of fast-food chains to meet customer demand in a timely manner.
It is not surprising that restaurants are struggling to keep up with the volume of orders, resulting in slower service and longer wait times for customers.
If the back-of-house is not able to cope with the demands from the front-of-house, especially when their physical facilities are built mainly for onsite business, this will cause things to slow down.
SPEED IS OF ESSENCE
One compelling reason for eating fast food is speed and quick turnaround. If diners wanted a leisurely meal, they would go to a full-service restaurant.
To put the "fast" back into fast food, operators need to rethink their business models and priorities.
In a study by consumer analytics platform CivicScience released in February, three-quarters of fast-food diners surveyed in the US said they expect their orders in five minutes or less.
In a separate poll, more than one-third of fast-food diners also said they had recently either switched to a different fast-food establishment or stopped visiting a specific restaurant due to wait times.
This calls for a change in business priorities, i.e. dine-in versus take-out versus online deliveries. These decisions affect work processes, kitchen capacity, manpower requirements and more.
Fast-food restaurants should consider if it would be beneficial for them to streamline their menus to offer only timeless bestsellers, refreshed occasionally with seasonal offerings to achieve optimal range. Too many menu items can slow the process and yet not deliver the expected business yield and customer experiences. Keep to the core; aim to be excellent at a few items than be average at many items.
Keep the cooking methods simple and synergistic to make it easier for kitchen operations, manpower development and deployment. Finally, invest in manpower and standardised housekeeping/layout across restaurants to achieve quick and safe food competency and facility orientation for workers to be productive even on their first day of work.
Dr Lynda Wee is Adjunct Professor at the Nanyang Business School at Nanyang Technological University.
LISTEN - Daily Cuts: Behind the demise of our local F&B businesses