Commentary: Should Singaporeans adopt tipping as a cultural norm?
The cost of living has gone up tremendously. Eateries are trying to save themselves. But somewhere along the way, the purpose of service charge - a tip meant for the servers - became lost, says award-winning author Christina Sng.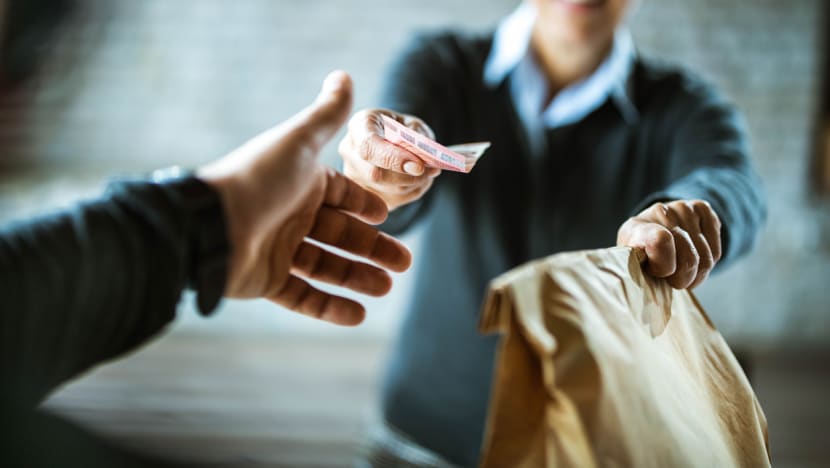 SINGAPORE: Imagine you're in downtown Toronto, September 1994. The sun is shining and the chilly air crisp on your cheeks. You exhale to see your breath in fog. It is the cusp of winter.
You step into a diner for a chocolate milkshake. The cheerful waitress ushers you to your booth seat and presents you with a menu. You order their C$4 (US$3) chocolate milkshake. It's the best milkshake you've ever had.
When the bill arrives, there is an additional 7 per cent Goods and Service Tax (GST) and an 8 per cent Provincial Sales Tax (PST). Also expected is a 15 per cent tip. You give the waitress C$5.20. This is becoming second nature. This is me in 1994.
In Singapore, GST was first implemented in April 1994 at 3 per cent. Today, it is 8 per cent across the board.
Service charge is set in most dine-in eateries at 10 per cent, not by law but as an industry practice. Tipping is voluntary.
Should that change? Would it not be better for eateries to do away with the 10 per cent service charge and encourage diners to tip servers directly to show their appreciation for the service provided?
In time, with clear communication and encouragement by business owners, would it not be possible for tipping to become a cultural norm in Singapore?
You may respond, Singaporeans are struggling already with inflation, GST and service charge. To add another 10 percentage points is too much. I agree.
BUILDING PROFESSIONALISM
Here is my observation: Popular restaurants are well-patronised and fully booked well in advance. A number of their patrons order alcohol that easily doubles the cost of their meals, on top of service charge and GST.
If you only eat out once a month as a treat to your family, you don't have to tip if you can't. But if you're dining out regularly, a 10 per cent tip goes a long way to appreciate servers who have done their jobs well. Those who can afford to should tip.
This will go miles in terms of elevating the service culture and professionalism of eateries in Singapore, and more importantly, increase respect for the work servers do.
When I was in Toronto, I met a graduate student from Singapore who told me her waitressing job paid her more than what she could have earned back home using her master's degree. She could make a good living waitressing in Toronto and the job was well-respected. Indeed, I saw this to be true.
Who does tipping benefit? Well, the service staff and the community in general.
When we lift up one part of our community, we lift up everyone. When our jobs are fulfilling, respected, and give us a living income, we are happier people. In addition, eateries with reputations for good service are better patronised.
I asked a couple of waiters recently if the service charge goes to them. One responded that he didn't know and thought it went to his salary. Another said no, it goes to the company.
I get it. The cost of living has gone up tremendously. Eateries are trying to save themselves. But somewhere along the way, the purpose of service charge - a tip meant for the servers - became lost.
The last time I did an informal poll, some eight years ago, most servers told me the service charge went to a pool that they shared. A smaller proportion said it went to the company.
Of course, these are anecdotal statistics. I'd like to see a detailed survey on who keeps the service charge today.
CULTURAL SHIFTS
Cultural shifts take time. When we, as a whole, recognise that supporting the community around us leads to a better, happier world, the shift will happen.
F&B is hard work and I am very grateful to the chefs who prepare our meals, servers who make sure we get our lunches, and delivery riders who bring us our dinners when we need to eat at home.
Every tip we give counts. It is all about how we perceive tipping.
Think of it as part of the cost of your meal, just as I rather quickly did in Toronto, that my milkshake cost C$5.20, not C$4. Think of tipping not as a cost increase, but supporting good work, supporting your community.
If service charge is removed, the actual cost hasn't changed for you. And if service charge remains, any amount you can afford to give goes a long way. Servers know this and appreciate it.
When fellow servers see good service appreciated, they may well follow suit. This creates a butterfly effect and soon, service quality will rise, resulting in a trickle-down effect to other services that encourage tips like food delivery.
During the Apr 14 to 16 weekend, foodpanda launched a "double tips, double love" campaign, matching every dollar that riders received in tips from customers on the platform. The feedback on social media was encouraging.
In an interview with CNA last year, Grab too said that the tipping feature on the app had been well-received, suggesting an appreciation for platform workers.
Paradigm shifts take time and if enough business owners and diners do this, it will become normalised.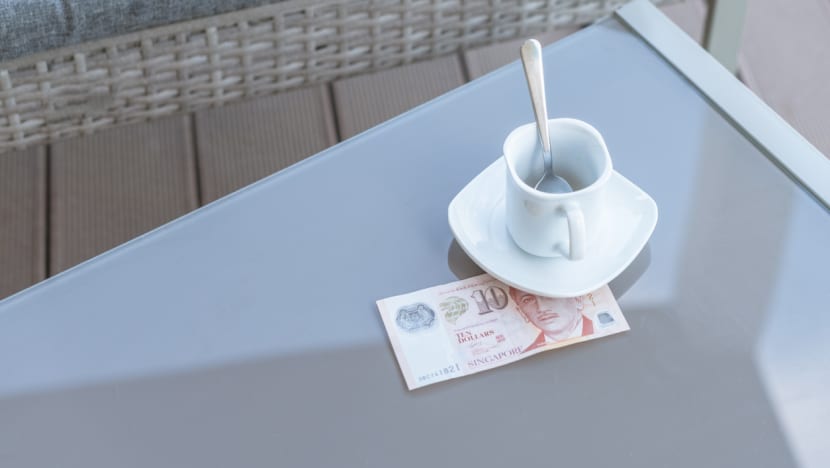 Imagine you're in Singapore, 2035. It's a bright day and you feel the warmth of the afternoon sun on your face.
You're happily working as a professional server at a downtown cafe. You earn a minimum wage of S$20 per hour, but tips from customers raise your hourly rate to S$35 on busy days. It is great to be appreciated.
You leave work after an eight-hour shift and board the train.
We imagine the world we want to live in, then we build it. But as with everything else, it begins with a dream. Let's be bold. Let's dream and make it happen.
Christina Sng is a poet-writer-artist and the first Singaporean to win three Bram Stoker Awards.