Commentary: The fascination with Singapore's weather has gone into overdrive
Social media is full of "winter weather" hashtags, and the rain and cold are all anybody can talk about right now. Why is there such fascination with Singapore's weather?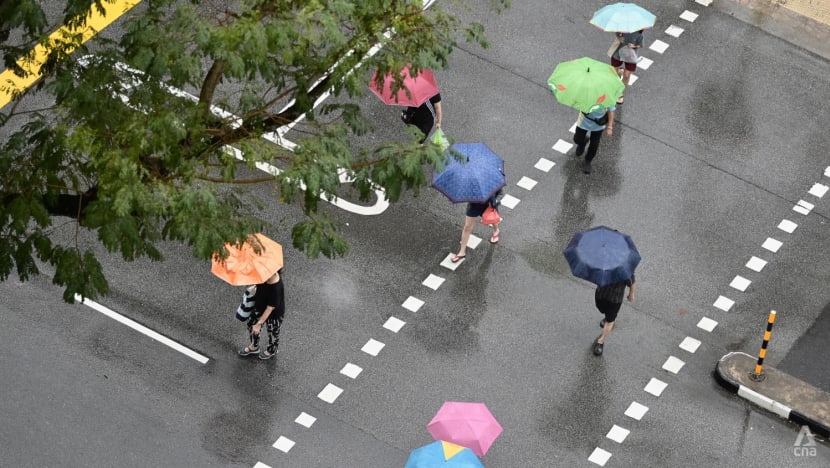 SINGAPORE: If you've spent any time in Singapore over the past few months, you've likely noticed that it's been raining. A lot. 
It's also been a fair bit cooler than usual, although as an Englishman, I struggle to describe the recent temperatures as "cold". 
But if the constant downpours and increased jacket wearing have escaped your attention, then you'll have definitely heard people talking about the weather. 
As the mercury drops, the wind chills and the rain pours, the inclement conditions become the hottest talking point in town. 
Headlines warn of "air-con weather" and meteorologists are found in front of microphones, and I try to explain to friends back in the UK why people are wearing jumpers when it's 24 degrees Celsius.
Recently, this fascination with Singapore's weather has gone into overdrive. 
Back in January, during yet another downpour over the chilly Chinese New Year holiday, I tweeted that I was embracing the cooler conditions before the heat inevitably returned.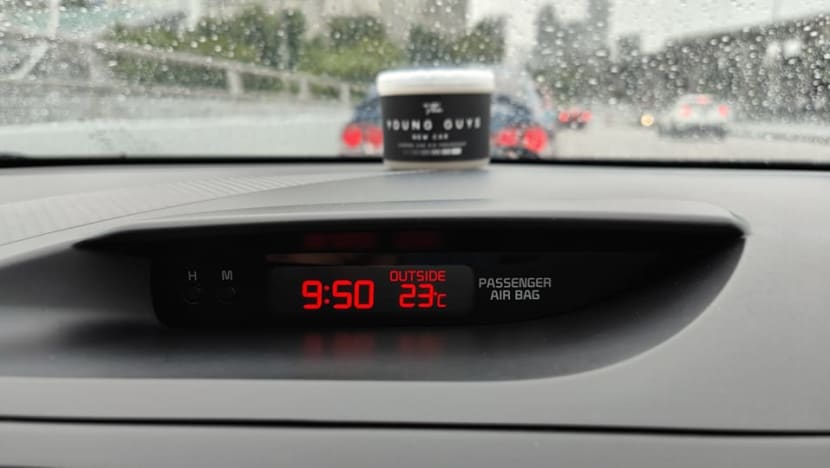 DO YOU LIKE IT SUNNY OR COLD?
That lit the touchpaper, triggering a stream of chatter about Singapore's rare cold spells. 
Opinion was divided. Some welcomed the cooler conditions, embracing the chance to snuggle up in a sweater and enjoy some natural air-conditioning at night. 
Others were fed up with the constant rain and a lack of sun, as their damp clothes hung on the washing line and they purchased yet another emergency umbrella from 7-Eleven. 
But whatever side of the debate you find yourself on, one thing is clear; people can't get enough of talking about Singapore's cold and wet spells. 
Lately, this obsession has been understandable. 
The continuous downpour on Tuesday (Feb 28) broke rain records in Singapore. It was the wettest February day since official weather data started being collected in 1869. The highest daily total rainfall of 225.5mm landed on Kallang, smashing the previous record of 159.3mm on Feb 4, 1995. 
It has felt like the rain has been pretty much endless in recent weeks and the stats back that feeling up. 
According to the experts, rain levels were well above average in February. My growing collection of emergency umbrellas can attest to that. 
But as well as getting soaked, Singapore has also shivered. Well, as much as you can shiver in 21.1 degrees Celsius.
DUST OFF THE WINTER WARDROBE
Average temperatures have dropped (or plummeted if you want real weather journalism) and the long-sleeve options in the wardrobe have been dusted off. 
There's also been a distinct lack of sunshine, with grey skies adding to the gloom. 
It's all felt a little endless and I've even contemplated booking a holiday to the UK for some sun. 
Given this prolonged period of unusually bad weather, it's no surprise that the rain and cold are all anybody can talk about right now. 
But chatter around the weather isn't a one off - just a few rainy days or a slight drop in temperatures can get people in Singapore talking. 
As soon as the weather deviates from the norm, it makes its way up the news agenda and finds its way into every casual conversation. 
The reason: It gives the weather presenter the chance to say something new. 
For those not accustomed to Singapore's weather, the pattern is fairly simple to follow. It's hot and humid with big doses of sun. This is often interrupted by rainstorms before the sun returns once again. 
Temperature wise, many days reach over 30 degrees Celsius with the mercury rarely dipping below 24. 
WHY THE FUSS?
It's synonymous with life in the tropics. That's why these unexpected weeks of sweater weather cause such a kerfuffle. 
A change in the weather also provides a feel of what many other countries experience year in year out - seasons. 
As someone who grew up with seasons, I marked the passing of time by changes in the leaves on the trees. Returning to school meant that leaves turned orange and red and as they started to fall, I knew Santa was preparing his sleigh. 
But in Singapore, it's extremely difficult to decipher one month from the next due to the weather. 
Cooler spells allow for a different perspective, with some people even treating the recent weather as a mini Singapore winter.
As someone who is used to the cold, I do find it slightly baffling that people feel the need to wear coats when the temperature is still in the mid-20's. But that's because I'm programmed to see 24 degrees Celsius as a hot summer day with an above average risk of sunstroke. 
With weather, it's all about perspective. One person's chilly night in Bedok is another person's excuse for a barbeque in Birmingham. 
There is a slightly more serious side to all of this, the risk of flash floods is real and a golf event was cancelled on Sentosa this week. It can also disrupt commutes and adds to the cost of already inflated ride-hailing apps.
But, for now, inclement weather thankfully remains more talking point than terrible in Singapore. 
It also allows me to diversify my umbrella collection and, in a move that would surprise pre-Singapore Adam, reach for my woolly jumpers. Bring on the rain. 
Adam Hancock is a freelance journalist who covers Singapore, Australia, and the wider Asia-Pacific region.