Commentary: For a nation of a gamers, why doesn't Singapore have more homegrown video games?
Singapore has the technology and data to level up its gaming industry, but local studios need talent and scalability, says Qlik's Chong Yang Chan.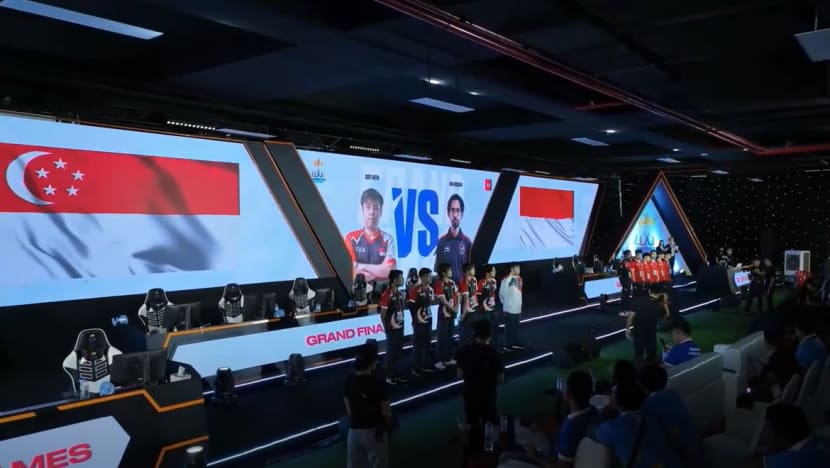 SINGAPORE: Singaporeans love gaming. Data by market research company YouGov suggests that three-quarters of the country's population play video or mobile games. Mobile service provider MyRepublic found in a survey that 41 per cent of its subscribers spend more than 15 hours a week playing video games.
Singapore recently made its mark on the international stage by winning its first SEA Games e-sports gold medal.
Despite being a nation of gamers, Singapore has not developed many homegrown games. There are several notable local players however, from large publishers like Sea Group's Garena, to indie developers like Battlebrew Productions, maker of mobile game Battlesky Brigade Tap Tap, and The Gentlebros, creator of video game series Cat Quest.
In recent years, video games with a distinct Singaporean flavour have attracted attention, like the action role-playing game (RPG) Ghostlore, which draws on Southeast Asian folklore, and puzzle adventure game Chinatown Detective Agency, set in a futuristic, cyberpunk Singapore.
Both these titles are passion projects worked on by individual developers in their free time, supported by crowdfunding.
With so many in Singapore passionate about gaming, why are Singaporean video games such a niche genre?
SINGAPORE IS MORE OF A REGIONAL HUB FOR TRIPLE-A STUDIOS
Singapore's gaming industry has enormous growth potential with 45 per cent of the world's gamers based in Asia. Not surprisingly, the competition to win over gamers in Asia is the toughest in the world.
While many Singapore residents play video games, the size of this market pales in comparison to countries like South Korea and China, which have large populations of avid gamers.
With a market value of close to US$11 billion in 2022, South Korea is often referred to as the mecca of gaming. China is the world's largest gaming market with revenue expected to hit US$90 billion by 2027.
For Singapore game developers, scaling up highly playable games for an international audience remains the primary challenge.
The country's approach to developing the gaming sector has focused on posturing itself as a regional gaming hub for top global studios like Ubisoft, Riot Games, and Bandai Namco.
Since its opening in 2008, Ubisoft Singapore has become one of the company's key studios, with local talent contributing to the development of titles like Assassin's Creed Valhalla and the yet-to-be-released Skull and Bones.
The Singapore government has provided funding and support for Ubisoft and other multinational companies in the country, in the hope that these studios will help cultivate more local game developers.
GROWING LOCAL TALENT AND COMPANIES
A digital talent gap holds Singapore's game development sector back. Skills like coding and digital design are required to build games, but, according to recent research by Amazon Web Services (AWS), 82 per cent of organisations in Singapore need help to fill available tech roles.
Singapore is growing a pool of digital talent through education and training programmes offered at tertiary institutions. Nanyang Technological University has also made a game-making platform that doesn't require programming expertise, enabling anyone with a computer to build games.
Local gaming companies also need to level up and can do so by leveraging government initiatives. For instance, Games Solution Centre, launched in 2011 by the then Media Development Authority (MDA), provides funding and support for local game developers to create innovative games and collaborate with industry partners.
DATA IS A KEY INGREDIENT
Once the talent and support are in place, playability remains the secret sauce in the recipe for a game's success, and Singapore has produced some games that are hard to put down. For example, Garena's Free Fire has more than 1 billion downloads worldwide and was the highest-grossing mobile game in Southeast Asia and Latin America.
To successfully make engaging games like these, data is a key ingredient. Local studios can take inspiration from other game makers in Asia, including Japanese pioneer SEGA, which analyses user data to hook players in.
To prevent sections of a game from becoming too difficult to complete and rapidly sapping a gamer's patience, developers can modify the gameplay to prevent players from giving up and moving on to another game. This flexibility is crucial to a game's success, and, in the age of declining attention spans, is helping game-makers evolve content to keep players riveted to their screens.
Home to Triple-A studios and millions of gamers, Singapore has both the technology and data to develop a thriving gaming industry. Let the games begin!
Chong Yang Chan is Managing Director, ASEAN & Greater China at data integration and analytics company Qlik.