Commentary: At the SEA Games, Singapore's athletes have shown sportsmanship, grit and character
At the 32nd SEA Games in Phnom Penh, Singapore's athletes remind us that ordinary beings are capable of extraordinary feats, says CNA's Matthew Mohan.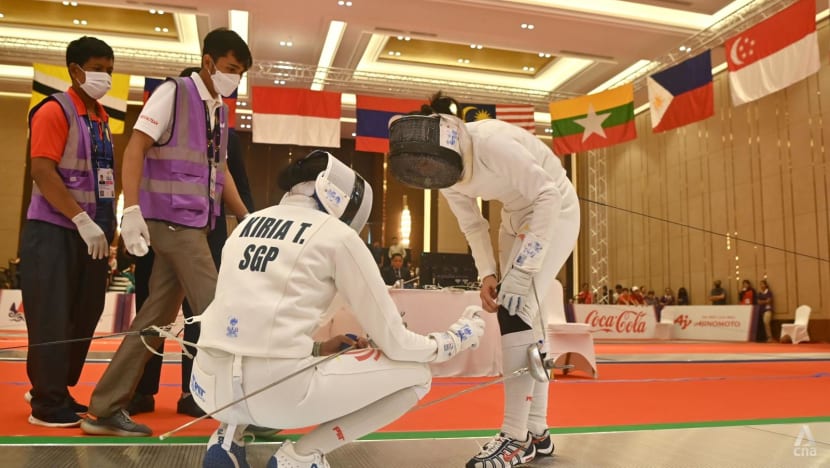 PHNOM PENH: Sometimes, the smallest actions speak volumes. In the case of Singaporean fencer Kiria Tikanah, it was the act of applying cold spray to teammate Elle Koh's knee.
When Elle looked to have picked up a slight injury with the scores tied at 11-11 in their semi-finals clash, her teammate helped her out.
Elle eventually took the game 12-11, and went on to win the gold medal for Singapore. Kiria clinched a joint-bronze.
"I wouldn't say that because of those couple of sprays that she won. Before we are opponents, we are teammates first," said Kiria. "Just because it is an individual sport, doesn't mean that you don't have your team behind you."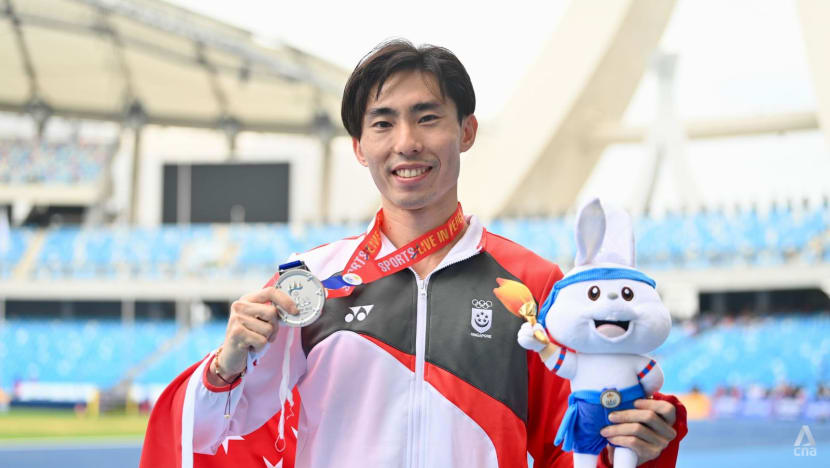 In the case of Singaporean runner Soh Rui Yong, it was the act of passing on a cup of water to his race rival Rikki Marthin Luther Simbolon.
Soh, who kept close quarters with Marthin for much of the event, shared his drink with the Indonesian after the race leader missed his cup at the water point.
Soh finished in 31:10.70, behind Marthin (31:08.85) to take a silver and clock a new national record.
"It was all instinctive but upon reflection I just innately always want to win in a fair fight, so when he missed his bottle, I wanted to provide him a chance to rehydrate before continuing the battle," Soh told CNA.
Both actions cost the athletes nothing, but meant something to those watching on.
This was the 32nd Southeast Asian (SEA) Games, where there was no shortage of inspiration from our athletes as competition came head-to-head with sportsmanship and grit.
DEFINING GREATNESS
Team Singapore concluded their 18-day Games campaign with 51 gold, 43 silver and 64 bronze medals. Eight Games records were set, along with 17 national records and 40 personal best milestones.
On the overall medal table, Singapore finished in sixth place. Vietnam topped the ranking.
As with any other edition of the Games, this one came with glorious triumphs and agonising losses.
Particularly painful was the performance of the men's football team, after their fifth consecutive elimination in the group stages.
But hidden within the headlines, Singapore's athletes have quietly defined greatness. Not just through their displays of sporting prowess, but also by their character and tenacity.
Some have battled not just opponents but injury. Fencer Elle competed with partial tear on her medial collateral ligament and an anterior cruciate ligament strain, while jiu-jitsu exponent Noah Lim took to the mat with a dislocated pinky finger.
Water polo player Eugene Teo took to the pool for Singapore despite still recovering from a training injury that resulted in nine stitches in his right eye just weeks before the Games. In between periods, Teo would clean that eye with antibiotics and saline solution.
So inspired was water polo captain Lee Kai Yang that he would do one more interview in the scorching hot sun because it was important to highlight the sacrifice of teammates such as Teo.
"No one is like him," Lee told CNA after.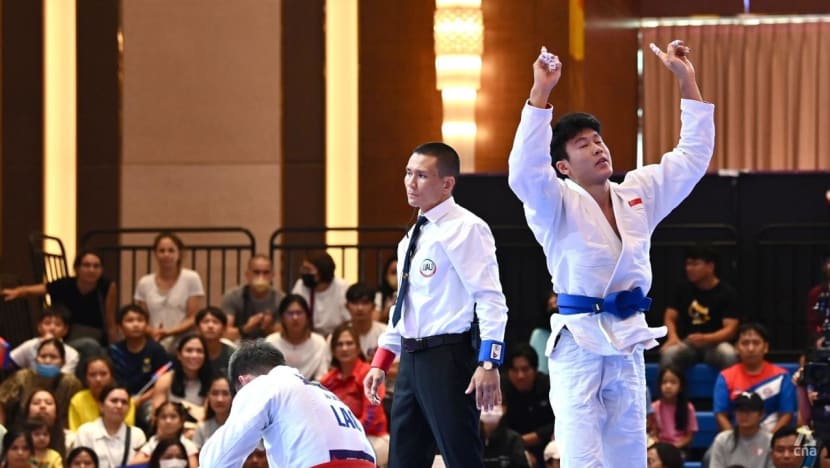 Some took a decades-long lunge back in time to chase a dream.
Eighteen years after she won gold, fencer Tay Yu Ling stood on the top step of the podium again. Tay, 36, had retired from fencing after the 2010 Asian Games in Guangzhou, China. But a "spark" was relit within her four years ago, telling her to come back. And so Tay did.
Some fought negativity and self-doubt. After all, greatness takes time.
Shanti ended a 42-year gold medal drought for Singapore in a Games sprint event when she took gold and set a new national record in the 200m event in 2015, but battled with injuries, the pressure of expectations and negativity from others in the years after.
But she refused to give up, becoming the undisputed sprint queen of Southeast Asia and the first Singaporean woman to win both the 100m and 200m events at the 32nd SEA Games.
During a particularly tough period, she told her parents: "I'm not quitting. No matter what I'm not quitting," Pereira's mother Jeet told CNA. 
ORDINARY ATHLETES, EXTRAORDINARY FEATS
What is witnessed in minutes, sometimes seconds, is the product of years of hard work.
Speaking after his men's 200m butterfly win, swimmer Ong Jung Yi struggled to hold back the emotions.
"I'm just really happy that I finally won this event because I've trained all my life for this moment," said Ong, who has competed at four SEA Games and finished third at the last two editions. This is his first Games gold.
One could not help but not be moved. And I wasn't the only one.
"The way Jung Yi swam brought out a lot of emotions in the team," said national head coach Gary Tan. "We want our young generation of swimmers to have that kind of fight as well."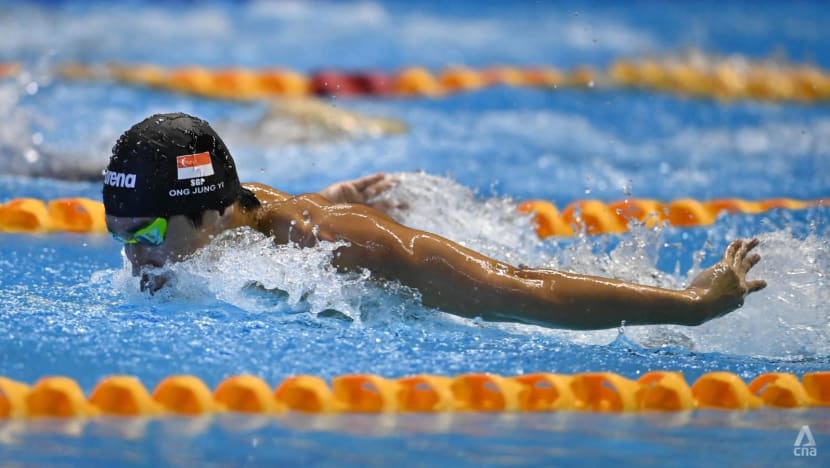 On the final day of competition in the pool, Vietnam's Nguyen Thuy Hien waited patiently for a photo with Singapore swimmer Quah Ting Wen.
13-year-old Nguyen won her first medal at the Games, a bronze in the 100m freestyle. In the lane beside her was 31-year-old Quah, who took gold and ended the meet with 60 Games medals.
"Winning a medal is beyond my expectations. I'm really happy to compete with Quah Ting Wen, one of my idols," Nguyen told Vietnamese media.
And after a couple of minutes, the shy teenager got her picture with Quah. You see, inspirational figures transcend nationality.
Our athletes are human, just like us.
They bleed the same, hurt the same, heal the same. Sometimes they lose, other times they win. In Phnom Penh, they have reminded us that ordinary beings are capable of extraordinary feats. 
And that is what I will remember this Games for.
Matthew Mohan is a senior journalist at CNA. He specialises in sports reporting and has covered the Olympics, World Cup and Southeast Asian Games.