Commentary: Fatal crowd crush shows South Korea's continued disregard for safety
South Korean history is littered with deadly accidents like the Halloween crowd crush in Seoul. Every time tragedy strikes, distraught citizens ask why authorities failed to prevent it, says Steven Borowiec.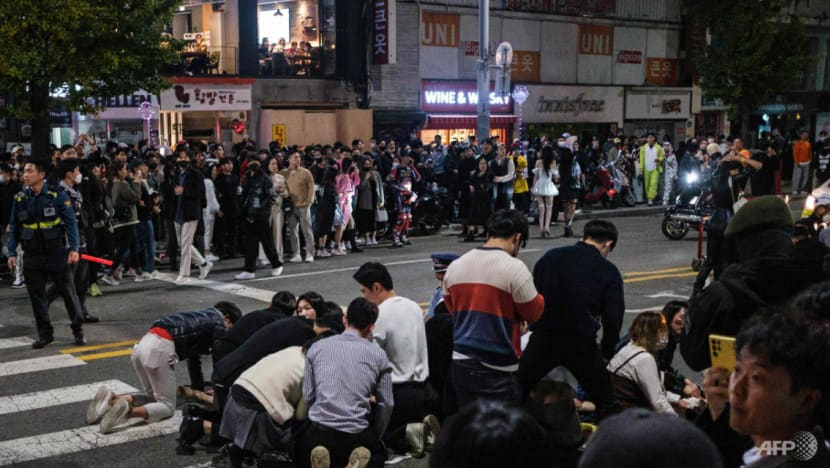 SEOUL: Shortly after 8pm on Oct 30, South Korean police began to receive increasingly distressed calls from Seoul's Itaewon neighborhood, a popular nightlife area and the hub of Halloween celebrations in the city.
One caller who phoned at 8.33pm said they were in an alley that had become impassable because people had collapsed. Another that came in 20 minutes later said people were being squeezed. Subsequent callers said they felt they were on the verge of being "crushed to death".
From there, the chaos descended into catastrophe, as overcrowding in the alleyway led to a crush that caused at least 156 deaths. The victims were mostly in their 20s.
The crush in Itaewon is the worst disaster since the 2014 sinking of the Sewol ferry, in which more than 300 people died, most of them high school students on a field trip. An editorial in the Donga Ilbo, a right-of-centre newspaper, made a direct connection between the two incidents: "In the eight years since then, nothing has changed in South Korea's disregard of safety."
In the aftermath of both cases, observers have asked how, in a country that produces some of the world's most cutting-edge technology and infrastructure, can such routine matters go so horribly wrong. 
Meanwhile, all of Seoul mourns. Events and concerts scheduled to coincide with the crisp, pleasant autumn weather have been cancelled. News outlets have been filled with heart-wrenching stories of lives cut short, such as a 23-year-old woman who died roughly one month before she was scheduled to get married.
QUESTIONS IN THE WAKE OF ANOTHER DEADLY INCIDENT
South Korean history is littered with deadly accidents, and every time one happens, distraught citizens ask why authorities failed to prevent it. Some wonder whether in its speedy post-war industrialisation, the country failed to prioritise safety as it developed.
Adding to the pain is an emerging consensus that the losses were preventable. The National Police Agency released records of phone calls on Tuesday (Nov 1), revealing that the first call about surging crowds came in at 6.34pm, several hours before the fatal crush.
This sparked criticism that the police were slow to act and could have intervened with crowd control measures much earlier.
There are also questions as to why police did not have a larger presence in Itaewon at the start of the evening. This was the first year since before the pandemic that Halloween went ahead with no social-distancing restrictions in place. Police could have anticipated large crowds.
Speaking on Tuesday, Prime Minister Han Duck-soo said that the events in Itaewon weren't more rigorously managed because Halloween celebrations are not officially registered as a public event, meaning that police and local governments did not make any particular preparations for them.
It seems negligent for such an administrative distinction to be the reason that officials failed to prepare for 100,000 people gathering in a dense area like Itaewon. Even as the National Police Agency acknowledged "heavy responsibility" for inadequate measures that night, the victims' families and the wider public deserve detailed answers.
MOVING FROM RAGE TO UNDERSTANDING
After President Yoon Suk-yeol ordered a week-long period of mourning to process this national disaster, South Koreans are moving out of initial shock and sadness and toward attempting to understand precisely what happened and to assign blame.
The political opposition claims that the incident is a result of the Yoon administration's "incompetence and carelessness". Many are pointing their fingers at the police. Yoon was quoted on Wednesday morning as saying that he is "enraged" at the police's slow response to the emergency calls. 
Rage is a natural reaction to this crisis, but it won't bring the nation any closer to understanding why, in a country of such economic and social achievement, a conventional event like Halloween revelry was so mishandled. 
The hope is now that Yoon and his government can channel their anger and the collective rage of the country to investigate this tragedy, seize what lessons can be learned and take steps to bolster safety. No one of any political affiliation wants to see these disasters keep happening.
Steven Borowiec is a journalist based in Seoul.