Commentary: What if failure is an option? The gamble of mountain climbing for this Singaporean
The attractions of small, urban Singapore have nothing on the infinite horizons from peaks like Kilimanjaro or Everest, says writer Desiree Koh.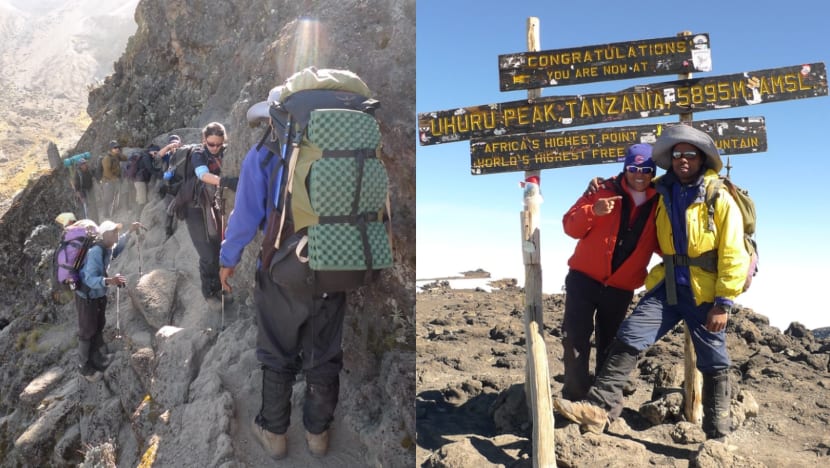 SINGAPORE: When I had my first brush with altitude sickness, I was hugging a rock about 5,000m above sea level on Mount Kilimanjaro. It was around 4am.
Physically, I had just scrambled along small cliffs and up switchbacks slick with volcanic scree; with every three steps forward, I'd slide back one. The temperature was fidgeting into frigidity with surges of icy winds.
Mentally, I was … actually, I don't know. I only remember both mind and speech were rambling. Chief sherpa Douglas and my climbing partner Belinda told me later that I wouldn't let go of the rock, repeating I wanted to go to bed. But Douglas kept shaking me awake, making me pop peanut M&Ms and drink my hot tea.
We trudged on through suffocating darkness, mountain conditions more punishing every 10m on, Douglas half-propelling, half-dragging me. It felt like a lifetime without a lifeline. Even if my head hadn't been spinning like a broken compass, I would have felt just as directionless, although the only way was up.
Up the last 200m, I slipped and slid across icefields. Each time I looked up, soaring glaciers surrounding the summit seemed to be reaching out in embrace, so I kept gravitating towards them.
When we got to Uhuru Peak, at 5,895m the tallest point on the continent, Belinda did victory jigs and made celebration videos. Slumped against the "Africa's Highest Point" sign, I vomited.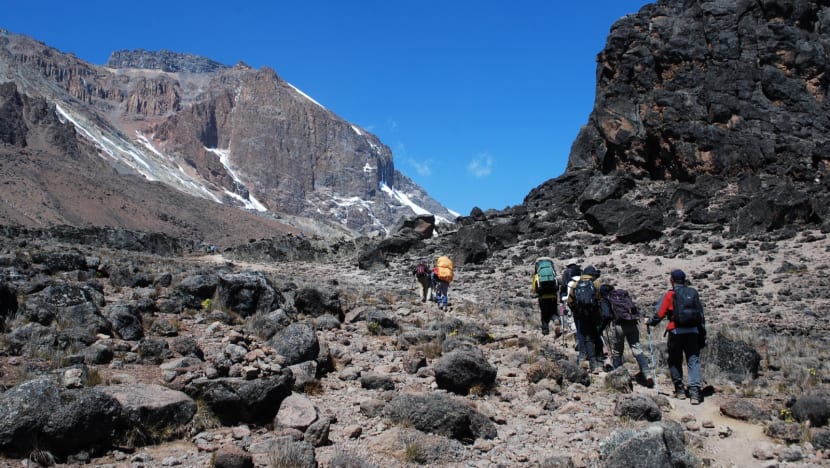 What I know now is that if I had fallen asleep, I might never have woken up. If I didn't keep eating and hydrating, I wouldn't have enough sustenance to beat altitude sickness.
In recent months, Singaporeans have succumbed to altitude sickness on climbing expeditions. A 28-year-old man died on Kilimanjaro, while a 39-year-old climber went missing at Everest.
Douglas asked at regular intervals if I wanted to keep pushing to the peak, and foggy head notwithstanding, I always reiterated resoundingly: Yes. Perhaps he was experienced enough to ascertain - visually only, with just light from a strong headlamp as we didn't have oxygen and heart rate testers on hand - I was well enough to continue.
I still believe Douglas's great experience and skill brought me to Uhuru Peak safely, together with my fitness and athleticism. But what if …? I can't bear to answer that.
ADDICTED TO ADRENALINE AND ACCOMPLISHMENT
The thing is, when you plan an extreme sports trip, you're focused on "I can!" Otherwise, why pay upwards of S$8,000 (US$5,900) for a Kilimanjaro bid or higher for longer and more complex adventures?
Adventure tours not only come with risks, but they're getting more expensive. Nepal has just raised the price of an Everest climbing permit to US$15,000 from US$11,000, starting 2025, in part to cover the costs of body retrieval from fatalities. 2023 marks Everest's deadliest spring yet, with 17 deaths recorded as compared with an average of five.
But with each successful expedition, doubts of "What if?" meekly diminuendo. The swagger of knowing what you can achieve will propel you to taller mountains, more cunning terrain and tougher endeavours.
Coming from small urban Singapore, where the Marina Bay Sands infinity pool has nothing on the infinite horizons of monumental massifs, the heroic glow of such accomplishments is just as addictive as the adrenaline rush of being on top. The bravado ticks up with social media approval of your posts about toughing it out through unexpected snowstorms and avalanche warnings.
Travel for me has never been fluffy robes and manicured tours. Our family holidays were always to places before they became tourist destinations - Phuket when the best accommodations were rustically bare chalets and Bali beaches overrun by wild dogs.
I summited my first mountain, Kinabalu (4,095m) in Malaysia, when I was 17. I've never failed to finish a marathon or half-Ironman race.
FAILURE IS A POSSIBILITY
So, when I'm hugging a rock on Kilimanjaro trying not to slip into the abyss of altitude sickness, my DNA cuts through the mind fog and yawps, "Failure isn't an option!"
But it is. Even with a licensed and trusted outfitter that dots all the safety i's and crosses all the logistics t's, insists you're fully insured, and ready physically, mentally and every way in between. Even when your confidence is through the roof.
Many take the gamble and end up making history. Last week, two Singaporeans summited K2, making them the first local women to have conquered both K2 and Everest, the world's two tallest mountains.
Success doesn't only depend on probability and how adventure-prepared you are. It is also about knowing you can choose to retreat before you lose control of a dangerous situation.
For my Kilimanjaro teammate who returned to base camp, "I literally just wanted to lie down and reaching the summit wasn't as important as wanting to sleep. That was when I realised I needed to turn around."
Indeed, pushing yourself to summit just for the sake of summiting defeats the point. At a market in Dar-es-Salaam, the Tanzanian capital we flew into before our Kilimanjaro expedition, we ran into self-exiled former Thai prime minister Thaksin Shinawatra. He showed us pictures of Uhuru Peak from a private plane tour, and asked with genuine curiosity, "Why trek up the mountain when you can see it like this?"
Kilimanjaro was not the end of such adventures for me, and I still dream of reaching the peaks of Aconcagua (6,961m) and Elbrus (5,642m).
But there's no better lesson than growing older, so I'll now triple down when scrutinising outfitter credentials and safety records, and pay for nice-to-have safety specs. I'll know every method of managing altitude sickness and take preventative measures. I'll get a medical green light before embarkation no matter how fit I think I am.
And the next time I'm hugging a rock somewhere up there, I'll say, "I'll take a summit check today." Because I've already been a hero several times, and I've got enough glory stories to last the next decades of beers. Because I love my family and my life back on Earth too much.
And because, in my Kilimanjaro expedition planning email to the team, I signed off, "And there was never another time like that first time in Africa - Ernest Hemingway."
Desiree Koh is a freelance writer who covers travel and hospitality.