Commentary: Can Macao bet on tourism and gambling for economic recovery?
Macao's daily visitor numbers have increased significantly since zero-COVID measures were lifted, but the reopening of international borders could lure Chinese tourists further afield, say researchers.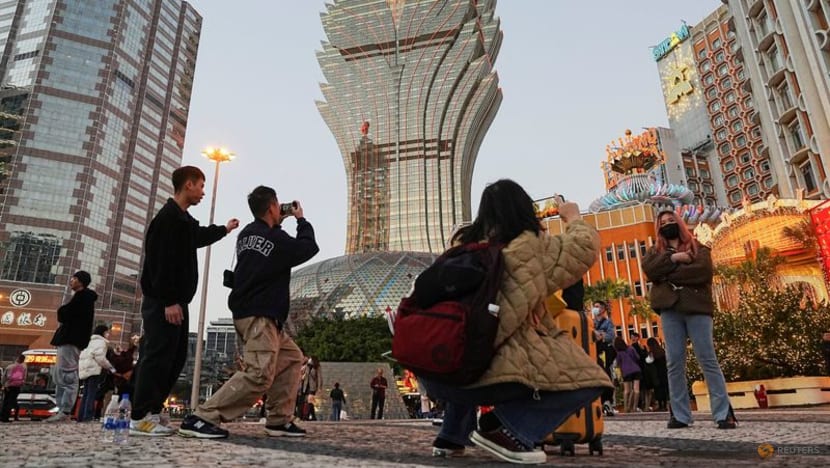 JOONDALUP, Australia: In light of China ending its zero-COVID policy, Macao is seeking to recover its tourism-based economy. Success will depend on the effectiveness of ongoing efforts to contain the spread of COVID-19, international travellers' willingness to visit the region and the Macao government's ability to support local economic recovery.
Although it is difficult to confirm the true number of positive COVID-19 cases in China since December 2022, recent data suggest the peak of hospitalisations has passed. Chinese residents seem cautiously optimistic about travel, as evidenced by the high number of domestic trips during the Chinese New Year in January.
If China can achieve a strong vaccination rate and the population adequately recovers from the COVID-19 waves that peaked in December 2022, it is reasonable to expect international travel will continue to accelerate in 2023.
Renewed growth is probable given Chinese citizens have been prevented from going overseas. The trend of "revenge travel" that emerged in many countries once border restrictions were relaxed has yet to come to China.
In December 2022, China began dismantling its strict zero-COVID measures after nearly three years of recurrent citywide lockdowns, slowed economic growth and disruptions to the tourism and hospitality sectors.
Leading global travel service providers to mainland China have seen a rebound in demand for travel and anticipated a surge in the run up to the Chinese New Year holiday season. China officially abolished all quarantine restrictions for inbound visitors as of Jan 8.
China has witnessed a substantial rise in domestic and international travel since eliminating its zero-COVID policy. A recent report by tourism website Qyer revealed that "most Chinese visitors have a plan to travel overseas within a year".
SOUTHEAST ASIA TOP CHOICE FOR CHINESE TRAVELLERS
Most outbound Chinese tourists are expected to continue travelling somewhat locally. Three-quarters of travel agencies surveyed by Chinese trade firms said their clients' top choice was Southeast Asia, which does not require negative COVID-19 tests from travellers departing from China.
Indonesia is targeting 255,000 tourists from China in 2023. The country recorded 94,924 visits from China between January and October 2022. More than 2 million tourists from China visited Indonesia annually prior to the pandemic. This indicates pre-pandemic tourism levels are not expected to return in 2023.
The Tourism Authority of Thailand also recently launched a campaign called "China is back" to welcome the return of Chinese visitors. The Tourism Authority expects more than 300,000 Chinese tourists to visit Thailand in the first three months of 2023 alone.
It will take some time before Chinese international tourism returns to pre-pandemic levels. Travel to Macao is expected to increase, but benefits to the local economy will depend on wider economic trends in the region.
On Jan 8, Macao reopened its border to foreign visitors by removing all mandatory quarantine requirements. Arrivals from mainland China, Hong Kong and Taiwan no longer require COVID-19 testing to enter. The Macao Economic Association expects the reopening of Macao will speed up economic recovery.
Macao experienced a significant increase in daily visitor numbers in January, a pattern anticipated to continue through this year. Yet the reopening of international borders could lure mainland Chinese tourists further afield to Europe, Asia, Australia and North America. These destinations, as well as other places in Southeast Asia, will compete with Macao to attract Chinese tourists.
BOOSTING TOURISM IN MACAO
Several factors could help make up for lost revenue in Macao's tourism-based economy. Macao would benefit from adopting similar approaches to those of Thailand and Indonesia.
A multi-faceted promotional campaign that combines the public and private sectors would have the greatest impact. This could include a large-scale marketing drive combined with attractive travel packages, discounted hotel rates and new cultural attractions. This would encourage more tourists to visit and boost the local economy.
Economic diversification would also increase the resilience of Macao's tourism industry and, over time, reduce its reliance on gambling and casino-based income. Tourists are increasingly interested in cultural and wellness-based tourism, which Macao could capitalise on as borders reopen.
Another avenue for growth could centre on diversifying Macao's customer base. Prior to COVID-19 and post-reopening, the majority of visitors to Macao were from mainland China, Hong Kong or Taiwan.
If Macao can attract more international visitors from outside East Asia, this could provide a significant buffer should further lockdowns occur. But this would require significant investment and structural changes to the tourism industry without a guarantee of success.
The recovery of Macao's economy will also depend on how the pandemic evolves globally. The situation is fluid and continued outbreaks or other unexpected events could dampen recovery.
In 2020, revenue from Macao's casinos fell by 80 per cent compared to the previous year. Revenue has only recovered slightly since. Macao's gambling- and tourism-based economy will likely recover gradually in the absence of dramatic developments, with promising reports from early February.
Time will tell if Macao's golden era of gambling and tourism is a long-distant memory or a future horizon.
Fangli Hu is a PhD candidate in Public Health at the Centre for Precision Health, Edith Cowan University. Jun Wen is a Lecturer in Tourism and Service Marketing at the School of Business and Law, Edith Cowan University. This commentary first appeared on East Asia Forum.