Commentary: Rough seas ahead for Malaysia's economy
Politics aside, economic headwinds remain Malaysia Prime Minister Anwar Ibrahim's most serious challenge, says CNA's Leslie Lopez.
KUALA LUMPUR: For the last three years, the Malaysian economy has kept its balance against a backdrop of protracted challenges ranging from a health crisis, political uncertainty and sharply rising prices that have plunged the country into the worst cost-of-living crisis ordinary citizens have ever faced. 
Now, darker storm clouds are starting to form, as a global economic slowdown and tighter credit conditions point to a further weakening in the domestic economy. Malaysia's economy expanded 5.6 per cent in the first quarter of the year, well above market expectations of a 4.8 per cent growth.
However, the picture is by no means upbeat, said BMI, a unit of the rating company Fitch Group. The first-quarter growth was sharply lower than the 7.1 per cent increase in the fourth quarter of last year. 
BMI is expecting Malaysia's gross domestic product to expand by 4.2 per cent this year, half that of the 22-year high of 8.7 per cent logged in 2022.
All of this means that the rebound Prime Minister Anwar Ibrahim pledged to deliver during the run-up to the November 2022 general election when he urged Malaysians to give his Pakatan Harapan (PH) coalition a chance to lead the country is looking bleak.
There are serious ramifications.
Delivering on pledges to ordinary Malaysians will in turn boost investor confidence, both domestic and foreign, in the country. MIDF Research, a local investment advisory firm, noted that the local equities market has seen net outflows for 16 of the 22 weeks this year, with more than RM2.9 billion (US$628 million) sucked out of the local stock market.
Failure to navigate Malaysia's economy safely out of the rough seas ahead would seriously dent Mr Anwar's standing among Malaysians, who are hoping that he can set the country on a new course and pull it out from its longest political and economic funk.
UNSETTLED POLITICS 
In recent days, Mr Anwar has stressed that his government has delivered on bringing greater political stability, which in turn has improved the national investment climate. Mr Anwar, who is also finance minister, told parliament this week that approved investment for the first quarter amounted to RM71.4 billion, representing a 60 per cent increase from RM44.7 billion recorded in the same quarter in 2022.
"I feel the political stability has boosted investor confidence and spurred investments to flow in stronger than previously, but what is important is not just announcements (of investments) and memoranda of understanding but also the implementation," he was quoted as saying in local media.
Economists and businessmen in Mr Anwar's inner circle noted that after taking over the premiership in November 2022, he has mostly focused his efforts on consolidating government finances and plugging leakages. The government has frozen billions of dollars worth of contracts awarded by the previous government through direct negotiations and is now insisting on public tenders that the administration believes can help cut costs.
"There have been big gains in injecting financial discipline in government but there is no one thing that we can trumpet to show that confidence has returned," noted a close aide to the premier, adding that cost-of-living issues remain a huge problem for the administration.
While Malaysia's inflation eased slightly to 3.3 per cent in April from 3.4 per cent the month earlier, the cost-of-living pressures persist, particularly in urban centres.
The prolonged ambivalence among investors is largely due to the country's unsettled politics. 
While Mr Anwar's so-called unity government, led by PH, enjoys a comfortable majority in the 222-member Parliament, questions remain about the administration's support from the politically dominant ethnic Malay community that makes up more than 60 per cent of the population.
Answers to this problem will come when six states hold their respective assembly elections soon.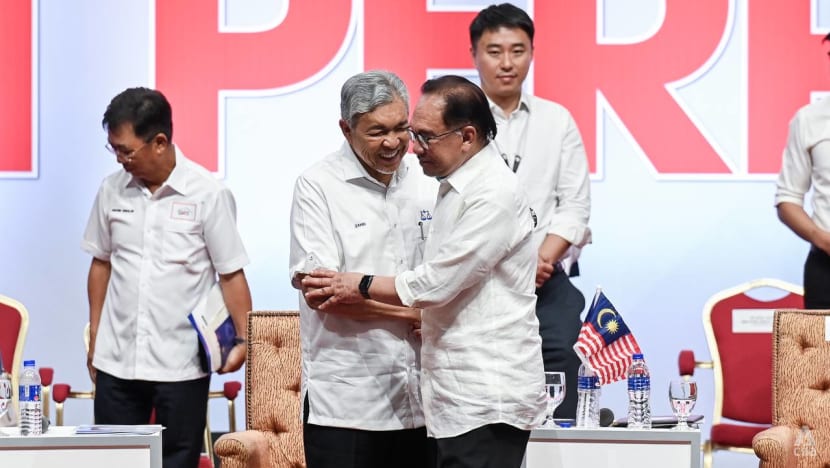 Mr Anwar desperately needs to show that his multi-racial coalition government has been able to reverse the tide in the Malay vote that went in favour of the opposition Perikatan Nasional coalition, comprising Parti Pribumi Bersatu Malaysia (Bersatu) and the right-wing Parti Islam Se-Malaysia (PAS), two purely Malay political concerns.
The states in play are the ethnically mixed Penang, Selangor and Negeri Sembilan, all legislatures currently controlled by the PH coalition that political analysts expect will see no change. The uphill challenges are in the dominant Malay states of Terengganu, Kelantan and Kedah, which are under the rule of PAS.
A status quo outcome, or even better, a win in one of the PAS-led states, would represent a major boost for the Anwar government.
POLICY STANCE ON GOVERNMENT SPENDING NOT SUSTAINABLE
Politics aside, economic headwinds remain Mr Anwar's most serious challenge. 
Once one of the region's budding tiger economies, Malaysia has fallen to fifth place among the economies in the Association of Southeast Asian Nations (ASEAN). It has been overtaken by Vietnam which ranks in the top four together with Indonesia, Thailand and Singapore.
The effects of the continuing global slowdown showed up starkly in the country's export performance, which contracted 17.4 per cent year-on-year in April.
Bank Muamalat's chief economist Mohd Afzanizam Abdul Rashid forecasts that overall exports this year could decline by 9 per cent, compared with a 25 per cent growth in 2022. "This will leave domestic demand as the main economic driver for overall growth," he said.
Economists noted that domestic demand, made up by government spending and private consumption, has accounted for more than 70 per cent of GDP since 2019. 
But this growth option is no longer sustainable. Malaysia is now suffering a serious financial hangover from the spending binge, with government debt ballooning to 1.08 trillion ringgit at end-2022, almost doubling in six years.
"The policy stance of government spending is no longer sustainable, and Malaysia needs a new economic narrative," Sunway University's Professor Yeah Kim Leng, who sits on a five-member panel advising Mr Anwar on financial matters, told CNA.
"The new path must feature shifting the economy to more value-added production driven by attracting technology-intensive industries that will in turn boost wages," added Prof Yeah.
Leslie Lopez is a senior correspondent at CNA Digital who reports on political and economic affairs in the region.