Commentary: How to make room for alternative proteins on Singapore menus
Malaysia's chicken export ban shows Singapore cannot take food security for granted, but plant-based meats and other alternative proteins have more to do to win consumers over, says McKinsey's Tomas Laboutka.
SINGAPORE: Many in Singapore went into a frenzy after Malaysia banned chicken exports from June 1. Since then, Malaysia has partially lifted the ban to allow the export of live kampung and black chicken;  Indonesian sources will start exporting chicken "really soon".
It looks like we have taken these shocks in our stride, turning to frozen chicken or cutting down on our favourite chicken rice. But the "Great Chicken Crisis" shows that Singapore cannot take food security for granted. It's why the Singapore Food Agency (SFA) wants 30 percent of nutritional needs to be produced locally by 2030.
One possible way to meet that goal? Alternative proteins – plant- or lab-derived versions of fish, beef, eggs, milk, and yes, chicken.
Alt proteins are manufactured, rather than grown or raised, which means they can be produced anywhere, in almost any weather. The starting point for many early adopters of alt proteins is to have an alternative to meat for health, ethical or environmental reasons.
Their use could reduce intensity of industrial farming and pressure on land, resulting in fewer greenhouse gas (GHG) emissions: Methane from cattle is the second-largest source of global GHGs, accounting for about 20 per cent of the total. If cows were a country, they would emit more GHGs than the United States.
Over the past few years many alternative meat options have hit supermarkets, restaurants, and even hawker centres in Singapore. Loo's Hainanese Curry Rice at Tiong Bahru Market and Keng Eng Kee Seafood both had pop-ups earlier this year selling dishes with cultivated chicken.
But when it comes to food, cognitive arguments aren't enough: Alt proteins need to win over hearts, minds—and most importantly, stomachs. There are three priorities.
"FAKE MEAT" MUST TASTE AND FEEL LIKE THE REAL DEAL
Alt proteins need to taste and feel right. They need to evoke the same emotions of our favourite comfort foods or Grandma's classic dishes. The closer they come to the real thing, the greater the chance of consumer acceptance.
Informal evaluations, such as by Singapore students or a journalist in CNA videos, are positive, as they found very little difference with conventional foods. But isolated opinions are unlikely to move the needle much.
To scale up, what can help is a critical mass of early adopters, most likely among those who lean vegetarian, or who are particularly health conscious. In a 2019 survey, about two-thirds of those who had bought alt proteins said health was the main reason they did so: plant-based proteins can have higher fiber, iron, and folates.
Rigorously testing, and tasting, the product throughout the R&D process alongside chefs and consumers can also help with acceptance.
Producers also need to communicate better. For example, because new alt proteins are new, cooking it can seem daunting. Consumers can reject it if a dish doesn't turn out as imagined. When it comes to food, there are few second chances. 
As Max Rye, chief strategist at Singapore-based TurtleTree Labs that uses cell-based tech, told me: "For a food to be truly sustainable, it has to be… a way of eating that people can, and want to, come back to over and over again."
WILL MEAT ALTERNATIVES ALWAYS BE SO EXPENSIVE?
Price matters – especially when soaring inflation has squeezed our wallets. Alt proteins need to be affordable; Why would people pay more for meat alternatives if they can get meat for less?
Some might be willing to do so, as a "green premium," but that is an uneasy economic foundation. Right now, meat alternatives are considerably more expensive than the conventional kind.
But the trends are in the right direction. The first lab-grown hamburger cost US$325,200 (S$456,000) in 2013. Today, you can find options at a broad range of restaurants, including fast-food restaurants and popular cafes, with prices growing closer to that of conventional options.
Greater consumer acceptance and a growing market could mean  economies of scale eventually kick in. A McKinsey study estimates that plant-based and fermentation products could reach cost parity with processed meat in a decade, and cultivated meat with whole muscle cuts by 2050.
Those timelines could speed up if climate change policies become more aggressive, such as imposing a cost on emissions or raising land-use standards.
A "FIRST WORLD SOLUTION" TO CLIMATE CHANGE OR FOOD SECURITY?
The alt-protein industry also needs to ensure that it delivers on its promises, such as emissions reductions and general sustainability. Making cultured meat is an energy-intensive process, for example, and if these efforts are not powered by low-emissions technologies, they may not make much of a difference.
They also need to address concerns about health. As Josh Tetrick, CEO and cofounder of cultivated meat company Eat Just, said: "In our research, we've seen that there's a concern about the word 'cell,' there's a concern about the process."
Attitudes to food are both complex and sensitive; it's critical to build trust. And it's fair to ask if alt proteins aren't a "First-World solution"—something richer consumers can afford and big companies can invest in, but ultimately is irrelevant to the billions more worried about having enough to eat.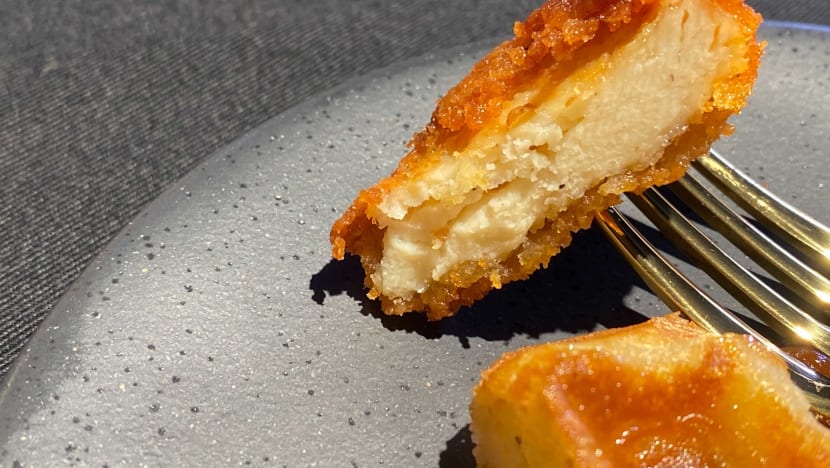 PUTTING ALT PROTEINS ON MENUS
But there are reasons to believe Singapore could embrace meat alternatives. A Blackbox survey indicates more than half of Singaporeans are willing to switch at least 10 per cent of their meat consumption if alternatives taste as good and costs the same as meat.
For one thing, Asians been eating non-meat proteins (like tofu, tempeh and soy milk) for thousands of years. Consumers are therefore likely to be receptive to the idea.
Already, big groceries routinely stock major alt-protein brands. And the government is supportive, too. In 2020, Singapore was the first country to approve a cultured chicken product, and its investment arm, Temasek, has invested US$8 billion in food tech.
Investors, including major meat processors, also find the sector increasingly appetizing. Since 2018, Singapore-based alternative-meat startups have taken in more than US$200 million, according to McKinsey estimates. Local start-ups are creating cell-based shrimp and milk. 
Investors are betting on fast growth because Asia has been slower to the alt-protein table. The region accounts for less than 1 percent of the global alt protein market, or about US$300 million; but it could grow to more than US$1 billion by 2025.
Alt proteins are not the sole answer to climate change and they won't solve the food insecurity that preceded but worsened with the Ukraine war. But as the world seeks new ways to foster more sustainable food systems and improve food security, it makes sense for alt proteins to be on the menu.
Tomas Laboutka is an expert associate partner in McKinsey & Company's Singapore office.