Singapore prefers farming 'resource-efficient' food items over poultry due to constraints: Grace Fu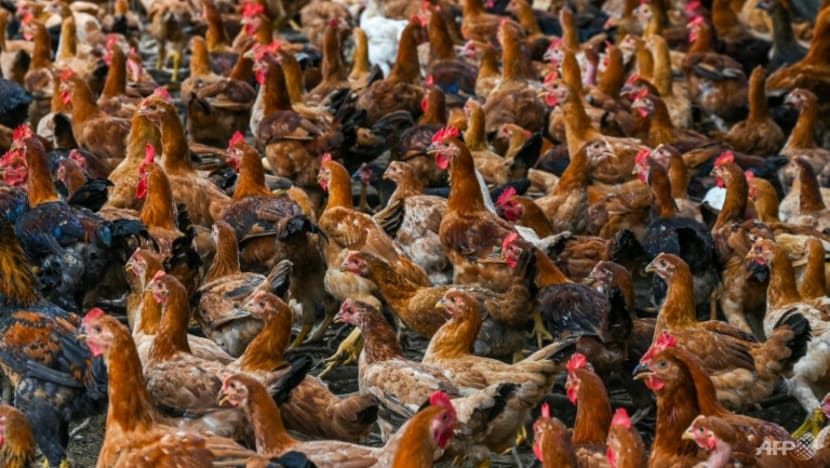 SINGAPORE: Singapore prefers to focus on farming "resource-efficient" food items instead of poultry because of land, labour, energy and water constraints, said Minister for Sustainability and the Environment Grace Fu in Parliament on Monday (Jul 4).
"We prefer to concentrate on farming food items that can be produced in a resource-efficient and commercially sustainable manner," she said. 
Citing data from the United Nations Food and Agriculture Organization, Ms Fu said that the CO2-equivalent emissions generated from producing 1kg of chicken for meat are about three times that of some fish.
Ms Fu was responding to questions from Members of Parliament (MPs) about Singapore's food supply and the impact of Malaysia's chicken export ban. 
Ms Joan Pereira (PAP-Tanjong Pagar) asked if the authorities would consider setting local production targets for poultry and poultry products under Singapore's "30 by 30" food security goal to enhance the resilience of Singapore's supply of poultry. Under the "30 by 30" goal, Singapore aims to produce up to 30 per cent of its nutritional needs locally by 2030, up from less than 10 per cent today. 
Mr Shawn Huang (PAP-Jurong) asked about the impact of the chicken supply disruption and the Government's long-term approach to poultry supply in Singapore.
The topic of food security has been in the spotlight recently due to pandemic-induced supply chain shocks, disruptions from the Ukraine war and countries prioritising local supply amid soaring prices.
Singapore has about 260 local farms producing items such as fish, eggs and vegetables.
The country imports more than 90 per cent of its food from about 170 countries and regions.
Specifically for chicken, 34 per cent of Singapore's imports are from Malaysia, down from 37 per cent in 2018, said Ms Fu. 
Singapore has been working to secure additional supplies after Malaysia's decision to impose an export ban on Jun 1, with Indonesia being approved last month as a new source for imports.
Currently, a total of 25 countries are accredited to export chicken into the country, said Ms Fu.
Mr Gerald Giam (WP-Aljunied) asked what the constraints are in expanding the number of approved countries for poultry imports.
To this, Ms Fu said that food safety remains the top concern when it comes to imports.
"Even as we diversify our food sources, food safety remains paramount. Only accredited sources that meet Singapore's food safety and animal health. standards will be allowed to export to Singapore," she said. 
Mr Giam also asked what the authorities are doing to incentivise poultry importers to import chicken from alternative sources that are already approved. He suggested waiving import fees for live and chilled poultry from all approved suppliers until Malaysia completely lifts its export restrictions on chicken.
ACCREDITATION OF OTHER COUNTRIES
Ms Fu said that Singapore does not have any significant import fees that will hinder the establishment of new markets.
Countries like Thailand and Australia are accredited for the importation of live and chilled chicken, but 99 per cent of the market is taken by Malaysia, she said. 
Despite Singapore accrediting other countries, importers continue to work with Malaysia because of proximity and a long history together, she said. 
"There will always be a cost competitive reason for importers to gravitate to the source market," she added. 
Sometimes this is because of proximity and established logistics chains that allow goods to arrive most quickly, she said. 
"They (importers) will be reluctant to try new areas that may increase the costs. They may be reluctant to try new products because it's not familiar to the consumers," she said. 
"So from time to time, we have to evaluate the need for licensing condition. We have done so for eggs and we will think about whether it's necessary for chicken as well."
She cautioned however that the more conditions the country imposes on licences and business regulations, the more rigidity they will introduce. 
"We may have to do it because it is a trade-off to encourage businesses or to require businesses to diversify," she said. 
"If we find that there's a strategic reason for us to do so, we will do so."