Commentary: Ruckus over Malaysia chicken export ban justified in food paradise like Singapore
Customers stocking up on fresh chicken before Malaysia curbed exports of it might seem like an overreaction. But considering the ubiquity of chicken in Singapore cuisine, it is little wonder the ban caused much ruckus, says documentary storyteller Ong Kah Jing.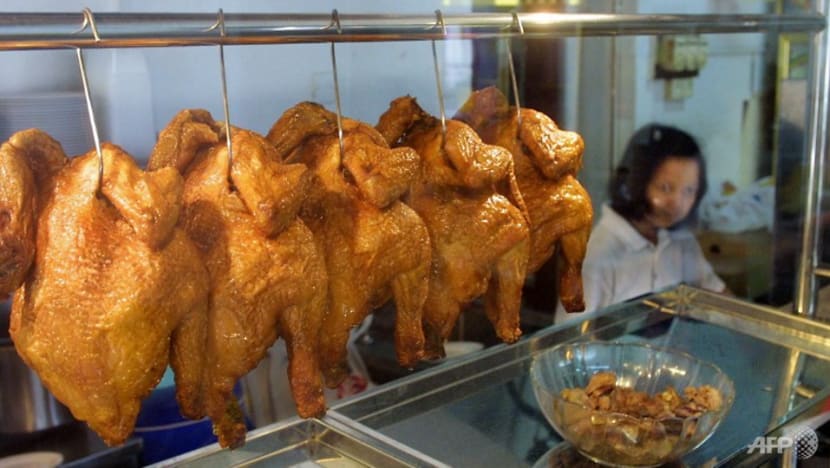 SINGAPORE: When in doubt of what to eat, chicken rice is hard to beat.

This has been my default mindset when mulling lunch options. It's good value for money, filling and comforting. It's hard to go wrong with chicken rice.
If I'm in a new neighbourhood, I would visit each chicken rice stall, first sizing up the chickens hung up for display. Then I turn to that trusty old Singapore metric - the length of the queue.
And once one store hits the spot, I am loyal to it. It becomes my comfort zone; a source of strength to face the work ahead or a reward after a long day. Others must feel the same way since there are at least six chicken rice stalls in my neighbourhood.
So when Malaysia announced it will ban exports of fresh chicken from Jun 1 given domestic shortages, Singapore felt a sense of unease. About 34 per cent of our chicken imports come from Malaysia.
Some poultry sellers and hawkers saw no choice but to close temporarily as supplies of chilled chicken dried up. Others worried the ban will exacerbate the uptick of chicken prices – already in motion since May – and chase customers away.
Some consumers took it upon themselves to stock up on fresh chicken. Others lined up for one last fix from popular outlets like Tian Tian Chicken Rice Store and Hawker Chan.
But does such frantic buying and eating of fresh chicken seem like an overreaction? After all, Singapore has sufficient stocks of frozen chicken, and it wouldn't hurt anyone to forego chicken temporarily.
But chicken is essential to so many of our favourite dishes, from ayam penyet to chicken curry. So it is little wonder the export ban has caused much ruckus.
Food is core to our national identity – just look at the furore in February about the New York Times' "Singapore chicken curry". This strikes us close to our stomachs and our hearts.
HAWKERS FACE DILEMMA OF STAYING OPEN OR CLOSING
With fewer fresh chickens to go around, hawkers face a dilemma. Should they switch to frozen chicken and potentially compromise the dish's quality? Or find new chilled chicken suppliers and gamble on raising prices?
Either seems like a poor option when Singapore customers are notoriously exacting and price sensitive. Even the loyalty of regular patrons isn't always unconditional – it comes with expectations of consistent quality and competitive pricing.
If a customer feels standards are slipping and prices are creeping upwards, there is little hesitation to switch to a different store or dish altogether.
Such decisions are often made without a word to the chef. We support stalls with our wallets, voice our approval by patiently queueing, but if dissatisfied, tell our peers but never hawkers themselves.
In this cutthroat environment for hawkers, reputation is hard to gain and even harder to recover.
RISK OF ERODING CUSTOMER BASE IS TOO HIGH
So could pausing operations end up the most sensible choice? There are signs the ban could be a short-lived one after Malaysia said its domestic supply is expected to stabilise in June.
But even prior to the ban, hawkers have seen rising costs of ingredients such as cooking oil, sugar and eggs,  leaving some with no choice but to pass costs on to consumers. A vendor in an Owen Road coffee shop raised the price of a plate of chicken rice from S$3 to S$3.50 in April, but told CNA his stall is still operating at a loss.
For some hawkers, raising prices might be preferable to watering down quality. Some have been apprehensive about using frozen chicken, considering it inferior in taste and texture to fresh chicken. For a dish like chicken rice – its beauty lying in its simplicity – it is easy to tell when it is not hitting the mark.
I may not have appreciated this if it were not for the pandemic. Like many, I pledged to learn a new skill and tried my hand at home-cooking. I soon learnt going to the supermarket late meant only being left with frozen and thawed chicken. While they tasted fine, I was curious how they would compare to fresh chicken.
After venturing to the wet market one morning to buy some chicken breasts, I've never looked back. It's a world of difference in taste, texture and juiciness. Letting the ingredients do the heavy lifting does wonders for an amateur cook like myself.
It is understandable then that hawkers fear operating with what they deem to be poor ingredients, when their patrons could easily flock to the other five chicken rice stalls in the neighbourhood.
CAN CUSTOMERS BE MORE FORGIVING?
Can we afford to be more forgiving to what hawkers can deliver in such times? Our hawker culture feels even more vulnerable when a dish as iconic as chicken rice is threatened by forces beyond our control.
Malaysia's export ban on fresh chicken has demonstrated the domino effects curbs on food trade have on Singapore businesses and consumers. Options have become more limited and prices have increased. A few of our beloved stores may not be able to survive such prolonged inflation.
I would like to believe Singapore food lovers understand this. In an increasingly uncertain world, the ever-present chicken rice stall at virtually all food courts and hawker centres is a steady comfort. Maybe we won't even be able to tell if the stall used frozen chicken or not – some have already done so and managed to sell out their stock.
Even if chicken rice now is not quite the same as back in the good old days, it is still one of the simplest pleasures in life.
With that said, I will sorely miss my S$3 plate of chicken rice. It is a memory I will one day recount to my own children, like how my parents never let me forget how abundant and affordable their food paradise once was.
Ong Kah Jing (OKJ) is a documentary storyteller who aspires to do justice to stories told.
"Hawkers are not stupid or stubborn." Find out why KF Seetoh says it will take more than hawkers embracing deliveries and going digital to save Singapore's food culture on CNA's Heart of the Matter podcast.